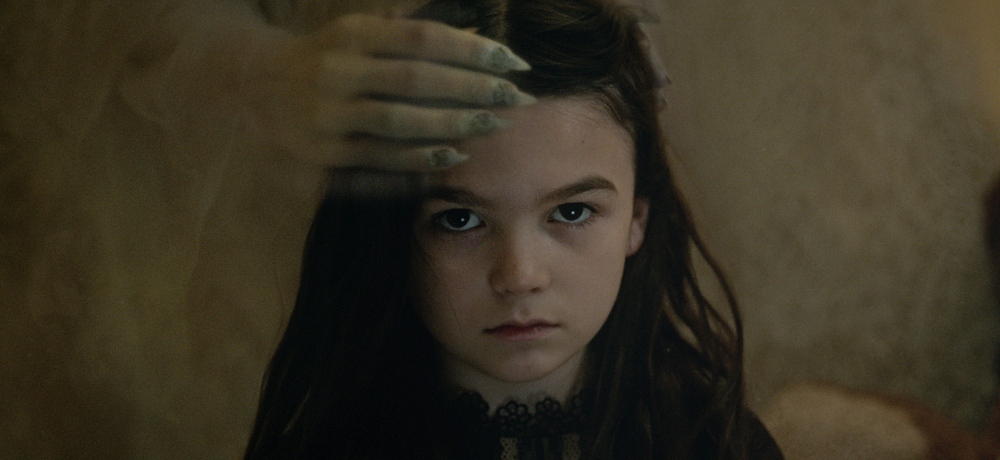 At the age of nine, Brooklynn Prince has already done more than this writer ever has, and she's only getting started in Hollywood. Prince enjoyed a breakout role in The Florida Project, has voiced characters for both The Lego Movie 2: The Second Part and The Angry Birds Movie 2, she also directs her own short films, and is now co-starring alongside Mackenzie Davis and Finn Wolfhard for The Turning, Floria Sigismondi's adaptation of Henry James' The Turn of the Screw.
At the recent press day for The Turning, Daily Dead spoke with Prince about her filmmaking goals as well as her experiences working with her co-stars and directors for the project. Prince discussed how she wanted to turn the horror movie down, until she realized she'd be working alongside a certain cast member from Stranger Things, and how much she enjoyed her experiences working with Davis.
The Turning arrives in theaters this weekend, courtesy of Universal Pictures.
Congrats on your HCA Award from last week. I heard that night that you're already making your own movies, which is pretty cool. Is there just something really interesting to you about getting to do all these different things in the world of filmmaking?
Brooklynn Prince: I felt like I was made to direct. Because when I was a kid—well, I still am a kid—but whenever I'm with my friends, I'm really bossy about what I play. I like directing scenes. I liked directing setups and everything with my Barbies. I feel like being a director really gives me a lot of freedom to write and make stories that mean a lot to me.
And also, it gives me a lot of freedom and a lot of control, because on set, when you're an actor, you have control of your character. You don't have control over the script, the shots, the location, what people you cast in it. You don't have a say in your costumes, which I have been very fortunate to have a lot of costumers that have let me have a say in my costumes. But I just love being creative and setting up a shot this way and that way. So, I feel like I was made for directing.
Well, I look forward to seeing you become a really, really great director over time. But I guess we should talk about this movie now, because I think you were really, really good as Flora. What was the appeal of playing Flora? Was it just getting to try something different, or maybe getting to work with these actors, or perhaps the chance to work with Floria, the director?
Brooklynn Prince: I said no at first.
Did you really?
Brooklynn Prince: I do not like anything scary. And mom was like, "Oh yeah, by the way, you're going to be working with Floria and you would have Finn [Wolfhard] as your brother." And then I was like, "I'm doing it. Thank you." [Laughs] Because I was a really big fan of Stranger Things at the time. My mom was like, "How do you know you're even going to get it?" And I was like, "I'm getting it if Finn Wolfhard is in it." I was really confident about that [laughs].
That's very cool. Now, when you guys came together to start working on this, did you get a lot of time to build up the dynamic between you and Finn, because you guys have a very unique relationship in this?
Brooklynn Prince: No. We met each other literally the day that we're supposed to go and look at the set, and we just showed up and we were like, "This is perfect." We just started bonding right away and creating memories. So, Finn and I just hit it off right away, and Mackenzie and I hit it off right away, too. There was no time for prepping and all that stuff.
Did you have to do anything special to get into the mindset of Flora? Because she has some trauma that she's working through here.
Brooklynn Prince: Floria and me basically sat down to talk about my character, and then everyone discussed our characters at one big table before we shot. We talked about the script and when it got to me as Flora, Floria was like, "Okay, here's my perspective," which was basically the same as my perspective. So we talked about what traits she would have, maybe some visions I could have for Floria when I was doing the scenes. At night, I would go through my lines, I would think about what Flora is feeling, connect the dots all in my head, go to sleep, and then wake up the next day, rehearse my lines, connect the dots again.
When you talk about connecting the dots, I think it's interesting that Flora is a character who never leaves the property, she has all of her clothes made, and she's removed from the rest of the world. How much did the costumes and being in that location really help you immerse yourself in your role like this?
Brooklynn Prince: The house really helps because I think Flora has been trapped in that house ever since her parents died in the car accident. I think that she's been trapped. She feels like she's trapped inside the house, but she doesn't want to go out of the house. And that really helped. The creepiness of the house really helped me get into the character of her being inside the house for a really long time. And seeing just how old the house was, maybe Flora saw it at one stage, and then when her parents died, it grew into another stage, and she just watched it slowly transform and get older. That really helped me get into the mindset of Flora.
When you were working with Mackenzie, you mentioned you got along very well with her, and it seems like that friendship really comes through at times in The Turning. Did you guys do anything fun together on set?
Brooklynn Prince: We were best friends. We had our own handshake. We were like best of friends and I feel like Mackenzie and I really connected because when she got really riled up and stuff, at the end she would come out of it to show me, "Hey, it's just me, Mackenzie." That really helped build the unique relationship between us, because I have seen her really angry, I have seen her really scared, and I have seen her really happy. Those were things that we could prepare for before and communicate with each other, like, "I'm going to feel this way, so don't be scared." I feel like that really helped me put some of that trust that I have with Mackenzie into Flora trusting Kate in the film.
---------
Visit our online hub to catch up on all of our coverage of The Turning!