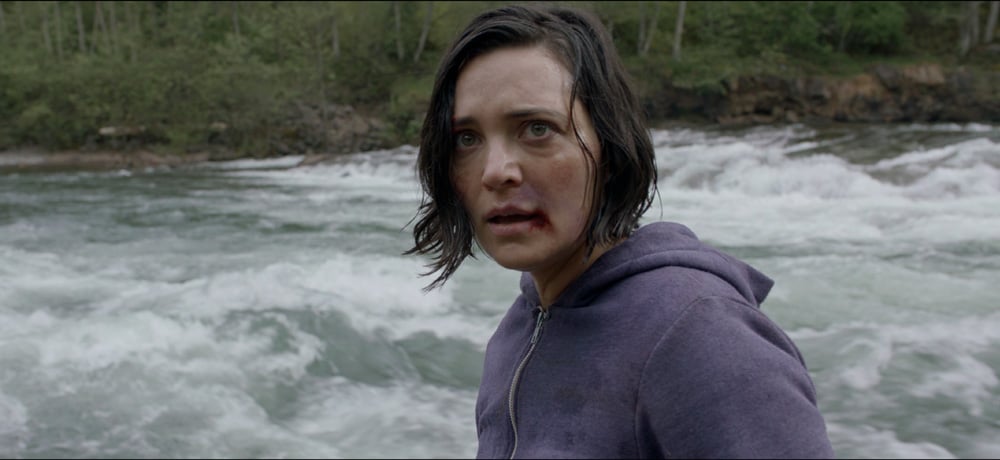 Heading to theaters and VOD this Friday, September 18th, is the survival horror thriller Alone, which was directed by John Hyams and co-stars Jules Willcox and Marc Menchaca. The film's story revolves around a grieving widow (played by Willcox) who is just looking to start her life over, but during her move, she crosses path with a mysterious man (Menchaca) who abducts her, and she must find a way to survive this deadly game of cat and mouse.
Daily Dead recently had the opportunity to briefly chat with Willcox about Alone, where she discussed her initial thoughts about the project and what excited her the most about coming on board to collaborate with Hyams, what she enjoyed most about her character Jessica in the film, and more.
Great to speak with you today, Jules, and congratulations on the film. I was so incredibly tense the entire time I was watching Alone, and I think I spent the last 10 minutes of the movie with my hands balled up into fists. You guys did an excellent job on this.
Jules Willcox: Thank you. It was just a wonderful treat to work on this film, and to get to tell this story, because, who knew that it would be so timely? That people would be spending so much time alone. I think that it's the perfect time for it to be coming out, so that people can have a real catharsis through this. I mean, it's not going to save the day. It's not going to solve the problem, but it definitely is some escapism that will hopefully get people excited in the end.
Absolutely. And, I think right now, we're all in need of diversions, wherever we can find them. This definitely gives you that. I'd love to start off by talking about you coming into this project. What was the initial draw of coming in and playing Jessica, who has to deal with all these inward and outward struggles throughout this story?
Jules Willcox: Well, the first draw was John Hyams, our director. If he just sent me a phone book to read, I'd do it. We did an episode of television on Chicago P.D., probably I would say eight months prior to me receiving this script. I started to read it, and I was like, "Why has this been sent to me? Who's thinking of me for this?" And then, I saw that it was John, and we'd done a really challenging episode of television together where I felt that I was in such great hands. He's such an amazing leader and when it comes to physicality, he's so respectful.
He also pushes you to your edge, when it comes to the physical stuff, like in his work from Universal Soldier, The Nation, and Black Summer. So, I knew I would be in great hands if I was going to do a film like this and I'm so grateful that he trusted me with it. I had also wanted to explore this metaphor of grief, because I think we all have been there. We all know some version of that. We don't think we're going to survive it, but we do. We will. I think here that grief gets taken over with the real physical struggles of the environment and the man, too. So, just that trifecta of a challenge was just so exciting for me, and again, I'm thrilled that I got to do it.
I think what's really great about this is that, even though your character ends up in this situation, she's very proactive throughout. You mentioned the physicality, which there is a lot in this film. There's also, of course, the emotional stuff that she's dealing with as well, which maybe even sometimes weighs a little heavier on you. Can you talk about putting yourself in this mind frame of this woman who, she's dealing with this deep, emotional pain, she's dealing with this physical pain, and having to find that will to survive?
Jules Willcox: Jessica is not a victim. She's just not. She's been through enough in her life to trust herself, and use her whole history, everything she's gone through, to fight. I think there's a moment early on where she questions it a little bit, where she almost apologizes a little bit. And I think we've been taught as women to always apologize, where it's like, "Sorry, I don't want to offend you for offending me."
I'm so guilty of that myself. What I loved about this is that it happens a little bit at the top, but from then on, she trusts her gut, and this story is actually an opportunity for us to grow watching it. "You know what, next time I feel that way, I'm going to stand up for myself. I'm going to trust my gut. I'm going to trust my instincts, and I'm not going to help [the] creepy man." Somebody asked me earlier a question about how a lot of the times that we see these characters get into these predicaments, they are these 20-year-old women. That's what we saw a lot in the '80s and the '90s. What I love is that, I'm not a kid. I'm not 20 years old, and Jessica is a woman. She's had a life. And I love that that's who we get to see fighting, because we haven't had an opportunity to see that very much in the past.
---------
In case you missed it, read Caitlin Kennedy's Fantasia review of Alone!