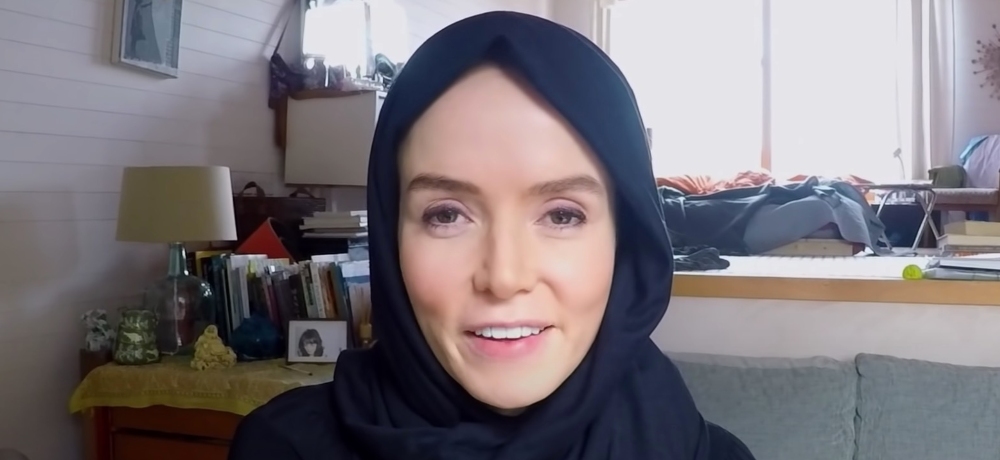 Arriving in theaters this Friday courtesy of Focus Features is Profile, the latest Screenlife endeavor from Timur Bekmambetov (Unfriended, Searching) that follows an investigative journalist (played by Valene Kane) who finds herself caught up online with a charismatic and dangerous ISIS recruiter (Shazad Latif), who believes that she's a young woman looking to join his cause in Syria (you can read my review HERE).
During the recent press day for Profile, Daily Dead had the opportunity to speak with Kane about taking on the role of the reporter who finds herself in very dangerous circumstances as she embarks on this hugely important story highlighting the horrifying reality of the online recruitment of young women by terrorists. During the interview, Kane discussed why she wanted to take on her challenging role in Profile, her experiences collaborating with Bekmambetov and other members of the project, and the weight that she felt tackling the important issues at the center of the project as well.
Great to speak with you today, Valene. I would love to start off at the beginning and talk a little bit about Amy, and who she is. When you were considering taking on this character, what was it about her that really drew you in and made you want to immerse yourself in this experience that she undergoes that basically ends up ultimately changing her life forever?
Valene Kane: I think there were a few reasons why I was attracted to the project. There was Timur and the fact that it was improvisation. But what drew me to Amy in particular was obviously that it was a real-life person. It was Anna Erelle. And when I read the book, I just thought that this story had been on the periphery for so long, and to read something so specific about one person's journey and how they got there, and the reasons why, I found it was an important story to tell. And selfishly, as an actor, I was chomping at the bit to play someone who gets to play two characters who play this cat and mouse game with this one other person. I mean, two-handers are always just a joy and because we rehearsed it like a play, it felt like a play.
Sometimes a feature film can just feel huge and you're shooting things out of context and out of sequence, and it's just really hard to stay on top of it. But because we shot this in nine days, we rehearsed it intensely like a play, so when we arrived on day one, we knew what we were doing. And it was we were so entrenched, both me and Shazad, in these characters and in the story, that it was just so fun. This is the best creative experience I've ever had.
Because Profile is such a different type of project, where a lot of the different filmmaking aspects would normally be left to other people in production, but here, they are all essentially in your hands, how much does that change your performance, if at all? 
Valene Kane: I think actually it just pushed it more in a different direction. Because what I think it did was it took the ego out of the acting a little bit. I was more than just an actor. I was a DOP, a gaffer, my own director, my own editor. I had to learn how to do everything that you see on the screen because that was actually me doing all of that in real time. It's not like that's all done in post. So it was like learning a dance. Obviously, there was a lot of space to try things, and although there was a framework, there was so much play that we could have. Timur was never precious about what we wanted to try.
And so Shazad and I, we had so much faith and trust in each other from the very beginning of the project that we just threw everything out. I never looked at myself, as you can see yourself when you're doing these things, but I never looked at myself. I never cared about that. I was always like, "What does Amy want? And how am I going to do this?" I really was her all the time, which was just great. It was so freeing.
So, when you guys were rehearsing and everything, did Timur have you and Shazad in the same room, or did he keep you guys on computers? I was just curious what that process was like.
Valene Kane: We were in the same room. It was Timur, Shazad, Olga [Kharina, writer and producer], and myself in a hotel room together for two weeks before we started shooting. It was very close quarters. And then Shazad and I would go for dinner together because we were rewriting the story and rewriting the script as we went. We spent an inordinate and intense amount of time together, but it was really helpful because then when he left, it was easier to replicate the feelings that we had found together in the rehearsal time. But it was really interesting. It made it all real because we couldn't have lunch together on set, or we couldn't have a drink together after set. He was in Cyprus with his crew and I was in London with my crew. So I really felt like Amy, all alone thrown into this situation.
When you're working on a project like this, it's entertainment, but it's also dealing with some very real-world issues that are important and they have a lot of weight to them that ended up changing this woman's life. Does that kind of weight bear down on you at all when you're taking on a project like this? 
Valene Kane: Yeah, I think so. I really wanted to make sure that I did my research and that the role felt authentic and that I really was honoring Anna's story, and the story of all these women. None of us—Timur, myself, Shazad, or Olga—wanted to sensationalize the story or make it seem flippant. I think it's an important story to tell, and it's a true story. I think we did it delicately, or we tried to, in terms of, we wanted to keep as close to what really happened and not glamorize it. I think it is important that we see this kind of story, because it is, as you say, the trafficking of women is happening as we speak. And when you see someone like Anna, who is a sophisticated, elegant, ambitious Parisian journalist, and she's taken for a ride, then you are like, "Oh, okay. I can see why this happens." You understand the manipulation techniques that are used and how it happens. It's terrifying.