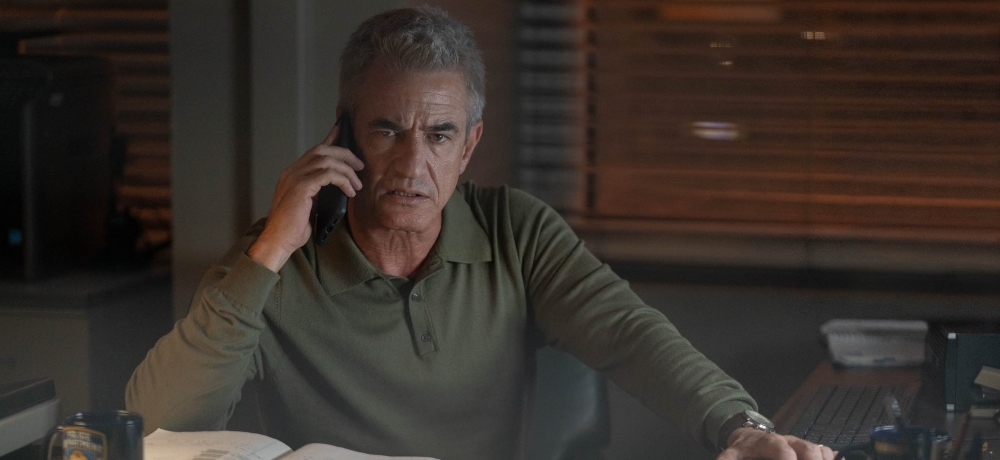 One of the great things about the Scream series is that you always have the core cast members at the center of these films, but we also always get some new players to come along in each installment, which keeps things interesting for fans. So when it was announced last year that Dermot Mulroney was joining the cast of Scream VI, this writer was ecstatic because I'm always happy to see Mulroney pop up in anything, but having Dermot appearing in one of my very favorite franchises ever was just beyond awesome for me.
At the recent press day for Scream VI, I was elated to have the chance to speak with Mulroney briefly about coming aboard this latest Scream film, and he discussed his experiences collaborating with directors Tyler Gillett and Matt Bettinelli-Olpin as well as his fellow cast mates, his thoughts on joining the Scream-iverse, and more.
Check out Daily Dead's interview with Mulroney below and be sure to check out Scream VI in theaters this weekend, courtesy of Paramount Pictures.
So great to speak with you today, Dermot, and I have to say this is a real honor for me. My partner and I, when we first met, there were a few movies that we bonded over that felt like cult classics no one ever really talked about as much as they should. And one of the first movies that we ever talked about was Career Opportunities. So, you have to understand, this is a big thrill for me today [laughs].
Dermot Mulroney: That's great. I love Career Opportunities fans. They're still there. It's incredible. Who knew that movie would still be talked about? Thank you. I know we're here to talk Scream, but I'll tell you this: I just was interviewed for the behind-the-scenes with Kieran, my brother, who played Gil to my Nestor. It's going to be a high-quality release, so I hope fans check it out.
Oh, that is excellent. So, I'd love to chat about Scream VI if that's cool—first and foremost, congrats on being a part of the Scream franchise. I have to ask, when you were approached for this, was there a certain aspect of this production that jumped out at you where you were like, "Yes, I need to be a part of this"? Or was it just the fact that this was Scream, which is a pretty big franchise? 
Dermot Mulroney: Well, at the same time that I'm extremely discerning (laughs), I was going to take Scream VI anyway so everything else about being involved with it was just a bonus. But they actually distributed the script to me in at least two installments, maybe three, I think, so I didn't even know the storyline all at one time. But it was just a "yes." I didn't hesitate at all. I remember being in the theater for Scream originally in 1996 and how it was really a participation event in the audience the way it still is today, so I loved that. And I was thrilled to join this one.
That's awesome. I'm curious—when you were working with Matt and Tyler, did they do anything to help you and the other newbies coming into the Scream world get more immersed in everything? 
Dermot Mulroney: It was incredible the way they welcomed me in. And the very first night I arrived, Courteney invited everyone over to her where she was staying and cooked an incredible meal for everybody. So, even though you had all these people who were different ages, we were all really good friends. All of those interconnected relationships that you see in Scream VI weren't really people acting because everyone was great friends outside of production. Plus, we shared a lot of space because of the nature of some of the scenes in this, and it was a really incredibly cool experience to be a part of alongside these great people.
You mention sharing space, and I was wondering how cool was it for you guys to be in that theater that was Ghostface's lair and you are all basically surrounded by all things Scream? Did that help you get into the game more, so to speak?
Dermot Mulroney: It was incredible. Just incredible. Maybe some other people will do what happened to me, which is start now and watch all the other Scream movies before this one. But that's how it happened to me because I had just done my homework and watched all the Scream movies to begin shooting Scream VI since I had only seen the first one when it came out at that point. So, when we stepped on that set, it was so brilliantly designed, all the design work and all the set dressing was just phenomenal—down to all the tiniest details. There are some Easter eggs in that room that I didn't even know what some of them were, and I had just pretty much analyzed and studied the entire Scream storyline. It was just the most phenomenal set ever. I loved working on that set so much.
---------
Go here to catch up on Heather Wixson's Scream Week special features, including her review of Scream VI!