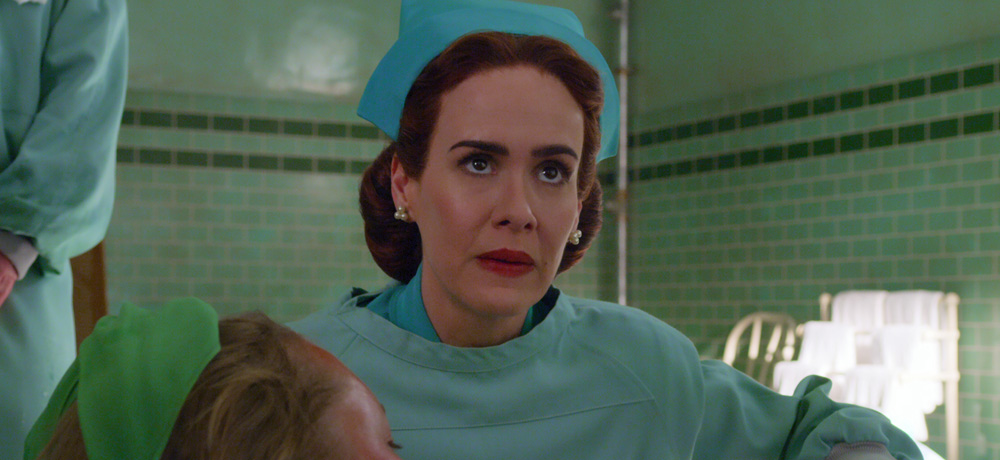 Sarah Paulson has been a longtime favorite performer of this writer, ever since seeing her in the short-lived, but truly awesome, television series American Gothic. And while Paulson has continued to make an indelible mark in both film and television over the last few decades, her collaborative relationship with producer and showrunner Ryan Murphy throughout the 2010s, and now into a new decade, has provided the actress an entirely new trajectory for her career.
Paulson has co-starred in several seasons of American Horror Story, and even played Marcia Clark for Murphy's The People v. O.J. Simpson, but it's her latest role as the titular nurse in Ratched that has pushed the actress and her career in a multitude of new ways. Not only is she playing a title character for the first time ever in Ratched, but Paulson also served as an executive producer on the series, which is the first time she had ever been given such an opportunity in her career.
"Ratched is a different one for me because Ryan was very interested in empowering me in this way that I had never experienced before even the traditional structure of working with him," explained Paulson. "I've never played a titular character before. I'd never owned a piece of a show before. I've never been an executive producer of a show before and this is all because of him. And it was very important to him. It was part of the reason why I was so terrified to do it, was that I thought I didn't have a ton of experience stepping into my power, as Ryan kept telling me, 'step into your power,' whatever that means."
"So, it was an interesting thing to confront my hesitation, and to deal with all of those moments of, 'What does that look like for me? Am I capable? Am I ready? Do I want it? What does it mean if I do? Is that ambition?' It was just a whole myriad of things to contend with, but he [Ryan] has always been my greatest champion. And it's not without its complications, because it is. Any real relationship will be that and he gave me a lot of power. It was an interesting experience to think beyond my own narrow view of just my own performance and think about the show as a whole and what the story was. I had never had that experience and, once again, Ryan is responsible for giving me the thing I had yet to experience in a work environment."
Another challenge Paulson faced for Ratched was taking on the titular role which has been so deeply engrained with anyone who is a fan of either the book or filmic version of One Flew Over the Cuckoo's Nest. "I think it's safe to say that many people are at least familiar with, if not well-versed in, One Flew Over The Cuckoo's Nest and Louise Fletcher's performance and the iconography that was etched and sketched by everybody in that movie. I think she's in the top 5 AFI villains of all time in cinematic history, so, there's no pressure and it's just an opportunity for me to be humiliated. It's not an issue. It's fine. It's totally fine [laughs]."
"But I think it wouldn't have been interesting to me to explore the parts of Mildred Ratched that aren't porous. In the movie, she's calcified. There's a hardness. Nothing ekes out. I remember when I first saw the movie thinking years ago that she was absolutely a villain and evil and all of this stuff. Then, when I rewatched it before we started, I thought that this is a woman who is a victim of a patriarchal infrastructure in this hospital that it's quite possible she didn't have any choice about whether or not she could access her heart in her work, if she could bring her femininity and her womanhood to the job. What about considering that idea? That she is not a villain, but she is a person who didn't have any recourse. There was nothing to do."
"But I had to believe that if I was going to play it that she did it because she thought she was adhering to some kind of rule that she believed was most right. Limited in her thinking because of the era in terms of what she was willing to investigate, where she might have found power outside of the confines of that hospital. Who knows what her life was like? So, I was interested in this idea of who is Mildred Ratched when she takes that key and turns it and goes into her house during that movie. Who was that woman?"
"I wasn't thinking of it so much as an opportunity to sort of counteract or have a female Don Draper or someone who was allowed to have those complexities, but it would be impossible to undertake it without thinking, 'We've got to show something here that has yet to be seen and it's entirely up to us. We can invent it because there is no backstory.' And so, that's an enormous freedom. We can give context and depth to things that maybe weren't there. But it was just interesting to confront my own prejudice against the character from the outset and what I had thought she was. And of course, I was looking for a way of  how I could get in there without being like, 'She is so crazy,'" Paulson added.
With Ratched making its debut on Netflix later this week, Paulson is looking towards the future, as there is already a second season planned for the episodic series. But considering what has happened in the world this year, she's not quite sure just when production will resume on Ratched, or what exactly that experience will be like.
"What I'm looking forward to most about our second season is just going back to work full stop. I mean, I want it to be safe, and of course before that happens, I would like the world to have some massive rectifying of the way this has all been handled, and have some forward motion in terms of coming up with something to help us deal with this."
"But aside from that, the most delicious part of coming back is getting to really be together again and with our crew—that collaborative excitement, and that feeling that you're really making something with all of these people and they are just as invested as you are, and feeling that vibrational thing that happens in that scenario. I don't know how we're going to access that with shields and masks and gloves and smocks, though."
Look for Ratched to arrive on Netflix beginning on Friday, September 18th.