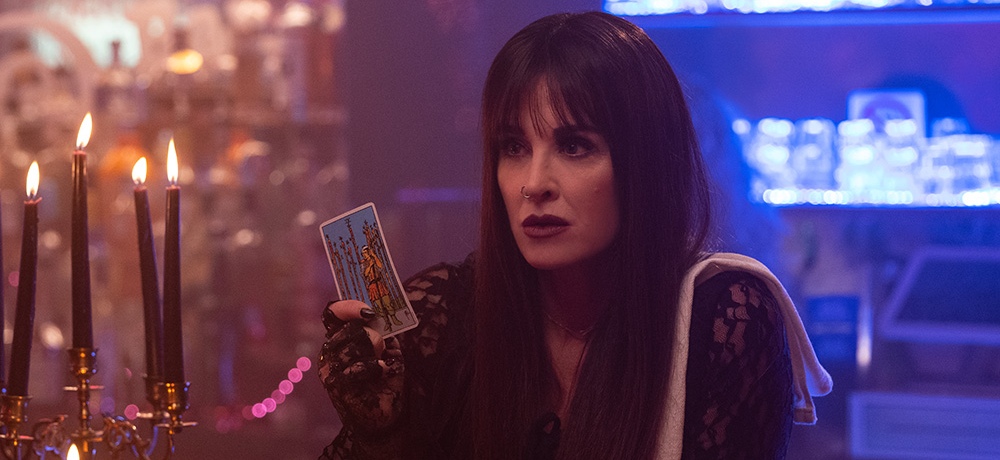 After being a part of John Carpenter's original film 44 years ago now, Kyle Richards is set to return to the Halloween franchise one last time for Halloween Ends. As Lindsey Wallace, Richards was able to reprise her role in last year's Halloween Kills, and this time around, we get to see Lindsey bonding and supporting both Laurie (Jamie Lee Curtis) and Allyson (Andi Matichak) as the trio of women contend with the aftermath of Michael Myers' attacks that fueled the two previous films from David Gordon Green.
During the recent press day for Halloween Ends, Daily Dead had the opportunity to have a quick chat with Richards about returning to the Halloween franchise after all these years, getting to explore her character more in Ends, her relationship with Jamie Lee Curtis, and more.
Halloween Ends is currently in theaters everywhere and streaming exclusively on Peacock.
Great to speak with you today, Kyle. We're definitely going to get to Ends, but I'd like to back it up to the previous film first. When it came time for Kills, how cool was when you realized, "Oh my gosh, I'm going to get to be a part of this franchise and I'm going to get to be a badass, too, at the same time and take on Michael?" That scene you have with him is still so intense.
Kyle Richards: Oh, I was so excited when David reached out to me and asked me to be in the movie. Then, he started telling me all these pieces of the movie that I was gonna get to do, and I just was so excited, even though I was afraid. I didn't wanna say that at first, the fact that I was scared of getting into a swamp of alligators, but I felt like I would just deal with that when I got to it [laughs]. But that was probably the most fun and the most rewarding part. So, I was just so excited to be able to be in Halloween Kills and the fact that they wrote me into Halloween Ends was great. So, to be a part of this series from the very beginning when I was eight years old, and then all the way to the end, means a lot to me.
For me, as a fan who grew up with these films, it really feels like Ends comes full circle in a lot of ways, but especially for the female characters—Laurie, Allyson, and Lindsey. I like how this allowed us to settle in with these women in ways we haven't before. Was that fun for you?
Kyle Richards: I really liked that this has such a strong female force throughout the movie. And I come from a family of all women. I have four daughters, so that's always something that speaks to me anyway. My relationship with Jamie has evolved so much over these years and our characters Lindsey and Laurie, their relationship has evolved over the years, too. So, it felt really good to have these moments with Jamie because I didn't get to have any scenes with Jamie in the last movie. So this is our first time on camera together since the original film when I was eight years old. And I feel like you can really see that we have that connection, both on camera and off.
And with my character's backstory, that is something that I talked about with David for Halloween Kills but with Ends, we got to show who she is and what she actually does with her life in this movie, even though it was a small role. So, it was fun for me to create who this person that stayed in Haddonfield is after all these years, even though she's been terrorized. She's working in this little watering hole that everyone comes into, but she has her own demons and issues, even though I think she feels safe with these people that she's been traumatized with and terrorized by Michael Myers with. So that's why she's still there; it's almost like a weird safety net for her, oddly enough.
You have been a part of so many really interesting properties and iconic projects over the years, even beyond the Halloween franchise. Like, I remember watching Watcher in the Woods when I was really young and that terrified me. And I know you've been a part of Little House on the Prairie and E.R., too. I'm curious, for you, how much does it end up meaning to you and to your career to be involved with these projects that end up standing the test of time?
Kyle Richards: Well, I started in this business when I was extremely young. My mom used to joke and say, "Kyle was a late starter," because I was like three or four when I started out and my sisters started earlier. But you know, the fact that I've been in this business all of these years and getting to grow up in it and through it, to be able to come out on the other side where I'm still doing it, it's something I'm very proud of. I love being in this business. I love being an actor and doing Real Housewives of Beverly Hills has also allowed me to do other things like producing, too. It's a business that's been really good to me, so I'm just grateful. Always.
------------
Go HERE to catch up on our previous coverage of Halloween Ends!