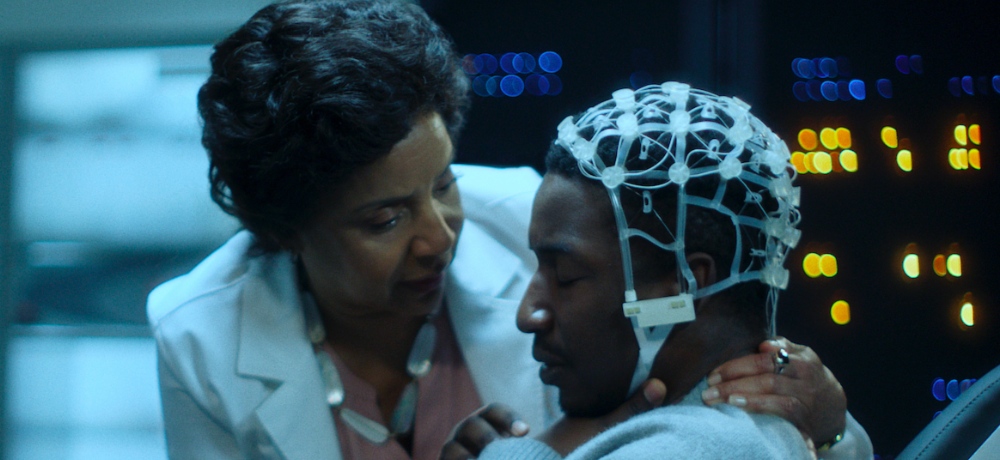 Like most people out there, I grew up as a huge fan of Phylicia Rashad and so to see her working within the genre space these days made me extremely excited. Rashad is currently co-starring in Black Box, which is one of the first four films in the Welcome to the Blumhouse collection of movies that will be streaming exclusively on Amazon Prime Video. The first two films arrive tomorrow, October 6th, and the next two will be hitting Amazon Prime Video the following week.
Daily Dead recently had the opportunity to speak with Rashad about her involvement with Black Box, and she discussed her character in the story, collaborating with director Emmanuel Osei-Kuffour, and what keeps her excited as a performer at this point in her career.
What was the initial appeal of this character Dr. Brooks for you? I think there's a really great mystery to her, and I love the way that things unfold, because I think she definitely starts off in one place, and ends up in some other place that's very interesting and intriguing, and I would love to see more of her story.
Phylicia Rashad: The woman herself, she is a neurophysicist and she is a leader in her field; in the field of research in neurophysics. And, she's intelligent, she's accomplished, authoritative, determined, well-respected, and fully funded. That's important in research. She has developed a procedure and created some technology to go with it that is cutting edge and breakthrough in treating memory loss. She's presented it to colleagues, and now she's ready to implement it. And that's what she has been doing. She's a human being who is vulnerable, because of her own personal agenda and what that means to her work, and for her work. She's not the easiest person to know, in terms of what we see and how we see her in this film, but it unfolds. She unfolds as the story unfolds, as does every character in the film.
Can you discuss working with Emmanuel on this? He's had a great track record with his short films and is clearly very talented. I think what he's able to do here, about exploring this idea of human connection, the subconscious and grief, and the sense of loss, in different ways, is very interesting and unique. I don't think I've ever really seen it presented the way that it is here.
Phylicia Rashad: That is so, isn't it? It's a very good story, a real story, a human story, and told in a very different and interesting way. It is as complex as anyone, or all of the characters are. And working with Emmanuel was great. He's a very thoughtful person, he's very meticulous in his attention to detail. He's a very humble person, and he doesn't force anything. He finds a way to bring the actors into what it is that he's looking for.
You mentioned Dr. Brooks having her own personal agenda, and obviously, I don't want to give anything away for readers, because I want them to enjoy this the way that I got to enjoy it, but what I think is really interesting is that there's something else propelling her here, which some people could see as maybe a bad thing. But I found her to be very profound in a way, because she's so propelled by something so deeply personal to her.
Phylicia Rashad: There is something very human and relatable about that. And it doesn't take much to conjure that understanding. I mean, it doesn't. It just doesn't take a lot to conjure that understanding. If, indeed you have loved someone, and lost someone, it doesn't take much to conjure that. And, if you understand love, it doesn't take much to conjure that. And, if you understand maternal love, it doesn't take much to conjure that. But, to take the understanding of love and pour it into this mold, that was the work. That was the work.
This might sound like a really silly question, but I was curious about the process of being in that lab as a performer, and being comfortable in that space. Did you find being able to be in there, and to occupy that space, was really helpful to you in terms of getting to the center of who this doctor was? Gosh, I hope that makes sense.
Phylicia Rashad: It does make sense. And a lot of that has to do with some very good direction—very good direction and support. The support of the properties department and the director who have all thought it out. We need this equipment here, we need this equipment there. This needs to be across the room, and this is where this other piece of the set is located, and how it functions in the scene, and how you move about. I didn't have to stumble through to find things. There was direction, and I could take that direction and live in it. He's a very good director, Emmanuel.
Obviously you've had just an astounding career over the decades, in terms of the things you've been able to do on the small screen and on the big screen as well. What is it that you look for at this point in your career? Is it good characters? Is it getting to work with unique talents? Is it all these different things? I'm just curious, what excites you these days as a performer?
Phylicia Rashad: Oh, I'm always asking myself, "How creative can I be, and how can I be more creative?" I'm always wanting to be better at what I do. There's a wanting of that level of understanding to expand in all directions. I want it to expand. There's just more for me to learn and to experience and express, and different ways in which to do it. I always want the experience of constant growth. That's what I want the most.