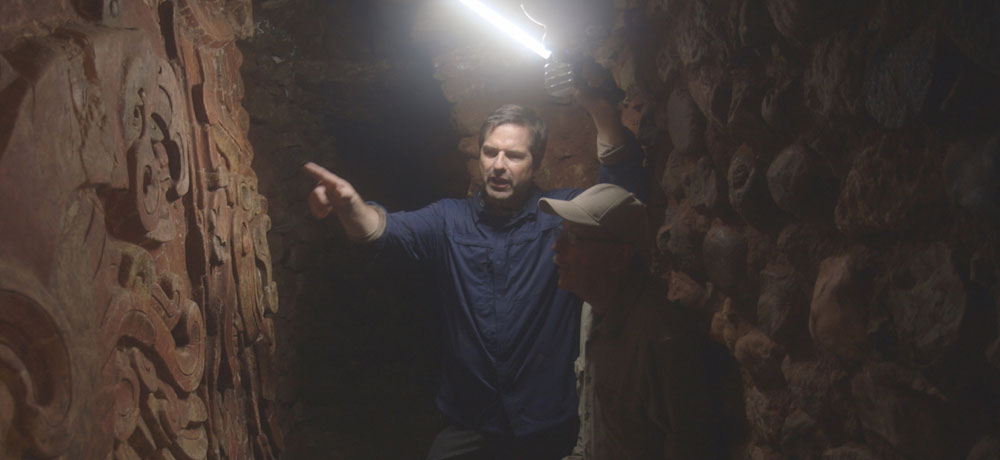 For two decades Don Wildman has been one of TV's most trustworthy and adventurous historians. He's taken viewers places never before seen on TV and uncovered some of the greatest history lost to the world. His insatiable thirst for the truth has always given his shows an heir of authenticity that is unmatched. Many have welcomed him into their homes through shows like History Channel's Cities of the Underworld and his numerous Travel Channel shows including Mysteries At The Museum, Off Limits, Weird Travels, Beyond The Unknown, and Monumental Mysteries. 
Now, Don is on a new adventure. This time, of the paranormal variety with his new show, Buried Worlds with Don Wildman. On Buried Worlds, Don steps out of his comfort zone and into some of the most sinister and darkest locales across the globe. From voodoo in New Orleans and Haiti to vampires in Bulgaria and Hungary, the lost Roanoke colony in Virginia and human sacrifice in Peru, Don dives deep into the supernatural origins of century-old myths and dark legends — sometimes participating in occult ceremonies and facing deadly curses head-on. 
I've been watching you for well over a decade, starting with Cities of the Underworld. I would record that show and watch it religiously. I would also say your shows are one of the reasons I studied media and history in college. 

Don: Thank you! That really means a lot of me. When we were shooting for this series in Budapest, there was a nice guy who was an accomplished historian there and we did the whole day of shooting and he stopped me at the end and said "I didn't want to embarrass you when we started, but I used to watch you when I was young. You were one of the reasons I became a historian" and that just blew my socks off. My eyes teared up. Here's this kid in Hungary watching a dubbed American show and it was so moving and sweet, so thank you for that. 
One thing I love that you do is that you don't so much put your own beliefs onto what you're exploring. Rather, you're being a conduit for others and for the experience even if it sometimes makes you a little uncomfortable, and that really comes out in Buried Worlds.
Don: With this being the first season you're figuring things out. I think we went out a little uncomfortable over whether me not being a paranormal expert would be a problem to the audience when there are real people doing real stuff all over the planet. Suddenly I'm this history guy coming in. I'm bringing a history explorer sensibility to this. Let me understand why this takes place, let me then find some more people who can tell me about it, and then let me experience it myself as they do. Honestly, after seeing the season back, I would go out now on a second season, if we get it, putting that right upfront. I think that's a worthy place to be. So many people, myself included, find this realm fascinating and undeniable. 

What do you think that Buried Worlds has to offer that is different from any of your other shows? 
Don: Certainly, with Mysteries At The Museum, lots of my shows have had a paranormal experience involved or storytelling about that world, but it was never first person. Never me as the protagonist. Through me, vicariously, the audience will live this experience. It's a brand new realm for me so I think that's the sensibility that distinguishes the show from any others. I started my career as the host of Weird Travels, but I was a "ghost host" with a lot more hair than I have now! My shows are more history-based and finding the context of unknown places and spaces and the history that they reveal, so this is the same kind of thing but for a paranormal experience. This series goes from Peru to Haiti, Bulgaria, Germany, England, Ireland — it's all over the map. In every one of those places, you can find people very easily who are connected to this world who are paranormal investigators and they all have these experiences. 
But I don't pretend — and I want to emphasize that — I don't pretend to be a Zak Bagan's wannabe. I have tremendous respect for those guys and what they do in terms of bringing this realm to life for people. There's a huge place for this in our world because it connects us to a realm we're all subconsciously in love with. It's right there at the edge of our existence all the time, especially the older you get. I can report from my fifties, the older you become the more interested you become in the possibilities of the afterlife. Maybe this shows gives a little more context to it or cultural understanding. 
If you had to pick a few standout moments from this season of Buried Worlds what would they be? 
Don: Our first episode has a trip to a gypsy village that is remarkable. We did not know we were going there. We got GPS coordinates and we kept driving and driving way out in the country and finally at the top of this hill we discovered this squalled little village of abandoned huddles. Nobody lived there and there were a lot of satanic markings on all the buildings and a really strong vibe that something was wrong there. We had a team of vampire hunters and they are part of a long tradition in Eastern Europe where vampires are believed and a real entity and factor of life. What these guys revealed to me was the interesting aspect of vampires not necessarily being a physical entity but rather a spiritual quality and how we've twisted these things into our own version in cinema. These guys tracked us back to the source of these kinds of ideas. 
The other thing I'm really excited about was the trip to Peru. We go to these great sites in northern Peru and one of them, discovered just a few years ago, was the site of hundreds and hundreds of child skeletons which was revealed to a pizzeria owner because his child brought a bone home. After several calls to the local archaeologist, they finally came and it changed everyone's lives because these skeletons were all dating back to the same ritual. This is a terrible scene, a gruesome scene of child sacrifice and we unravel that mystery. There are astonishing things to learn from amazing educated minds in all realms. When you're talking about witches in Eastern Europe you're taking high-minded stuff. A long, long cultural exploration. 
What keeps you coming back show after show, year after year? You always bring such an adventurous attitude to every show you do. 
Don: When you are the host of an exploration show, there are certain pressures on you. One is that you don't necessarily know what you're going to say next. So, what translates on TV as energy and passion is some guy trying to figure out what he's going to say next! And in my style of show, it's in the dark, down a tunnel or some strange place. What's serious about it is I'm in the very fortunate position of having my feet in both camps. I'm both in the adventure but also in the living room with a viewer and through me this person should be able to have this visceral experience of this knowledge. We're often talking about historical things and ideas and philosophy sometimes. It's brainy stuff. So, to make that into a physical adventure is the way to get someone interested and hooked and to get people thinking about stuff. So it's just another realm another cave in a sense. When I started this career I had no idea this was a craft, that this was something unique in life to do. I grew up watching great hosts, but when I look back at them none of them were doing the exploration at the same time as talking to the camera, but that's what modern television requires of us. You've got to bring it to life and transmit the information at the same time. 
What would you say drives your spirit for adventure? 
Don: I'm a guy who wakes up in the morning thinking about this stuff. I was the only boy, I have four older sisters. So I was the one my parents let go. It has always been in my bones to do what I do now on television. It comes very naturally to me to want to find out stuff. My DNA just wants to fill in the jigsaw puzzle of life and eventually, the fantasy, is that stand back and go "Ah! It's done!" and my therapist would tell me that's a futile experiment and will never happen, but I'm always trying. 
---------
For more details on Don Wildman's Buried Worlds, visit the official Travel Channel website at: