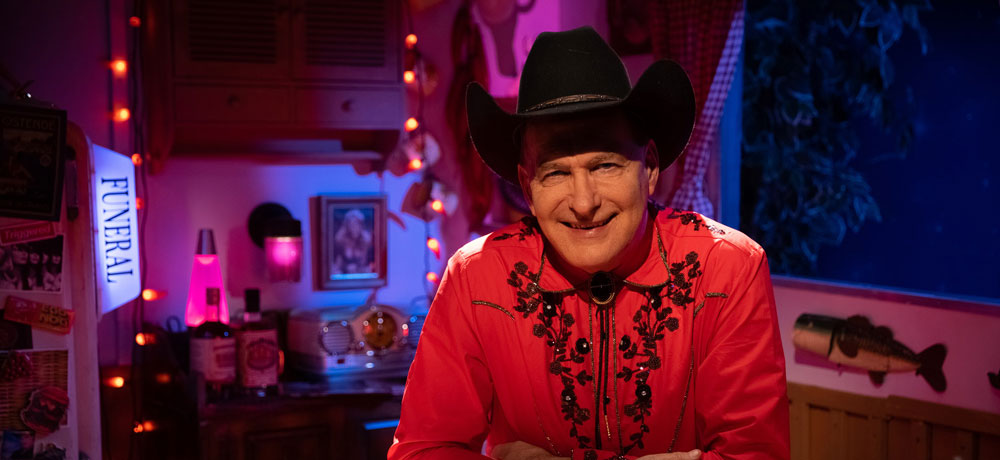 At one point it looked like the drive-in theater experience going to become extinct with the transition to digital projection, but in the past year more, people have seen movies at the drive-in than they have in decades, which must be especially exciting for Joe Bob Briggs, who is known for proudly exclaiming: "The Drive-In Will Never Die!"
If you're looking for a drive-in theater to see retro horror movies, the Mahoning Drive-In is a must-visit location for those who love horror and cult cinema. First opened in 1949 and still presenting 35 mm prints, they're one of the best places to take part in the drive-in experience, and they've teamed up with Joe Bob Briggs for "Joe Bob's Drive-In Jamboree," a three-day event this July that will feature an indie film festival, a live version of Joe Bob's show, and much more:
February 15, 2021 – The first annual Joe Bob's Drive-In Jamboree, a three-day event  billed as "the drive-in Woodstock," was announced today by long-time movie host Joe Bob Briggs and Virgil Cardamone, partner and chief programmer for the beloved  Mahoning Drive-In Theater in Lehighton, Pennsylvania.  

Dates for the event are July 16-18, and tickets will go on sale in April. 

The partnership between Briggs and the Mahoning will include an indie festival for  guerrilla filmmakers, a live double-feature version of Briggs' popular televised format, a  family-friendly "haunted drive-in" event with live zombies and monsters, and days filled  with bands, cosplay contests, custom cars, free seminars conducted by professionals  for ultra-low-budget filmmakers, movie memorabilia vendors, sideshow attractions, and  the presentation of the Joe Bob Briggs Lifetime Achievement Award, better known as  the Hubbie because it's engraved on a Chevy hubcap.  

"We're calling this The Gathering of the Mutants," said Briggs. "As I've traveled around  the country the last three years, meeting our fans at conventions and live shows,  they've all expressed a hunger for getting away from their on-line lives and celebrating  the movies and sub-cultures that we all love. What better place than the Mahoning Drive-in, saved from extinction because a handful of film fans put their lives on hold and  worked for free to preserve it?" 

"We are honored to host Joe Bob's incredible fandom here at The Mahoning Drive-in  as part of our 2021 season," said Cardamone. "This ever-growing legend of The Mahoning is strengthened each year by setting the bar for what a classic drive-in can  represent in the new era, and teaming with a king of the culture like Joe Bob Briggs and  The Last Drive-in crew to deliver a one of a kind experience will be nothing short of epic!  This partnership is a long time coming, and the opportunity to offer a safe space for  fellow mutants to celebrate their love for our beloved drive-in culture while showcasing  what makes The Mahoning so special year after year is proof that the drive-in will never  die!" 

The story of the Mahoning Drive-In (https://www.mahoningdit.com/) is told in the award winning documentary At the Drive-In, directed by Alexander Monelli, dramatizing how  the property opened in 1949 only to be threatened by closure in 2014 when the film  world went digital. A determined group of film enthusiasts turned it into a retro 35- millimeter destination and the gamble paid off, thanks to their unmatched programming  and dedication to the fan experience, so that they eventually earned a reputation as  "America's Coolest Drive-in."

The Mahoning is nestled in the ridge-and-valley region of the Appalachian Mountains,  an area rich with history dating from the eras of coal mines, railroads and factories  clustered along the Lehigh River. The nearby town of Jim Thorpe, which bills itself as  "the Switzerland of America" because of its location on a steep mountain incline, is a  popular tourist spot. 

Joe Bob Briggs is an author, critic and satirist who has hosted late-night movies since  1985, when his Drive-In Theater premiered on The Movie Channel. He has hosted more  than 20,000 hours of television on Showtime Networks, TNT and, most recently, the  Shudder streaming service, part of AMC Networks. 

More details will be released during the upcoming weeks.