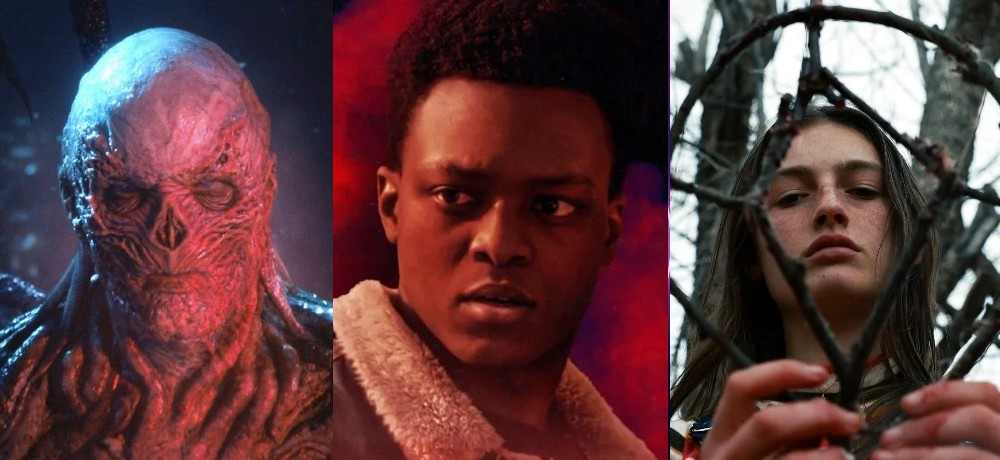 Hello, dear readers and Happy July! As we get ready to celebrate Independence Day here in the States, we have a look at all the great horror and sci-fi headed to the small screen in the coming weeks for you to enjoy at home as you do your best to beat the summer heat. Of course, most fans know that Volume 2 of Stranger Things 4 debuted today, and then the rest of July's VOD and Digital releases pick back up after the holiday, starting on July 5th. 
Check out all the fun genre offerings below and happy streaming!
Stranger Things 4 Volume 2 (Netflix) - Exclusively on Netflix July 1st 
It's been six months since the Battle of Starcourt, which brought terror and destruction to Hawkins. Struggling with the aftermath, our group of friends are separated for the first time – and navigating the complexities of high school hasn't made things any easier. In this most vulnerable time, a new and horrifying supernatural threat surfaces, presenting a gruesome mystery that, if solved, might finally put an end to the horrors of the Upside Down.
3 Demons (Uncork'd Entertainment) - July 5th
The film focuses on a Deputy that is tasked with watching over the body of a recently deceased woman until her family can arrive & claim her. As his curiosity gets the better of him, he inadvertently concludes an unfinished ritual. The conjuring now complete, strange & sinister forces begin to target him. As his past is unearthed, he's forced to face his own demons with terrifying consequences.
American Werewolves (1091 Pictures) - July 5th
Thousands of people go missing in the United States each year, and American Werewolves and Seth Breedlove allow witnesses and a few brave investigators to present their theory that perhaps real werewolves are behind some of these disturbing disappearances.
American Werewolves aims to explore this oft-overlooked aspect of American folklore. However, where previous Small Town Monsters productions delved into similar subject matter by presenting the details of the phenomena through a panel of experts, authors, folklorists and investigators, American Werewolves leaves the storytelling to the witnesses.
Final Caller (Wild Eye Releasing) - July 5th
Roland Bennett, an obnoxious late-night radio personality specializing in the supernatural is not having a good night. A visit from his soon-to-be ex-wife brings divorce papers to the station, a boss is listening in due to complaints, and a call from self proclaimed serial killer "The Outsider"  who threatens to kill a woman live on the air. Being live on the air tonight will spell death for all involved.
H.P. Lovecraft's Witch House (Horror Wasteland Pictures International) - July 5th
Graduate student Alice Gilman (Portia Chellelynn, Hematic Web) is running from an abusive past. She seeks refuge in the infamous Hannah house; a historic home with an ominous past. Determined to prove the possibility of alternate dimensions, she unknowingly unlocks a gateway to unimaginable horror. Facing a series of bizarre and violent events, Alice is plagued by nightmarish dreams of these evil entities. Trapped between the 4th dimension and reality, the diabolical truth is revealed as Alice fights for her sanity and her very soul.
Moonhaven (AMC+) - 2-Episode Premiere on AMC+ July 7th; New Episodes Weekly
This sci-fi thriller set 100 years into the future follows Bella Sway (Emma McDonald), a lunar cargo pilot and smuggler who finds herself accused of a crime and marooned on Moonhaven, a utopian community on a 500 square mile Garden of Eden built on the moon to find solutions to the problems that will soon end civilization on Mother Earth. A skeptic in paradise, Bella is sucked into a conspiracy to gain control of the artificial intelligence responsible for Moonhaven's miracles and teams with a local detective, Paul Serno (Dominic Monaghan, Lost), to stop the forces that want to destroy Earth's last hope before they are destroyed themselves. Tomm Schultz (Joe Manganiello, True Blood), an ex-military with a philosophical bent, is the right hand of the lead Earth diplomat to the moon, who finds his ambitions changed when he's injected with a mind-altering moon drug. 
On the 3rd Day (Shudder) - Exclusively on Shudder July 7th
While on a trip with her young son, Cecilia has a car accident. Three days later, she finds herself wandering a lonely road with no sign of her child – and no memory of what has happened since the crash. Cecilia's desperate search for her son leads her on a wrenching and tumultuous journey to face off against a religious fanatic who holds the shocking key to it all. 
The Prey: Legend of Karnoctus (Lennexe Films) - On Digital Platforms July 7th
In the Afghanistan desert, a group of mercenaries out for treasure completes their greatest heist. Seeking refuge from the hunting Taliban in a nearby cave, they are soon joined by retreating US soldiers, and both groups are trapped within by a rocket explosion at the cave's entrance. The newly joined parties need to work together to find an escape through the labyrinth but soon realize they're being tracked by a deadly beast that local legend calls Karnoctus; and they have become… the prey.
The Summoned (XYZ Films) - July 7th
In THE SUMMONED, young Elijah (Hamilton's J. Quinton Johnson) attends a self-help retreat with his rockstar girlfriend Lyn, unaware that the enigmatic doctor who runs the estate has summoned him here to settle a generations-old supernatural debt.
Boo, Bitch (Netflix) - Exclusively on Netflix July 8th
Over the course of one night, a high school senior, who's lived her life safely under the radar, seizes the opportunity to change her narrative and start living an epic life, only to find out the next morning… she's a motherf*%king ghost.
The Bloody Man (Wild Eye Releasing) - July 12th
Penned by Daniel and Casi Benedict, and produced by Red Serial Films, the film tells of a young boy who, after the death of his mother, becomes obsessed with a comic book she gave him that ultimately summons the ancient monster found in its pages.
Death Hunt (Uncork'd Entertainment) - July 12th
In the film, a developer and his mistress, traveling to their weekend retreat, are taken hostage by a group of men and brought to a remote island. Here they fight for survival as the men release them into the wild and hunt them for sport.
Glasshouse (Voyage Media) - July 12th
Confined to their glasshouse, a family survives The Shred, a toxin that erases memory. Until the sisters are seduced by a Stranger who shatters their peace and stirs a past best left buried.
Neon Lights (Momentum Pictures) - July 12th
Guests begin disappearing in an off-grid location, during a family reunion of misfit siblings and their offspring.
The Silent Party (La Fiesta Silenciosa) (Outsider Pictures) - July 12th
A few hours before celebrating her wedding at her father's ranch, bride-to-be Laura (Jazmin Stuart) goes for a walk alone and stumbles upon an unusual party at a young neighbor's house. The music and the atmosphere take her away from her own tensions for a moment until a violent act drastically changes the course of the night. Soon her father Leon (Gerardo Romano) and boyfriend Daniel (Esteban Bigliardi) become part of a plan for revenge.
Good Madam (Shudder) - Exclusively on Shudder July 14th
In Good Madam, Tsidi, a single mother, is forced to move in with her estranged mother Mavis, a live-in domestic worker caring obsessively for her catatonic white 'Madam' in an affluent Cape Town suburb. As Tsidi tries to heal her family however, a sinister specter begins to stir.
A genre film entrenched in the ordinary everyday horrors in our society, Good Madam explores the generational trauma inherent to South African culture, sprawling from the past to the present day, with chilling delivery and haunting results. 
American Carnage (Saban Films) - July 15th
After a governor issues an executive order to arrest the children of undocumented immigrants, the newly detained youth are offered an opportunity to have their charges dropped by volunteering to provide care to the elderly. Once inside the eldercare facility, the volunteers discover the governor and the facility's supervisor have cooked up a horrifyingly depraved conspiracy that endangers the young and the old in this twisted thriller-comedy.
Gateway (Dark Sky Films) - July 15th
Mike is a low-level drug dealer in debt to a ruthless supplier. When he and his gang set up shop in an abandoned house, he thinks his problems are solved. But a mysterious locked door inside the house and growing discord within the gang brings old feuds boiling to the surface. As friendships unravel, the house begins to enact its own plan, using the gang's own deepest dark thoughts against them. 
Like lambs to the slaughter, the men are lured one by one into the room and there they are confronted by the evil world that lies within themselves. The once-locked door is now open, and what lies beyond has its own desires. 
She Will (IFC Midnight) - July 15th
SHE WILL is a gothic-tinged drama about a declining movie star, Veronica Ghent (Alice Krige) who after a difficult surgery, goes to a healing retreat in rural Scotland with her young nurse Desi (Kota Eberhardt). With her own identity in doubt, Veronica starts to confront past traumas endured on movie sets. The two women develop an unlikely bond as the mysterious nature of the wilderness gives Veronica the power to enact revenge.
Moloch (Shudder) - Exclusively on Shudder July 21st
In Moloch, 38-year-old Betriek lives at the edge of a peat bog in the North of the Netherlands. When she and her family are attacked by a random stranger one night, Betriek sets out to find an explanation. The more she digs, the more she becomes convinced that she is being hunted by something ancient.
This is GWAR (Shudder) - Exclusively on Shudder July 21st
This is GWAR is the powerful story of the iconic heavy metal art-collective, as told by the humans who have fought to keep it alive for over thirty years. The feature documentary includes interviews with the band members, both past and present, as well as other artists including Weird Al Yankovic, Thomas Lennnon, Alex Winter, Bam Margera, and Ethan Embry, including never before seen footage of legendary GWAR front-man Dave Brockie (Oderus Urungus).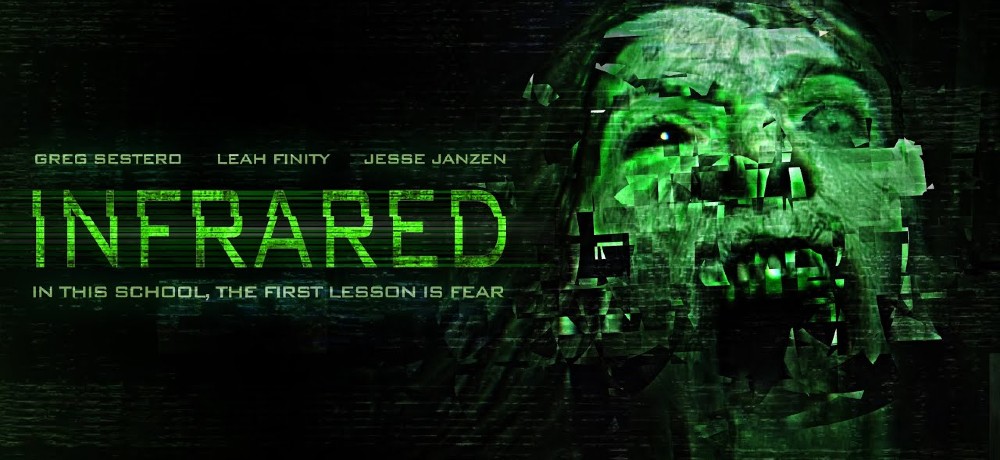 Infrared (Terror Films) - July 22nd
A paranormal investigator and his production crew gain access to a mysterious, abandoned school but when the thrilling haunt turns deadly, the team must race to uncover the terrifying truth before they become the school's next victims.
Blackwood (Saban Films) - July 26th
A seemingly unstoppable, violent creature stands between a gang of outlaws, a Native American woman, and a fortune of gold in the terrifying Old West. Dutch Wilder and his crew are tasked with ambushing prospectors who've discovered gold in the uncharted Blackwood Forest. But first they must track the horse thief who killed one of their men. The "thief" is a Native American, herself a victim of barbaric frontier injustice. Coerced in-to accompanying the gang through the treacherous terrain, she leads them deeper into darkness where they're attacked by the malevolent, ancient entity. The Wilder posse and Native guide must work together and fight for their very survival.
Endangered (REBL HQ) - July 26th
Alison, an aspiring architect, spends her evenings trying to make ends meet as a ride-share driver. While wrapping up her shift, she decides to take on one last passenger - only to find herself in unexpected danger when she discovers the mysterious stranger is not who he appears to be.
Hellbender (RLJE Films) - July 26th
Izzy leads an isolated life, locked away from the world by her protective mother who has convinced her she has a "chronic illness." After sneaking into town, Izzy plays a cruel drinking game with a new friend that unleashes a deep-rooted taste for blood. Confused and scared, Izzy questions her mom. But Mom's secrets are as old and dark as the bloodline from which they're born, and its grip is tight. Izzy's true nature can only sleep for so long, though, and when it wakes, it's hungry as hell….
Slapface (RLJE Films) - July 26th
After the death of his mother, Lucas, a loner who lives in a rundown home with his brother, Tom, regularly seeks solace in the nearby woods. With his only "friends" being a group of female bullies, he keeps to himself most of the time. But, after a strange encounter with an inhuman monster, Lucas begins to withdraw from others. When the two reach a tentative trust, a bizarre friendship is born, and Lucas is swept up in a series of primal adventures.
They Live in the Grey (RLJE Films) - July 26th
While investigating a child abuse case, a clairvoyant social worker discovers that the family is being tormented by a supernatural entity. In order to save the parents from losing the custody of their child, she must confront her own fears and use her ability to stop the malevolent force.
The Reef: Stalked (RLJE Films/Shudder) - on VOD/Digital/Shudder July 29th
In THE REEF: STALKED, in an effort to heal after witnessing her sister's horrific murder, Nic travels to a tropical resort with her friends for a kayaking and diving adventure. Only hours into their expedition, the women are stalked and then attacked by a great white shark. To survive they will need to band together and Nic will have to overcome her post-traumatic stress, face her fears and slay the monster.