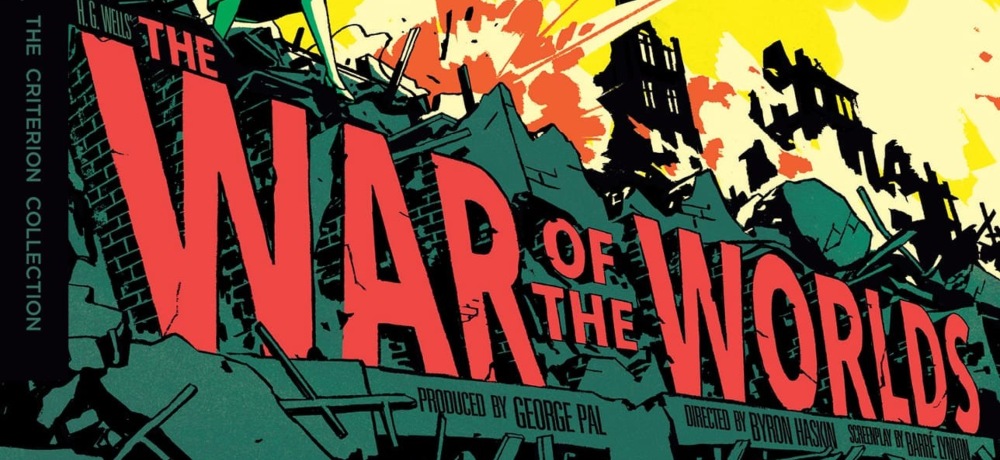 After a few relatively quiet weeks to wrap up June's home media releases, July comes roaring back with a slate of titles that genre fans will definitely want to add to their Blu-ray and DVD collections. Arrow Video has been staying extremely busy as of late, with three different releases coming out on Tuesday: Black Rainbow from Flash Gordon director Mike Hodges, Zombie for Sale, and Teruo Ishii's Inferno of Torture. Criterion Collection is also celebrating an all-time sci-fi classic this Tuesday, The War of the Worlds, and if you haven't had a chance to check it out on Shudder, Belzebuth is headed to both Blu-ray and DVD this week as well.
Leomark is showing some love to the Godfather of Gore, Herschell Gordon Lewis, with their Blu-ray presentation of Bloodmania, and Kino Lorber is resurrecting The Flesh and the Fiends for a Special Edition Blu this week, too. We also have new Blu-rays for both Jungle Holocaust and Jess Franco's Neurosis arriving on Tuesday and if you're looking to see more from Blair Witch Project co-director Daniel Myrick, his latest, Skyman, is coming out on both Blu and DVD.
Other releases for July 7th include Tooth Fairy: Root of Evil, Escape Room: Quest of Fear, Five Must Die, The Scientist and Dead Voices.
Belzebuth (RLJE Films, Blu-ray & DVD)
Special Agent Emanuel Ritter leads a police investigation into a series of shocking deaths. But after a priest from the Vatican finds a link between the murders and an ancient demon, a descent into horror ensues.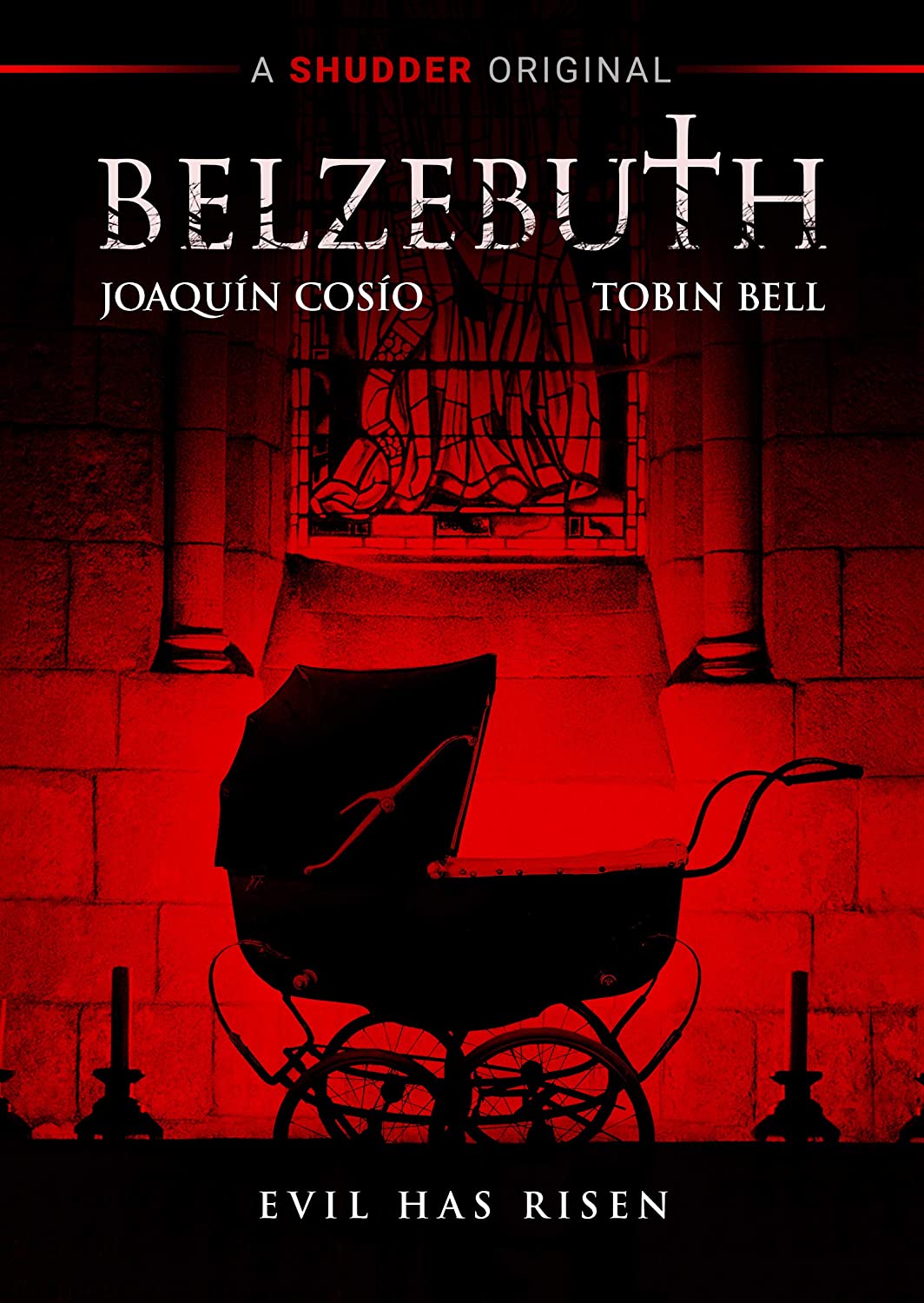 Black Rainbow (Arrow Video, Blu-ray)
Mike Hodges (Flash Gordon, Get Carter) wrote and directed this supernatural chiller as a meditation on the human race's ability to destroy the world, a gothic tale of suspense and the occult, guaranteed to send shivers down your spine.
Martha Travis (Rosanna Arquette, Pulp Fiction, Crash) is a travelling clairvoyant on the road with her skeptic father (Jason Robards, Once Upon a Time in the West, Magnolia). During a séance Martha communicates a message from a dead man to his wife in the audience. Shocked the wife insists her husband is still alive. Later that evening the husband is killed by a ruthless assassin. As Martha foresees more and more tragic events journalist Gary Wallace (Tom Hulce, Amadeus, Animal House) follows the pair in pursuit of a hot story with catastrophically eerie results.
Sent direct to cable by its struggling distributor on initial release, Black Rainbow unfairly never got the exposure it deserved, newly restored from the original negative audiences can now discover the darkness at the end of the rainbow, as never before. 
DIRECTOR-APPROVED SPECIAL EDITION CONTENTS:
Brand new restoration from the original negative approved by writer-director Mike Hodges
· Original stereo 2.0 PCM uncompressed audio and 5.1 DTS-HD Master Audio Surround Sound options
Optional English subtitles for the deaf and hard of hearing
New audio commentary by film historians Kat Ellinger and Samm Deighan
Archival audio commentary by Mike Hodges
Message in a Bottle: Archival 'Making of' documentary
Archival interviews with Jason Robards, Tom Hulce, Rosanna Arquette
Archival featurettes '8 Minutes'; 'Disasters'; 'Seeing the Future'; 'Behind the Rainbow' featuring interviews with Hodges, Arquette, Robards, producer John Quested including behind-the-scenes imagery
Trailer
Reversible sleeve featuring original and newly commissioned artwork by Nathanael Marsh
FIRST PRESSING ONLY: Booklet featuring new writing on the film by author Alexandra Heller-Nicholas, Mike Hodges and more illustrated with stills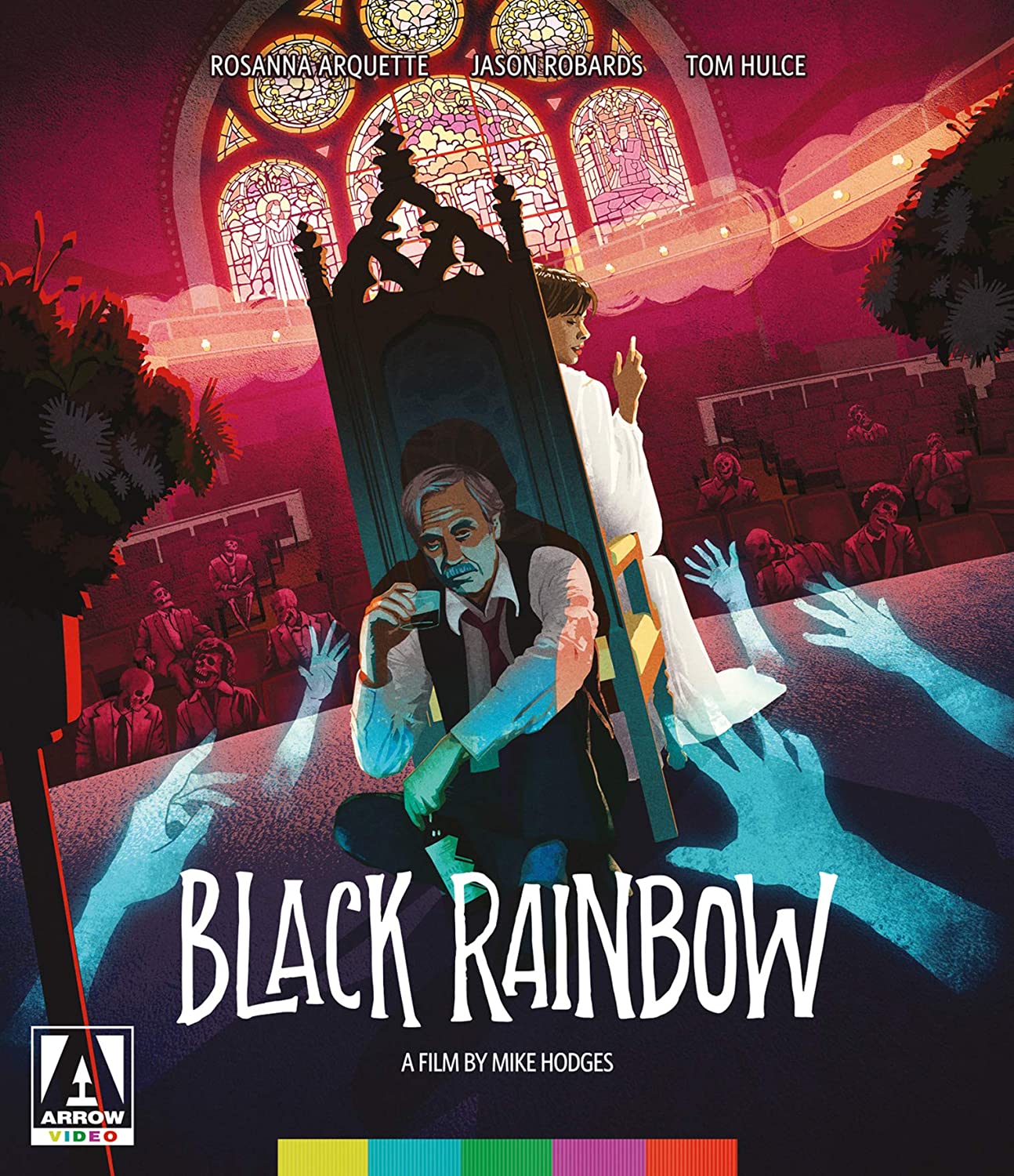 Bloodmania (Leomark Studios, Blu-ray)
The undisputed Godfather of Gore Herschell Gordon Lewis (Blood Feast, Two Thousand Maniacs) heads up this twisted horror gore anthology, marking the last film work of this celebrated genre master. Segments include Attack of Conscience, GOREgeous, Gory Story, and The Night Hag, culminating in a celebratory swan song for the infamous director of some of the most iconic and satirical gore films ever made!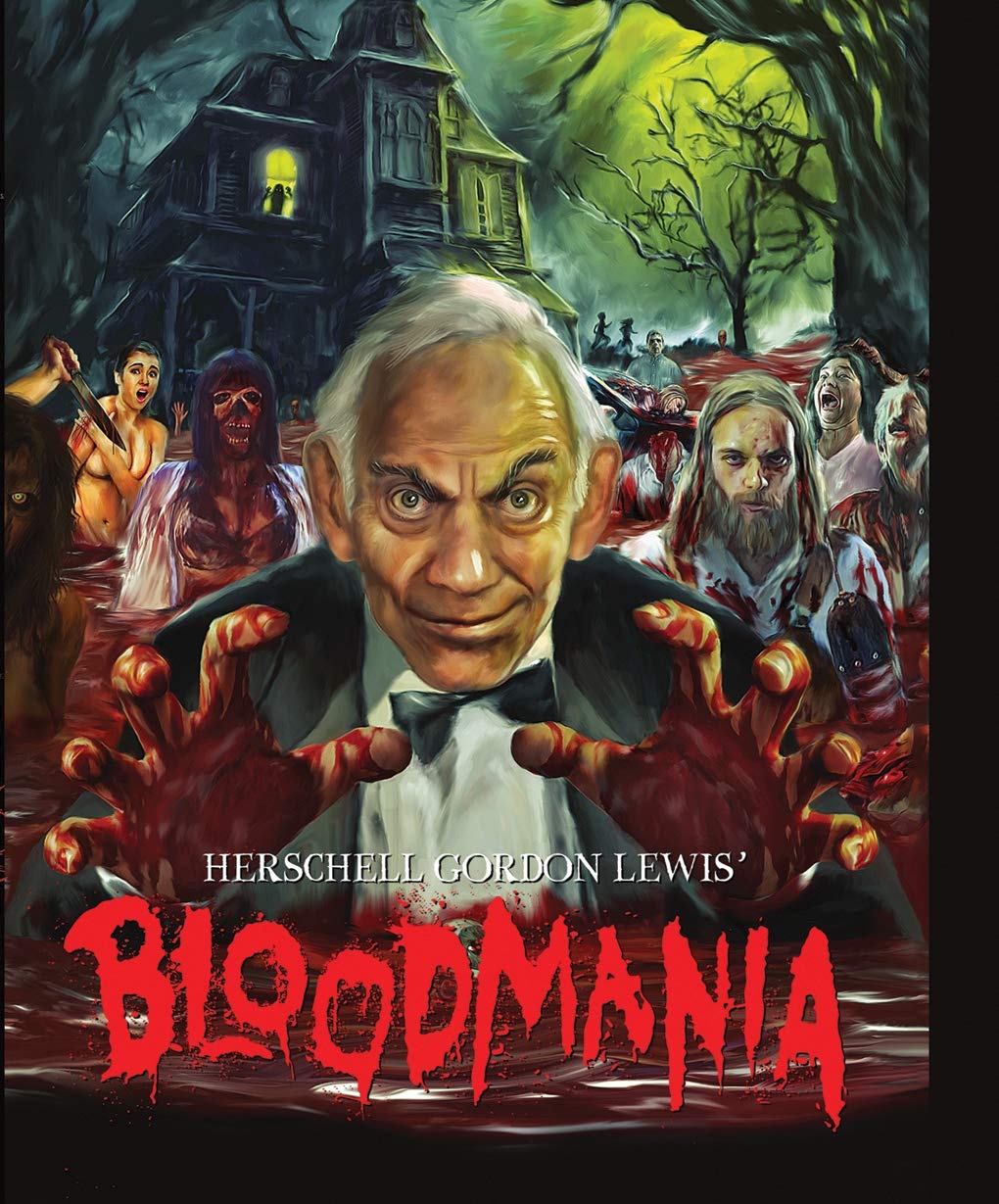 The Flesh and the Fiends: Special Edition (Kino Lorber, Blu-ray)
More Fearsome Than Frankenstein... More Demonic Than Dracula! Edinburgh, 1827. Irish immigrants Burke (George Rose, A New Leaf) and Hare (Donald Pleasence, Halloween) hit upon the idea of selling the bodies of the recently deceased to eminent surgeon Dr. Robert Knox (Peter Cushing, The Skull). Dr. Knox, knowing that experimental vivisection is the only way for medicine to make progress, forms an uneasy alliance with the self-styled body snatchers. When Burke and Hares' supply of available corpses begins to run out, they decide to speed the process along by murdering the poor and the homeless. Men and women, old and young, everyone becomes a target for the deadly duo, but even as the body count rises, Knox turns a blind eye to their methods in order to further his research. But after one of his own medical students is murdered, Knox finds it difficult to remain impassive. With the public out for the killers' blood and the Medical Council out to disgrace him, Dr. Knox must use all of his skill and intelligence to preserve the dignity of his profession and to justify his controversial actions in the face of near-universal condemnation. Co-written and directed by John Gilling (The Reptile) and co-starring Billie Whitelaw (The Omen), The Flesh and the Fiends is presented in this special edition in its original U.K. version and its 74-minute U.S. cut, The Fiendish Ghouls a.k.a. Mania.
Special Features:
-Brand New 2K Master
-NEW Audio Commentary by Film Historian Tim Lucas
-Includes alternate cut THE FIENDISH GHOULS aka MANIA
-Trailers
-Dual-Layered BD50 Disc
-Optional English Subtitles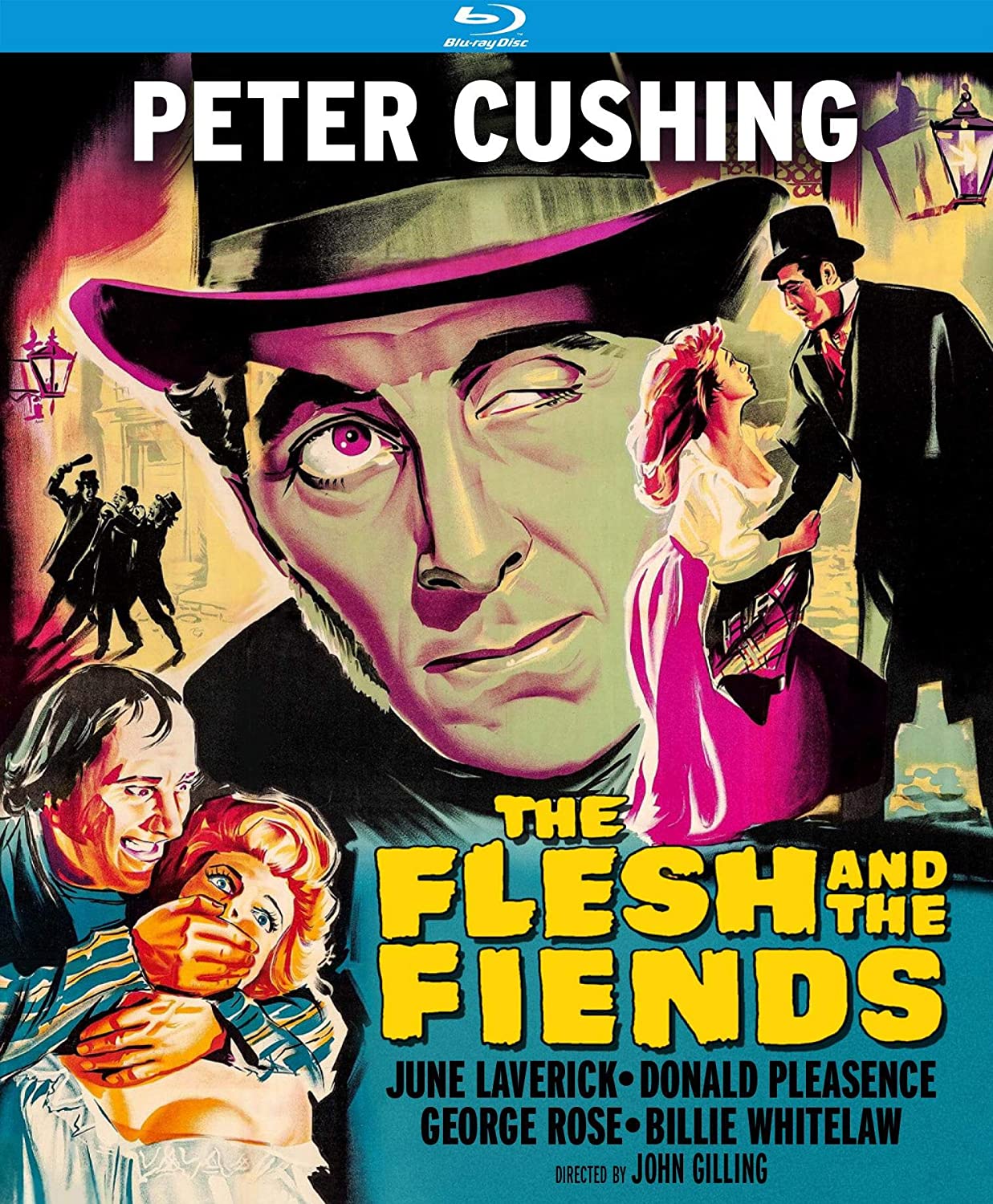 Inferno of Torture (Arrow Video, Blu-ray)
Exploitation legend Teruo Ishii (Horrors of Malformed Men, Orgies of Edo) delivers one of his most extreme visions of violent eroticism in this, the sixth in his abnormal love series. Tattoos and torture await women forced into servitude in Ishii's Inferno of Torture. 
Unable to repay a local lender, Yumi (Yumika Katayama) takes up an offer to serve as a geisha for two years with a promise of freedom once her debt is repaid. She quickly realizes that this is less a house of geishas than an extremely cruel brothel specializing in supplying western visitors with tattooed playthings. Taken under the wing of one of the leading tattoo artists vying for a coveted spot in the Shogun's good graces through his work, Yumi's body becomes a battleground as a rival artist becomes determined not to lose his spot at the top. When the madam, Otatsu (Mieko Fujimoto) trains her eye on the blossoming relationship between the benevolent artist Horihide (Teruo Yoshida) and his model, she makes sure than her stay is less than hospitable, inspiring the torturous inferno of the title.
Following Ishii's legendary Shogun's Joy of Torture and Orgies of Edo, the prolific filmmaker still manages to turn up the heat in this incredibly violent and salacious entry in a filmography unlike any other. From the film's opening scene depicting some of the most perverse violence ever captured on screen, through to the shock ending that will leave the audience's mouths agape, there's nothing quite like Inferno of Torture. Tender romance clashes with vile sadism as a sea of tattooed female flesh floods nearly every frame of this film depicting Japan's Edo period as only Ishii could.
SPECIAL EDITION CONTENTS:
High Definition Blu-ray (1080p) presentation
Original uncompressed mono audio
Optional English subtitles
Audio Commentary by Japanese cinema expert Tom Mes
Erotic Grotesque Nonsense & the Foundations of Japan's Cult Counterculture- a condensed version of Jasper Sharp's Miskatonic Institute lecture
Trailer
Reversible sleeve featuring original and newly-commissioned artwork by Jacob Phillips
FIRST PRESSING ONLY: Collector's booklet featuring new writing on the film by Chris D.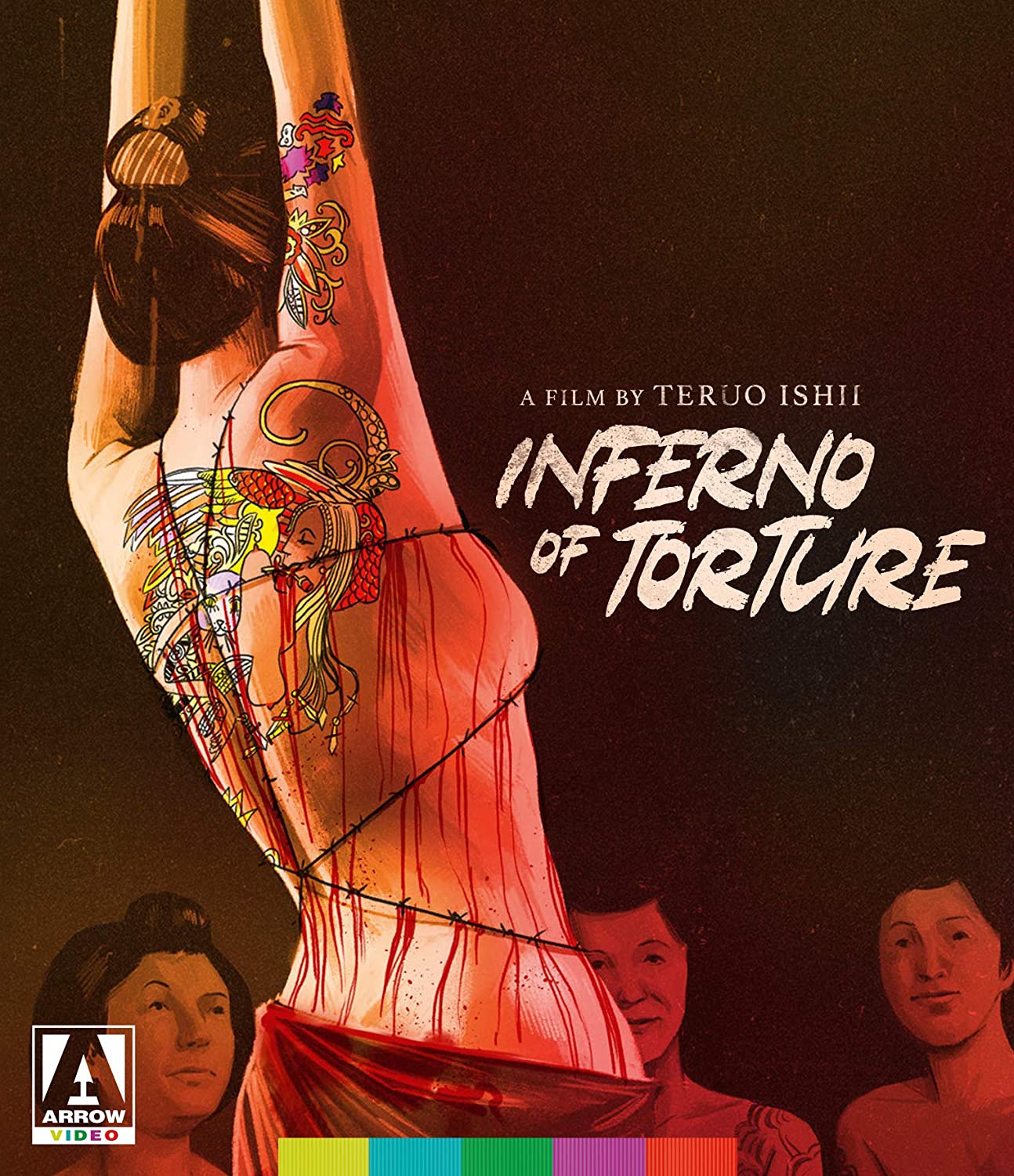 Jungle Holocaust: Special Edition (Code Red, Blu-ray)
A small plane carrying Robert Harper (Massimo Foschi, The Chosen, Nine Guests for a Crime) and his friend Rolf (Ivan Rassimov, Spasmo, The Raiders of Atlantis) crash lands in an isolated development in New Guinea. After the pilot and his female companion are killed by a tribe of cannibals, the two friends on the run are separated and Robert is captured by a rival tribe, who may not be cannibals, but are cruel and primitive beyond belief. Tortured and humiliated, Robert is taken to the edge of his sanity by a series of acts so horrible that they are practically beyond human comprehension. Only the fact that one of the tribe women (Me Me Lai, Eaten Alive!, Element of Crime) sympathizes with him, gives Robert the strength to plan a desperate escape, but standing in his way back to civilization are the cannibal tribe responsible for the death of his crew members. This cannibal classic directed by Ruggero Deodato (Cannibal Holocaust, Body Count, The Barbarians) played all over America as The Last Survivor in an edited form, now watch this classic uncut from a Brand New HD master.
Special Features:
-Includes Both the Uncut International Version and Alternate U.S. Cut
-Interview with Star Massimo Foschi
-Interview with Star Ivan Rassimov
-Theatrical Trailer
-Dual-Layered BD50 Disc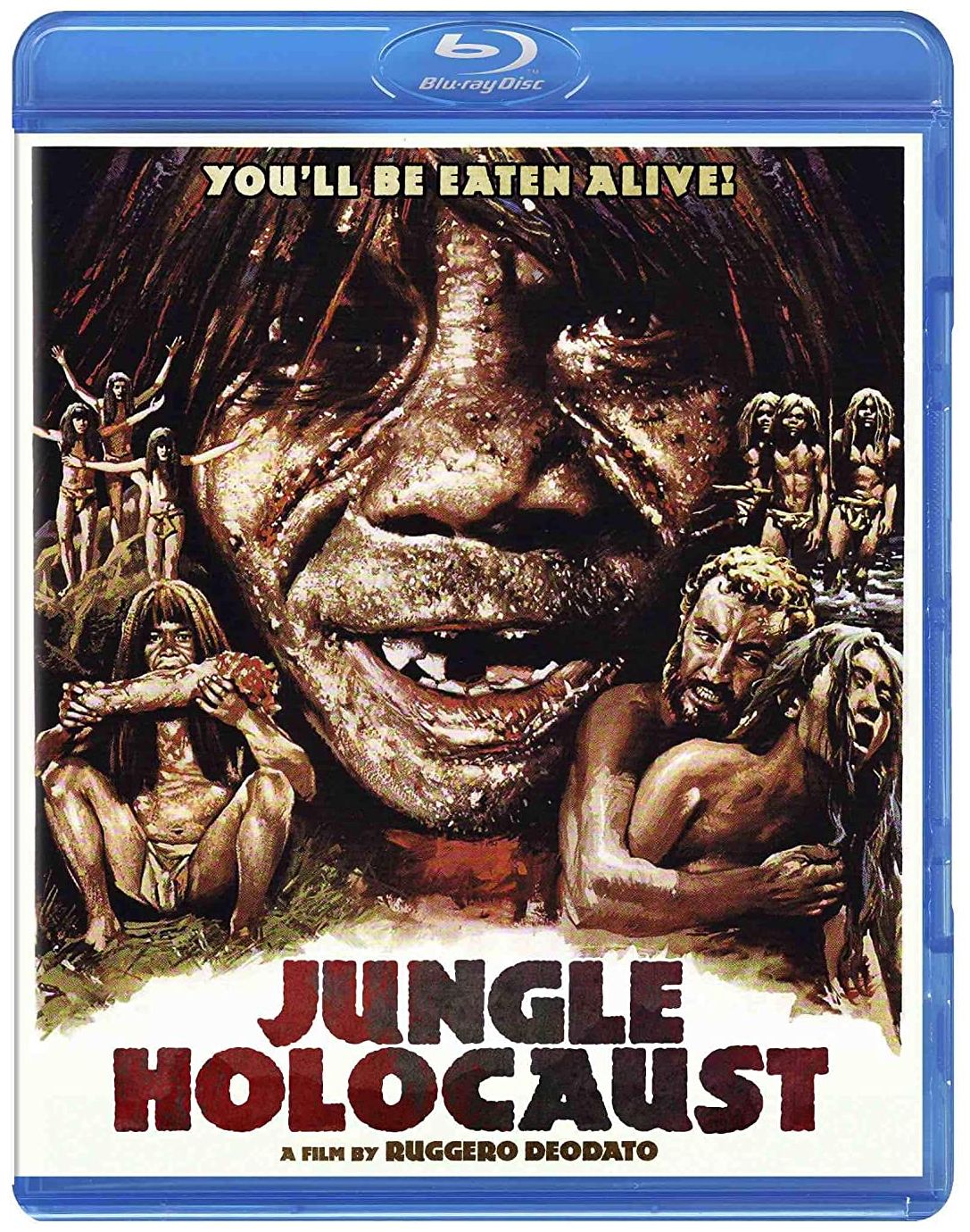 Neurosis (Redemption, Blu-ray)
In an audacious feat of cinematic bricolage, Jess Franco utilized footage from three decades of filming to craft a unique story that pays homage to the morbid poetry of Edgar Allan Poe, while indulging the director's personal obsessions. Antonio Mayans stars as Harker (a nod to Bram Stoker's Dracula), who visits the crumbling castle of his former mentor, Eric Usher (Howard Vernon), now on the brink of mental collapse. Just as the house opens its doors to reveal dreadful, erotic secrets in every corner, Usher delves into his own memories and shares the causes of his increasing madness.
Special Features:
-French soundtrack with optional English subtitles; audio commentary by film historian Tim Lucas
-Theatrical trailer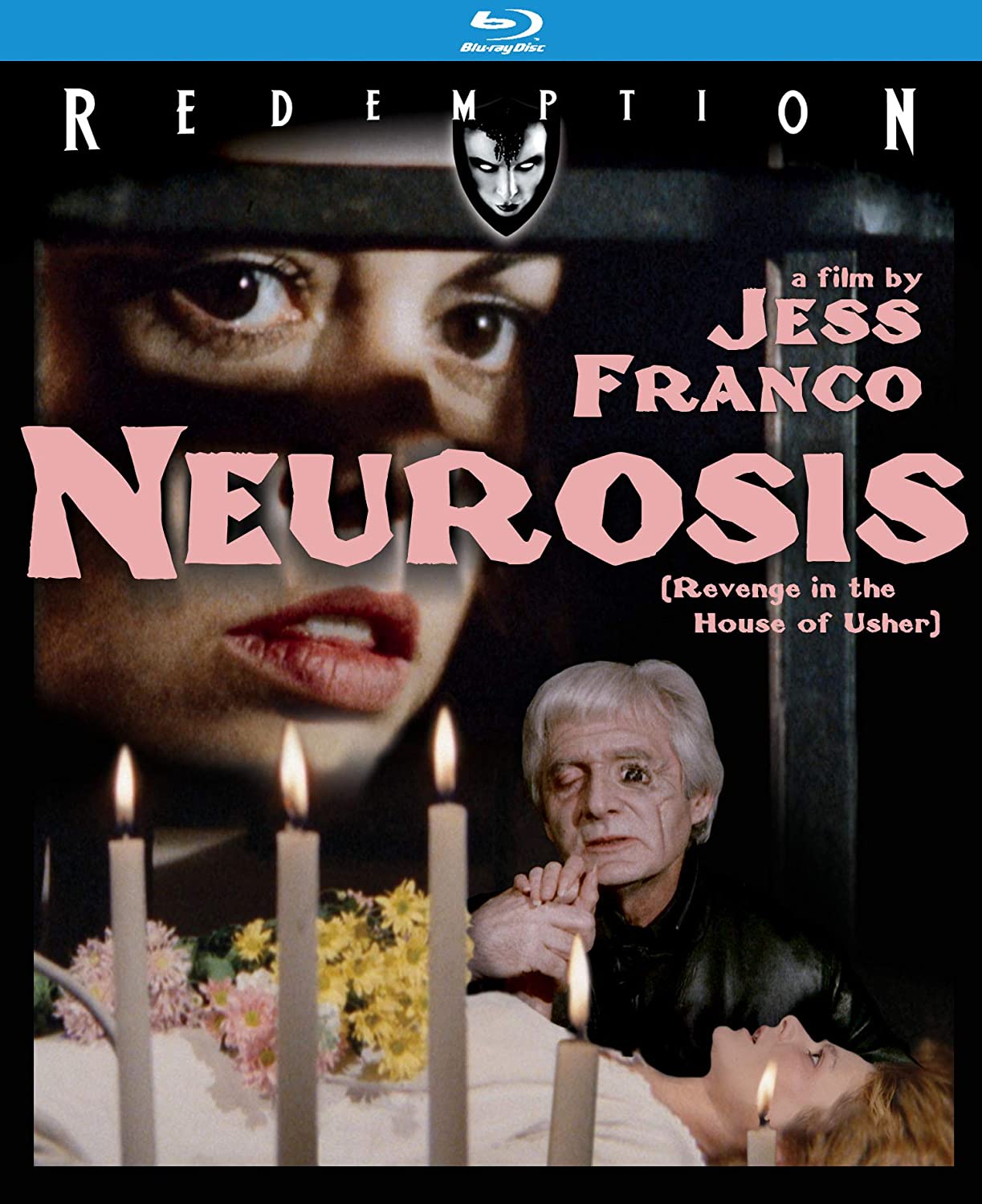 The War of the Worlds: The Criterion Collection (Criterion, Blu-ray)
A mysterious, meteorlike object has landed in a small California town. All clocks have stopped. A fleet of glowing green UFOs hovers menacingly over the entire globe. The Martian invasion of Earth has begun, and it seems that nothing—neither military might nor the scientific know-how of nuclear physicist Dr. Clayton Forrester (Gene Barry)—can stop it. In the expert hands of genre specialists George Pal and Byron Haskin, H. G. Wells's end-of-civilization classic receives a chilling Cold War–era update, complete with hallucinatory Technicolor and visionary, Oscar-winning special effects. Emblazoned with iconographic images of 1950s science fiction, The War of the Worlds is both an influential triumph of visual imagination and a still-disquieting document of the wonder and terror of the atomic age.
BLU-RAY SPECIAL EDITION FEATURES • New 4K digital restoration, with uncompressed monaural soundtrack • New alternate 5.1 surround soundtrack, created by sound designer Ben Burtt and presented in DTS-HD Master Audio • Audio commentary from 2005 featuring filmmaker Joe Dante, film historian Bob Burns, and author Bill Warren • Movie Archaeologists, a new program on the visual and sound effects in the film featuring Burtt and film historian Craig Barron • From the Archive, a new program about the film's restoration featuring Barron, Burtt, and Paramount Pictures archivist Andrea Kalas • Audio interview with producer George Pal from 1970 • The Sky Is Falling, a 2005 documentary about the making of the film • The Mercury Theatre on the Air radio adaptation of The War of the Worlds from 1938, directed and narrated by Orson Welles • Radio program from 1940 featuring a discussion between Welles and H. G. Wells, author of the 1897 novel The War of the Worlds • Trailer • English subtitles for the deaf and hard of hearing • PLUS: An essay by film critic J. Hoberman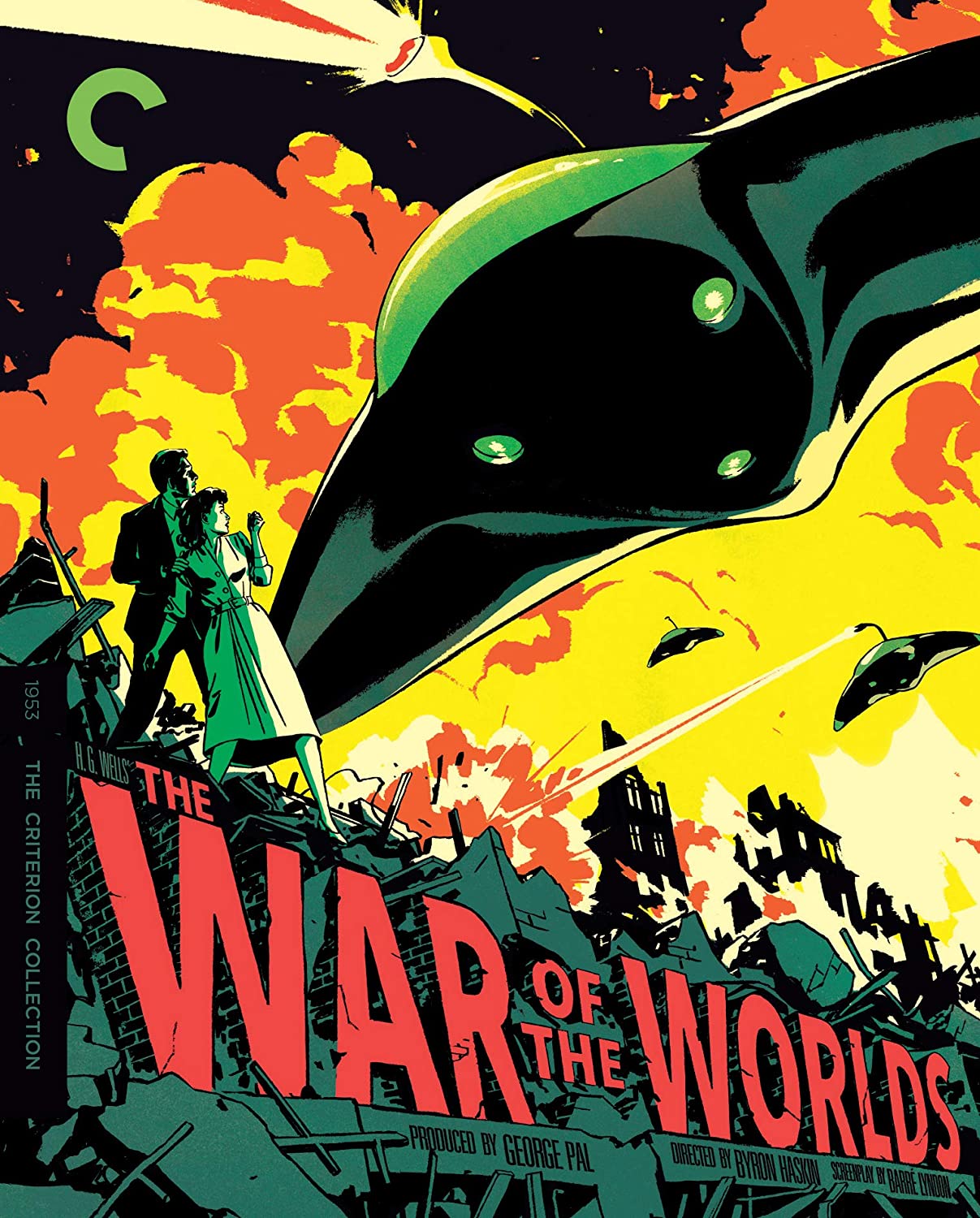 Zombie For Sale (Arrow Video, Blu-ray)
An infectiously funny slice of modern Korean cinema where Train to Busan, The Quiet Family and Warm Bodies collide to create a memorable rom-zom-com from first time director Lee Min-jae.
When the illegal human experiments of Korea's biggest Pharmaceutical company go wrong, one of their ''undead'' test subjects escapes and ends up in a shabby gas station owned by the Park family a band of misfits spanning three generations who hustle passers-by to make ends meet. When the Park family uncover their undead visitor, he bites the head of their household, who instead of transforming into an undead ghoul becomes revitalised and full of life! The family then hatch a plan to exploit this unexpected fountain of youth, allowing locals to pay to be bitten too, until things go wrong.
With a cabbage-munching zombie who prefers ketchup over blood, and a dysfunctional family that gives the Kim family of Parasite a run for their money, Zombie for Sale will warm the deadest of hearts and breathe some new life into the zombie genre.
SPECIAL EDITION CONTENTS:
High-Definition Blu-ray (1080p) presentation
· Original uncompressed Stereo and 5.1 DTS-HD MA options
Newly-translated English subtitles
Brand new audio commentary with filmmakers and critics Sam Ashurst and Dan Martin
Q&A with director Lee Min-jae from a 2019 screening at Asian Pop-Up Cinema in Chicago, moderated by film critic and author Darcy Paquet
Eat Together, Kill Together: The Family-in-Peril Comedy- brand new video essay by critic and producer Pierce Conran exploring Korea's unique social satires
Making-Of Featurette
Behind-the-Scenes footage
Original Trailer
Reversible sleeve featuring original and newly-commissioned artwork by Mike Lee-Graham
FIRST PRESSING ONLY: Collector's booklet featuring new writing by Josh Hurtado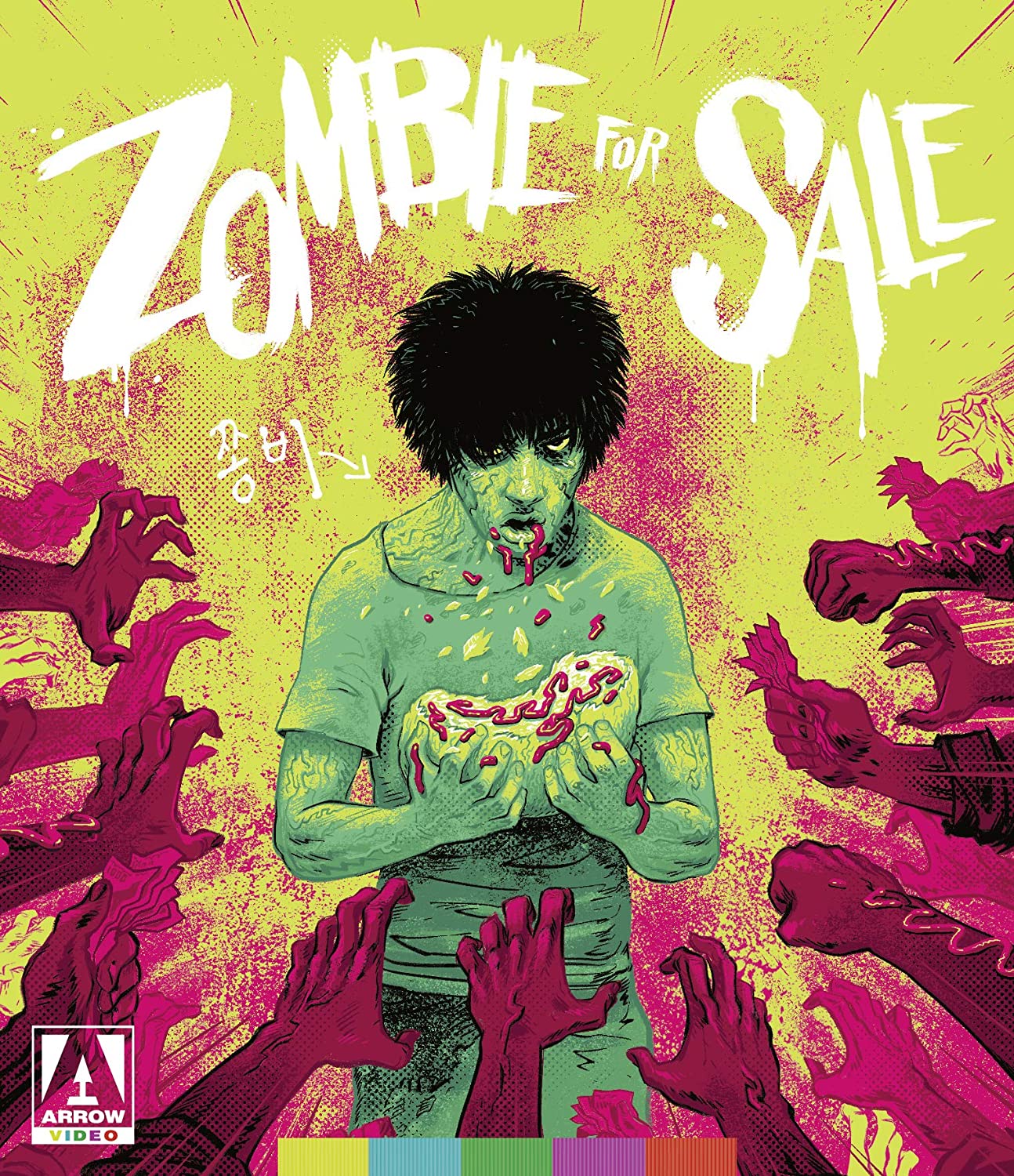 ALSO AVAILABLE THIS WEEK: 
Dead Voices (Post Modern Entertainment, DVD)
Escape Room: Quest of Fear (Leomark Studios, Blu-ray & DVD)
Five Must Die (Leomark Studios, Blu-ray & DVD)
The Scientist (ITN Distribution, DVD)
Skyman (Gravitas Ventures, Blu-ray & DVD)
Tooth Fairy: Root of Evil (ITN Distribution, DVD)