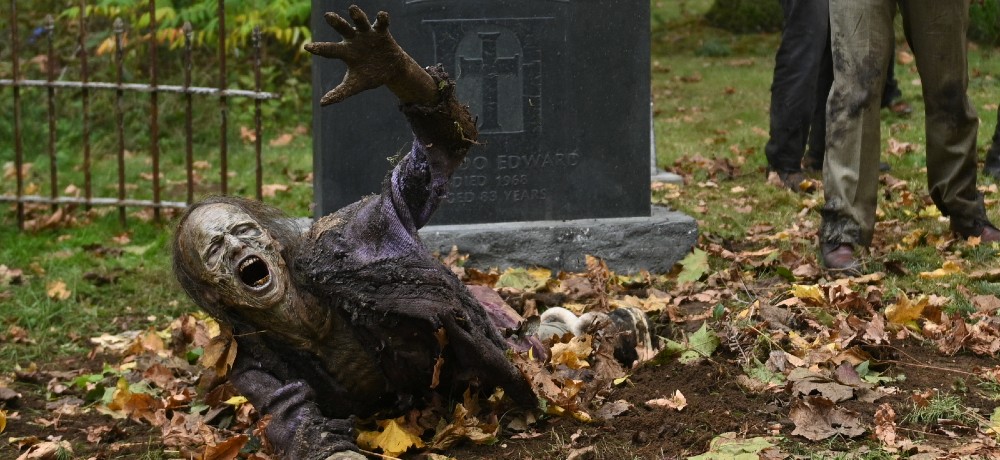 Sponsored by SYFY to celebrate the premiere of Day of the Dead, Heather Wixson is joined by special guest Steven Kostanski, who directed the first four episodes of the new series inspired by George A. Romero!
Listen as Heather talks with Steven about SYFY's ambitious new zombie series, including its unique living dead origin story, scary good sense of humor, amazing practical effects from the legendary Todd Masters and his team at MastersFX, and how the series honors Romero's Day of the Dead while still telling its own original story.
So, whether you're a diehard fan of George A. Romero's living dead films, or you're completely new to the flesh-eating zombie genre that the Godfather of the Dead unearthed, we hope you enjoy this special episode of Corpse Club that goes behind the scenes (and beyond the grave) of SYFY's Day of the Dead series!
You can listen to the new episode of Corpse Club right now on iTunes, Google Play, Spotify, iHeartRadio, Stitcher, TuneIn, YouTube, Pandora, and SoundCloud.
Looking for more scary good Corpse Club content? Be sure to check out our Corpse Club website and memberships. Not only can you view past episodes, but you can also sign up to be an official Corpse Club member to enjoy a wide range of rewards, including a shirt and pin that are to die for, access to bonus content, and the ability to suggest an episode topic!
Missed out on our previous episodes? Don't despair, our entire backlog is waiting for you on our website!
---------
Go HERE to catch up on all of our Indie Horror Month features!
Our Episode 223 Online Player: