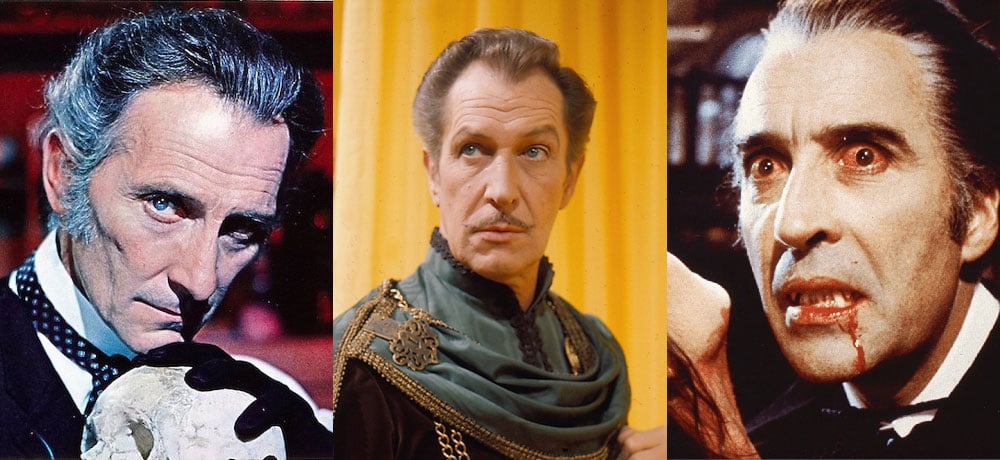 Their memories live on through timeless performances that define them as three of the most impactful and influential horror movie actors to ever grace the screen, so it's fitting that Peter Cushing, Vincent Price, and Christopher Lee all share birthdays in the same 48-hour period (Cushing on May 26th and Lee and Price on May 27th).
On this episode of Daily Dead's official podcast, Corpse Club co-hosts Scott Drebit and Jonathan James are joined by Stephanie Crawford (The Screamcast, Bloody Disgusting) to celebrate the birthdays of the legendary acting trio by reflecting on some of their favorite horror movies starring Cushing, Price, and Lee, respectively.
From Dracula A.D. 1972 and The Curse of Frankenstein to The Wicker Man and The Abominable Dr. Phibes, listen as the co-hosts dive into an eclectic set of films that showcase the tremendous talents of Cushing, Price, and Lee.
So, whether you're a lifelong fan of these horror genre heroes or you're looking for recommendations on what to start watching when it comes to these titans of terror, sit back, relax, and enjoy this special episode of Corpse Club!
You can listen to the new episode of Corpse Club right now on iTunes, Google Play, Spotify, iHeartRadio, Stitcher, TuneIn, and SoundCloud.
We understand that money is tight these days and it's important to support each other however we can. This month, if you donate your money to a charity, food shelf, or any type of organization that's supporting healthcare workers and those affected by the COVID-19 pandemic, we will give you a free one-month Corpse Club membership (just email us a receipt of your donation and feel free to block out any personal information).
Missed out on our previous episodes? Don't despair, our entire backlog is waiting for you on our website!
Our Episode 158 Online Player: