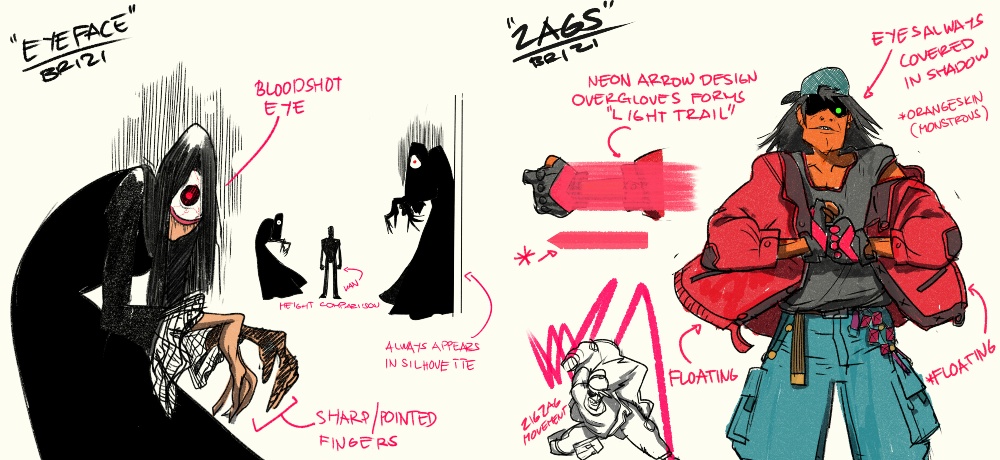 A freshman leads the fight against ravenous ghosts feeding off the energy of his fellow high school students in the new supernatural series Grammaton Punch. Written by Miles Gunter and illustrated by Briane Andan, the first issue of Grammaton Punch is now available digitally from Comixology Originals, and we've been provided with exclusive character designs and mini bios of the series' eclectic characters to share with Daily Dead readers!
Below, you can check out exclusive character bios (by Miles Gunter) and character designs (by Briane Andan) from Grammaton Punch, and to learn more about the new supernatural comic book series, visit Amazon!
Meet the Cast of Grammaton Punch
Written by Miles Gunter
Art by Briane Andan
Van Nguyen

Born on an eclipse, Van has the ability to see and lay hands on the ghosts he calls Feeders, which prey off the life energies of everyday people. He was sick and near death during his childhood because he was always being drained by a Feeder- which resulted in his hair turning white. Once Van figured out he could fight back, he became a defender of all the people unknowingly being drained by Feeders. But Van's abilities make him a loner. He sees relationships as a weakness that can be exploited by Feeders, but living at a distance from other's is Van's real weakness and our story addresses him confronting that pattern as he begins his Freshman year of high school.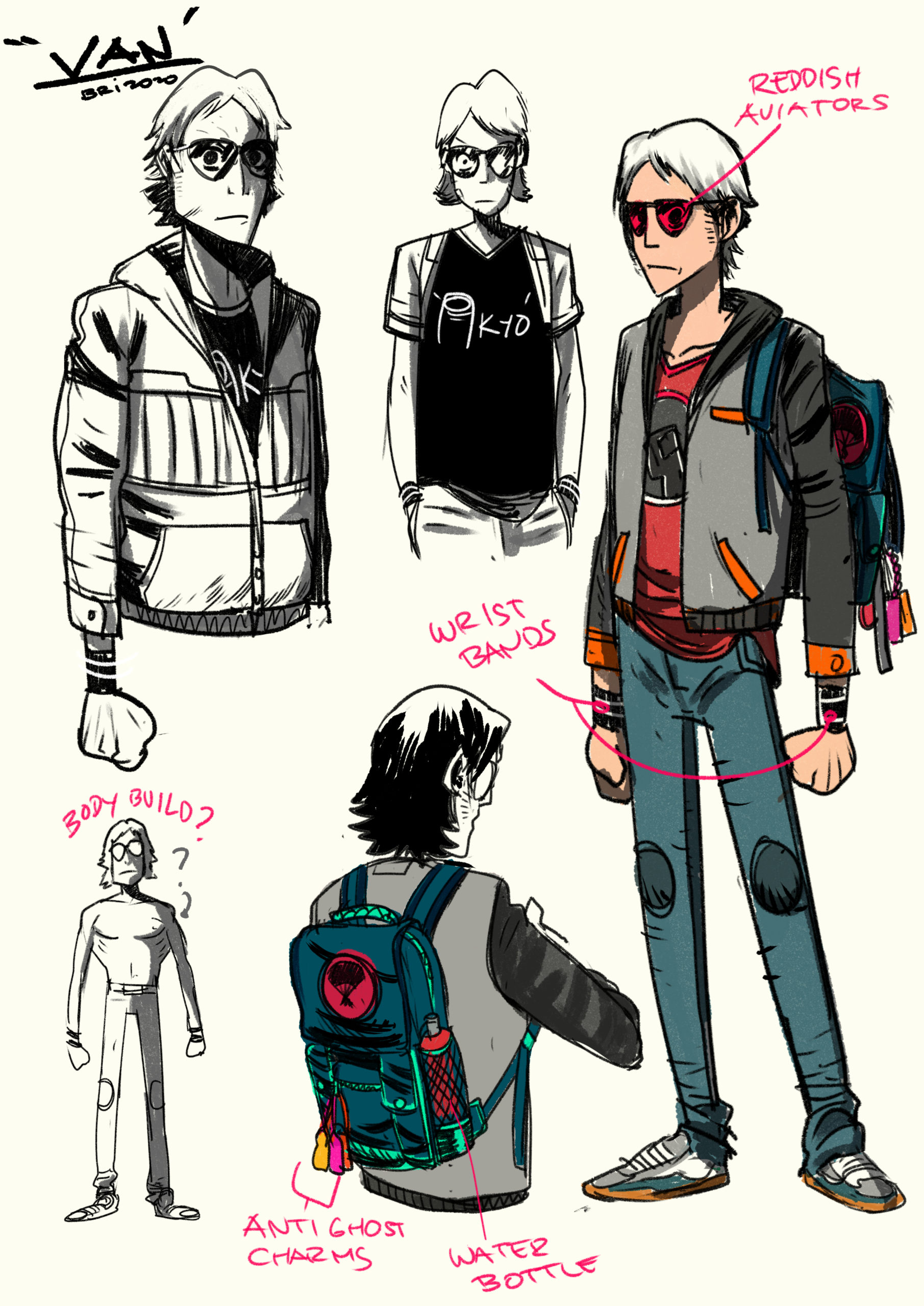 Susie Nguyen

Van's Mom is not like other Moms. She is a professional powerlifter who would be right at home as a contestant on Physical 100. The only thing bigger than Susie's biceps is her heart. She's fiercely protective of her son and has no idea he has powerful extrasensory abilities. Susie is also a lifelong gamer and she might have possibly damaged a few arcade cabinets with those calves of hers (but don't say anything...).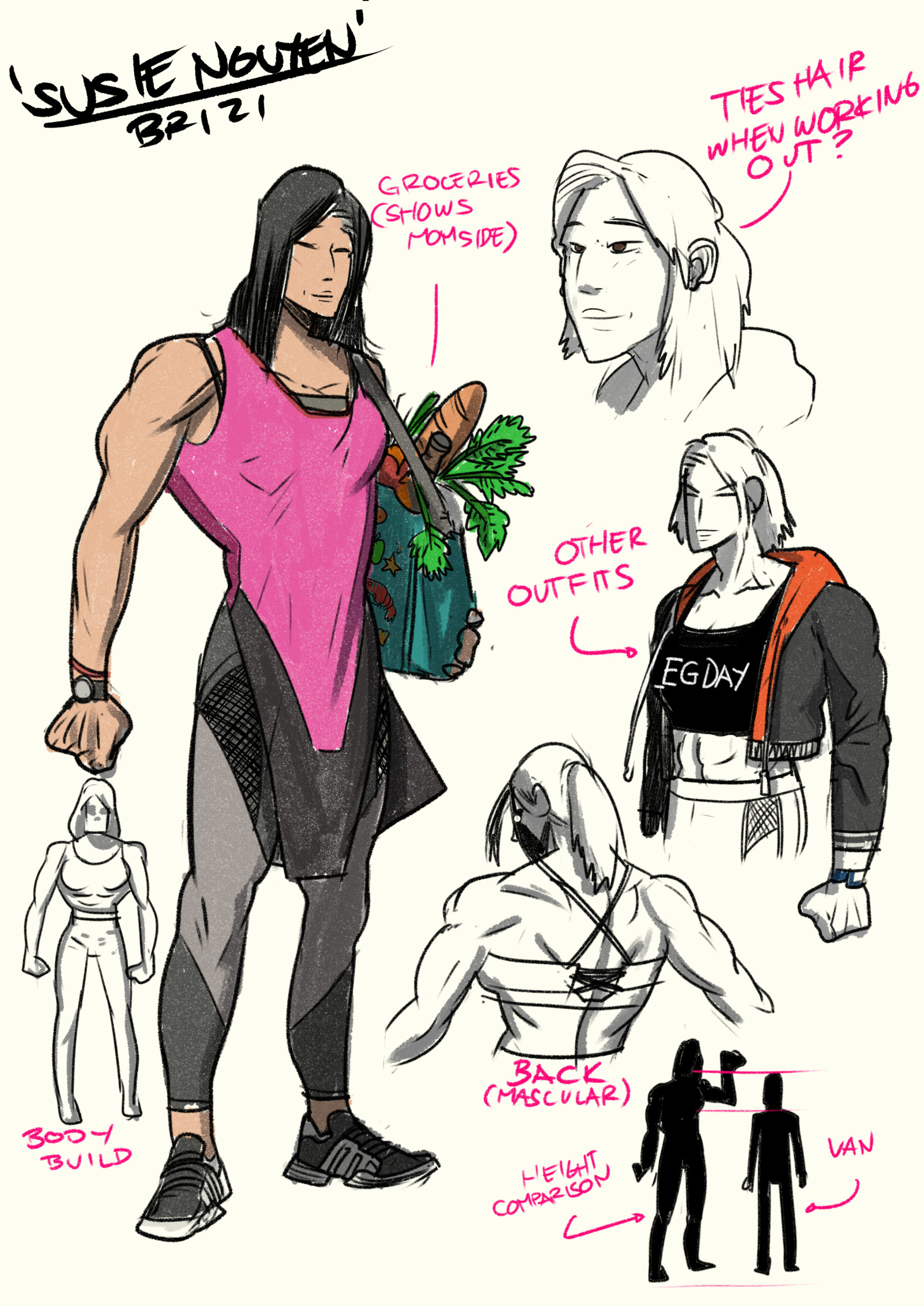 Rick Wallace

Rick is the Alfred to Van's Batman. He's a witch, but you'd never know it from his LL Bean catalogue model vibes. He's Van's confidant and mentor with extensive esoteric and paranormal knowledge and resources. He's also got a burden in the form of a secret that weighs heavily on his heart and which we'll explore as our story develops...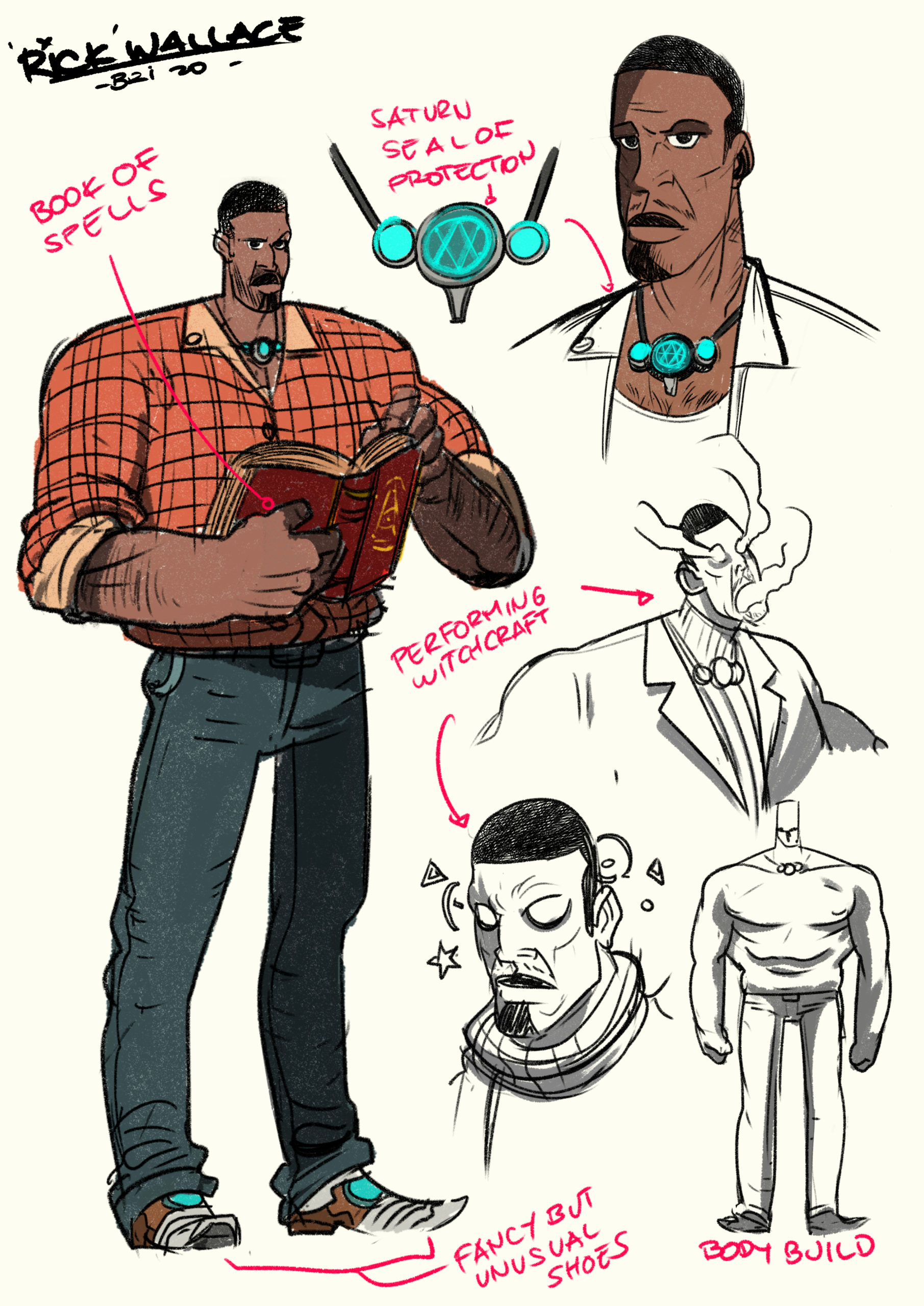 Zags

Zags is the leader of a gang of Feeders who prey off the students of Robert Bottin High where Van goes to school. He's very much a dark mirror of Van who is all to happy to do bad things to anyone who threatens his hold over the life force oasis that is Bottin High.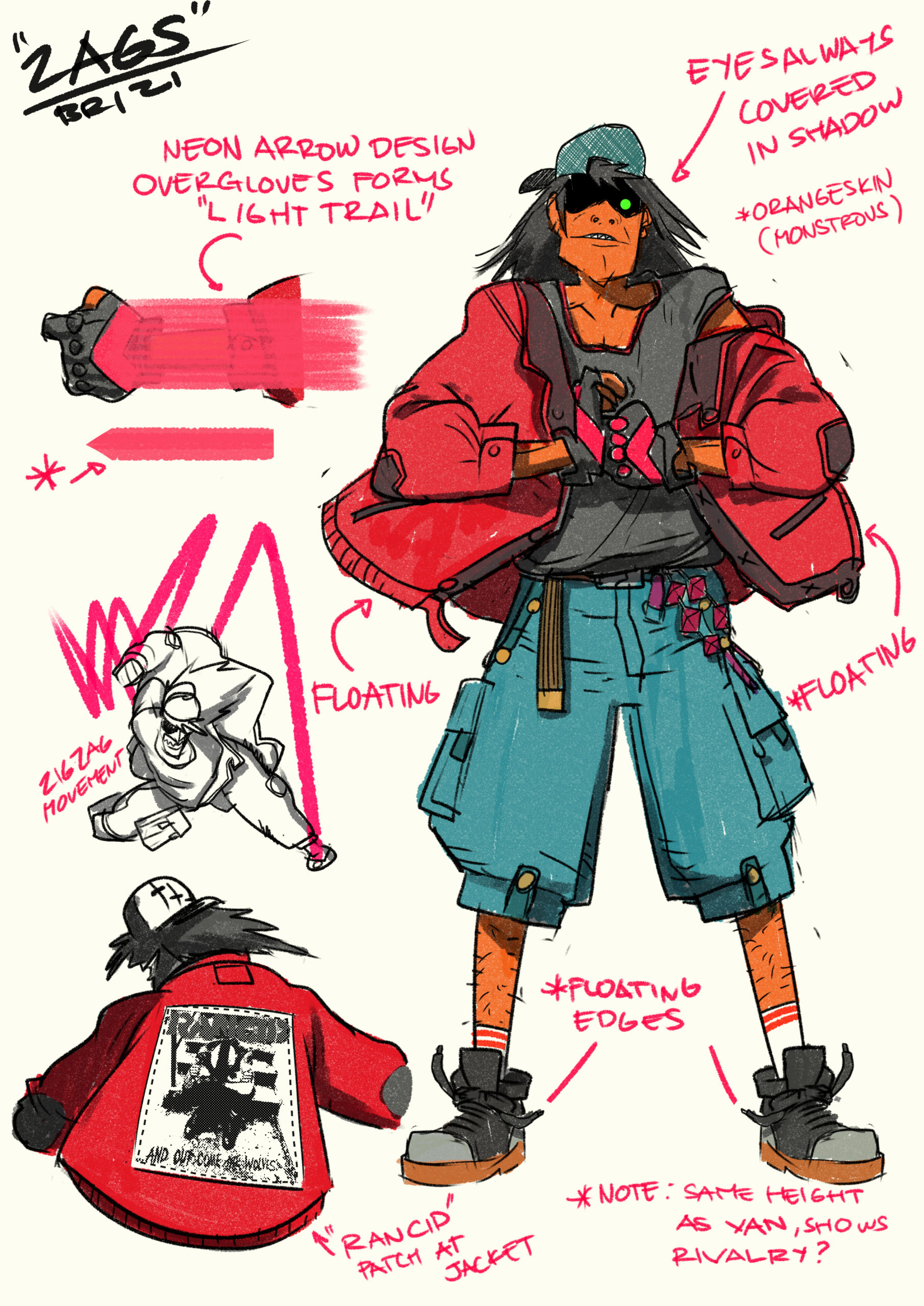 Skye

Van's classmate in his Freshman biology class. Skye is the smart and stylish gamer girl of Van's dreams who checks boxes he never knew existed. She's a window into the larger world Van has been closing himself off from. The internal countermeasures he uses to keep others at arm's length are no match for her teenage grace.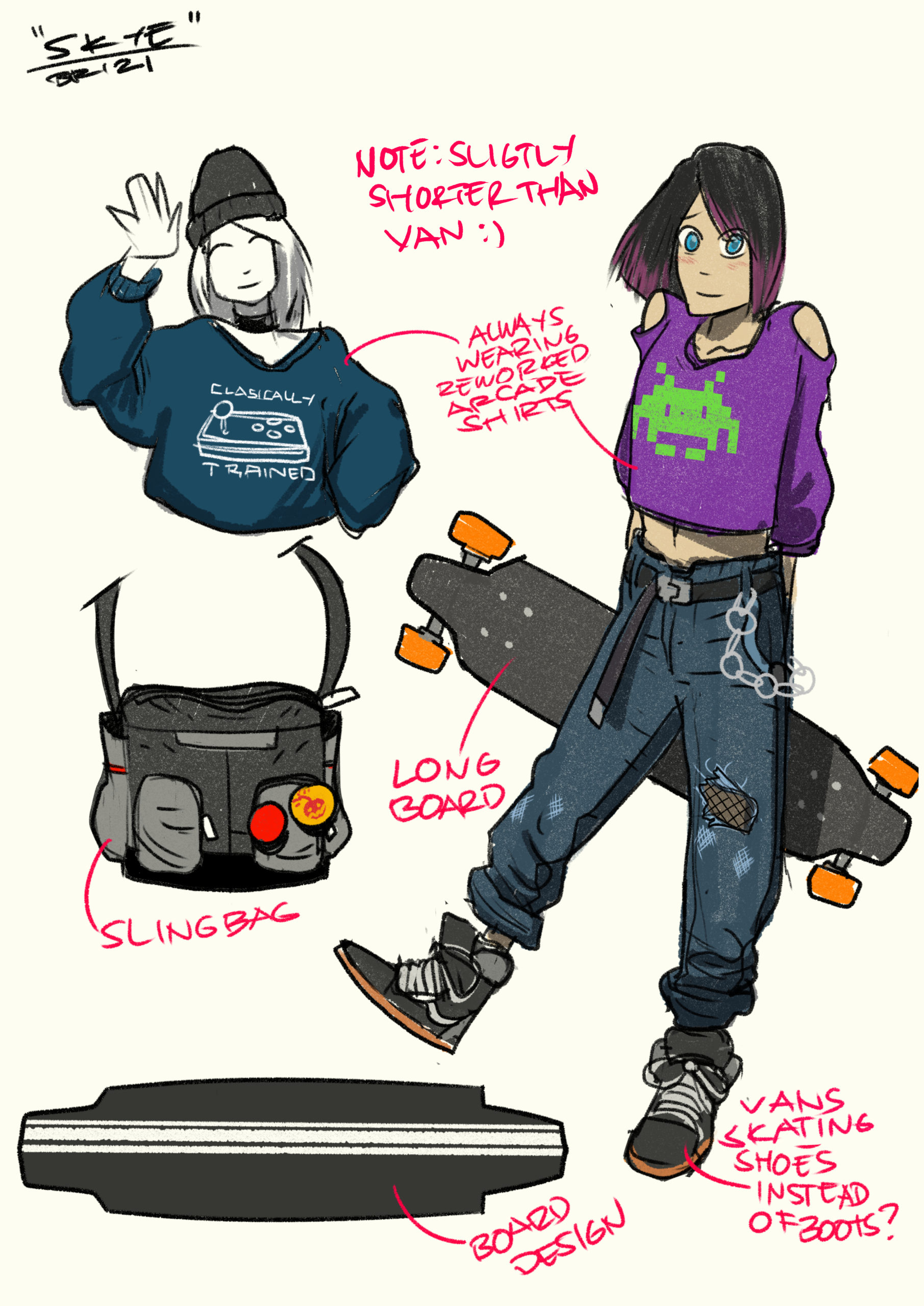 Eyeface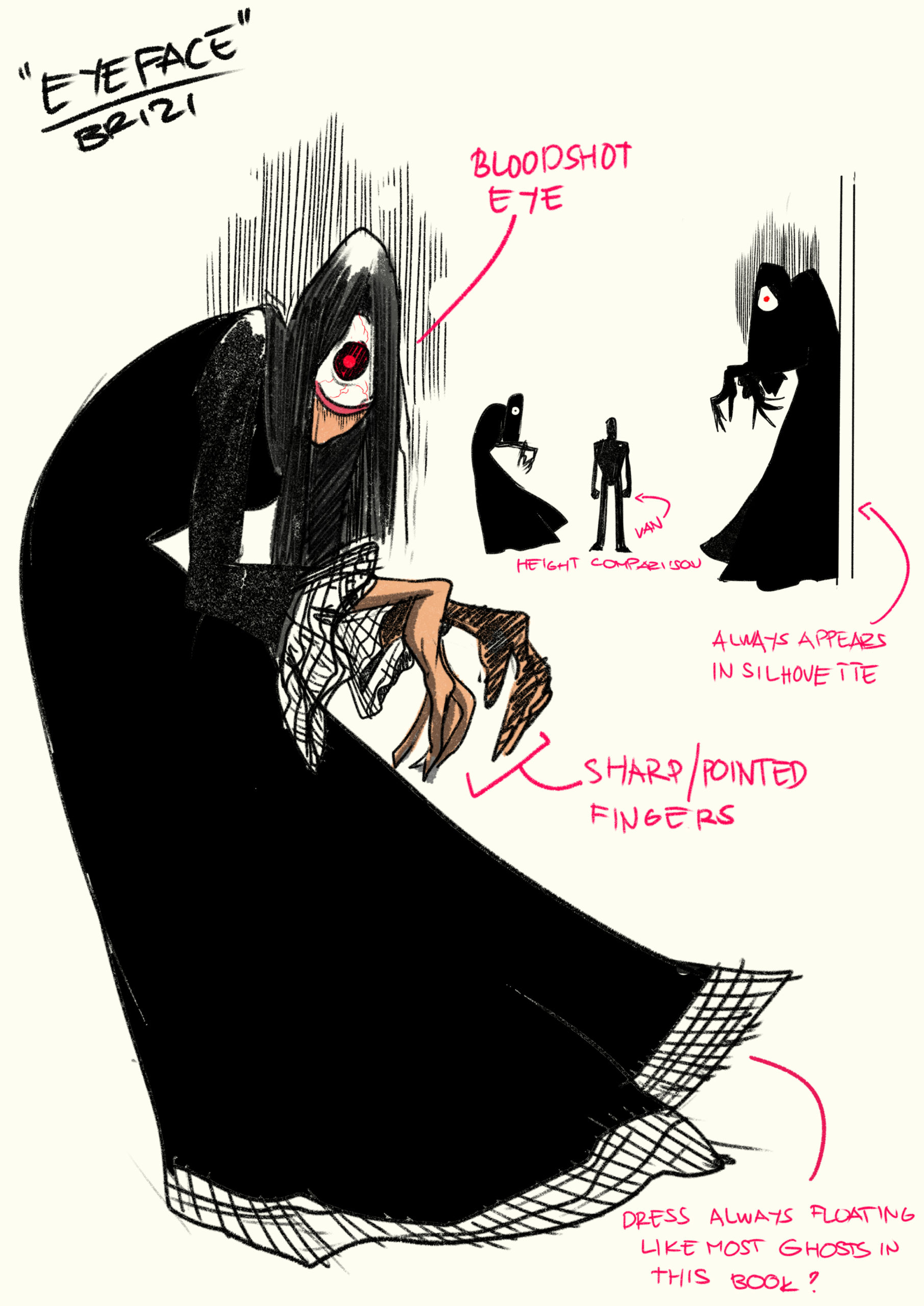 Below, we have preview pages and the official press release with additional details on Grammaton Punch, and to learn more about the new supernatural comic book series, visit Amazon!
Press Release: March 9, 2023—New York, NY—Writer Miles Gunter, artist Briane Andan, colorist Lee Loughridge, and letterer Taylor Esposito have created Grammaton Punch, an all-new, action-packed comic book series about a boy who sees and fights ghosts. The 5-issue supernatural series follows a high school freshman who must protect his classmates from the spirits feeding off their adolescent energy, all the while confronting his own self-imposed boundaries that prevent him from connecting with other people. The series' first issue debuts on March 14, 2023 from Amazon's Comixology Originals exclusive digital content line.

"Grammaton Punch provides a twist on the classic ghost story that is inspired by my love of video games, horror, and the paranormal," says writer Miles Gunter, whose credits include BPRD, Terminator, and Weird War Tales. "In Grammaton Punch, Van Nguyen was born during a solar eclipse and while that might sound cool, it's not. That's because eclipse babies are born with something extra and, for Van Nguyen, that means he can see ghosts."

When Van starts his freshman year, he is shocked to discover his high school is ruled by a gang of ghosts feeding off his classmates' energy. The gang's leader is Zags, a powerful feeder who got the best of Van in the past and is now eager for round two. What's worse, Van's mom doesn't believe that there are ghosts. In order to survive, Van will need to level up.

"Van's abilities to see and fend off the spirits feeding off the living cause him to keep other people at arm's length as he believes relationships are a weakness spirits can exploit," said Gunter. "Sometimes we can get locked into patterns of behavior that feel safe but keep us closed off from the possibilities of life. Grammaton Punch is about the consequences, both good and bad, that come about when the world gives you the opportunity to do things differently."

Grammaton Punch features the kinetic and stylized storytelling of Briane Andan, a rising-star artist who is based in the Philippines. Together Gunter and Andan take readers on a wild ride that delivers action, humor, teen angst, and terror in equal measure.

About the Creators:

Miles Gunter is a writer based in Chicago. His writing credits include BPRD, Weird War Tales, Terminator, Bastard Samurai, and Zombee. Bay area rock titans High on Fire adapted Bastard Samurai into a song on their 2010 album, Snakes for the Divine. The Image 30th Anniversary Anthology issue #11 features the return of his series NYC Mech after nearly 20 years and is co-written with Ivan Brandon and art by Andy MacDonald. Miles is a graduate of the New School for Social Research in Manhattan.

Briane Andan is a comic book artist whose career began in 2017 for various Indie Publishers. Andan lives in the Philippines.

About Comixology Originals:

Amazon's Comixology Originals exclusive digital content line is available at no additional cost for members of Amazon Prime, Kindle Unlimited, and Comixology Unlimited, and for purchase atamazon.com/comixology. Prime Reading offers all Amazon Prime members a rotating selection of more than 3,000 digital books, magazines, comics, and more – all at no additional cost to their Prime membership. Kindle Unlimited gives customers access to more than 3 million digital titles, including thousands of audio books and comics, plus current magazines for just $9.99 a month with a free trial period atamazon.com/kindleunlimited. Comixology Unlimited offers over 45,000 comics, graphic novels and manga for just $5.99 a month with a free trial at amazon.com/comixologyunlimited.
Grammaton Punch #1 Preview Pages: