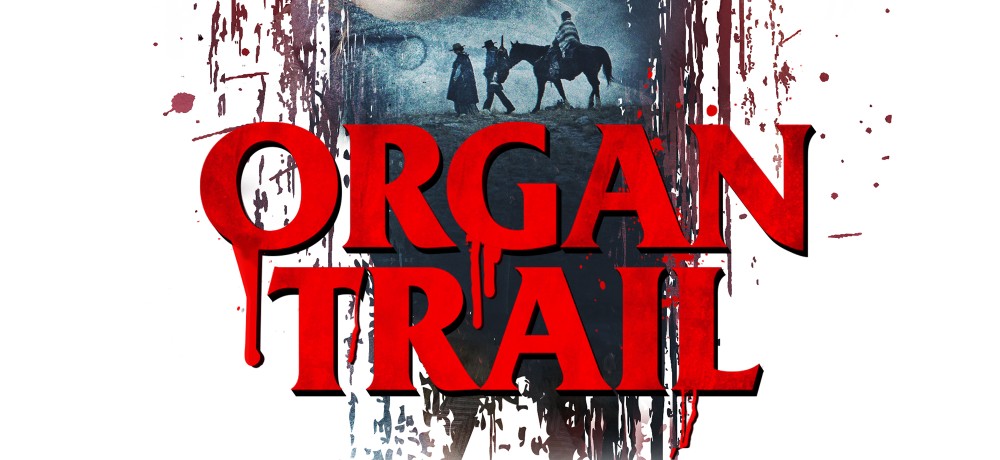 Following its recent theatrical run, Organ Trail will be available on digital May 12th, and we caught up with co-stars Zoé De Grand'Maison and Olivia Applegate, who talked about preparing for their roles, their favorite on-set experiences, and more!
How did you get involved with Organ Trail and what interested you in being a part of this film?
Zoé De Grand'Maison: I taped the audition in my kitchen, while my best friend read the other characters' lines with me over Zoom. I do remember having a lot of fun with this audition, though; I put patches of brown eyeshadow all over myself to mimic dirt, and blush around my eyes to give me a "tired" sort of look (I love to transform my appearance for auditions, as it really helps me embody the character I'm portraying). I then did a callback over Zoom, and was really excited when I was offered the role. I was interested in being a part of this film because I was really drawn to Abby as a character. I've never had the chance to play such a brave, intelligent, nuanced, and strong-willed heroine before, so the prospect of portraying her really excited me. 
Olivia Applegate: I booked this role pretty traditionally: got an audition through my reps, sent in a tape, got a director's session and ended up booking it! I was drawn to the project for many reasons. Beyond really admiring the creative team, "Cassidy" is a total bucket list role. She's dark, brooding and not who she appears to be. She also has one of the greatest arcs of any character I've played so far. Besides, who doesn't want to get dressed up in period piece clothing and ride horses in beautiful Montana? I could tell from the start this film was going to be epic!
What are some of your favorite western films or shows? Did you watch anything in particular to prepare for the role?
Zoé De Grand'Maison: I honestly haven't watched many Western films or shows. When I was preparing for the role, I opted not to start watching any, as I didn't want to imitate anyone else's work. I did, however, do lots of research. I first watched some informative videos about Pioneers, the Wild West, and the Oregon Trail. I then read a couple of books; one was about the history of Montana, and the other was a compilation of interviews entitled Nothing To Tell, in which various Montana ranch women discuss their experiences growing up in the Montana countryside. I then took bits and pieces from each of these resources and compiled a whole backstory for Abby..
Olivia Applegate: I re-watched two of my favorites, "True Grit" and "Butch Cassidy and the Sundance Kid", in preparation for this movie. Fun fact: we stayed in the Murray Hotel in Livingston, MT where Sam Peckinpah (director of the classic western, "The Wild Bunch") lived for many years. 
Were there any particular skills you had to learn or research you did for the role?
Zoé De Grand'Maison: The main skill we all had to know for the movie was horseback riding! Luckily, I grew up doing a lot of western riding, so it was so much fun to get back in the saddle - literally. I love horses. They are such beautiful animals, and are really easy to bond with. I suppose the main thing I had to get comfortable with - which I hadn't predicted - was riding in a dress. That was definitely new. Once I figured out how to handle all the extra fabric though, it was a breeze. The scenes in which I got to ride wound up being some of my favorites to shoot. 
Olivia Applegate: I definitely needed some horseback riding lessons! I also researched the time period—what was going on in America at that time and how women were treated. Beyond that, I tried to prepare for the elements as much as possible by taking cold showers and ice baths. 
Can you talk about working with your castmates during these intense scenes and in some harsh environments? What was the atmosphere like on-set?
Zoé De Grand'Maison: I am so grateful for my amazing castmates! I mainly got to work with Olivia Applegate and Clé Bennett. Not only are they both insanely talented actors, they are both wonderful humans. I really enjoyed getting to know them, and getting to work with them. We all shivered together a lot, that's for sure! Montana winter weather is no joke, especially when you're filming in a windy valley with exposed ears and thin boots. Luckily, we were all willing to face the discomfort and to make the best of it. This was undoubtedly the most challenging shoot I've ever done, so I'm grateful that I got to do it with such lovely people by my side. I think the key to getting through it was laughter. We joked around a lot, and I think we all genuinely enjoyed each other's company. All the actors in this movie really are exceptional. Nobody ever complained, and everyone always gave it their all. Working with committed scene partners always makes your job a million times easier. I feel fortunate to have been part of such a lovely cast.
Olivia Applegate: This cast was an absolute dream to work with and the production took great care to make sure we were warm and safe throughout the production. It was a fun and collaborative energy on set. Yes, it was freezing. Yes, you had to take a snowmobile to set some days. Yes, you sometimes had to pee in a tent, but I was along for the ride. I had a great time!
Do you have a favorite on-set experience that you can share?
Zoé De Grand'Maison: I don't know if this really counts as an "on set" experience, but there was a day on which we wrapped as the sun was setting. I asked if I could ride a horse back to basecamp, rather than take a car. The horse wranglers we worked with said yes (Schultz Wrangling - they are AMAZING), so I got to ride with them through the Montana mountains. The ride was about half an hour long. The sky was pink, and we rode by a ton of wild deer. The air smelled so fresh, and there were trees and mountains as far as the eye could see. Needless to say, the view was breathtaking. I think that was one of my favorite moments. It was magical.
Olivia Applegate: Waking up and going to set in beautiful Montana everyday was a true delight. If I were to pick one experience that I especially loved, I actually think it would be one of the most logistically challenging days we had on set. We were at a location that was far away and had to move everyone to a hotel closer to location the night before, get everyone ready there, then commute over an hour to location on icy roads. We had most of the cast members on set that day and had several major stunt sequences to shoot. It was intense and at times quite stressful, but I was really proud and impressed by what we pulled off that day.
---
"A ruthless band of bloodthirsty bandits terrorizes a family on the treacherous Oregon Trail, and challenge's one woman's will to survive."
Directed by Michael Patrick Jann and written by Megan Turner, Organ Trail stars Zoé De Grand'Maison, Nicholas Logan, Olivia Applegate, Michael Abbott Jr., Jessica Frances Dukes with Clé Bennett and Sam Trammell.