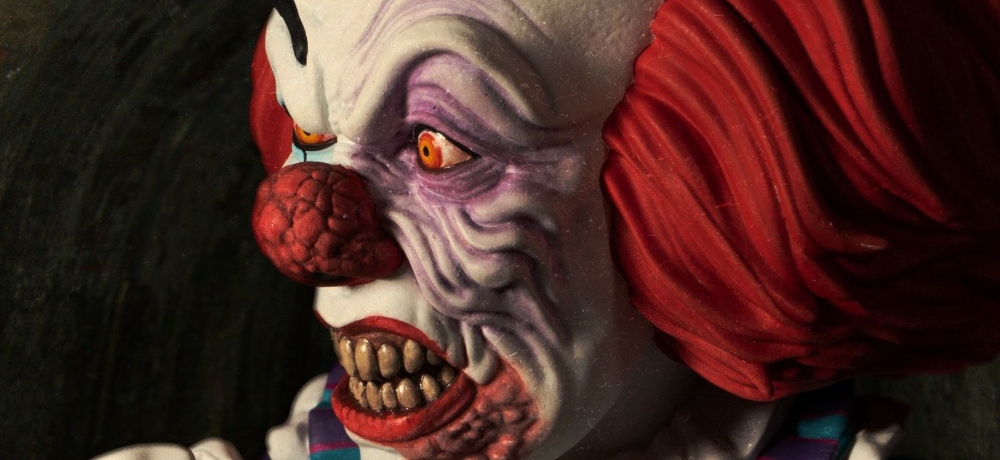 Following in the blood-stained footsteps of Michael Myers, Freddy Krueger, Tiffany, and 2017's Pennywise (to name a few), Pennywise from Stephen King's IT miniseries (in which It was portrayed by the legendary Tim Curry) is joining Mezco's Designer Series family as a new figure with three balloons, an interchangeable head, and a pair of switchable hands, including one that reveals It's more monstrous side lurking underneath its creepy clown facade.
The Mezco Designer Series IT (1990) Deluxe Pennywise figure is priced at $48 and is expected to ship out between February and April of 2021. We have the official details and photos below, and to view the entire photo gallery, visit Mezco's official website.
Also, if you want to learn more about the memorable practical effects that this figure is based on, be sure to check out Heather Wixson's Practical-ly Perfect retrospective on Bart Mixon's makeup work on the Stephen King's IT miniseries.
From Mezco: MDS IT (1990): Deluxe Pennywise

"I am the eater of worlds, and of children. And you are next!"

Pennywise is everything you were ever afraid of and now, he's joining the Mezco Designer Series.

Pennywise features an interchangeable head portrait depicting his deterioration after being defeated by the Losers Club. An interchangeable left pointing hand and an interchangeable monster-like right hand are included. Pennywise comes complete with a set of 3 balloons with "TURN BACK NOW" written on the yellow balloon. All 3 balloons or just the singular yellow balloon can be held neatly in his right hand.

From his fire-red hair to his oversized clown shoes, Pennywise is every nightmare you've ever had. He wears a brightly colored clown suit with pom-pom detailing on the front.

MDS IT (1990): Deluxe Pennywise stands 6" tall and features 9 points of articulation. He comes packaged in a window box, perfect for display.

MDS IT (1990): Deluxe Pennywise is available for preorder at https://www.mezcotoyz.com/mds-it-1990-deluxe-pennywise.
Photos from Mezco: