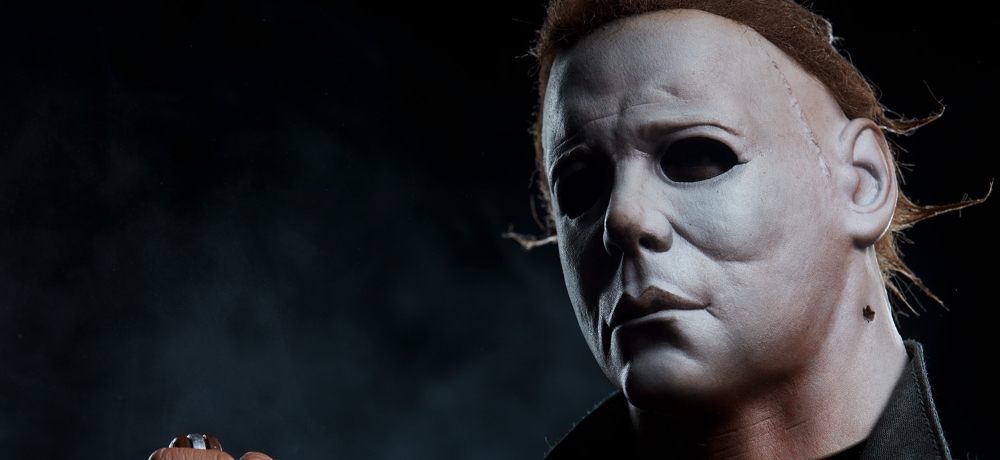 While we may have to wait another year for a new Halloween movie, we'll always have John Carpenter's original to enjoy, and if you can't get enough of the 1978's film's classic kills and timeless portrayal of The Shape, then you might want to add PCS Collectibles and Sideshow's new 1:4 scale statue of Michael Myers to your Haddonfield shopping list.
As featured on Bloody Disgusting, the new Michael Myers 1:4 scale statue depicts the butcher blade boogeyman as he appeared in the original Halloween. The statue stands 23 inches tall atop a base with windows that look into memorable moments from Carpenter's Halloween, from the claustrophobic closet scene to the brutal murder of Bob Simms.
A new creation from PCS Collectibles, the Michael Myers 1:4 scale statue is priced at $575 and is expected to ship out from Sideshow in early 2021 (perhaps providing diehard fans with a movie buddy for Halloween Kills).
The new statue also comes as a Slasher Edition that includes a switchable bloody knife and light-up pumpkin. For additional information, we have release details and a photo gallery below, and to learn more and view many more photos, visit Sideshow's website!
From Sideshow Collectibles: "Sideshow and PCS Collectibles present the Michael Myers 1:4 Scale Statue, a terrifying take on the legacy of this iconic Halloween killer.

The Michael Myers 1:4 Scale Statue measures a menacing 23" tall, wielding his signature silver chef's knife as he stands on a Myers house themed base measuring 9.25" in diameter. Beneath his feet are sculpted floorboards, and around the exterior is a highly detailed, faded façade of the haunted Haddonfield home.

Four different sculpted window reliefs depict essential scenes from Michael Myers' murderous history around the base, including Michael's first kill as a child, the deaths of Bob Simms and Annie Brackett, and the harrowing closet attack as seen from Laurie Strode's perspective. Rendered in sepia and detailed in three dimensions, these windows provide a horrifying view into the bloodshed Myers has brought home with him.

The Michael Myers Statue features a mixed media costume, including full fabric work coveralls, carefully tailored to capture the killer's signature shape and size. The infamous Myers mask is sculpted onto his portrait and features synthetic hair elements that add a degree of frightening realism to this detailed figure.

The Michael Myers (Slasher) Exclusive Edition includes an alternate bloody knife that can interchange with the clean knife the killer holds. Additionally, the Slasher Edition includes an exclusive light up pumpkin proximity piece, capturing all of the frightening detail of this festive icon as seen in the film's opening credits. Bring an extra level of terror to your collection with these exclusive additional display options.

Bring home all the horror of Halloween with the Michael Myers 1:4 Scale Statue by PCS Collectibles today!

Est. Arrival: Feb 2021 - Apr 2021

Price: $575"
Photos from Sideshow Collectibles: