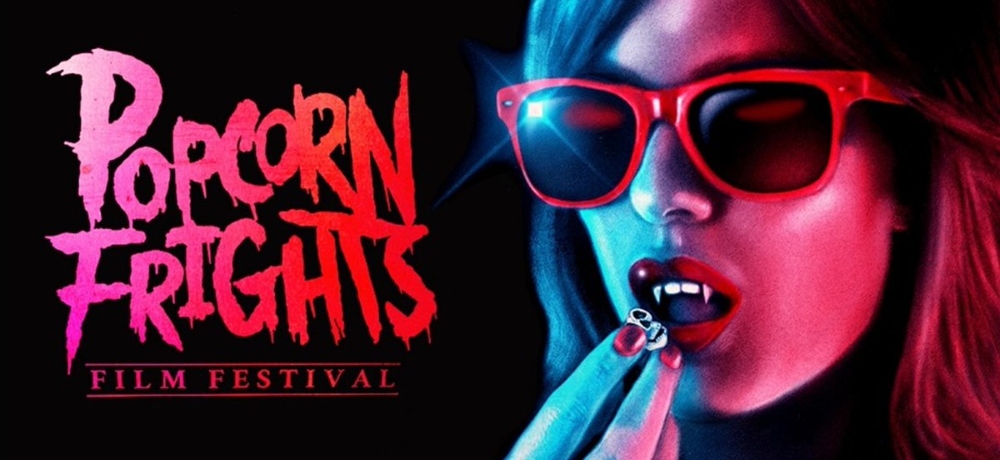 Even throughout the COVID-19 pandemic, the amazing team behind the Popcorn Frights Film Festival safely connected with the horror community through a virtual Wicked Weekend, unique drive-in experiences, and as part of the historic Nightstream virtual film festival.
With vaccinations widely available and a new summer now upon us, Popcorn Frights will be returning for its seventh year in Florida this August as both an in-person and virtual experience, and Festival Directors Igor Shteyrenberg & Marc Ferman have announced that a portion of the proceeds from this year's Popcorn Frights will go to those affected by the tragic building collapse in Surfside, Florida.
The seventh annual Popcorn Frights Film Festival will take place August 12th–19th. The film lineup will be announced soon, but in the meantime, you can purchase In-Theater All-Access Badges here and Virtual Passes here.
We'll be sure to keep Daily Dead readers updated on Popcorn Frights, and you can learn more by visiting their official website and reading the press release below:
Press Release: MIAMI, FL – Popcorn Frights has announced that a portion of proceeds from its upcoming seventh annual film festival will go to benefit those impacted by the building collapse in Surfside, FL. Running August 12-19, Popcorn Frights' line-up will be announced in the coming weeks, but in-theater and virtual badges are available for purchase at this time, each of which will offer its own unique Festival experience.

The Festival's In-Theater Badges will provide an all-access experience for films and special events hosted at the Silverspot Cinema Coconut Creek, Popcorn Frights official host venue this year. Separate Virtual Passes are also available for sale and will provide access to every film streaming in the festival program, all of which will be geo-locked to the United States. To purchase In-Theater All-Access Badges, click here (https://www.eventbrite.com/e/158824786211) to purchase Virtual Passes, click here (https://popcornfrights.eventive.org/passes/buy).

Celebrated as the largest genre film event in the Southeast U.S. and one of "The World's 50 Best Genre Festivals" by MovieMaker Magazine, Popcorn Frights has been a volunteer run community focused organization since its inception. It is in this same spirit that Popcorn Frights hopes to provide support to its South Florida community and those impacted by the Surfside tragedy.

"All of us at Popcorn Frights are shocked and profoundly saddened by the collapse of the Champlain Towers in Surfside, FL. On behalf of everyone at the Festival, we want to convey not only our thoughts and prayers, but also our willingness to assist in any way our community might need in the coming days and weeks. In challenging times like these, our South Florida community supports each other, and we really are one extended family. We know that every dollar counts and can help save lives, so we felt it was our urgent responsibility to try to make a positive impact," said Igor Shteyrenberg & Marc Ferman, Co-Founders & Co-Directors of Popcorn Frights.

Submissions to the festival are also still open via Film Freeway with the final deadline set for July 11. Shorts, features, documentaries, animation, film and video — all are welcome and can be submitted at the link: https://filmfreeway.com/popcornfrightsfilmfestival

Popcorn Frights showcases features and shorts by filmmakers from around the world to an audience of horror lovers and filmmakers, industry, and journalists. Amongst others, Scott Beck & Bryan Woods, Leigh Whannel, Justin Long, Adam Egypt Mortimer, Joe Lynch, and horror legend Chuck Russell have attended, participated, and premiered their films at the Popcorn Frights Film Festival. The Festival has been equally honored to celebrate films from Issa Lopez, Natasha Kermani, Jennifer Reeder, Lucile Hadzihalilovic, and Jenn Wexler.

###

For all further details please visit www.popcornfrights.com

Follow Along!

ABOUT POPCORN FRIGHTS FILM FESTIVAL

Popcorn Frights Film Festival presents the best of contemporary genre cinema from across the world as it celebrates the art of horror. The seven-day festival is Southeast U.S.' largest genre film festival and prides itself on premiering films from emerging and established filmmakers, enabling the industry and general audiences to experience the power of storytelling through genre film.