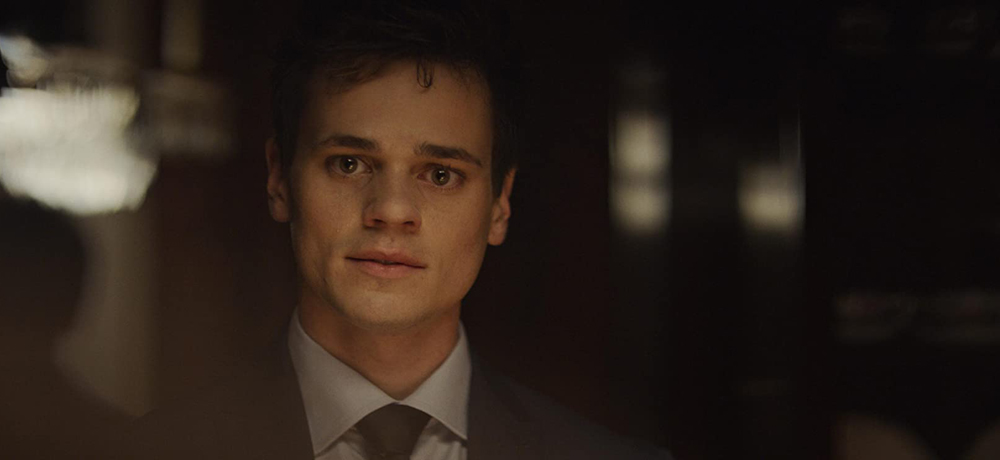 From having Tom Atkins' character threaten him with the business end of a shotgun in Trick to operating a frat house that takes hazing to a hellish new level in Pledge, Aaron Dalla Villa has made a memorable mark on the horror genre thus far, and his run of intriguing roles continues in the anthology film Immortal, in which he plays an enigmatic high school student opposite Dylan Baker's character, Mr. Shagis. With Immortal now on VOD, we caught up with Dalla Villa to discuss his recent acting work, as well as dream roles, his desire to continue directing, and making music under the name DALLA VILLA.
Thanks for taking the time to answer some questions for us, and congratulations on your role in the new anthology film Immortal! What was it about Kyle that made you want to play him, and what was the audition process like for the role?
Aaron Dalla Villa: Thank you so much for having me! I initially auditioned for the lead role in the feature film Yes, also by director Rob Margolies; he ended up going with another actor for that role. Soon afterward, he directly offered me the role of "Kyle" in Immortal. What they say is really true. You never know what one audition could lead to, and this is why it's important that I give 100% to every audition, every time. Playing the comedic relief is always a blast, and being able to work with Rob Margolies and Dylan Baker drew me to the character.
What can you tell us about your segment in Immortal?
Aaron Dalla Villa: I play Kyle, an obnoxious high school student who likes to give his teacher, played by Dylan Baker, a hard time. He's the typical class clown, probably from a rough family, that gets his attention in school by making jokes because he probably doesn't get much attention at home. Without giving away too much, my back and forth with Dylan helps tell the philosophy of his (Dylan's) character, which in turn helps reveal the overall message of this part of the anthology (the fourth part of the film, to be exact). It will definitely leave you questioning whether or not all villains wear a cape and drive a fancy car? ;)
Looking back at your time on set, is there a favorite or memorable moment that stands out?
Aaron Dalla Villa: SO MANY. I've been really blessed to work on some amazing projects, and opposite literal legends, so far in my career. My absolute favorites have been the off-the-wall indie ones. A few moments that stand out include running around the city of Miami with a Glock silencer (Duels), having Tom Atkins threaten to shoot me with his shotgun (Trick), hanging out with Lance Henriksen after wrap (Alpha Rift), discussing the philosophy of acting with James Faulkner (All Those Small Things), and being able to let it all out and go full method (Pledge). Whether it is film, TV, theatre, or in the voiceover booth, I love being immersed in the experience of it.
In addition to Immortal, you've also had recent roles in Trick and Pledge. What do you enjoy the most about working in the horror genre and helping to bring these eclectic stories to life on screen?
Aaron Dalla Villa: The horror community is absolutely awesome, and it has the most loyal fans hands down. I think the genre allows me to make bolder and more heightened choices that don't necessarily fit in other genres. Fantastical stories are just fun to do, and being able to go all the way with an acting choice (to an 11!) is really exciting, even if I end up falling flat on my face. It's all fully committing when making a choice. At the same time, I do my best to ground my choices in reality. It's almost like the genre itself is asking me to stretch taller than I normally would while maintaining a firm plant with my two feet on the ground.
Is there a dream role or type of character that you'd like to play in the future?
Aaron Dalla Villa: Countless. I would LOVE to take on classic super villains like the Joker, the Riddler, Loki, the Green Goblin, etc. I'm hoping that some of them don't get too played out by the time it's my shot. Typically, I'm drawn to characters that come from a place of deep personal pain, ideally villains and antiheroes. Don't get me wrong, I have a great time playing the hero and/or the comedic relief, but a character who has to choose between what is morally good or bad is just so interesting to me. In particular, I want to play some version of Spider-Man. But not the usual Spider-Man. One of the alternate versions. He's not entirely good, and he's not entirely bad. He does what he has to do to survive. Some version of Dick Grayson or Robin would be awesome, too! Think I'm spot on for that. Some other characters include a Tyler Durden (Fight Club) type; an Agent Smith (The Matrix) type; a Walter White/Saul Goodman (Breaking Bad/Better Call Saul) type; some version of Clyde Barrow (from Bonnie & Clyde); some version of Jim Morrison or John Mellencamp (a biopic of one of the two would be sick!), just to name a few. Also, if they ever make a live-action version of The Legend of Zelda, I would LOVE to play Link or the Skull Kid with Majora's Mask! I currently have an idea on the back burner that I'm workshopping, which would serve as my Good Time or Uncut Gems role. I'm currently talking to a few writers, but may end up writing it myself.
In addition to acting, you also create music as Dalla Villa, and you recently released the singles "Conspiracy" and "Demon Killer." What do you hope listeners take away from your music, and who are some of your greatest musical influences?
Aaron Dalla Villa: My need to create music purely came out of this desire to finally put it out there. I had been sitting on some of these lyrics for over four years and was always fearful of what others may think. Well, not anymore! I'm not expecting listeners to take a specific message away from the music; I just hope they enjoy it and that the music shows a different side of my talent/creativity. My greatest musical influences include Kanye West, Eminem, MF Doom, and the classics (ranging from Beethoven to Queen to Metallica). I'm a garbage head when it comes to music (without the narcotics, lol).
You've also worked as a writer and director. Do you have plans to continue creating films behind the camera in addition to acting and creating music?
Aaron Dalla Villa: Absolutely! I will know when it's time. A strong impulse will come over me that will compel me to do it. Directing is a blast, and I love rallying the troops and being a team leader. Being in charge of the creative vision is also both daunting and thrilling, and I'm personally drawn to the fear that I may completely make a fool of myself and fail or be brilliant.
With Immortal out now, do you have any other projects—film, music, or otherwise—coming up that you're excited about? Also, where can our readers go online to keep up to date on your work?
Aaron Dalla Villa: Yes! I have three feature films that are almost all completed (All Those Small Things, Alpha Rift, Untitled Aaron Dalla Villa Documentary Project), a web series based on my alter ego/comedic character, Tucci Badaducci, coming out soon, a spot on an upcoming Netflix series (to be shot late October of this year), several shorts in post-production, and two songs on the way, the first of which is dropping on September 18th (a collaboration between myself, Paul Anthony, and the legendary R&B group Full Force). I'm excited for what else may come up!
The best place to keep up with my work is via my social media platforms. Follow me @aarondallavilla (IG, YouTube, Facebook, Tik Tok, my website, etc.). Check out my music on Spotify and all other platforms to get music under my artist name DALLA VILLA.
Thanks for your time, Aaron!
Aaron Dalla Villa: The pleasure is all mine!
---------
Official links:
IMDB - imdb.me/aarondallavilla
Website - http://aarondallavilla.com/
Instagram - https://www.instagram.com/aarondallavilla/?hl=en
Twitter - https://twitter.com/aarondallavilla?lang=en
Facebook - https://www.facebook.com/aarondallavilla/
Spotify - https://open.spotify.com/artist/6ZPC8mi4UJerc12e765nyX?si=Qxqm1gIzT5G9gTa3n3Z_hQ