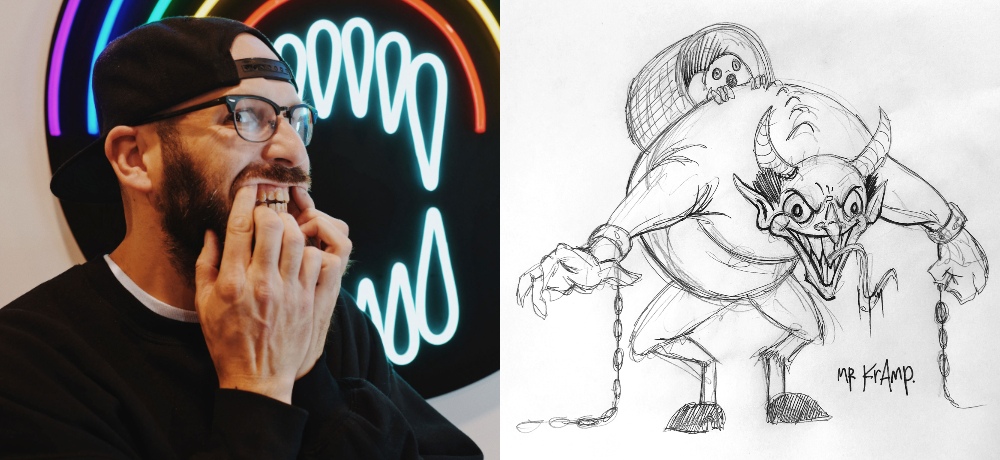 Perhaps best known for combining the morbid and the cheerful in his delightfully devious Brightmares creations, artist Alex Pardee is now adding even more dimensions (literally) to his artwork with his new "Monster Season" series of limited edition figures that will be available exclusively through Loot Crate. Blending horror with the holidays, each collectible figure in Pardee's Monster Season series will depict a creepy creature linked to a holiday on the calendar, with his twisted take on Krampus kicking off the new series in this November's "Roasting on an Open Fire" Loot Fright Crate.
To celebrate the upcoming release, we caught up with Pardee in a new Q&A to discuss the Halloween season, the creepy contrast of Brightmares, and collaborating with Loot Crate to bring Monster Season to life!
You can check out our Q&A with Pardee below, as well as his sketch for the Monster Season Krampus figure, and to learn more about November's Loot Fright Crate and Pardee's amazing artwork, visit:
Thanks for taking the time to answer some questions for us, Alex, and congratulations on teaming up with Loot Crate! How did the opportunity to collaborate with Loot Crate come about, and what made their Fright Crate line a great fit to launch your Monster Season series?
Alex Pardee: Thanks! It's been a great collaborative effort and I'm really excited to share our little holiday madman. I got the opportunity because I have worked with some of the Loot Crate team in other aspects in the past, and kept in communication with them over time as they grew to where they are now. Loot Crate actually approached me to collaborate on their Fright Crate, and I jumped at the chance. At first, because they do so much cool licensed stuff, we were considering teaming me up with another horror property and making something that people may already be familiar with, but the more we talked, the more it made sense for me to pitch them something more personal and original, which is where my "Monster Season" series came into play. And that seemed like a great fit all around because on one hand, you have these holiday icons (Krampus, The Easter Bunny, etc.) that fans are familiar with, but on the other hand you have my demented little weird spin on the folklore and the designs. That made it really fun.
Taking into account its final dimensions, texture, and appearance, do you approach creating a collectible figure differently than you do an illustration?
Alex Pardee: Half of the process is VERY different, actually. In my case, I'm a mess when I draw or paint. Not just a mess, like there's garbage all around and paint splatters. More like I just scribble and scribble and make up these shapes and forms that couldn't really exist in real life, but they aesthetically work on paper in two dimensions. But when I am designing a toy or a sculpture, I have to keep in mind that at least SOME rules of physics have to exist. So I still approach the design similarly. I scribble until something looks and feels right. But then, I spend days pulling the three hairs I have left in my head out trying to figure out how that one weird scribble would look from the front, back, side, etc. Which is very hard for me.
With your Monster Season figures, you're combining horror and the holidays, and based on the concept art, it looks like the first figure will be your own take on Krampus. Do you already have horrifying figures designed for other major holidays on the calendar? 
Alex Pardee: I do! I have a LOT of ideas for more demented holiday figures and stories, since this is something that I have been slowly building for a while. I'm not sure how much I can give away as far as what I will be releasing with Loot Crate, but I can tell you that Easter is only a few months away, so...
You do an amazing job combining the morbidly grotesque with sunny cheerfulness in your Brightmares artwork. How important is it for you to highlight that contrast in your work and make people take time to digest what they're looking at?
Alex Pardee: I think that contrast comes naturally in my creative process moreso because it's what I LIKE creating. It makes me happy to see some weird bright colors injected into some dark subject matter. It always has, and I think it's a little more acceptable nowadays, but when I was first emerging with these weird Brightmare monsters, the reactions were pretty fun. A majority of people that would see my work would literally say, "It's so gross and weird, but the colors are pretty, I'm so confused." I always liked that reaction, so I stuck with it.
With Halloween right around the corner, what do you do to celebrate the holiday? Do you have any movies or traditions that you make time for every year in October?
Alex Pardee: I love Halloween. It sounds cliché, but we pretty much celebrate Halloween all year around here, so there's not too much additional celebrating in October. My girlfriend is a photographer and we are always dressing up in weird costumes to take photos, we're always watching horror movies, and always eating candy. More me than her, but still. Halloween is an always-thing. We do love going out and dressing up ON Halloween, though. Might be different this year. We may just dress up and stream on Twitch or something silly.
With your first Monster Season figure coming out in Loot Crate's November Fright Crate, what other projects do you have coming up that you're excited about?
Alex Pardee: I'm always dipping in a ton of different projects, both personal and professional. The project I am most dedicated to at the moment is my new solo art gallery show that I just announced. It's called "ALEX IN SHUNDERLAND" and will be a transformative and immersive show based around the "world" where all of my Brightmare monsters live. That will be in Santa Monica in December. Because of the pandemic, though, I have scaled it down a little and we will be doing a majority of it virtually with small private and safe viewings, but I am excited nonetheless. Thanks so much for talking!
Artwork by Alex Pardee: