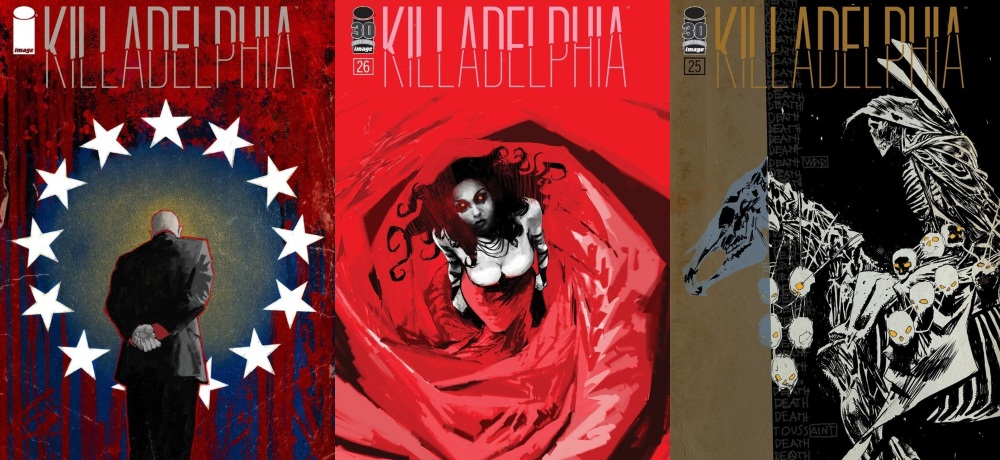 Since 2019, artist Jason Shawn Alexander and writer Rodney Barnes have taken readers on a vampiric journey into the supernatural side of Philadelphia with their comic book series Killadelphia, which recently kicked off an ambitious six-issue story arc, "There's No Place Like Home." Suffice to say that the stakes have never been higher in the world of Killadelphia, with the battle between the living and the living dead now attracting the attention of the gods themselves.
Following the recent release of Killadelphia #27, Daily Dead caught up with Jason Shawn Alexander to discuss working with Barnes (with whom he also collaborated on the new graphic novel Blacula: Return of the King) to bring the latest story arc of Killadelphia to undead life, and he also talked about continuing his comic book series Empty Zone, working with Barnes on Nita Hawe's Nightmare Blog, and teaming up with Germán Erramouspe and Lee Loughridge for the latest arc of Killadelphia!
Thank you so much for taking the time to answer questions for us, Jason, and congratulations on the continued success of Killadelphia, which recently returned for its 25th issue and just released its 27th issue. For readers who are new to this series, what makes issue #25 a good jumping-on point to start reading the series (before going back and catching up on the previous issues)?
Jason Shawn Alexander: I feel like with any great TV series, you can start anywhere and be immediately drawn in and virtually HAVE to start watching from the beginning to see what the hell happened to get things to where you saw them. Killadelphia #25 is that issue. It pulls you in where you are excited to know more.
Rodney Barnes has always done an amazing job of keeping readers on their toes with all of the twists and turns in Killadelphia, but in this latest arc, he takes the already high stakes of Killadelphia to epic new heights (along with some genuinely shocking moments). What was your reaction when you read this new five-issue arc for the first time?
Jason Shawn Alexander: Rodney and I discuss story arcs pretty far down the line. So I've known this storyline was in his twisted brain for a while. I've just been waiting patiently for it because I knew the bombshell it would be.
You're still doing a lot of the artwork in these new issues, but you've also teamed up with Germán Erramouspe and Lee Loughridge. What has it been like working with Germán and Lee on this new arc of Killadelphia?
Jason Shawn Alexander: Lee is an efficient art machine. His colors are perfect for what's happening. Germán is incredible. He takes my layouts and adds such amazing energy to them. I knew this story arc had war in it. In a big way. I'm not a fast artist when it comes to things like that. Germán seems to live and breathe epic detailed scenes. Having him on board has allowed for some of the most detailed and energetic action in the entire series. And truthfully, allowing myself to just do finishes over his loose pencils has energized me in a whole new way, artistically.
These latest issues of Killadelphia explore cosmic settings and otherworldly realms as we spend time with the concerned gods watching the carnage unfold on the earthly plane. What has your artistic approach been to bringing gods to life on the paneled page in both a grounded and awe-inspiring way?
Jason Shawn Alexander: It's just that, trying to push all of their godliness while rooting it in the reality we've created in Killadelphia. One of my favorite things to do in comics is riding that line between the fantastic and the real.
There is a lot of bloody mayhem as the battle between the living and the undead rages on in this arc of Killadelphia, including some devastating action on the battlefield. What was it like to draw these shocking, emotional moments?
Jason Shawn Alexander: Man, I'm a director at heart. I read the script and see it play out like a movie in front of my eyes. The only thing that interests me in art, of any kind, is emotional connection. When a scene that breaks past the normal conversation or argument and really sinks its teeth in for some feeling, THAT'S the type of challenge I love. And the kind of challenge that Rodney has consistently served up.
This new arc of Killadelphia is six issues, but do you and Rodney already have plans for this epic story beyond issue #30?
Jason Shawn Alexander: Absolutely.
Ultimately, what do you hope readers take away from this latest arc of Killadelphia?
Jason Shawn Alexander: The latest arc has cemented, more so than previous arcs, that Killadelphia is NOT your typical comic horror series. It's huge, it's human, it's emotional, it's historic. I wouldn't have been around this long if I didn't think this series is fucking special. And this arc, especially, shows why.
Can you give us any updates on the Killadelphia TV series adaptation that is in the works?
Jason Shawn Alexander: Only that Rodney writes a killer pilot.
You and Rodney have also been working together on the Killadelphia tie-in series Nita Hawe's Nightmare Blog. What can you tell us about the upcoming issues in that series?
Jason Shawn Alexander: The Nita series is taking a short break after issue 12. We are drawing her closer to her connections in Philadelphia and we will see her elsewhere very soon.
I understand that you've been writing and doing the artwork for new issues of your comic book series Empty Zone. What are you the most excited for readers to experience in the return of that series?
Jason Shawn Alexander: I'm most excited to share a darker vision of the series. It's always been a cyberpunk series with some supernatural elements. This round, the supernatural and horror elements take the spotlight. Also, a lot has changed in me, creatively and personally, over the last seven years from having kids to working alongside creators like Todd Mcfarlane and Rodney Barnes. I'm excited to show everyone what I've learned and what I can do.
You've worked on legendary comic book series over the years, including your work as a co-writer and artist on Spawn. Is there an existing IP that you haven't worked on that you would love to draw or write for in the future?
Jason Shawn Alexander: If someone threw me a Wolverine/Ghost Rider story, I wouldn't shy away.
What advice would you give to aspiring comic book artists and writers who are just getting started?
Jason Shawn Alexander: It's not a sprint. It's a marathon. Draw and post your work. Every day. Every. Day.
With Killadelphia #27 now available from Image Comics, what other upcoming projects are you excited about, and where can our readers go online to keep up with your work?
Jason Shawn Alexander: Blacula! Coming out now!
---------
To learn more about Killadelphia, visit Image Comics, and to keep up to date on Jason Shawn Alexander's work, visit his official website!
Killadelphia #27 Cover by Jason Shawn Alexander: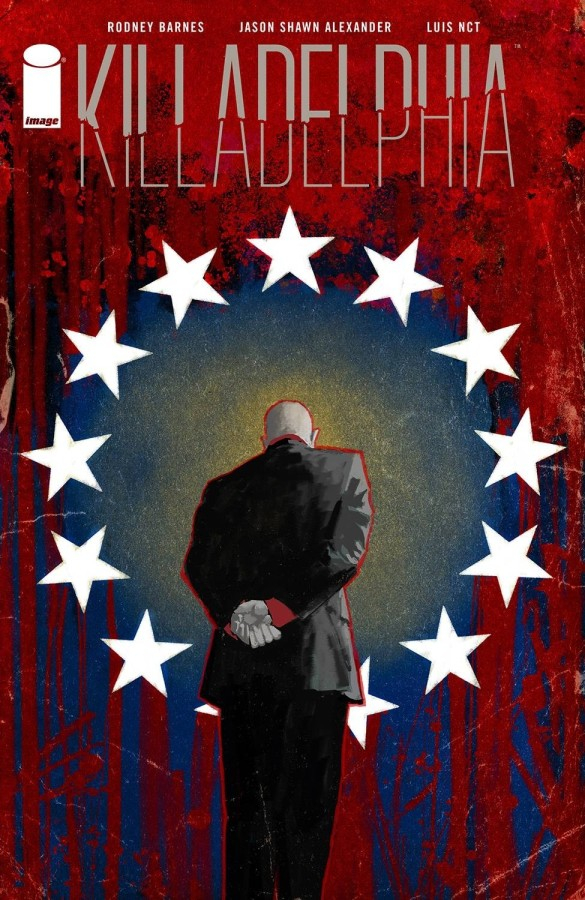 Killadelphia #26 Cover by Jason Shawn Alexander: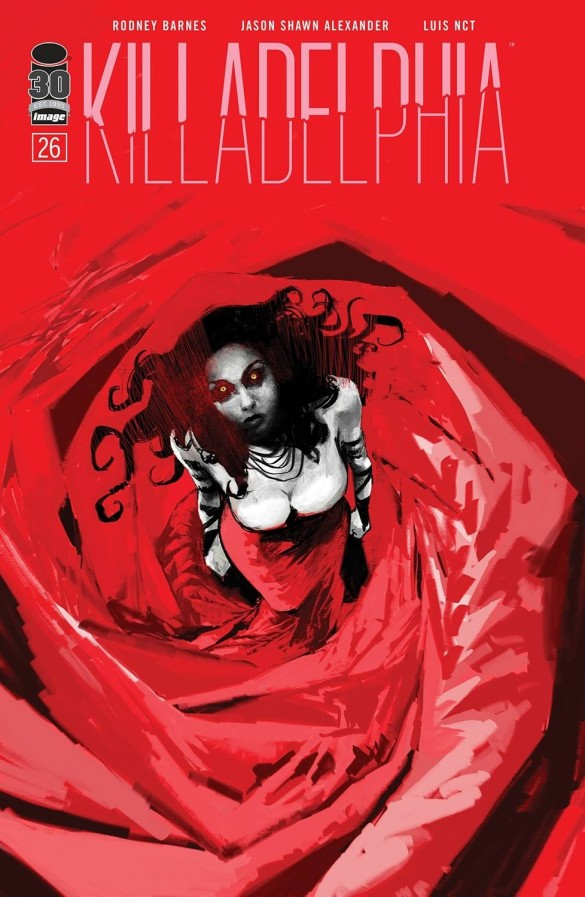 Killadelphia #25 Cover by Jason Shawn Alexander: