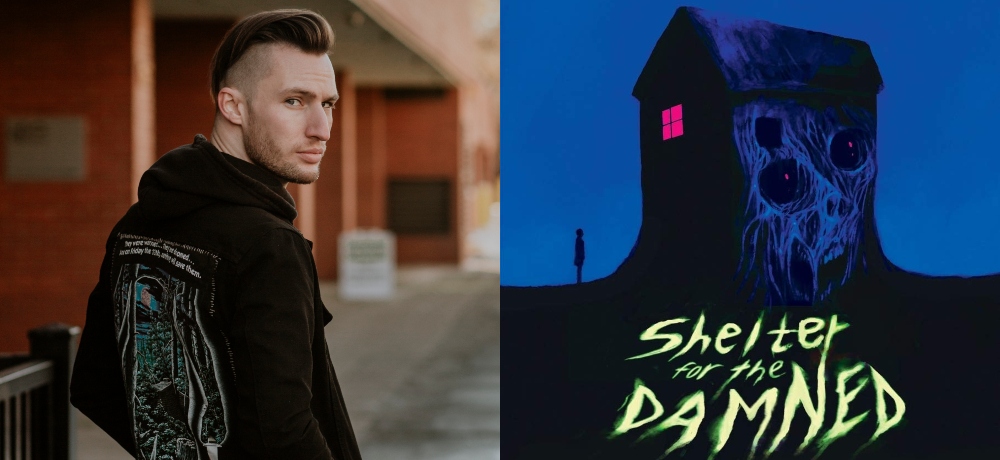 At first it seems like the perfect place to quietly enjoy a secluded smoke, but three teens soon discover that their supposed safe haven is actually something downright sinister in Shelter for the Damned, the debut novel from Mike Thorn (author of the short story collection Darkest Hours). With Shelter for the Damned out now from JournalStone, we caught up with Thorn in our latest Q&A feature to discuss the journey of writing his new book, the influences that inspired him along the way, and his upcoming releases that readers can look forward to from JournalStone.
Thanks for taking the time to answer questions for us, Mike, and congratulations on the forthcoming publication of your first novel, Shelter for the Damned! When did you first come up with the idea for this book?
Mike Thorn: Thank you so much for having me! I've always considered Daily Dead one of the essential sites for horror news, so this is an absolute honor.
I wrote the first scene of Shelter for the Damned in my early twenties. It was a fight sequence between the protagonist, Mark, and another boy named Clinton. The scene came to me fully formed, almost exactly as it appears in the book now. It culminates in a horrific image. After writing this episode, I developed an intense interest in Mark. I went backwards and wrote the first scene, in which he encounters the suburban shack with his friends Scott and Adam, and the book took off from there.
How long did it take you to write the first draft of Shelter for the Damned, and how many drafts did you go through before it was ready for publication?
Mike Thorn: Shelter for the Damned has been through so many different iterations. One of the earliest drafts was much more overtly experimental than the novel that now exists. This version aped Hubert Selby Jr.'s prose style, abandoning all punctuation aside from commas and the occasional forward-slash. It also included some attempts at concrete poetry, where I "drew" the narrative's focal shack using commas and slashes. Randy Nikkel Schroeder, a good friend and one of my primary writing mentors, advised me to rework the book into something a little more approachable (read: more readable, or if I was lucky, maybe even publishable). Thankfully, I had the clarity of mind to take his advice.
The first draft took me a couple years to finish, and the book went through four or five more drafts before I finally had to push it away and said, "Okay, this is as close to finished as it'll ever be."
Shelter for the Damned will be published by JournalStone. What has it been like working with the team at JournalStone through the submission, editing, and publication process?
Mike Thorn: JournalStone has been amazing. I've corresponded most often with the managing editor, Scarlett R. Algee, and she has been nothing but patient, generous, and supportive the whole way through. She's communicative, and she's open to ideas, which I really appreciate. When I floated the idea of asking Trevor Henderson to do the cover art, she was totally down. I'm so pleased with the image we developed.
The submission, editing, and publication processes have been uniformly smooth. Christopher Payne, JournalStone's President, has been great, too.
While writing Shelter for the Damned, were you influenced or inspired by any other authors, books, movies, TV shows, or video games?
Mike Thorn: Yes, absolutely. Like everything I've written, Shelter for the Damned is a stew of its influences. It would be impossible to name everyone that had an impact, but in terms of literary references, this book was most overtly inspired by Hubert Selby Jr., Jim Thompson, Kathe Koja, H. P. Lovecraft, Edgar Allan Poe, Herman Melville, Stephen King, and Georges Bataille. I also drew on the films of Wes Craven, John Carpenter, Larry Clark, Kiyoshi Kurosawa, Tobe Hooper, George A. Romero, Dario Argento, and Rob Zombie (among others).
In addition to being an author, you've also worked extensively as a critic in the fields of literature and cinema. Has working and studying in those fields impacted your own style when it comes to writing fiction? 
Mike Thorn: I have no doubt that my interest in cinema and criticism affects my writing style, but I'm not exactly sure how. When I'm first drafting a piece of fiction, I'm usually focusing intently on things like plot mechanics and characterization. I don't typically come to grapple with my thematic or philosophical interests until later drafts.
I think my love of film shows up clearly in my more descriptive, imagery-laden sequences. I tend to think in "cinematic" terms, so I'm usually considering details such as "lighting" and "blocking" when I'm laying out my scenes.
What is your writing routine like? Do you set out to write a certain number of words or hours per day, or do you just write whenever you can?
Mike Thorn: Lately, I just write whenever I can. Throughout the pandemic I've been placing more emphasis on reading than writing, which I believe is equally important. I had periods in the past where I wrote for an hour every morning before getting ready for work, which I might return to for future large-scale projects.
What advice would you give to aspiring writers who are looking for a literary agent and/or trying to publish their first book?
Mike Thorn: The main piece of advice I always give is to read like there's no tomorrow. Read the old and the new. Read across genres. Read perspectives that differ from your own. Also, don't try to write for pre-existing markets and trends. Write stories that engage you, stories that mean something to you. Those are the stories I want to read.
In terms of making connections and getting your work out there, I recommend engaging with other artists. Talk to people. Support other independent and aspiring creative folks. Be curious, be kind. I've experienced the horror fiction world as a vibrant, diverse, and encouraging space. Almost everybody I've met has been authentic and courteous.
Finally, as much as I hate to say it, be prepared for the possibility (if not the probability) that there will be a lot of rejection along the way. It's okay. Everyone goes through it. Keep reading, keep writing, keep submitting.
Ultimately, what do you hope readers take away from Shelter for the Damned?
Mike Thorn: Above all, I hope readers find Shelter for the Damned to be a scary and absorbing story. If they take away something about the subterranean monsters underlying the veneers of "polite society" (with all the baggage that this term carries), that's even better. I hope the book conveys ideas about real pain, anger, and addiction, ideas about the destructiveness of violent masculine conditioning.
In addition to Shelter for the Damned coming out on February 26th, you and your literary agent, Stacey Kondla, also just secured a two-book deal with JournalStone for your short story collections Darkest Hours (reissued with additional material) and Peel Back and See. What can readers expect from these collections, and do you have any other projects that you're currently working on? 
Mike Thorn: Yes, I'm thrilled about this deal! The newly revised reissue of Darkest Hours will include a foreword by someone in the horror world who I hugely respect (details to come), plus author notes for every story and a section of my horror film criticism.  
I think readers who enjoyed Darkest Hours will also connect with Peel Back and See. This follow-up collection is more explicitly contemporary in its interests, with a few pieces directly contending with social media and online threats. Also, most of its stories are about work and adulthood, whereas Darkest Hours focuses a great deal on teenagers and young adults. Of course, the book is also filled with monsters, gore, supernatural beings, and a healthy dose of cosmic pessimism.
I'm currently reworking a proposal for an academic book on two horror filmmakers. I can't say too much about it just yet, but I really hope it comes to fruition. Wish me luck!
Thank you so much for your time, Mike!  
Mike Thorn: Thank you likewise! I really appreciate this.
----------
To learn more about Mike Thorn and his written works, visit:
[Photo Credit: Above photo of Mike Thorn courtesy of Anita Jeanine.]