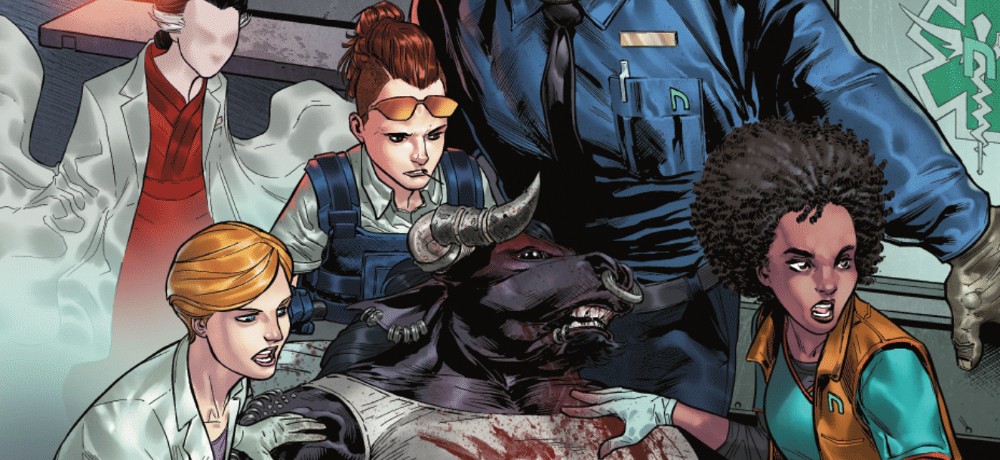 "What happens when the past comes back to haunt you?" A hospital for the supernatural is the focus of The Ward, now available from Dark Horse Comics, and writer Cavan Scott is the subject of our latest Q&A!
Thank you so much for taking the time to answer questions for us, Cavan, and congratulations on your new comic book series The Ward! When did you originally come up with the idea for The Ward?
It came about maybe four or five years ago when watching medical dramas with my wife. She's a big fan of things like ER or Code Black. In fact, Code Black was instrumental in coming up with the idea. I went back and watched the phenomenal documentary that the show was based on which have these crazy scenes when medics are having to operate on patients right in the middle of an open emergency room in a crush of people. I loved the chaos and drama of those moments and, my mind being what is it, immediately said, what if one of those patients was a minotaur, or a banshee, or an ogre. 
As an infirmary for "ghosts, goblins, and things that go bump in the night since 1861," St. Lilith's hospital seamlessly blends fantastical elements with the gritty realism of a trauma ward. How important was it for you to bring these two different worlds together in a believable way?
Absolutely. I'm a huge fan of urban fantastical, merging the mundane with the outrageous, and I wanted everything here to feel as real as possible, even when dealing with giants and gelatinous cubes!
St. Lilith's sees all kinds of different mythical beings come through its doors for help, each with their own unique medical backgrounds. Did you have to do a lot of medical and mythical research while writing The Ward as you brought these eclectic creatures together in one setting?
I poured over a lot of medical journals and online research, while I've been researching mythological questions all my life. I also had a helping hand from my Star Wars: The High Republic co-creator Daniel José Older who was a paramedic in his previous life, as well as the wife of our editor Dave Marshall who is a doctor herself. They both nudged me in the right direction when I needed it, giving me a seal of approval when they thought the medical side of things was working well. I remember her saying early on that she thought issue one was a great blend of realism and fantasy with all the folklorish drugs and crystal stethoscopes… I breathed a big sigh of relief that day, I can tell you. 
Andres Ponce's amazing artwork for The Ward really brings your prose to life in a way that's both grounded and otherworldly. What has it been like working with Ponce on The Ward, and what made Andres the perfect artist to collaborate with on this series?
It's been amazing. He's really run with the concept of The Ward and made it his own. Some of his early character concepts made it into the story as we were developing it too, including INPU, the Anubis-inspired mortuary doctor we meet later in the series. 
The initial arc of The Ward is four issues, but do you have plans to tell more stories about St. Lilith's and Dr. Nat Reeves beyond these four issues if given the opportunity? 
I would absolutely love to. I have their futures all mapped out. I'd also love to see the series make the leap to either the small or big screen. I mean, which creator wouldn't?
In the first issue of The Ward, we're introduced to all manner of mythical mayhem as lives are saved and mysteries begin to be unraveled at St. Lilith's. What other magical medical drama is coming up in the next three issues that can you tease for our readers?
There's a huge problem for Nat and paramedic Ceri as a giantess goes into labor in the city's sewers, meanwhile the team face disaster as they are called out to an industrial accident where hundreds of trolls have been forced to work in terrible conditions. Finally, there's an outbreak of a disease that will affect both the human and supernatural communities in Kirton, changing the city forever.
What has it been like teaming up with Dark Horse Comics to release The Ward into the world?
Absolutely perfect. Dave is a spectacular editor, poking at all the right points in a story. I have to admit, at points the book's future was in doubt due to the pandemic, but Dave kept us all calm and always believed in The Ward. It's testament to him that we're here today launching the book. 
While working on The Ward, were you influenced or inspired by any other medical or mythical comic books, TV series, video games, or movies?
My main influence is my love of folklore which goes back to my childhood. I think there's a lot of Supernatural in there too as well as Hellboy. Everything I do is influenced by Hellboy.
Ultimately, what do you hope readers take away from The Ward?
For all the monsters and creatures – and there are a lot of them – the basic theme of the book is the destructive nature of secrets. All our characters are keeping them and it never goes well. 
What advice would you give to aspiring comic book writers who are just getting started?
Keep going! The great thing about comics is that no-one needs to give you permission to create. Find an artist and create your books. And most importantly finish your books. That's what the industry is looking for, creators who can nail an ideal, put the hard work in to tell a story and be able to land an ending. 
With The Ward #1 coming out on June 8th from Dark Horse Comics, what other upcoming projects are you excited about, and where can our readers go online to keep up with your work?
I have a couple of other creator-owned books in the works. Shadow Service from Vault is currently on issue 12 and tells the story of Gina Meyer, a young witch who is recruited into Great Britain's supernatural security agency, MI666. It's more horror than The Ward and my co-creator Corin Howell's art has to be seen to believed. No one draws demons and gore like Corin. No one.
Then there's Dead Seas which was recently announced by IDW. This is an all-action ghost story I've created with artist Nick Brokenshire, who I first worked with on Star Wars: Return to Vader's Castle. I'm describing it as The Poseidon Adventure meets Haunting of Hill House. Basically, a group of convicts are promised a reduced sentence if they harvest ectoplasm from a haunted ship, the ghostly goo having been discovered to have miraculous medical properties. Nick has just delivered art for issue one and it is incredible!
Other than those, I'm merrily working on my next Star Wars projects, the second phase of the Star Wars: The High Republic comic from Marvel, a new novel in the same series, Path of Vengeance and the first arc of the recently announced Yoda comic book. For news on all of these you can visit my website, www.cavanscott.com, or find me at @cavanscott on twitter.
---
About The Ward: From Cavan Scott, the New York Times bestselling writer of Star Wars: The High Republic, and Call of Duty: Zombies and Dean Koontz´s Frankenstein artist Andres Ponce comes The Ward, an intense supernatural medical drama featuring an assortment of creatures and human pathos coming from Dark Horse this Summer!

St. Lilith's is a secret hospital for supernatural creatures. The personnel are overworked and the facility is underfunded. It's a place, and a life, Dr. Nat Reeves thought she left behind. Until a wounded woman with a tail appears on her doorstep. The Ward is a perfect read for fans of Supernatural, iZombie, and Grimm. 

"I've always been fascinated in ordinary people doing extraordinary things in the most incredible of situations," says Scott, "and that certainly describes the indomitable Nat Reeves as she plunges head first into a shift in the world's only emergency room for supernatural entities. From murderous minotaur to gelatinous cubes with severe cases of food poisoning, no two patients are alike at St. Lilith's. 

"However, as we know from shows like E.R. and Grey's Anatomy, the biggest dramas come from the lives of the medical staff themselves and St. Lilith's is no different. As Nat navigates everything from the troubled birth of a giantess's baby to a growing plague among the preternatural patients, she must also balance her life as a mother with the professional jealousies she faces every day in her job. Can she keep her work at St. Lilith's a secret while protecting those closest to her?"
The first of four issues, The Ward #1 is available as of June 8th at your local comic shop!