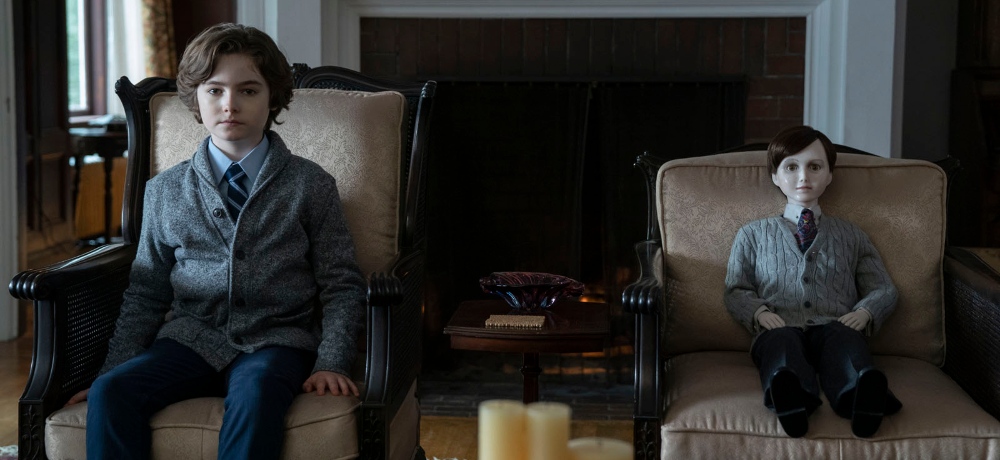 This Friday, evil will be unearthed in the form of one very creepy doll when STX Entertainment releases Brahms: The Boy II in theaters. To celebrate another round of scares at the Heelshire Mansion, we caught up with co-star Christopher Convery to discuss his multi-faceted role as Jude in the film, including his character's dark arc, working with Katie Holmes to create a realistic mother-son bond, how his musical talents were incorporated into the movie, and one particularly spooky experience he had on set with the doll Brahms (whose skin is a more human-like silicone instead of porcelain this time around).
You can read our full Q&A with Convery below, including his reflections on playing Young Billy in Stranger Things Season 3, and keep an eye out for Brahms: The Boy II in theaters on February 21st!
Thanks for taking the time to answer questions for us, and congratulations on your new movie, Brahms: The Boy II! What was the audition process like for your character, Jude, and what made you want to play him in this film?
Christopher Convery: The audition process was honestly amazing. It's so cool how it happened! I had just finished filming Stranger Things and was in an Uber going to the airport. Then about 20 minutes before we arrive at the airport, we got an email saying that we had an audition for Brahms: The Boy II in 20 minutes! I read over the lines, added my acting to them, and went to the audition in an Uber! The audition was pretty long, and my character had to go through a lot of emotional stages. I felt really good after the audition because I enjoy challenging roles. Following the audition, we drove back to the airport and as soon as we landed back home in New York, I received a call saying that I had got the role of Jude in Brahms: The Boy II! I really thought it was cool how Jude has such a character build throughout the movie, from being a normal kid to meeting a new "special friend." I'm sure you can guess who that is! But the emotional level added a layer to the role that was a challenge, but I was super excited to take it on. That's why I really wanted to play this role!
Had you seen the 2016 film The Boy before playing Jude, or did you watch it after getting the role to get a better sense for Heelshire Mansion and the doll Brahms?
Christopher Convery: I had not seen the film before playing Jude, so I watched the first movie. Incredible horror movie by the way, the director William Brent Bell was amazing. It showed me the tone of the movie and helped me learn more about what Brahms was like and how it incorporated the Heelshire Mansion. It really gave me a good sense of the script's tone while I was reading it, which definitely helped me prepare for the role.
Your character has a dangerous side to him that seems to grow once you meet Brahms. What was it like playing a character who embraces some of his darker instincts and scares those around him?
Christopher Convery: I find that dark characters are very emotionally challenging. What I enjoy about dark characters is that you can play a full spectrum of emotions. I do like giving myself a challenge and this movie is certainly one for that. It's also kind of fun to scare people!
Brahms becomes like a brother to you in this movie, and you spend a lot of time with the doll on screen. Were you creeped out by Brahms at all on set? It seems like Brahms would be right at home with other deadly dolls like Annabelle and Chucky.
Christopher Convery: Yes! Brahms was freaky! When I first saw Brahms, it definitely freaked me out. What made it even more creepy was that in the first movie he had skin made out of porcelain, but this time he had a silicone skin that felt like real human skin. His eyes were glassy, and the design looked exactly like a human eye. I remember at one point I was doing a scene with the lights off and Brahms was sitting down on a chair. We had just finished the scene and while I waited for the lights to come back on, I felt something touching my neck slowly. The lights turned back on and no one was in the room except Brahms. Because of Brahms, I am officially now scared of dolls!
In the film, you play the son of Katie Holmes' character, Liza. What was it like working with Katie to create that realistic mother-son bond, especially when the stakes are so high in this movie?
Christopher Convery: It was super cool and fun to work with Katie! She is a true professional actor. I learned a lot from her. She would help make the mother and son bond real since she would improv with me and would kiss me on the forehead and hug me as a real mother and son would do, especially during the high stakes moments. I remember there was one time where Katie was on my Instagram looking at a video of me playing the piano. She really liked the video and showed it to the director William Brent Bell. They both agreed that they should add a whole new scene of me playing the piano, which made it into the final movie!
Brahms: The Boy II will take viewers back to the Heelshire Mansion, which is the Craigdarroch Castle in real life. What was it like filming there? Did it add to the spooky atmosphere while making the film?
Christopher Convery: It was such an incredible experience to film there. It is a huge house with a lot of history. It is creepy because I'm pretty sure the family who lived there had a lot of scary things happen to them. It definitely adds to the atmosphere, it is a huge house with a lot of space and when not many people are in the house, it really freaks you out. You can almost get lost in the house if you are alone. I think at one point I got lost myself, too!
What was your experience working with William Brent Bell? Did you get to collaborate with him on creating your character's personality and backstory?
Christopher Convery: Brent was so nice and great to collaborate with. The first day in Victoria, Canada, we actually had a meeting with Brent, and we talked about the script and character. He really made me understand the script and character in so many different ways. It was really fun to explore my character with the director and use his vision to bring Jude alive. We would joke around and always talk on set, it was a great experience!
Looking back at your time on set, is there a favorite or memorable moment that stands out?
Christopher Convery: It was so much fun to work with the entire cast! Katie, Owain Yeoman, and Ralph Ineson were always making me laugh and we had a great time shooting together. Brahms, though, would always creep us out! We would play around with the doll and see if he did anything to creep us all out. There is a scene at the end that I can't spoil, but it is super exciting and scary! That's my most memorable moment.
In addition to Brahms: The Boy II, you also played Young Billy in one of the most emotional scenes from Stranger Things Season 3. What was it like to be a part of such an iconic show? Did you get to meet a lot of the cast members?
Christopher Convery: Stranger Things was really awesome. All of my scenes were with Millie Bobby Brown, who was so nice, and we would get to hang out on set. She hugged me and was super energetic as soon as she met me. The cast and crew were all great to work with on set and it was fun to be on a beach for a shoot! Oh and by the way the water was freeeeezzzing! It was such an honor to play Young Billy. I met both Millie and Gaten Matarazzo on set, they were both so funny and nice!
With Brahms: The Boy II coming out on February 21st, do you have any other projects coming up that you're excited about? Where can our readers go online to follow your work?
Christopher Convery: I do have a few things in the pipeline that I'm excited to share with you guys, but I can't just yet! To see my other work and upcoming shows, you can go to my Instagram, @chrisopherconvery, my YouTube @Christopher Convery, and my Twitter, @chrisconverynyc to see my acting projects, to see me sing, and play the piano, and to see what's going on with my life!
[Photo Credit: Above photo by David Bukach / STXfilms.]