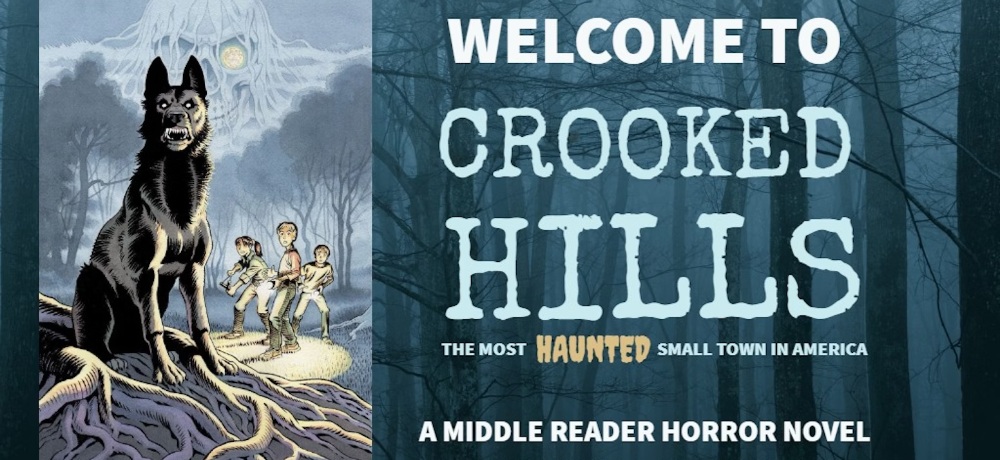 From The Damned and Harrow County to The Empty Man and Lamentation, Cullen Bunn has been terrifying comic book readers for decades, and now he's bringing his imaginative nightmares to life in novel format with Crooked Hills. Originally published back in 2011, Crooked Hills is Cullen Bunn's updated and preferred edition of the first book in his planned new middle reader series, and with the novel now on Kickstarter, we caught up with Cullen to discuss writing scares for readers of all ages in his new book, working with the team at Outland Entertainment to crowdfund Crooked Hills, teaming up with artist Aaron Palsmeier for stylishly spooky covers, and being inspired by movies such as The Goonies and The Monster Squad (as well as R.L. Stine's Goosebumps book series) when creating the haunted world of Crooked Hills!
You can check out our full Q&A with Cullen below, and to learn more and support Crooked Hills, visit the book's official Kickstarter page:
Thank you for taking the time to answer questions for us, Cullen, and congratulations on your middle reader novel Crooked Hills, which is now on Kickstarter via Outland Entertainment! I understand that you originally published Crooked Hills back in 2011 before bringing it back to life in the first novel of this new series. How and when did you originally come up with the idea for the spooky story of Crooked Hills?
Cullen Bunn: In some way, Crooked Hills has been cooking in my head since I was a little kid, going on ridiculous adventures with my friends. We roamed the streets on our bikes. We explored the woods. We encountered strange sights and strange creatures. We were adventurers! And that's a big part of this series! In addition, Crooked Hills was influenced by my own move to the Missouri Ozarks. I was older than Charlie when I moved to Missouri, but I could see the potential for ghostly tales, and it stuck with me for a long time.
This will be your updated and preferred edition of Crooked Hills. What types of changes were you excited to make after revisiting this story over a decade after its initial release?
Cullen Bunn: Well, it was really nice to work with the Outland editorial team. They did a pass through the book and offered a number of terrific suggestions. I also wanted to make sure that the time period for the book (the '90s) read correctly, so there are a few changes that were made to sell that time period.
Crooked Hills is written with kids ages 8 to 12 in mind, but it's brimming with nightmares for readers of all ages. What types of scares can readers expect when they crack open Crooked Hills?
Cullen Bunn: Make no mistake, the scares in this book are real! Plenty of adults have read (and been terrified) by this book. There are mysterious hellhounds on devious missions. There are nightmarish visions. There are two witches with fiendish goals. And there are a ton of bits and pieces of eerie folklore that will delight fright fans.
As someone who grew up reading and watching Goosebumps (as well as shows such as Eerie, Indiana and Are You Afraid of the Dark?), Crooked Hills looks like it will be right up my alley. Were you inspired or influenced by any other kids' books, TV series, or comic books while creating the haunted world of Crooked Hills?
Cullen Bunn: I definitely think movies like The Goonies and The Monster Squad influenced the series. That sense of peril and fun was a key of ingredient to the book. The Hardy Boys novels were also inspirational. As far as Goosebumps books, they most certainly inspired one little trick I used in the novel. Every chapter ends with a cliffhanger to urge the reader to keep turning pages!
I absolutely love the fun and frightful cover art for Crooked Hills created by artist Aaron Palsmeier (with graphic design by Jeremy D. Mohler). What was it about Aaron's style that made him the perfect fit for this book, and can we look forward to more cover art by Aaron for future installments of Crooked Hills?
Cullen Bunn: Aaron just had such a great take on the world. It was a mix of creepy and fun, which is exactly the feel I wanted for the series. He's such a talented and multi-faceted artist. He can really surprise you with what he cooks up. And, yes, you'll be seeing much more of his work on my books, not just on future Crooked Hills books, but on a couple of other projects I'm cooking up!
As a prolific comic book writer, did it take time to get used to writing out prose in a novel format as opposed to writing a comic book script that you would send to an artist?
Cullen Bunn: I don't know that there was a big adjustment period, not from moving from comics to prose. I started out writing and editing prose, and I try to write even a little bit of prose every day, so it's in my blood. It is definitely a very different process. Luckily, I've been playing in both arenas for a long, long time at this point.
What has it been like working with the team at Outland Entertainment to crowdfund Crooked Hills on Kickstarter, and what types of perks and stretch goals can supporters of this novel look forward to?
Cullen Bunn: Outland is a wonderful partner, and I'm thrilled that they're going to be running the show when it comes to printing, fulfillment, and distribution. We have some fun, exciting plans for Crooked Hills, too, beyond the prose series! As for offerings, there are some really cool items up for grabs. First of all, you can buy copies of the book for your favorite library, which is something I really love. You can also get Bunndles (see what I did there?) of my all-ages books. And, offered only in limited quantities, you can get one-of-a-kind handwritten Crooked Hills short-shorts on sweet postcards.
On Kickstarter, you mentioned that you're already writing the second book in the Crooked Hills series and you have more planned beyond that. What has it been like to flesh out the world of Crooked Hills and continue the eerie adventures of Charlie, Alex, Marty, and Lisa in their haunted hometown?
Cullen Bunn: Since I started thinking about Crooked Hills, I've been thinking of the next story in the series. And the next story in the series! I've got several books in mind already. I just can't help myself but build out the story in interesting and surprising ways.
In addition to publishing books and graphic novels, Outland Entertainment also releases immersive board games. Would you be interested in expanding Crooked Hills into a playable game at some point in the future? It seems like such a spooky sandbox for readers to play in and explore.
Cullen Bunn: Oh, yes.
Most certainly.
Those ideas have been discussed quite a bit.
Ultimately, what do you hope readers take away from Crooked Hills?
Cullen Bunn: At the end of the day, this book is about having fun and being scared. And having fun being scared! That's what I want. I want readers to be delighted by this story. That's all I ever really want.
In addition to Crooked Hills, do you have any other projects coming up that you can tease for our readers, and where can they go online to keep up to date on your work?
Cullen Bunn: Oh, wow. I have several projects in the works right now that I can't talk about. Some are still a ways off. For Outland, I'm currently editing a new horror anthology called I'll Kill You Last. I'm also working on a number of prose novellas that I'm writing! In terms of comics, I have new books on the horizon from Mad Cave, Dark Horse, Boom, Oni, and more! I'll likely be crowdfunding several new books, too!
A great way to keep up with everything I'm doing is to subscribe to my weekly e-newsletter. It's free. It gives you insight into my day-to-day life, writing, my own fandom, and much, much more! You can subscribe at https://cullenbunn.substack.com.
Thank you for your time, Cullen!
Cullen Bunn: Thank you! It means a lot!
---------
To learn more and support Crooked Hills, visit:
Crooked Hills is the most haunted town in America. It's just the news that Charlie needs to salvage his forced vacation to the middle of nowhere. If he's got to take a family trip to visit relatives, at least he'll see some ghosts.

But the hauntings in Crooked Hills aren't the friendly kind, and soon Charlie, his brother Alex, their cousin Marty, and their new friend Lisa are surrounded by dangers: hellhounds, dead witches, strange dreams—and local bullies. Crooked Hills is far more exciting than Charlie expected, but it's a lot scarier, too…

For young fans of Stranger Things and Paper Girls, this brand new edition of Bunn's middle grade series starter launches readers into an earlier era of unsupervised adventures, childhood independence, and magical shenanigans.

Get ready to uncover the FIRST mystery of Crooked Hills…