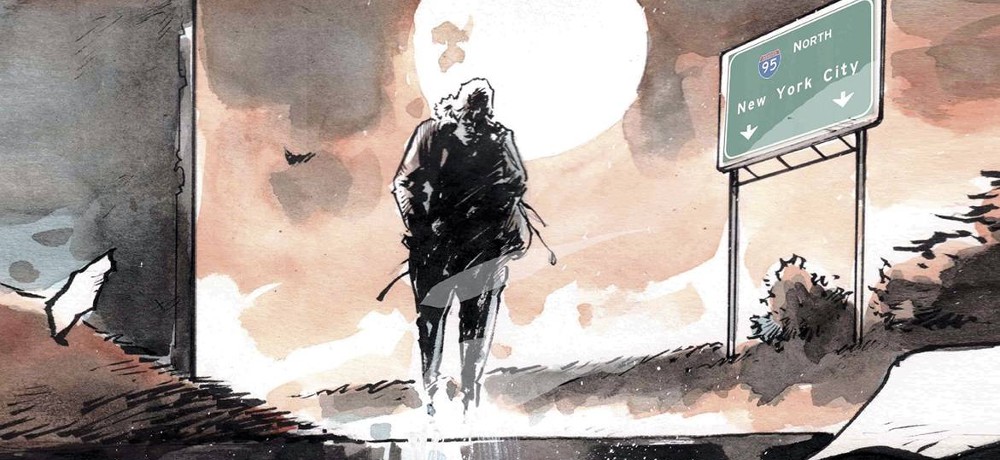 Cullen Bunn and Andrea Mutti return to the world of Parasomnia in Parasomnia: The Dreaming God! Coming to comic book shops on August 17th, thanks to Dark Horse Comics, Cullen Bunn is the latest guest of our Q&A series, teasing the adventures that await readers in the new 4-issue series, discussing his creative process, and more!
Thank you so much for taking the time to answer questions for us, Cullen, and congratulations on Parasomnia: The Dreaming God! When did you and Andrea Mutti originally decide to continue the story of Parasomnia with The Dreaming God?
Thank you! I couldn't be more excited about this book! The idea of continuing the adventures in the world of Parasmonia has been on my mind since I first started brainstorming ideas for the series. Andrea and I started talking about it seriously while we were working on the first series. I remember asking him, "Hey, Andrea, what do you think about doing another series… and what if, this time, it's a cyberpunk story?"
The cyberpunk metropolis setting of The Dreaming God is drastically different from the dark fantasy atmosphere of your previous Parasomnia releases. How important was it to you and Andrea to explore a different type of environment in The Dreaming God?
It's very important to the strange, shifting nature of dreams. We saw a little of it in the first series. In this one, we're throwing caution to the wind, and you'll see some crazy changes in the setting right from the start. While this book is definitely a cyberpunk tale, you'll see more and more of these sudden, dreamlike shifts in The Dreaming God. By the end of the series, the unexpected nature of the series will be very, very clear.
And should I mention I have, like, a dozen settings and genres listed for future stories?
Andrea's artwork brings your prose to life in a striking and stunning fashion. What has made Andrea the perfect fit to collaborate on The Dreaming God and the entire Parasomnia story as a whole?
Andrea is a great guy, and I'm so happy to be working with him again. One of the reasons I wanted to pitch this series with him is because he has this awesome, dream-like quality to his work. It feels otherworldly. And that really informed my interpretation of the book, especially going forward. There are some big "world-building" elements that would not have come to fruition if it hadn't been for Andrea's work.
Approximately how long did it take you to write The Dreaming God? Did you go through multiple drafts before you sent the script to Andrea?
That's a tough question for me. Actually writing the script goes fairly quickly for me, and while I do some re-writes and revisions, by the time I'm scripting, I don't do many. However, before I ever get to the script, I got through multiple, multiple outlines, starting very broad and getting more and more specific and detailed as we go along. My final outlines are so detailed that an artist could potentially draw the comic from that document. Most of the re-work is done during that phase for me. And I work on outlines here and there, in bits and pieces, for weeks.
Still in search of his missing son, the main character of Parasomnia has already been through the wringer and then some. What can readers expect to see as they follow him through the arc of The Dreaming God?
If you think he went through the wringer in the first series, wait until you see what's coming! Our lead (No-Name in the dream world, Grover in the waking world) will be facing some intense challenges here, challenges he might not survive. And what happens when you die in a dream? We may be finding out. Luckily, he has his companion Kahnawake with him, and he'll be making a new ally—Belle Dynamo—who will help him on his quest.
What has it been like working with Dark Horse Comics to continue publishing the story of Parasomnia?
Dark Horse is a terrific partner. I'm thrilled to work with them on this, and I have several new (as yet unannounced) projects in the works with them!
Ultimately, what do you hope readers take away from Parasomnia: The Dreaming God?
I always want readers to have a good time with these stories. That's first and foremost. But this story is also about hope and determination, especially when everything seems to be falling apart. Standing up for what you believe in, fighting the good fight, can feel like a dream, I guess. If this story gives readers even an fiery ember to help keep them going, that would be amazing to me.
Do you and Andrea have future adventures planned in the worlds of Parasomnia? Do you have an idea of how you want it to end or how many story arcs you'd like to explore?
I know where the story ends, and it is definitely a few arcs down the road. Parasomnia is going to get a whole lot more wild before it wraps up.
In addition to working on your own creations, have you been reading or watching anything lately that you would recommend to our readers?
I recently started a horror book club with some friends. The first book we're reading is My Heart is a Chainsaw by Stephen Graham Jones, and it is pretty terrific. I just watched X, which I loved for all its wrongness. And Crimes of the Future, which I've been thinking about pretty much non-stop since the lights went up. And, of course, Stranger Things, which my son considers the greatest television achievement of all time. I admit, when I'm watching that show, I feel his sentiment.
With Parasomnia: The Dreaming God #1 coming out on August 17th from Dark Horse Comics, do you have other upcoming projects that you can tease for our readers?

Hmm. I have, looking at my project list, eight unannounced projects coming along soon. Not sure when they will be revealed. At least one of those is a Dark Horse horror book, unlike any other book I've done. To say it will be "shocking" seems on-target.
---
"The nightmare of breakout series, Parasomnia, returns in Parasomnia: The Dreaming God. Writer Cullen Bunn (Harrow County, Manor Black) and artist Andrea Mutti (The British Paranormal Society, Cold Bodies), along with letterer Simon Bowland (The Boys, Red Sonja), return to their hit adventure tale of two worlds split between dreams and reality.

As the hunt for his missing son continues, our hero shifts worlds from the nightmarish Lovecraftian dreamscape to a cyberpunk metropolis where a ruthless cult continues to plague him, and reality and fantasy continue to blur.

"When working on the original series, it quickly became evident to me that two worlds couldn't contain this story," says Cullen Bunn.  "I love the 18th century horror/fantasy setting of our dream realm. But dreams change and change again. As the Dreaming God story kicks off, we're showcasing the limitless potential of dreams and nightmares. This is a book that will play with your expectations. There's no way (yet) to guess where this story will take you."

"PARASOMNIA is a series without limits just like the imagination," Andrea Mutti says. "There is no world that cannot be created and there are no impossible situations. If you can imagine it, you can live it! The series is an incredible journey voyaging in the company of unforgettable and extraordinary characters!"

Parasomnia: The Dreaming God #1 unleashes on August 17, 2022 and is available for pre-order now at your local comic book shop. Along with Andrea Mutti's standard cover, fans can also pick up a variant cover by Benjamin Dewey."