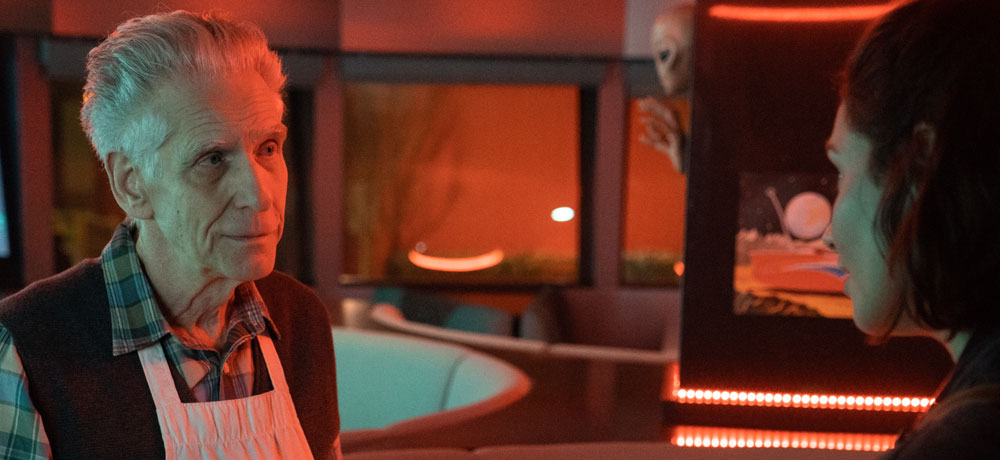 Decades after witnessing a disturbing abduction among the trees of Niagara Falls, a woman discovers that there are still troubling things afoot in her hometown in Disappearance at Clifton Hill. Following its well-received run on the festival circuit, Disappearance at Clifton Hill is coming to theaters and VOD on February 28th from IFC Midnight, and ahead of its release, we caught up with director/co-writer Albert Shin in our latest Q&A feature to discuss the film's real-life roots, filming in Niagara Falls, and working with the legendary David Cronenberg, who plays Walter in the movie.
Thanks for taking the time to catch up with us, and congratulations on Disappearance at Clifton Hill! I understand that this movie has real-life roots for you. How and when did you get the idea for this film?
Albert Shin: Thanks, excited to chat with Daily Dead! Not to spoil anything, but the prologue of the film involves a kidnapping or a perceived kidnapping witnessed by a young child. This was based on my own memory of witnessing something very similar as a young boy and it consuming my imagination for most of my life. With the passage of time, that memory became more nebulous and it got me thinking about the line between memory and truth. And what better setting to explore that than a place like Clifton Hill, Niagara Falls—where nothing is as it seems and selling lies and grand illusions is its stock and trade.
How long did it take you and James Schultz to write the screenplay for Disappearance at Clifton Hill, and how many drafts did you go through before finishing the final version?
Albert Shin: Writing the script took a few years, and we went through three or four big drafts and dozens of smaller drafts within those. A lot of time and effort was put into working through the intricacies of the story, while also trying to build a complex hero in a compelling but uncontrived way. We also did a lot of research into the history of Niagara Falls to imbue the script with a mythology that's part real-life, part folklore.
How much of the film was shot in Niagara Falls, and how many days did you have in your shooting schedule?
Albert Shin: We shot for 26 days and almost entirely in Niagara Falls. We did a few days outside of the region, mainly for specific location needs, but otherwise, we all got pretty cozy in Niagara.
This movie features an amazing cast, including the legendary David Cronenberg, who is just as talented in front of the camera as he is behind it. How did he get involved with this movie, and what was it like working with him? Did you learn anything new about filmmaking from working with David?
Albert Shin: We were having a very hard time finding the right actor to play this part and it was my producer, Niv Fichman, who suggested David. He was friendly with David, so we sent him the script, fully thinking it was a long shot. This was literally days before we were scheduled to start shooting, so it was all quite stressful. But amazingly, he got back to us overnight, I went and met with him, and then we were on set shooting, all within a week! Lesson here was, nothing ventured, nothing gained! And my biggest takeaway from working with Mr. Cronenberg was that your heroes can also be the most graceful and generous people.
Disappearance at Clifton Hill also features a strong lead performance by Tuppence Middleton. What made her the right fit to play Abby and take viewers on this emotional journey?
Albert Shin: The role of Abby required a tricky balancing act—be flagrantly flawed, but also hopelessly likeable at the same time, and Tuppence has this sublime ability to oscillate between these two realms. She can make vulnerability both relatable and mysterious at the same time. I wanted Abby to be complex but not contrived, and Tuppence really took the role and ran with it. It was a joy to watch her bring Abby to life.
Were you influenced or inspired by any other movies or TV series while making Disappearance at Clifton Hill?
Albert Shin: Polanski's Chinatown was an early influence on the spirit of the film when we were writing. And while we were prepping and making the film, I thought a lot about Bong Joon Ho's Memories of Murder and Coppola's The Conversation.
Looking back at your time on set, is there a favorite or memorable moment that stands out?
Albert Shin: There's so many—but if I have to single out one: we shot the prologue of the film where Abby witnesses a kidnapping in the exact same place I witnessed a similar event as a child. To re-create that very traumatic and visceral memory in the same spot, 30 years later, was indeed memorable.
Disappearance at Clifton Hill has enjoyed an acclaimed run on the festival circuit. What has it been like to watch this movie with audiences for the first time and see their reactions to the film?
Albert Shin: It's always exciting and nerve-wracking to show your movie to audiences for the first time, especially one that's designed to be somewhat open-ended and opaque. This was also my first time really tackling genre, which audiences bring certain preconceived notions and expectations to, and it's been fun somewhat subverting them.
IFC Midnight will be releasing Disappearance at Clifton Hill in theaters and on VOD beginning February 28th. What has it been like to work with IFC Midnight to release this movie to the masses?
Albert Shin: This is my third feature as a director and I've produced several more and up to this point, I've never had a film distributed in the US. Making esoteric indies in Canada, it's been hard to break into the US market, I guess. So to have IFC Midnight, who have such a strong brand and wide reach, be my first real foray into the US, it's been incredibly exciting and humbling.
Ultimately, what do you hope viewers take away from Disappearance at Clifton Hill?
Albert Shin: This is a weird little cerebral mystery film and I hope audiences enjoy the noir-trip down the rabbit hole…
With Disappearance at Clifton Hill coming to theaters and VOD on February 28th, what other projects do you have coming up that you're excited about, and where can our readers follow your work online?
Albert Shin: I'm sure this is a rarity these days, but I actually don't have an online presence. Trying to keep the mystery alive! But I'm always writing and developing stuff, so hopefully I'll be back soon with something new.
---------
In case you missed it, check here to read Sara Clements' TIFF review of Disappearance at Clifton Hill (formerly titled Clifton Hill).