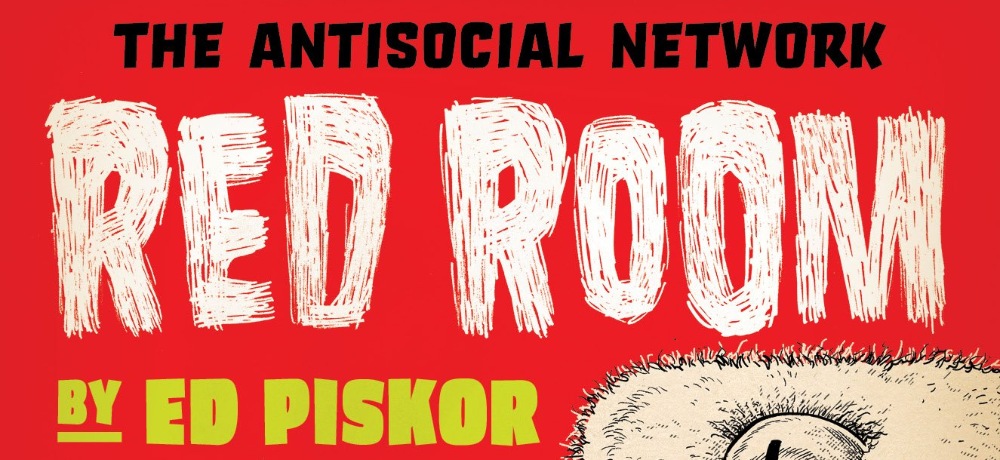 The deadly corners of cyberspace are home to sadistic killers and the bloodthirsty fans who fuel them in Ed Piskor's new comic book series Red Room. With the first issue of Piskor's Red Room now available from Fantagraphics, we caught up with the talented and bold artist to discuss the creative freedom of his new series, how real-life online horrors inspired Red Room, and more!
You can check out our Q&A with Piskor, official press release, and preview pages from Red Room below, and to learn more about the comic book series, visit Fantagraphics' official website!
Thanks for taking the time to answer questions for us, Ed, and congratulations on your new comic book series, Red Room! How would you describe this ambitious series to readers who are discovering it for the first time?
Ed Piskor: Murders are happening on the Dark Web for fun and profit. The users are cloaked in anonymity thanks to the web. There is no traditional paper trail thanks to bitcoin. This sick subculture has sprung up and there is very little fear of getting caught as long as the enactors remain vigilant about their opsec (operational security).
Introducing this kind of problem into the universe makes for great horror possibilities that could never have been explored even a few years ago, so I thought this would be a great modern-day comic to scare the pants off of people... or at least get them to feel very unsettled.
When did you initially come up with the idea for Red Room, and how long did it take you to get these first issues ready for publication?
Ed Piskor: It's an idea I've had for years. I would have gone down this road right after Hip Hop Family Tree if not for X-Men, but it was still on my mind the entire tenure of making my Marvel comics. Professionally, I'm very lucky, in that 2020 was to be a production year for me anyhow regardless of the pandemic. I basically had the greatest excuse to do nothing but comics while locked down.
You have extensive experience in the comic book industry, but Red Room marks your first foray into a creator-owned universe of your design. How creatively freeing has it been to build this new shared universe from the ground up?
Ed Piskor: Extremely freeing. I make the rules and follow them slavishly. HHFT was an exercise in world-building on rails. X-Men was world-building using fictional characters. Red Room is the benefactor of all that study I've done on those other comics.
The ever-changing realm of cyberspace is a major element of Red Room. Were you inspired by any real events when you were creating these online-centric stories?
Ed Piskor: Sure. The stories of people who actually get caught on the dark web were my introductions. People like Ross Ulbricht of the Silk Road and some others. Stories of snuff online are legion also. Red Rooms are an urban legend that have been around since the dawn of the 'net.
Red Room is packed with bold, striking, and amazingly detailed imagery that really jumps off the page. When you envisioned this series and then started working on it, did you have a specific visual style or artistic influences in mind?
Ed Piskor: Visually, I've been wanting to make a comic with the spirit of Tim Vigil's Faust or James O'Barr's The Crow for a long time. I've always loved that heavy rendering, heavy black ink style of drawing. Urban decay. There hasn't been a comic like those old Caliber Press comics in many many years, and they often never really delivered much when you would find a new one, so I had to make my own.
What has it been like to team up with Fantagraphics to publish Red Room?
Ed Piskor: It's been great. Red Room issue 1 is a record holder for the company, which makes me smile for a million reasons. We've done great business together with my Hip Hop comic in the past, so I feel like I'm back home.
Ultimately, what do you hope readers take away from Red Room?
Ed Piskor: Every issue is a self-contained story and I am quite sure readers will be happy to purchase a comic that gives them a full experience. It would be great to make somebody queasy enough to throw up, also.
Red Room is planned as a 12-issue series that will be collected in three trade paperback releases as well. Do you have plans to continue the stories of Red Room beyond issue #12, or will this be the definitive beginning, middle, and end of your series?
Ed Piskor: No. These are one and done stories that I keep making up as I go. While I'm drawing this one I'm working on now, I'm thinking about all the cool stuff that can happen in the next issue. I have no idea what issue 12 will be, but it will be my best comic I ever made until the next comic following.
With Red Room #1 out now, do you have any other upcoming projects that you're excited about? Also, where can our readers go online to keep up to date on your work?
Ed Piskor: All Red Room all the time. If your readers are curious, they can google me and if they're a touch gun-shy about plunking money down for Red Room right now, they can check out the FCBD comic in August and see if it meets their standards.
----------
Press Release: SEATTLE, WASH., DATE TK, 2021—Eisner Award-winning, indie cartoonist Ed Piskor is releasing Red Room, an ambitious, new sci-fi horror comic with Fantagraphics. Best known for documenting the history of hip hop with the best-selling Hip Hop Family Tree graphic novels and for distilling more than 8,000 pages of Marvel Comics continuity into the seamless masterpiece X-Men Grand Design, Red Room represents a significant milestone for the cartoonist: the creation of his first creator-owned, shared universe. Red Room will debut from Fantagraphics in May with an oversized 64-page first issue.

"Red Room is a cyberpunk, outlaw, splatterpunk comic that you can't unsee once you feast your eyes on the mayhem," said Piskor. "Think of Red Room as modern day E.C. Comics, infused with the dream of Black Mirror. These are subversive, stand alone stories that are all part of a larger, twisted narrative."

In Red Room, criminals livestream murders on the dark web for fun and profit. The series will be told through a series of interconnected, stand alone stories, focusing on unsavory characters that lurk in the most grotesque corners of cyberspace. The murders are a mystery, the victims unknown. Aided by the anonymous dark web and nearly untraceable crypto-currency, business is booming and the viewership is ever-growing.

Piskor has been teasing Red Room on Patreon and Cartoonist Kayfabe, his popular podcast with cartoonist Jim Rugg. "We're going to be talking about Red Room on each and every episode of Cartoonist Kayfabe," said Jim Rugg. "Comic book shops are going to want to have plenty on hand with issue 1 drops in May."

Red Room will be released in a variety of formats. The series will be published as monthly, four-issue arcs in a standard 32-page comic book format at $3.99 each, with the exception of May's first issue, which will be a specially priced, 64-page double-sized issue selling for $6.99. In the fall of 2021, the first four issues will be collected into a trade paperback. Once the Red Room saga is complete, there will be a total of 12 single issues and three trade paperbacks.

"This is no-holds-barred cartooning," said Piskor. "Fantagraphics is the perfect publisher for this book, because Gary Groth is a fighter. I'm going to push the boundaries with this book and I knew I needed to have a publisher that will unequivocally have my back."

"We're thrilled to both be continuing our relationship with Ed, who's given us the perfect opportunity to get back into the monthly comic book periodical business," said Fantagraphics Associate Publisher Eric Reynolds. "Red Room peels back the curtain on a shadowy side of humanity. The series is chock full of graphically horrific imagery, punctuated by Ed's sharp sense of humor, gorgeous cartooning, and dynamic storytelling."

Red Room issue 1 is available for pre-order via Fantagraphics:

https://www.fantagraphics.com/products/red-room-1

Issue 1 will be published on May 19, 2021.

For more info, follow:

Ed Piskor on Twitter, Instagram, Facebook, and Patreon;

Cartoonist Kayfabe on Twitter, Instagram, and Facebook and YouTube;