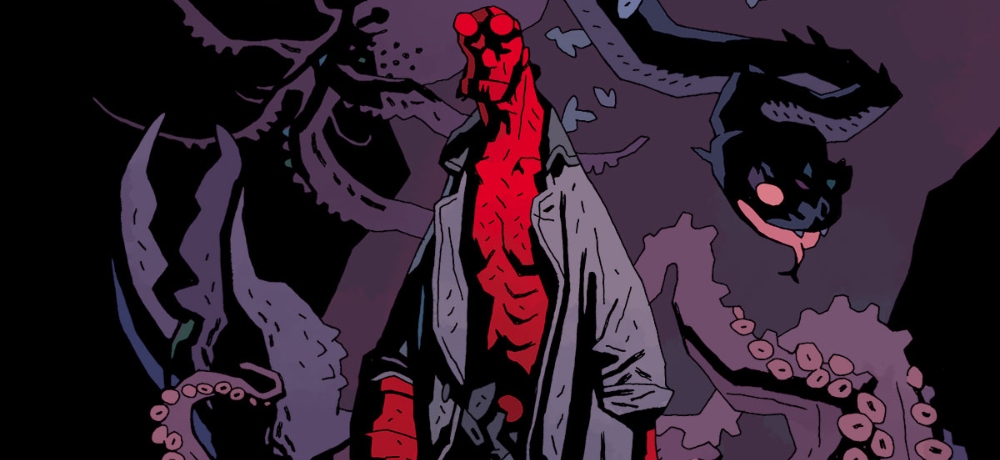 On March 1st, the official Kickstarter campaign launched for the new documentary Mike Mignola: Drawing Monsters. Directed by Jim Demonakos & Kevin Hanna, and featuring an all-star creative roster of interviewees, the new documentary shines a celebratory spotlight on Mike Mignola, the brilliant mind behind Hellboy and the ever-expanding Mignolaverse.
With the Kickstarter campaign already more than tripling its initial fundraising goal, we caught up with Jim and Kevin in a new Q&A feature to discuss the making of their ambitious documentary, including highlights from interviewing Mignola himself, shooting more than 80 hours of footage so far, upcoming interviews they'll be conducting for the documentary, and the amazing, exclusive perks that supporters of the Kickstarter campaign can look forward to.
Read on for the full Q&A, and be sure to visit the official Kickstarter page for more information on Mike Mignola: Drawing Monsters!
Thanks so much for taking the time to answer questions for us, and congratulations on the Kickstarter for your new documentary, Mike Mignola: Drawing Monsters! Mignola is a fascinating and inspiring creator, and it's so great to see him getting the spotlight here. When did you originally come up with the idea for this documentary, and how did you decide to team up together to bring it to life?
Jim Demonakos: First, thank you for the kind words, we're super excited to bring this project to Kickstarter! Kevin and I have known each other for well over a decade and we've both been in the Seattle comic scene for a very long time. Kevin invited me to lunch a couple years ago because he wanted to run an idea by me. The idea was, essentially, high quality long-form documentary films about the creators that helped shape the comic and pop culture landscape. I was on board before he finished making the pitch, hahaha. From there, we began our brainstorming process and the first person we decided to profile was Mike Mignola.
You interviewed so many great people for this documentary, including Neil Gaiman, Rebecca Sugar, Victor LaValle, Doug Jones, and Mignola himself. How did you decide who to talk with about Mignola, and what went into the process of reaching out to people, preparing questions, and conducting the interviews?
Kevin Hanna: What's interesting is that our list of interviewees evolved once we sat down the first time with Mignola. We got a sense of his story from his point of view, which led us to additional  research on other things happening around key points in his life, so it was an ouroboros that kept feeding into itself. Those research topics meant that there were specific people we wanted to talk to, and then it was a matter of reaching out to them and letting them know that we were working on this documentary and if they would like to be a part of it. I think once we were able to show footage of Mike, and then add in pieces from subsequent interviews, people started understanding the level of quality and seriousness we had in making this, so it helped open doors that maybe wouldn't have been open otherwise. You mention Victor LaValle, he is one of the people we have lined up, and part of the reason we're doing the Kickstarter is funding these additional interviews.
You take a really in-depth look into every aspect of Mignola's career, from his early days at Marvel Comics to the juggernaut success of his Hellboy comics. How much research did you do to prepare for telling this detailed story as accurately and interestingly as possible?
Jim Demonakos: This is a funny question, because Kevin and I are both big fans of Mignola, so though there was definitely research involved (figuring out exactly when books he worked on came out, what Mike was doing—and where he was living—during those times, etc.), there seemed to be a lot of knowledge that we had just because we were fans and had followed his career for years. Then, it was a matter of making sure we verified the things we had in our heads to make sure we weren't mis-remembering or anything of the sort.
Do you each have a favorite or surprising thing that you learned about Mignola and his creations while working on this documentary?
Jim Demonakos: My favorite thing was Mignola talking about how what he really wanted to do in life was to draw monsters and supernatural things, and there was an earnestness to what he discussed that really resonated with me. Like, yeah, you want to draw monsters, you draw monsters! And he did! He made a career of it, that was pretty awesome to me. Not surprisingly, that's also how we came up with the title of the documentary...
Kevin Hanna: For me, it was when he was describing the creation of Hellboy. We had a nice back and forth, where he was discussing creating a hero that could be the foil for all the stories he wanted to tell, and though I knew the answer, I asked him, "And who was that hero?" And he answered, "That was Hellboy," with a big smile on his face. It was so genuine and heartfelt, I think that was my favorite moment.
I understand that you have more than 80 hours of footage that you've shot for the documentary, with more to come! How have you gone about the daunting process of what to cut out and what to leave in when you're working with so much great material?
Kevin Hanna: Honestly, this is the part of filmmaking that is the most difficult. Essentially, we are crafting a narrative about Mignola and his life, and we take all the material we've filmed and find the best bits that support the narrative in an interesting fashion. There are a lot of great stories that were told that don't necessarily help move the film forward, and so those are things that we then have to cut. I will say, though, we will definitely have some awesome extras on the Blu-ray because even though some of the stories don't necessarily fit into the film, it doesn't mean they aren't worth watching on their own.
You've just launched a Kickstarter campaign for Mike Mignola: Drawing Monsters, and there are a bunch of goodies that supporters will be able to enjoy. What are some of the most exciting perks that you have in store for your Kickstarter supporters, and what will this Kickstarter campaign allow you to do to help get the documentary across the finish line in its best possible version?
Jim Demonakos: We ourselves are really active in backing Kickstarters and so we have a feel for what we would like to see as rewards. Part of that is simplicity, we didn't want to have dozens of levels, so we decided to scale it down to make sure it was easy to become part of the campaign. Outside of the Blu-ray, which I think is going to be very cool, my two favorite items are the t-shirt and the Hellboy Portfolio Print Set. The t-shirt features a Hellboy illustration that Mike Mignola created just for us, and it features a new colorway from Dave Stewart.
As for the Print Set, it's pretty exciting—we got 10 different artists, including Mignola himself, who have done interior work on the Mignolaverse in the past, like Tim Sale, Fabio Moon, Paolo Rivera, Duncan Fegredo, Ben Stenbeck, Alex Maleev, Mike Norton and Laurence Campbell, to create all-new illustrations for a limited edition set of 9x12 prints. The set will be serially numbered and limited to only however many people pledge for it on the campaign, it won't be available afterward at all. Actually, except for the Blu-ray, none of our rewards will be available for purchase after the campaign. We wanted to make everything unique and exciting!
I understand that there are even more interviews that you'd like to do for this documentary! Can you tease any of the additional people you'd like to get involved?
Jim Demonakos: Some of the people we have lined up to talk to are illustrator Tara McPherson, writer Vita Ayala, the EVP Creative Director of Marvel Entertainment Joe Quesada, horror writer Victor LaValle, and a number of others who haven't 100% committed yet, so I don't want to jinx it by naming them. Needless to say, we have a great variety of people who are excited to talk about Mike, and we're excited to talk to them, too.
Ultimately, what do you hope viewers will take away from Mike Mignola: Drawing Monsters when you get to premiere it in 2022?
Kevin Hanna: If we've done our jobs right, our hope is that people will walk away with two messages. One, that with the right support, you can follow your passion and create something that impacts the world. Two, that Mike Mignola is one of the greatest creators who ever lived, and being able to be part of his world while he's still creating and growing it, is something truly special.
Thank you so much for your time, Jim and Kevin!
Jim & Kevin: You're very welcome, thank you for the fantastic questions!
-----------
We have the teaser trailer, official press release, and a look at some of the Kickstarter-exclusive artwork below, and to learn more and support Mike Mignola: Drawing Monsters, be sure to visit the documentary's official Kickstarter page!
Press Release: (March 1, 2021) Hellboy has appeared in countless graphic novels and comic books, prose novels and short story collections, acclaimed role-playing games and videogames, three live action films and two animated features, and has inspired countless toys and collectibles. Now, award-winning Hellboy creator Mike Mignola is getting his turn in the spotlight in the all-new documentary MIKE MIGNOLA: DRAWING MONSTERS, which tells the definitive story of one of the most influential and important comic book creators of all time. This feature-length film includes never-before-seen interviews conducted with the legendary creator at his studio, drawing demonstrations, behind-the-scenes footage from comic book conventions, and interviews with some of the most influential people in entertainment, including Neil Gaiman (American Gods), Steven Universe creator Rebecca Sugar, Victor LaValle (The Ballad Of Black Tom), artist Tara McPherson, and comic book superstars like Vita Ayala, Duncan Fegredo, Fábio Moon, and Joe Quesada. MIKE MIGNOLA: DRAWING MONSTERSis now on Kickstarter for a month-long campaign that runs throughout March.

As one of the most successful independent comic book creators, Mignola has inspired generations of writers and artists. MIKE MIGNOLA: DRAWING MONSTERS provides an in-depth look at his legacy, from the beginning of his career working as an inker for Marvel Comics to his success with Hellboy. The film features never-before-told revelations from Neil Gaiman about the Mignolaverse and the production of Guillermo Del Toro's Hellboy II, and an interview with Steven Universe creator Rebecca Sugar discussing Mignola's influence on her creation.

The documentary features Mythbusters host Adam Savage, Hellboy film actor Doug Jones and actress Vanessa Eichhotlz, novelists Christopher Golden (of the bestselling Ben Walker novels) and Victor LaValle (The Ballad Of Black Tom), Dark Horse Publisher and founder Mike Richardson, Dark Horse Editor Katii O'Brien, Marvel EVP of Creative Development Joe Quesada, comic book writers Vita Ayala (The Wilds), Chris Roberson (Hellboy & The B.P.R.D.) and Thomas Sniegoski (Young Hellboy), and award-winning cartoonist Fábio Moon (Daytripper), as well as interviews and art demonstrations with painter Jason Shawn Alexander, Duncan Fegredo (Hellboy: The Wild Hunt), Michael Avon Oeming (B.P.R.D.: The Soul Of Venice), award-winning colorist Dave Stewart and, of course, Mignola himself.

MIKE MIGNOLA: DRAWING MONSTERS is being co-directed and produced by Jim Demonakos (founder, LightBox Expo and ECCC) and Kevin Hanna (Clockwork Girl), an American director noted for his work in feature film, animation, comic books, and television.

"There's already eighty hours of footage in the can that we have shot over the last year and a half," says Hanna. "This is an ambitious in-depth documentary to celebrate Mignola's legacy in style."

"We're bringing the project to Kickstarter to secure the financing to shoot additional interviews, edit the film and score, and bring the film to market," said Demonakos. "We want existing fans and curious readers alike to experience Mignola's art and his incredible world of monsters and misfits."

The Kickstarter campaign features tiers with the MIKE MIGNOLA: DRAWING MONSTERSfilm digitally or on Blu-Ray, as well as a Kickstarter exclusive t-shirt, original art, a commission from Mignola himself, the opportunity to receive an executive producer credit on the film, and an incredible Hellboy Portfolio Print Set that is exclusive to the Kickstarter campaign, featuring new 9"x12" Hellboy prints by Mignola and Dave Stewart, Laurence Campbell, Duncan Fegredo, Alex Maleev, Fábio Moon, Mike Norton, Paolo Rivera, Craig Rousseau, Tim Sale, and Ben Stenbeck. All the artists involved have previously drawn interiors for various Mignolaverse books.

Filming will continue and is scheduled to be completed in the fall/winter of 2021, with the finished film debuting by spring of 2022. For more information follow MIKE MIGNOLA: DRAWING MONSTERSon Twitter, Facebook, and Instagram.

The project can be supported here: https://www.kickstarter.com/projects/jimdemonakos/hellboys-creator-mike-mignola-a-documentary-film?ref=chyrev

Praise for Mike Mignola:

"I think everyone young and old should check out Mike Mignola's work… It's about using comics as a medium to redefine what comics can be."—Rebecca Sugar

"The Mignolaverse is just a remarkable success story. He wasn't the only person who was trying to create a shared universe to rival the Marvel model, but he seems to be, I would say, maybe the only one who really succeeded."—Professor Ben Saunders

"Mike's heroes are flawed misfits… That's why his universe resonates."—Doug Jones

"You look at Mike and there's not a line wasted. He's such an astonishing artist."—Neil Gaiman

To support the campaign, visit Kickstarter:  https://www.kickstarter.com/projects/jimdemonakos/hellboys-creator-mike-mignola-a-documentary-film

About Mike Mignola: Reading Dracula at age 12 introduced Mike Mignola to folklore and Victorian supernatural literature, from which he has still never recovered. He began working as a comic book artist in 1982, working for both Marvel and DC Comics before creating Hellboy, published by Dark Horse Comics in 1994. What began as a single comic-book series would eventually expand to a "Hellboy Universe" of related graphic novels, prose novels, short story anthologies, and both animated and live action films. He also wrote and drew The Amazing Screw-On Head and Other Curious Objects. He has co-written novels with Christopher Golden (Baltimore, or, The Steadfast Tin Soldier and the Vampire) and Thomas Sniegoski (Grim Death and Bill the Electrocuted Criminal), worked with Francis Ford Coppola on Bram Stoker's Dracula, was a production designer on Disney's Atlantis: The Lost Empire, and was a visual consultant to Guillermo Del Toro on Blade II, Hellboy, and Hellboy II: The Golden Army. A new Hellboy film directed by Neil Marshall was released in April 2019. Mike's comics and graphic novels have earned numerous awards, and are published in a great many countries. He lives in Southern California with his wife and a very demanding cat.
New Hellboy Artwork by Mike Mignola, Paolo Rivera, Alex Maleev, respectively:
New Hellboy T-Shirt (artwork by Mike Mignola and colorway by Dave Stewart):