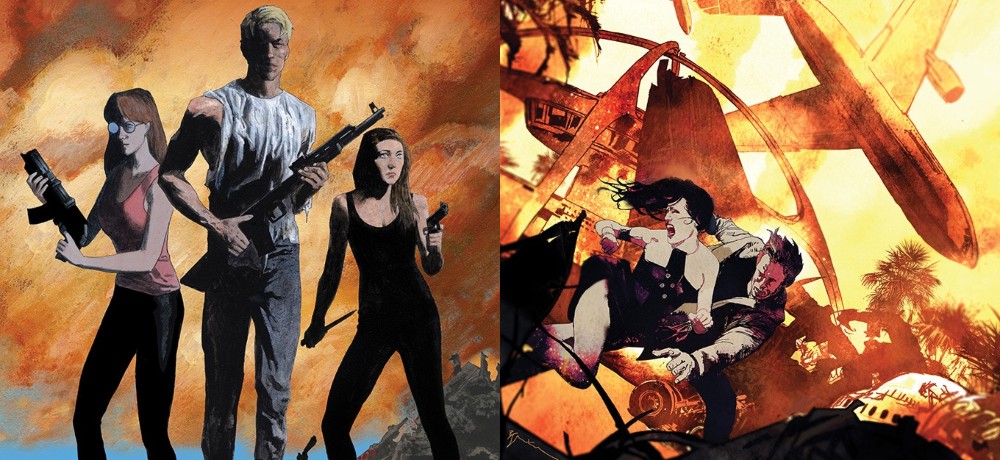 When apocalyptic violence sweeps across the world, one man with a unique skillset embarks on a cross-country journey to save his daughter in RAGE, the new graphic novel from writer Jimmy Palmiotti and artist Scott Hampton. With RAGE now on Kickstarter from PaperFilms, we caught up with Palmiotti in a Q&A feature to discuss his new graphic novel and the intriguing perks for supporters of the Kickstarter campaign!
Below, you can check out our Q&A, the official press release, and a gallery of artwork for RAGE, including the variant cover by Bill Sienkiewicz. To learn more, visit the graphic novel's official Kickstarter page!
Thanks for taking the time to answer questions for us, Jimmy, and congratulations on your upcoming graphic novel, RAGE! When did you originally get the idea for RAGE, and how many drafts did you go through before it was ready for publication?
Jimmy Palmiotti: The premise of RAGE is part horror and part disaster story. It was pieced together after a couple of conversations with Scott Hampton during the pandemic. We spoke about ideas, what each of us was going through, and how the idea of a safe world turning bad overnight could be a cool premise to start from. I'm a news junkie and I watch and read a ton about the environment and the impact humans are having on it and thought it would be very fitting to have an event that changes everything in the way humans behave and see how a father and daughter deal with this disaster. The story is about that and the love and connection they have for each other. All this comes with the warnings along the way, about how fragile we are, and how the planet is on the brink of some bad things happening if we don't start to have a more adult conversation about it. I know this might sound preachy, but it is the background of a story that has action, adventure, a little sex, and a lot of violence. There is a lot of hardcore violence in the book and because of that, it's a mature audience book and adult in every way. The greatest thing about writing a book like RAGE and having an open deadline is that you get to edit the hell out of it before a single brush line is put to paper. Editing is a part of writing. My process is to write as I see it first, then edit later.
You teamed up with artist Scott Hampton to bring RAGE to life. What do you enjoy the most about working with Scott, and what made him the perfect choice to team up with on this graphic novel?
Jimmy Palmiotti: Working with Scott Hampton was a blast. We've worked before on our series G.I. Zombie for DC Comics and this time we got to work without the usual editorial restraints and it was fun to see Scott dig in and do whatever he wanted, no matter what I wrote. RAGE is a combination of artists working together to create something new, and I think the book delivers this. It's always more fun working with someone you know and enjoy. I don't always have this luxury with a lot of fellow creators. He has a way with his art that grounds the characters right away. You feel it's the real world and his characters come alive on the page and that said, the violence is not over the top. When something happens to someone, it feels real, making the book even more creepy.
Your company Paperfilms (which you co-founded with Amanda Conner) is launching a Kickstarter for RAGE, with plenty of goodies for fans to enjoy. What kind of perks can supporters of the Kickstarter look forward to, and what made Kickstarter the perfect fit to help bring this story to life?
Jimmy Palmiotti: The Kickstarter perks offer digital versions of the books and other digital packages that include other PaperFilms books. We have the regular hardcover book and some exclusive limited edition covers available, one by Amanda Conner and the other by Bill Sinkevich. We are also offering a lot of original art by Scott Hampton—drawings he did for the interiors. Since he draws a book in a nontraditional sense—these are pages of artwork from select panels and pages and each one of these is signed by Scott. We also have a commission spot by Scott and remarks by me and much more along the way. I think this Kickstarter has something for the art collector as well as the graphic novel fan. We try to keep each campaign unique and fun.
Do you have any plans to continue the story of Rage beyond this graphic novel, or have you accomplished everything you set out to do in this story's world?
Jimmy Palmiotti: RAGE is a complete graphic novel. We did not set RAGE up to be a series or there to be a sequel, no matter how well it does. We just about nail everything we wanted in the book. The story we wanted to tell is between the two hard covers and all a reader will need.
Ultimately, what do you hope readers take away from RAGE?
Jimmy Palmiotti: What I want the reader to take away is that they were pulled out of their own reality for a bit and entertained. Maybe nervous, grossed out, and in the end, a bit hopeful. My expectation is that the artwork will also be appreciated, and in the end, the backers of the Kickstarter will feel that the money they spend on the editions of RAGE was worth it for them. This book and the way we are selling it, by nature, is a grassroots way of connecting with the audience, and each and every time we put together a project like this, we hope the audience is really satisfied with everything, including the production and delivery of the project. We have an impeccable record with delivery, even after 16 campaigns. I am quite proud of that fact.
You've had a prolific career creating comic books and graphic novels across a vast range of genres. What advice would you give to comic book creators who are just getting started?
Jimmy Palmiotti: To those just getting started in the field, understand that there are more than superheroes in comics and with graphic novels, you are communicating to a world with a medium that easily translates, so understand that your voice is important to be heard. Write what you know, make sure you live your life, travel, fall in love, have your heart broken, and try to translate your emotions to the page as best you can. Understand that everyone starts out small, but hard work does pay off in the end. This is a business won by the persistent and talented. Be smarter than the crowd, get a lawyer to read each contract, do not create characters without a reversion of rights clause and listen to the pioneers of the business and reach out to them for advice. Last, slow down, have integrity and enjoy the moment, no matter how small.
In addition to Rage, what other projects do you have coming up that you're excited about, and where can our readers go online to keep up with your work?
Jimmy Palmiotti: I can be found on Twitter and Instagram and more importantly at my site PaperFilms.com. Right now, my wife Amanda Conner and I are working for Dynamite comics on a Red Sonja series and a creator-owned book to be announced soon. Outside of comics I am developing two TV series and a feature film, but these things take a long time. My constant that I work on and pays the bills are my Kickstarter books, and the next one coming is another Painkiller Jane one-shot.
-----------
To learn more about RAGE, visit its official Kickstarter page!
Press Release: (July 27, 2021) Fan favorite writer Jimmy Palmiotti (Harley Quinn, Painkiller Jane, Marvel Knights) and superstar artist Scott Hampton (Neil Gaiman's American Gods, Black Widow, GI Zombie) are collaborating on an all-new, fully-painted original graphic graphic novel titled RAGE. In this action packed thriller, one man embarks on a cross country journey to find his daughter in the wake of a worldwide catastrophe. RAGE is currently being crowdfunded on Kickstarter and award-winning artists Amanda Conner and Bill Sienkiewicz are providing limited edition variant covers for the campaign.

"RAGE is a full throttle, white knuckle thriller about a man with secrets in his past, who will do absolutely whatever it takes to save his daughter," said Palmiotti. "It's a story all about survival, which in this case means learning to live with what you've done ― and what you've failed to do."

In RAGE, Braden Radovick is a desperate man. He wakes up in a New York City holding cell to discover the world has changed overnight. Everywhere he goes, there are fires. The city is littered with corpses. People are losing their minds. The cops are so overwhelmed, they just let him walk out of the cell.

Braden's journey is just beginning. He's separated from his daughter Friday, who's on the west coast, and absolutely nothing ― not even a global disaster ― will stop him from finding her. Before his cross country odyssey is over, Braden will be forced to use all his resources and skills to reunite with his daughter and save her.

"Scott Hampton's done an absolutely stunning job with the art and Amanda Conner and Bill Sienkiewicz have done jaw-dropping variant covers," said Palmiotti. "Like most PaperFilms' books, RAGE is a graphic novel with sex and violence and is for adults. We make comics for adults, by adults."

RAGE is the 16th Kickstarter project for Paperfilms, the company Palmiotti co-founded with Amanda Conner. The project for the 68-page adult graphic novel is now live at https://www.kickstarter.com/projects/creatorownedheroes/rage-2?ref=59fr70.

For more information, follow PaperFilms on Twitter, Facebook and Instagram or visit www.paperfilms.com.

ABOUT PAPERFILMS:

Jimmy Palmiotti launched PaperFilms in 2001 to create a company for creators skilled in world building, screenwriting, intellectual property development, video game development, illustration, editorial experience and much more, as part of their efforts to own and develop their own characters for various media, while also nurturing a community for like-minded comic book creators.