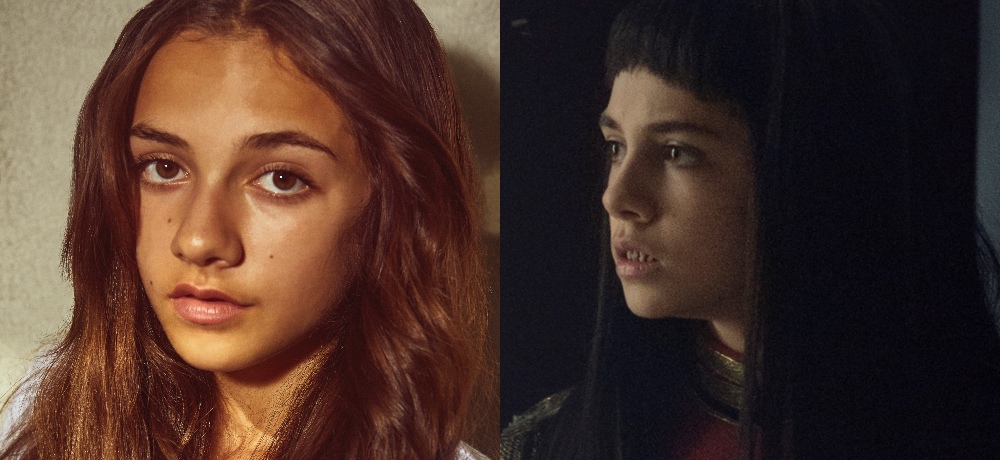 When it comes to playing polar opposite roles, it doesn't get much more diverse than a demon child and a Disney princess, but Mattea Conforti has recently brought both of those characters to life on screen. On AMC's NOS4A2 series (based on Joe Hill's novel of the same name), Conforti plays Millie Manx, the deadly daughter of Zachary Quinto's character, Charlie, and in Disney's Frozen II, she provides the voice for Young Princess Elsa, having also played Young Anna in the Broadway musical Frozen.
With NOS4A2 Season 2 now airing on AMC, we caught up with Conforti for our latest Q&A feature to discuss her eclectic roles, including working with Quinto and Ashleigh Cummings, the makeup process for Millie's creepy look, what it's like to hang out on the Christmasland set, and what viewers can expect from Millie on this season of NOS4A2.
Thanks for taking the time to answer some questions for us, Mattea, and congratulations on your recent role in NOS4A2! What was it about the character of Millie Manx that made you want to play her, and what was the audition process like for the role?
Mattea Conforti: Thank you so much! Millie Manx is a surprisingly dynamic character. In Season 1, the audience is not introduced to Millie until later in the series. She's obviously a scary demon child, but we also learn how much she loves and is devoted to her father. However, in Season 2, the audience will quickly see that there's so much more to Millie. She's very smart, brave, and curious. I love playing this character because it allows me to show a range of emotions, and I get to explore my creativity as an actor. The audition process was pretty typical, I think. I auditioned through a self-tape, and ultimately booked the role after a callback.
Were you familiar with Joe Hill's NOS4A2 book before coming onto the show, or were you completely new to the world of Christmasland?
Mattea Conforti: I was not familiar with Mr. Hill's book prior to coming onto the show; and Christmasland was definitely a whole new world for me. Of course, I had heard of Mr. Hill, his work, and the work of his father, but I can't say that at that point, I had read any of their books. I was only 12 at that time!
You play the daughter of Zachary Quinto's character, Charlie Manx. What was it like working with Quinto? Did you learn anything about the craft of acting from him or co-star Ashleigh Cummings? 
Mattea Conforti: I am truly very lucky to be working with both Zachary Quinto and Ashleigh Cummings. Of course, they are both so accomplished and professional actors, but more importantly, they are both really good people. They care about everyone on set, and always make us feel welcome and part of the process. You can learn quite a bit just by watching Zachary in action. He is a very precise, serious actor, who is not afraid to take risks. I learned a great deal from him about getting into my character, and having the confidence to make bold choices in my scenes.
Although she is my enemy on the show, Ashleigh Cummings is one of my favorite people on set. She is so fun to be around, and she goes out of her way to make sure you know that she truly cares about your well-being. One time, after a particularly long day of shooting, I had one final scene with Ashleigh. For the last camera angle, I was not in the shot, but the director wanted me there for Ashleigh's eye line. When we finished the scene and wrapped for the day, Ashleigh came over and actually apologized to me for having to stay later than I really needed to. This really stuck with me because she definitely did not need to apologize to me, and it showed me just how thoughtful she is.
Your character has a very memorable (and creepy) look in NOS4A2. What is the makeup effects process like for Millie when you show up on set? 
Mattea Conforti: It takes about an hour to get into my Millie Manx look. The makeup is first airbrushed on my face, neck, hands, and arms, by our very talented makeup artist, Joel Harlow. He puts his finishing touches on with a paint brush. Joel makes the makeup process so much fun! He has a special old-fashioned reclining barber chair that is reserved for Zachary Quinto; and Joel always lets me sit in that chair for my makeup, too! This really makes me feel special. After my makeup is done, I am wigged in Millie's signature long black hair and blunt bangs. The look is complete once I pop in my teeth right before we start shooting.
Looking back at your time on set so far, is there a favorite or memorable moment that stands out?
Mattea Conforti: One of my most memorable moments on set is one that I definitely cannot go into too much detail about. However, I can tell you that it's in Season 2, and it's definitely something I've never done before. I can best describe this scene as dangerous and thrilling!
The production design and set decoration teams do an amazing job bringing Christmasland to life on NOS4A2. What is it like walking through Christmasland in person? Did you get a chance to explore Christmasland and hang out on the set in between filming scenes?
Mattea Conforti: Christmasland is really cool to see in person! We shoot inside a cavernous armory, so the set is enormous. There is fake snow everywhere, and the physical structures have both whimsical and very scary elements. When I don't have to go back to "school" with my studio teacher in between filming scenes, I definitely like to hang out on set, and play in the snow with some of the crew and the other kids on set.
Looking ahead at the upcoming season of NOS4A2, can you give our readers a tease of what they can expect from Millie Manx? 
Mattea Conforti: I can definitely say that your readers will see a lot more of Millie Manx in Season 2. They can expect to learn more about her relationship with and devotion to her father. Season 2 shines a light on Millie's curiosity, bravery, and boldness!
In addition to playing Millie Manx, you also voiced Young Elsa in Frozen II. What was it like being a part of one of the biggest movies in the world?
Mattea Conforti: Being a part of Frozen II was an absolute dream come true. The Frozen franchise is literally my childhood in so many ways. I have a sister, and we are very close, just like Anna and Elsa. I absolutely loved the first Frozen movie, and having the opportunity to be a part of Frozen II is still kind of unbelievable to me.
Also, I originated the role of Young Anna in the Broadway musical, Frozen, prior to shooting Season 1 on NOS4A2. This was one of the most rewarding professional experiences I have had so far, because I got to bring Young Princess Anna to life for the first time on the stage!
Is there a dream role that you'd like to play in the future?
Mattea Conforti: Honestly, I'm up for anything that challenges me. I've gone from Disney Princess to Demon Child, and there's so much in between for me to sink my teeth into! I love to tell a story through my acting, so I'd love to take on any project that allows me to show my range and allows me to connect with my audience, whether it's on stage, TV, or film.
With NOS4A2 Season 2 now airing on AMC, do you have any other projects coming up that you're excited about? Also, where can our readers go online to keep up to date on your work?
Mattea Conforti: I have a really cool film project coming out, but I can't tell you about because it hasn't been made public yet. We we were just about to shoot some additional scenes for the film when everything got shut down due to COVID-19. I'm hopeful that we can get back to work on this one, and then I'll be able to share the news!
Your readers can definitely follow me on Instagram at @matteaconforti or check out my work on IMDb.com.
[Photo Credit: Above left photo by Emily Assiran. Above right photo by Zach Dilgard/AMC.]