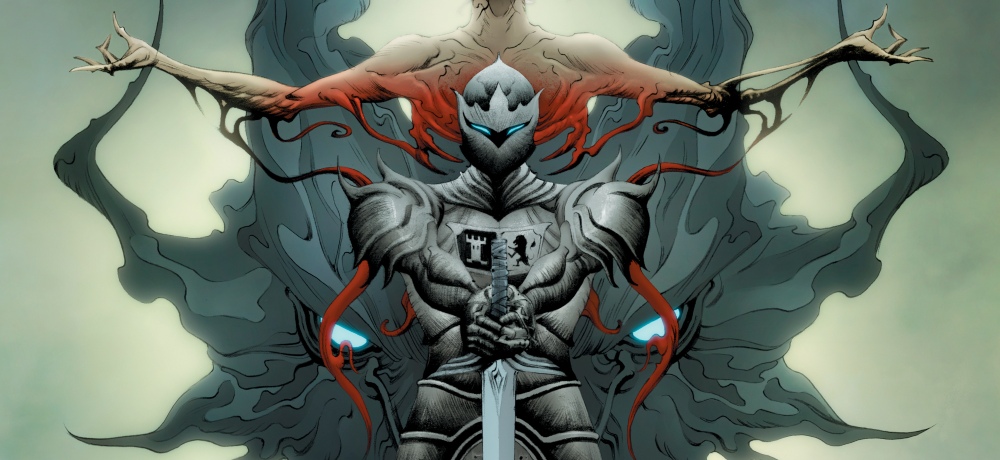 A mystical suit of armor and its phantasmal companion could be a surprising supernatural salvation for an orphan teen targeted by summoned creatures in Armored. The debut comic book series from screenwriter Michael Schwartz, Armored is now on Kickstarter via Clover Press, and we recently caught up with Schwartz in a new Q&A feature to discuss working with the talented artist Ismael Hernandez, the visual influence of the '80s cartoon Visionaries: Knights of the Magical Light, getting positive feedback from Dan Aykroyd and R.L. Stine, and some of the exciting perks awaiting supporters of the Armored Kickstarter!
Below, you can read our full Q&A with Schwartz as well as preview pages from the first issue and the official press release with additional details on Armored. In case you missed it, check out our exclusive look at the Armored #1 variant covers by Scott Kolins and Nick Pitarra, respectively, and to learn more and support Armored, be sure to visit the comic book series' official Kickstarter page!
Thank you for taking the time to answer questions for us, Michael, and congratulations on your new comic book series Armored! How and when did you initially come up with the idea for Armored?
Michael Schwartz: Thanks so much for having me and giving me the opportunity to tell everyone about Armored!
The idea of a kid finding a haunted suit of armor originated over five years ago for me. I think initially the idea kind of popped into my head when I was revisiting an old '80s cartoon called Visionaries. If you're familiar with the series or toy line, it's basically these futuristic knights that obtain these magical staffs that grant them powers. It was a toy line I loved as a kid and the visuals from that cartoon were a big inspiration. Additionally, I think I'm just naturally inspired by movies like Boorman's Excalibur and Raimi's Evil Dead, so you'll see a lot of nods and references to them. And, as a kid, my family visited Germany often, and I was obsessed with all the suits of armor and the castles. It left a huge impression. Once I had the initial concept, I started to construct a story in my head piece by piece over the years.
I love how your prose pairs with Ismael Hernández's artwork to bring this story to life. What is it about Ismael and his art style that made him the perfect fit to team up with on Armored?
Michael Schwartz: Chris Stevens, my editor on Armored, brought Ismael's art to my attention shortly after he finished editing the first issue. I was blown away that Ismael was available at the time because his art was so beautiful. The fact that he pencils, inks, and hand paints every page is nothing short of amazing. What I love about his art is it gives Armored a very timeless and different feel than most modern comics. It's almost as if we just discovered these pages locked in a vault and we've decided to have them printed into a book. Every page is a work of art!
You've had some great responses to Armored so far, including from Dan Aykroyd and R.L. Stine. What has it been like for you to get this early positive feedback on your first comic book series?
Michael Schwartz: I am beyond thrilled by the response so far. When I sent the comic to Aykroyd and Stine, I was so nervous to hear their reactions and whether they would even like it. Both of them are heroes of mine and their work over the years has always been a huge inspiration to me. Having them support it means the world to me.
What has been your experience working with the team at Clover Press as you prepare to crowdfund Armored on Kickstarter, and what types of perks can supporters of this series look forward to?
Michael Schwartz: Clover Press has been incredible to work with. Hank Kanalz, the publisher at Clover, really understood my vision for the book and my desire to make it a comic book series. It's also been really fun seeing them put the book together and prep all the rewards for the Kickstarter. I'm especially excited for some of the '90s-inspired exclusive variant covers like the chrome Matthew Therrien cover and a red foil logo for Jae Lee's cover, and he plans to sign a limited number of them. Additionally, Clover is doing a lenticular 3D cover for Nick Pitarra's cover, as it just screams to be seen in 3D! Another really cool offering will be the limited number of hand-painted sketches by Armored artist Ismael Hernandez.
Do you have plans to continue Armored beyond the initial five-issue story arc? Can you give our readers an idea of what types of monstrous mayhem awaits Andy, Sir William, and their supernatural suit of armor in future eerie adventures? Thank you for your time, Michael!
Michael Schwartz: From day one I have always wanted Armored to be an ongoing series. Issue five is the end of the first arc and it ends on a really big cliffhanger. That cliffhanger leads us right into the second arc that I am currently writing. Without spoiling too much, I can say we will see more ghosts, monsters, madmen, and possibly even different types of haunted armor!
I hope readers of Daily Dead get a chance to pick up Armored and enjoy the story we've created for them!
---------
Press Release: Screenwriter Michael Schwartz is making his comic book writing debut with ARMORED, a spooky, supernatural comic book series about an orphan who stumbles across a mystical suit of armor haunted by the ghost who wore it centuries ago. Created and written by Schwartz, ARMORED is illustrated by Ismael Hernandez, lettered by Ferran Delgado, and edited by Eisner-winner Chris Stevens. The five-issue comic book series features covers by artists Jae Lee, Nick Pitarra, Chrissie Zullo, Scott Kolins, Matthew Therrien, and Jeff Dickson. The project is being crowdfunded on Kickstarter by Clover Press.

"A few years ago, my entire comic book collection was stolen," said Schwartz, who penned the screenplay for Gnome Alone. "After that I started to re-collect and revisit the thousands of books I loved — from silver age classics to modern era epics — and realized the potential comic books offered me for telling this ambitious and personal tale. Working with Clover has been a real pleasure as they truly understood the scope of the story and how Ismael Hernandez and I wanted this narrative to unfold for the reader."

Meet orphaned teen Andy, whose parents mysteriously vanished years before he was adopted at the outset of our story. When Andy starts at a new school out in the countryside, he accidentally discovers a haunted suit of armor and its ghostly keeper, Sir William. When Andy is attacked by the same mysterious creature that killed his adoptive parents' biological son, Sir William and the suit help Andy defeat the monster — but the monster was conjured by someone, and they'll stop at nothing to gain control of the armor.

Sir William must train Andy to use the armor properly — not just to defeat the other creatures being summoned by the mysterious antagonist, but also to defeat an even more dangerous other-worldly being prophesied to return to Earth and take the suit of armor for its own kind. As he faces off against more and more horrifying monsters, Andy will need to learn to look within himself to find the strength to overcome his own demons in order to save the Earth. But this mystery may be bigger than just Andy and his suit…

"One of the more exciting aspects of publishing is finding and breaking new talent," said Clover Press Publisher Hank Kanalz. "Michael is an accomplished screenplay writer, and this is his comic book debut. Chris has assembled a talented team of artists to bring this to visual life, and Michael brings all the thrills and chills of a great horror read.You can tell he loves the periodical art form, and this story doesn't disappoint."

Here's what people are saying about ARMORED:

"Michael Schwartz writes a fear-packed, suspenseful, youthful adventure with a twist that entices us to continue reading more to come."—Dan Aykroyd Actor/Writer/Director (Ghostbusters, Blues Brothers, Nothing But Trouble)

"A fun read and a great new twist on old-fashioned horror. I have only one question: What happens next?" —R. L. Stine, author of Goosebumps and Fear Street

"A lively and unique amalgam of teen horror and pulp fantasy adventure that's filled with atmosphere, humor, terror and high-stakes heroism!  Classic 'boys life' adventure via that sort of SHAZAM-meets-GHOST RIDER comic vibe, with Gothic horror and of course the badass angle of heroic phantasmagorical knights and high-stakes derring-do!"—Chris Alexander, Writer/Filmmaker/EIC/Composer (Delirium Magazine, Cormon/Poe, Queen of Blood)

"Stunning. This is Young Indiana Jones by way of the Hanuka Brothers. The Books of Magic but spec'd Fighter Class. The exact feeling you had as a kid when you picked up a stick in the woods as though it were Excalibur."—Matt Johnson, Actor/Filmmaker (Blackberry, The Dirties, Nirvana the Band the Show)

"ARMORED is really fun. Thoughtfully pitched for that contemporary context of loss so many are feeling, and renewed sense of wonder we are dedicating ourselves to — a tale for times when there is no choice but to believe that more is possible, as long as we don't fall backward into the abyss of the days when superstition determined our moves. A fresh enactment of classic narratives — being able to touch the source of legends always ensures the next outpouring will be pure, though the deftness ARMORED shows in doing this is rare. I like the naturalism yet well-timed wit of the dialogue, and the art is really special — nuanced and dimensional, lived-in yet spontaneous-seeming, and able to carry crucial levels of the narrative on its own."—Adam McGovern, Nightworld (Image Comics); HiLobrow.com

To get an email when the Kickstarter page goes live, follow the pre-launch page. For updates, follow Clover Press on Instagram, Twitter and Facebook. You can subscribe to the Clover Press newsletter here.

About Clover Press: Headed by IDW co-founders Ted Adams and Robbie Robbins, along with Matt Ruzicka and former DC executive Hank Kanalz, Clover Press publishes a wide variety of collected and original content ranging from re-mastered reprints of Terry and the Pirates and Dick Tracy, to horror graphic novels, and high-quality art books. Clover Press is working with a wide variety of creators including Kevin Eastman, Craig & Clizia Yoe, Dean Mullaney, Steve Niles, Gabriel Rodriguez, Ruben Bolling, Matt Bors, Timothy Truman, Jorge Coelho, Richard Bennett, Ricardo Delgado, Ray Troll, John K. Snyder III, Stewart Kenneth Moore, Aron Wiesenfeld, Alex Maleev, David Mack, and more.

About Michael Schwartz: Michael Schwartz is a feature film screenwriter and now comic book writer, who wrote Netflix's successful animated movie Gnome Alone and recently wrote an adaptation of R.L. Stine's Zombie Town, starring Dan Aykroyd and Chevy Chase. In addition to writing, he also works in VFX and animation production, having worked on such shows as The Nut Job, What We Do in the Shadows, and The Walking Dead: Dead City.

About Ismael Hernandez: 

Ismael Hernández is a family man. When he is not cleaning his house or playing with his child or enjoying the company of his wife, he plays with old fashioned steel maces and old fashioned inks, watercolors and papers.

Ismael has released several comics and graphic novels since 2009. Some of his titles are "The Wolf and the Crow", "Cautiverio feliz", "Miguel de Fuentesanta" and "Varua Rapa Nui", some of which have been written by him as well.

About Ferran Delgado: 

Ferran Delgado was nominated for the 2019 Eisner Awards, not as letterer but as editor of the acclaimed book Sky Masters of the Space Force, which collected in full for the first time the legendary collaboration between Jack Kirby and Wally Wood. Born in Barcelona, Spain in an undetermined year, he spent most of his formative years working for Spanish publishers adapting foreign comics of any and all kinds, where he developed the versatility of craft that has enabled him to adapt his style to any kind of material and bring the best out of it. A few years ago, he fulfilled his teenage dream to work for US publishers with his lettering on The Savage Dragon from Image and a few retro gigs for Marvel. His current work includes WildC.A.T.s, Batman: The Audio Adventures, and Harley Screws The DCU for DC, Operation Sunshine for Dark Horse, and high-profile creator-owned work like Nick Pitarra's Ax-Wielder Jon.

About Chris Stevens: 

Chris Stevens is a multiple Eisner award-winning editor and writer whose current projects include  ARMORED, AX-WIELDER JON, THE GOLEM OF VENICE BEACH, and THE MARVEL ART OF DAVID MACK.
Main Cover Art by Jae Lee: