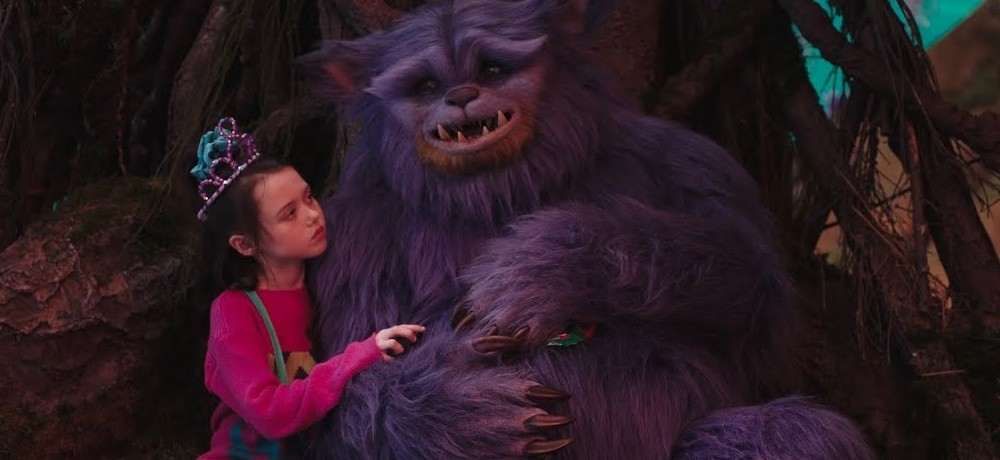 [Trigger warning: Q&A includes references to SA.] A bold and powerful short film about using the powers of imagination and creativity to escape real-life horrors that no one should ever have to experience, Grummy is one of the most successfully funded short films in Kickstarter history. With Grummy now available to watch in its entirety for free on YouTube (trigger warning: video includes references to SA), we caught up with the film's writers and directors, Micheline Pitt and R.H. Norman, in a new Q&A feature to discuss the importance of making Grummy to help other survivors of abuse, working with the movie's talented cast and crew, and the vital steps you can take to help support victims of abuse in real life.
Thank you for taking the time to answer questions for us, Micheline and R.H., and congratulations on your new short film, Grummy. Micheline, I understand that Grummy is a very personal story about utilizing the power of imagination to escape and overcome real-life horrors that no one should have to experience. How important was it for you to tell this story and help other survivors who watch it?
For most of my life I was aware of what I went through in my childhood, but at the age of 30 it all came flooding back and completely destroyed me. I was ultimately hospitalized after breaking down and spent the next several years trying to heal from what I experienced as a child. Part of this process was keeping a journal and writing about my childhood and experiences. In 2017, I disclosed my abuse and trauma to my husband, R.H. Norman, and how I was trying to cope with it through writing. He supported my journey, and the sketches and stories I was creating sparked into a script that would ultimately become Grummy.
I came out as a survivor and about my trauma in January of 2018 publicly and started my advocacy work with RAINN as a board member on their National Leadership Council later that year. I soon realized how many other people had survived similar trauma and that we collectively had been suffering in silence alone. I knew my story had a purpose, and we decided to make a short together in hopes it would reach fellow survivors or parents to start the conversation on consent.
Grummy is one of the most successfully funded live action short films in Kickstarter history. What was your reaction to seeing how this film resonated with viewers before it was even finished?
Knowing that so many people who backed our project were fellow survivors honestly just made what we were doing that much more important. When you tackle subject matter as delicate and personal as this, you have a duty to do the best work possible. All of the support we received truly put pressure on us to take the story seriously and honor these experiences to the best of our abilities. It has truly been a humbling experience.
To create the lovable creature in Grummy worn by Alex Ward, and the world that the monster lived in, you teamed up with the legendary effects artist Kevin Yagher and Production Designers Doug Williams and Nicole Balzarini. What was it like creating all this tangibly for the short film?
Both exhilarating and terrifying. My husband and I have always been huge fans of practical effects, so being able to work with so many talented artists was an incredible experience. At the same time it was also daunting. We didn't have the budget or scheduling room to compensate for animatronic malfunctions. The creature effects team did a fantastic job bringing Grummy to life.
The real MVPs of the production were our production designers Nicole Balzarini and Doug Williams, both of whom donated a lot of time into this labor of love. The practical sets were the most ambitious elements of our production and they both knocked it out of the park. Nicole and her husband, Kyle Wilson, sacrificed more for this project than any other crew members. They sacrificed their front yard and workshop for a full year to store our sets and invested thousands of hours of volunteer work. She stretched our shoestring budget in ways that we didn't believe were possible (including finding grass and sod on Craigslist that might have "fallen off a truck") and truly created a compelling world. People are always shocked when they find out how little money Nicole built these sets for. She and Kyle are basically magicians, and Doug gave them incredible designs to work from.
Knowing that we lacked the funds to build a completely immersive fantasy set, we took a very specific approach: designing the fantasy set with a theatrical aesthetic, as if it were a page from a little girl's storybook. We wanted the designs to proudly embrace acknowledged artificiality, inspired by sets in the famous Japanese film Kwaidan. Nicole took that design philosophy and ran with it. Ultimately this film exists because she and Kyle, along with Doug, cared enough about others who have suffered through abuse to invest thousands of hours of volunteer work to build this world.
R.H., you have previous experience behind the camera from directing your short film Hajji (which was also produced by Micheline) and working with the legendary Werner Herzog. How did those experiences impact your approach to co-writing and co-directing Grummy?
Working on my previous short films gave me the confidence to tackle a more ambitious production. The production elements in Grummy were ambitious bordering on impossible, particularly for a short film with extremely limited resources. Like most indie productions, we often only had time for one or two takes. This was made more difficult by Violet's working limits as an eight-year-old. Our DP, Sean McDaniel, and I counted the time we actually had Violet in front of the camera acting, which amounted to about two hours each day in total. This meant there was almost no margin for error when shooting Grummy. Without our prior experience shooting ambitious projects, it could have been a disaster.
The main lesson I've learned from all of my prior productions, and the key to success here, is preparation. Micheline and I storyboarded every shot meticulously together, and knew exactly how we had to build our sets, down to every inch. The final film reflects 95% of what we boarded. Herzog has a famous quote that "storyboards are for cowards," and there's truth to that. But sometimes cowards make good movies. Hopefully this is one of them.
Micheline, you've blended the worlds of horror and fashion with great success with your brand Vixen and your label La Femme en Noir. Did your unique sense of style and valuable experience in fashion impact your approach to creating the aesthetics of Grummy?
I think fashion very much goes hand in hand with storytelling and filmmaking. When I design clothes, I'm also telling a story. I use my imagination and artistic influences to create something from nothing in the hope of providing others with something to live in and experience joy with. Being a Creative Director for my brands allows me the same world-building that goes into films in many other ways as well. I build sets and art design for photoshoots, including finding locations, casting talent, and directing crew, all in the service of telling a visual story. I found that these skillsets translated very well to filmmaking. In the case of Grummy, this included hand-making the plush Grummy doll, selecting costumes, working with set designers, and basically every other aspect of the art department. I was the sole set dresser for the bedroom set, as we didn't have enough money to hire one. I also credit my previous career in animation with helping me find my footing as a director, particularly with the visual storytelling of composing frames and creating a color story.
The main character in Grummy is played by the amazing Violet McGraw, whom many horror fans know from The Haunting of Hill House. What was it like working with Violet?
Violet is simply an incredible actor and without her this short film wouldn't have succeeded. Period. The sky is the limit for her career and we have zero doubts that she'll win an Oscar one day. She was just eight years old when she starred in Grummy, and the performance that she gave is nothing short of incredible. All the tears are real and she nailed her big emotional scenes in a single take. Violet also didn't have time to give a weak performance. Due to the labor restrictions of working with children, she rarely had time for more than one or two takes. Her parents, Jackie and Colin McGraw, are two of the best people you could ever hope to work with. We've become close friends with them and couldn't be more grateful for the way they championed this project, even as people were trying to convince them to drop out due to the subject matter.
Protecting Violet was our top priority. In all the scenes where she had close contact with Tom Degnan, we used a dummy wearing matching wardrobe and a human hair wig. Tom was amazing with Violet and protected her at every turn as well. We couldn't have asked for a better cast and hope to work with Violet, Tom, and the wonderful Alex Ward for the duration of our careers.
The music in Grummy really emphasizes the emotional undertones of your story. What was it like working with Jason Turbin, who composed and orchestrated the score for Grummy?
Jason is incredibly talented and one of the nicest people you'll ever meet. He composed the scores for Hajji and did such an incredible job that hiring him for Grummy was never a question in our minds. He has a very collaborative spirit and is quick to grasp the moods we were trying to capture. Jason can play almost any instrument and has a talent for making a handful of instruments sound like a full orchestra. He worked with a string quartet in NYC along with two female vocalists based in LA. Jason based the theme of the film around music box chimes, which then informed the rest of the pieces throughout the film. He built the recurring theme as a gateway and key into Sarah's world. The score is an extension of Sarah, and absolutely a main character of the film.
Viewers can now watch Grummy for free on your official YouTube page. Ultimately, what do you hope viewers take away from Grummy, and how can they continue to support the film in the future?
For all too many children, fantasy is the only escape from abuse. Grummy represents the imaginary friends that I created as a little girl. They were very real to me, and I know that almost every kid who went through what I did had a Grummy of their own. There are over 43 million CSA survivors living in the United States alone. I expressed my own story through filmmaking in hopes of helping to lift the stigma that makes other survivors uncomfortable with coming forward with their own abuse stories and starting their path to recovery. For viewers who haven't experienced this sort of trauma, we hope this film will encourage them to watch their kids just a little closer than they did before.
Sharing the film on social media is the best way to support it!
I can't wait to see what you both do behind the camera next. What are your filmmaking plans for the future? Do you hope to turn Grummy into a feature-length film?
We've been humbled by the response to the film! We can't talk about what we have in the works, but we look forward to releasing news in the coming months. I would love to be one of the first women to direct a major fantasy film for a studio. Both of us are huge genre fans, so we truly hope to keep making magic that matters. As far as a Grummy feature film, we don't know if and when that would happen. But we would love to revisit this special world. There is so much more to Sarah and her story.
Micheline, in addition to your successful business ventures, you've done amazing work serving on the National Leadership Council for RAINN. Where can our readers go online to help support RAINN and other vital nonprofits that help sexual assault survivors?
You can support RAINN at https://www.rainn.org/, where .93 of every dollar goes directly to helping victims. If you or someone you know needs help, you can speak to someone 24/7 online or on the phone at: 1.800.656.HOPE (4673), where you will be connected with a trained staff member from a sexual assault service provider in your area. Calling the National Sexual Assault Hotline gives you access to a range of free services, including:
Confidential support from a trained staff member
Support finding a local health facility that is trained to care for survivors of sexual assault and offers services like sexual assault forensic exams
Someone to help you talk through what happened
Local resources that can assist with your next steps toward healing and recovery
Referrals for long-term support in your area
Information about the laws in your community
Basic information about medical concerns
Trigger warning: video includes references to SA