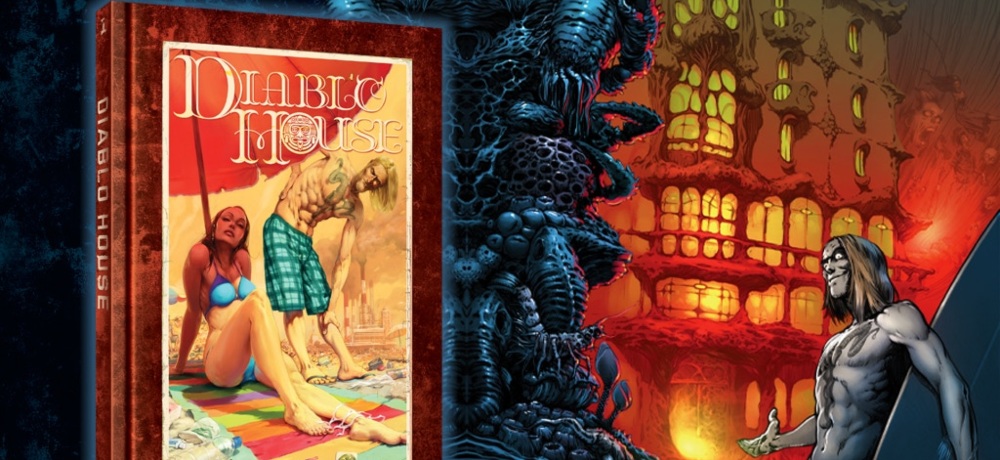 Featuring the comic debut of Grady Hendrix (with artwork by Damien Worm) and new prose stories by Erik Burnham, Jon Cohn, Scott Duvall, Shaun Harris, and Nancy Holder, the horror anthology Diablo House is now on Kickstarter, and we caught up with Nancy in a new Q&A feature to discuss the exciting collaboration!
You can read our Q&A with Nancy below, and to learn more about Diablo House, visit its official Kickstarter page, and be sure to visit the Kickstarter page for Kolchak: The Night Stalker – 50th Anniversary Graphic Novel, which also features Nancy Holder!
Thanks for taking the time to answer questions for us, Nancy! You're part of an amazing lineup of writers for the new anthology Diablo House. How did you get involved with this anthology? Were you familiar with the previous Diablo House graphic novel released in 2018?
Nancy Holder: I am part of an amazing lineup of writers! Besides knowing Robbie Robbins from a horror writing class I taught at the University of California at San Diego back in the day, I am writer-buds with Dave Winnick--we were/are in the Horror Writers Association Los Angeles chapter. And I've hung out with Grady Hendrix, story below.
I'm loving the total SoCal vibe of the entire project. I moved to Washington state and now, after working on this, I'm homesick for San Diego. BTW, in case folks don't know, La Jolla, where Diablo House is located, is one of the ritzy parts of San Diego. UCSD is there, too. A different kind of hell for some people, (Not really. UCSD is a great school.)
I love how Diablo House itself is like its own character in this anthology. What can you tell our readers about this sinister location?
Nancy Holder: You can check in anytime you like, but you can never leave! Riley only collects the best of the worst, so at least you're with your peers if you wind up there. When I think of the street where Diablo House is located, I remember that feeling of sand between your toes and a stripe of zinc oxide down your nose (this sounds like a California Christmas carol...) Seriously, you really don't want to visit Diablo House yourself. We'll show you why!
Were you given a lot of creative freedom with the story you wrote for Diablo House, or did it have to meet any preexisting guidelines?
Nancy Holder: The mission statement included using Riley as our cryptkeeper, and my earlier draft was less violent, fragile hothouse flower that I am. (Of me, it was once said, "Nancy Holder is the only Splatterpunk who chews with her mouth closed." I have standards.)
Diablo House also features prose stories by Erik Burnham, Jon Cohn, Scott Duvall, and Shaun Harris, as well as the comic debut of Grady Hendrix, whose story features artwork by Damien Worm. Did you have any communication with the other authors to see what they were writing for Diablo House, or has it been a fun surprise to see how your stories have come together?
Nancy Holder: It's been a fun surprise. Standing down from self-promotion here to praise Grady Hendrix, who is not only funny and creative, but generous to other writers. I met him at the Horror Writers StokerCon™ weekend on the Queen Mary in Long Beach, CA in 2017. He gave me some leads on research for a graphic novel project I was working on that proved to be very helpful. I'm stoked (get it?) to read his comics debut.
The anthology format is such an effective method of diverse and intriguing storytelling, particularly in the horror genre. While working on Diablo House, were you influenced or inspired by any other TV, film, or book anthologies?
Nancy Holder: Creepshow! Also, Tales from the Darkside: The Movie. Debbie Harry is the Riley of Tales from the Darkside—how totally fab is that?! I watched Darkside recently while doing research for a presentation on Sir Arthur Conan Doyle's influence on the horror genre. One of his mummy stories, "Lot 249," appears in Darkside. Sir Arthur created the mummy tropes we know and love, and as far as many of us "Doyleans" are concerned, he is the Father of the Mummy Genre. Steve Buscemi, Christian Slater, and Julianne Moore are in "Lot 249," and they look like they're about sixteen.
What has it been like to team up with Clover Press to bring Diablo House to life?
Nancy Holder: It was fun, fun, fun 'til Daddy took the T-bird away! Seriously, it's been a total romp and I can't wait to see it hanging six six six!
You're also teaming up with Alan Philipson for new Johnny Fade comics and prose stories from Moonstone Books. What can you tell us about the character of Johnny Fade and these new adventures that will feature this intriguing character?
Nancy Holder: Oh, I adore our darling, gritty, scruffy Johnny Fade. Alan and I both love the whole noir sensibility—we are all about existential despair in the (fixed) game of life...and death. Fade is a 1940 Los Angeles cop who goes the wrong way, dies (SPOILER ALERT), and winds up in Deadtown, a dreary, ramshackle mirror of Tinseltown, AKA Hollywood. He doesn't know who or why certain people end up there...or why others, like his beloved partner and mentor, Marcus Sherman, end up in Deadertown, AKA "The Worse Place." He's trying to figure out how to get Marcus out of there while being summoned across the Veil by Rachel Alcina, Mexican spitfire movie star, to help her out of all the jams she gets into. She racks up a very high body count herself, that impetuous vixen. He also deals with the now-dead femme fatale he wronged in life, who's all about locating Daddy, even though Daddy's pretty much of a pre-war criminal....
What advice would you give to aspiring writers who are just getting started?
Nancy Holder: I assume most aspiring writers are like I was: aspiring to get noticed, to get published, to make a living as a writer. It sounds so trite and kind of patronizing to say, "enjoy the process." I'm not sure I really do enjoy the process from start to finish. I get very gloomy and think, "This time we wrote ourselves into a corner" or "This time, I really don't know what I'm doing, as opposed to all the times I thought I didn't know what I was doing, but turns out I really did know!" It's not a happy life, lol. But it has its upsides—and working with a partner who gets depressed at times other than when I am depressed is one of them. In other words, enjoy the process!
So what I will say instead is "Read." Don't just watch TV shows and movies. Read actual words. Finish your projects so you'll teach yourself how to edit and revise. Don't give up. Why not you?
In addition to Diablo House and the Johnny Fade stories, what other upcoming projects are you excited about, and where can our readers go online to keep up with your work?
Nancy Holder: Alan and I are developing a second series for another comics publisher, details TBA, and we are psyched! And we're writing a story for the big honkin' 50th Anniversary Celebration of Kolchak the Night Stalker. I have written Kolchak before, but Alan hasn't, and it's really fun watching him become a Kolchakian via the movies and TV episodes. So that's on our plates.
Right now, my website is woefully out of date, and we're talking to our web designer about how to incorporate all this new teamwork into the existing site. But it is nancyholder.com. I tweet at @nancyholder and I'm on facebook at facebook.com/holder.nancy. Lots of my stuff is listed on Amazon and fantasticfiction.com.
Thank you very much for your time, Nancy!
Nancy Holder: Shaka, amigos!
---------
Press Release: (February 8, 2022) - Diablo House is an all-new, horror anthology, featuring terrifying tales about horrendous humans, all of whom are more willing to part with their souls just to get ahead. This anthology features an eclectic line-up, with new prose short stories from New York Times-bestselling and Bram Stoker Award winner Nancy Holder, acclaimed board game writers, and comic book authors. The anthology also includes the comics debut of bestselling novelist Grady Hendrix (The Southern Book Club's Guide to Slaying Vampires), featuring art by Damien Worm (Netflix's October Faction). Diablo House is now on Kickstarter with Clover Press.

"From The Twilight Zone to Tales from the Crypt to Black Mirror, there's a rich history of horror anthologies," says six-time winner of the Bram Stoker Award, Nancy Holder. "In one of the most beautiful, wealthy zip codes in the country lies the sleepy, sun-drenched coastal town of La Jolla, California. And among all of this beauty stands Diablo House. It will make your dreams come true—if you dare."

Diablo House is presented as a beautiful 6" x 9" 168-page hardcover book, with full-color printing on the cover, black & white printing on the interior, with a 16-page full-color inserted section of Grady Hendrix's comics debut. The anthology includes prose stories by Erik Burnham, Jon Cohn, Scott Duvall, Shaun Harris, and Nancy Holder.

The new prose anthology marks the second trip to Diablo House. Originally published in 2018, the rare Diablo House graphic novel, written by Ted Adams with art by Santipérez includes short stories from Troy Little, Robbie Robbins & Shawn Dickinson, and Alan Robert; process pages from Santipérez; an afterword by writer Ted Adams; and an introduction by Paul Tremblay.

"If you're just hearing of Diablo House, never fear," said Clover Press' Co-founder and Diablo House creator Ted Adams. "There's always room in Diablo House for another guest. All we need is your soul…"

For updates, follow Clover Press on Instagram, Twitter and Facebook. To support the campaign, visit Kickstarter: https://www.kickstarter.com/projects/cloverpress/diablo-house-a-horror-anthology-and-graphic-novel?ref=alpe67

About Clover Press: About Clover Press: Headed by IDW co-founders Ted Adams and Robbie Robbins, along with Matt Ruzicka and Hank Kanalz, Clover Press publishes a wide variety of collected and original content ranging from re-mastered reprints of Terry and the Pirates, horror graphic novels, and high-quality art books. Clover Press is working with a wide variety of creators including Kevin Eastman, Craig & Clizia Yoe, Dean Mulaney, Steve Niles, Gabriel Rodriguez, Ruben Bolling, Matt Bors, Timothy Truman, Ricardo Delgado, Ray Troll, Stewart Kenneth Moore, Aron Wiesenfeld, and more.
---------
Diablo House Kickstarter Reward Tiers:

Pledge $15 or more

Diablo House Prose Anthology PDF

Read about the soul selling, atrocious guest of Diablo House digitally.

Diablo House Prose Anthology PDF

Pledge $30 or more

Diablo House Prose Anthology Book

Hold the appalling stories of Diablo House's disturbed guest in your hands. If you catch a fright, you can simply close this terribly beautiful hard cover book.

INCLUDES

Diablo House Prose Anthology Hard Cover
Diablo House Prose Anthology PDF

Pledge $40 or more

Diablo House Prose Book + Graphic Novel

Get the nightmarish hard cover novel of Diablo House, as well as the graphic novel paperback book collection of the original Diablo House comic books.

INCLUDES

Diablo House Prose Anthology Hard Cover
Diablo House Graphic Novel Paperback
Diablo House Prose Anthology PDF

Pledge $45 or more

Diablo House Prose Book + Comic Books

Not only do you get the horrific stories in the novel, but 8 more alarmingly demented tales in the form of comic books. This was the format Diablo House was original presented. You get Diablo House #1-#4 plus all the variant covers (9 comics total)

INCLUDES

Diablo House Prose Anthology Hard Cover
Diablo House #1-#4 Comic Books Plus Variants (9 comics total)
Diablo House Prose Anthology PDF

Pledge $50 or more

Diablo House Completist Collection

For you sadistic souls that must have it all. This reward includes the new hard cover novel, the Diablo House #1-#4 comic books plus all the variant covers (9 comics total), and the paperback graphic novel collection. Keep everything for yourself, or share the dreadful tales of past Diablo House guest with those you love.... or despise.

INCLUDES

Diablo House Prose Anthology Hard Cover
Diablo House Graphic Novel Paperback
Diablo House #1-#4 Comic Books Plus Variants (9 comics total)
Diablo House Prose Anthology PDF

Pledge $125 or more

Diablo House Big Bundle

Wanting to corrupt more innocent souls? This bundle will allow you to share the wickedness of Diablo House's past guest. Maybe Riley will pay you a visit if you spread the Diablo House ghastly gospel to enough prospective new guest. Includes: SIX copies of the new novel; THREE sets of the Diablo House #1-#4 comics plus all the variant covers (27 comics total); and THREE copies of the Diablo House graphic novel.

INCLUDES

6× Diablo House Prose Anthology Hard Cover
3× Diablo House #1-#4 Comic Books Plus Variants (9 comics total)
3× Diablo House Graphic Novel Paperback
Diablo House Prose Anthology PDF