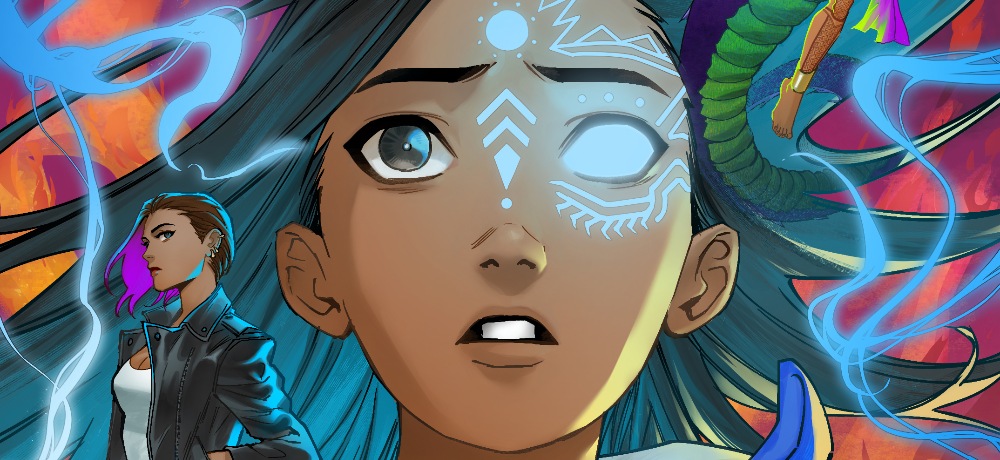 Looking for a fresh start, Filipina-American teen Marisol Reyes gets more than she bargained for when she unlocks powerful and otherworldly abilities from a mysterious mask discovered at her great-grandmother's wake in the new graphic novel The Mask of Haliya: Heir to the Warrior Moon! With the graphic novel now on Kickstarter via Kwento Comics and Clover Press, we caught up with Kwento Comics co-founders (and mother-daughter duo) Waverley Lim and Cecilia Lim to discuss collaborating with a talented creative team to bring The Mask of Haliya to life, the importance of authentically representing Philippine mythology in this story, working with Clover Press to launch the Kickstarter campaign, and their plans to continue the adventures of The Mask of Haliya beyond this first volume!
Below, you can read our Q&A with Waverley and Cecilia, and to learn more and support The Mask of Haliya, visit the graphic novel's official Kickstarter page:
Thank you for taking the time to answer questions for us, Cecilia and Waverley, and congratulations on your new graphic novel The Mask of Haliya: Heir to the Warrior Moon! How and when did you initially come up with the idea for this graphic novel?
Waverley Lim: Happy to be here! When we first approached our head writer, Kaitlyn Fajilan, in 2018 to help us write and create this story of a Filipina teenage heroine we knew that it had to be epic with unique characters, interweaving narratives, and elements of Filipino fantasy, and let's just say she wrote exactly that. The initial concept for the story stemmed from my mom and I wanting to create a strong Filipina American heroine that we have never seen before and Kaitlyn found the wonderful myth of Haliya that serves as the backdrop of our narrative.. We knew that this would be a long series from the beginning and knew that compiling the individual issues into volumized graphic novels would provide a great reader experience.
The Mask of Haliya includes a lot of inspirations from Filipino mythology, and you both co-founded Kwento Comics to help amplify Asian American representation and voices in creative media. How important was it for you to bring Filipino mythology to life in an authentic and respectful way in The Mask of Haliya?
Cecilia Lim: Bringing Philippine mythology to life in a respectful and authentic way is important to us at Kwento.  As an avid reader of myths from all over the world and as a young girl growing up in the Midwest not having seen my own cultural mythology, it was important to me and the team to make sure we created a vibrant world that showcased mythology that most folks have never experienced. It's important to note that most of the myths and folklore were passed down from generation to generation orally and so we really had to do some extensive digging. We did our best to find PDFs of books written on Philippine mythology that either weren't available in the US or were no longer being printed, as well as took frequent visits to Tita Linda's Philippine Expressions bookstore whenever I was in SoCal. Our writers also did a lot of research from multiple sources and language experts for the ancient Babayin text.  We hired a research assistant and our head writer even went to the Philippines in order to sift through these myths that usually had multiple versions due to the fact that the Philippines is comprised of over 7000 islands. Entwining the traditional myths and creatures in a modern day story was a challenge, yet fun and rewarding at the same time.
At its core, The Mask of Haliya features an emotional familial story. As a mother-daughter creative team, what was it like to oversee a graphic novel that explores the complex dynamics of a family relationship?
Waverley Lim: As a mother-daughter duo, we definitely can relate to, first-hand, the complexities of familial relationships. No matter your background or culture, I think everyone can relate to the fact that families are unique and complicated.  This collaborative process not only strengthened our bond but also provided a unique opportunity to explore the intricacies of family ties, generational dynamics, legacy, and tradition. These themes remind us of our shared humanity and the common threads that bind us together.
I absolutely love the artwork in The Mask of Haliya. What has it been like collaborating with your team of talented artists on this graphic novel, including Renoida Renovilla and Minerva Fox?
Waverley Lim: Thank you so much! We're so lucky that we have the technology today to allow us to work with women from around the world and because we're global, you can imagine that our meeting times can range anywhere from early mornings to late nights depending on where everyone is in the world. Regardless of the time difference, however, everyone's dedication and energy for the project is so special to witness. The artists really care about the story just as much as we do and so much value how we tell this story by asking the most detailed questions in order to make sure that the writer's vision is communicated and honored. I love looking at our discord and seeing the artist's support for one another when one of the artists sees the next page get passed down to them and genuinely be so excited to add value to the previous artist's work.
What was it like working with head writer Kaitlyn Fajilan to craft the epic and heartfelt story in The Mask of Haliya: Heir to the Warrior Moon?
Cecilia Lim: Waverley and I were so lucky that we met Kaitlyn on the set of a short film in 2018 and were all members of Fil-Am Creative, an organization for Filipino Americans in the entertainment industry based in Los Angeles.  Kaitlyn took several initial ideas of mine and over the last couple of years has been able to weave this intricate tapestry of a Filipina teen battling the ancient cults of Filipino deities.  She has truly been so passionate and dedicated to this series over the last couple of years and her mind is always finding new ways to incorporate bits and pieces of culture, folklore, food and beliefs into the multiple storylines. I am so happy that Kwento was able to give Kaitlyn a platform to tell her stories and I can't wait for our readers to follow Mari and Isla in their  journeys.
What has been your experience working with the team at Clover Press as you prepare to crowdfund The Mask of Haliya: Heir to the Warrior Moon on Kickstarter, and what types of perks can supporters of this graphic novel look forward to?
Waverley Lim: This is our first ever Kickstarter and we're so grateful for the Clover Press team that has done such a great job at holding our hand throughout the entire process so that we can optimize a truly amazing campaign for the fans and hopefully reach new readers that have never heard of us yet! As a first time independent publisher, I've really enjoyed learning from their team on everything from marketing to logistics. I can't wait for supporters to see all of the exciting reward tiers that we have created for our Kickstarter backers with Kwento Comics and The Mask of Haliya merch including pins, stickers, tattoos, and a new t-shirt design. Fans of the series will also be excited to know that this deluxe graphic novel includes an artbook with behind the scenes concept art from issues #1-5.
Ultimately, what do you hope readers take away from The Mask of Haliya: Heir to the Warrior Moon?
Cecilia Lim: First and foremost, I want the readers of The Mask of Haliya to immerse themselves into a new fantastical world where creatures and deities of ancient Philippines exist in present day. As readers continue along with Mari's journey, I would hope that they might reflect on their actions and choices should one unexpectedly come into power. Can those in power rise above selfish interests and prioritize the greater good when faced with newfound authority? I urge readers to question whether they will wield that power responsibly or succumb to its temptations.
Do you have plans to continue the story of The Mask of Haliya beyond this graphic novel?
Cecilia Lim: Absolutely! We have an epic story and this graphic novel is the first installment of many more to come. In fact, we would love to explore The Mask of Haliya in other mediums above and beyond comics and graphic novels.
In addition to The Mask of Haliya, are there any other upcoming releases from Kwento Comics that you can tease for our readers?
Waverley Lim: I can 100% tease that we do indeed have another series in development that follows a new mythos from the Philippines with new characters and definitely new conflict! I think people are really going to be surprised.
---------
Press Release: (October 12, 2023) Timed to Filipino American History Month, Kwento Comics, the trailblazing Filipino-American comic book publisher, is partnering with Clover Press for a Kickstarter campaign to publish a graphic novel inspired by Philippine mythology, THE MASK OF HALIYA: HEIR TO THE WARRIOR MOON. This 200-page deluxe hardcover is a young adult urban fantasy which follows the journey of a troubled Filipina-American teen who discovers a mysterious mask at her great-grandmother's wake. The story is written and illustrated by an all-Asian, all-female creative team from around the world and the 200-page deluxe hardcover edition features a brand new cover by superstar comic book artist Haining (Spirit World, DC vs. Vampires: All Out War), and an optional slipcase. The Kickstarter campaign is now live and runs throughout Filipino American History Month.

Kwento Comics was founded by a mother and daughter team, Cecilia and Waverley Lim, who were inspired to create a solution to the lack of Asian American representation in media. Their goal in launching the company is to create lead Asian female characters on the page, while also highlighting the talented Asian women artists and writers in an industry that is heavily male-dominated.

"We realized that Asian – and specifically, Filipino – characters, roles, and mythology were not seen in film, television, or comic books," said Kwento Comics Co-Founder Cecilia Lim, "We wanted to be part of the solution and create stories that introduce Filipino and other Asian mythos to a wider audience."

"We knew that the creation of these characters starts with women who look like us, who can share our stories and shared experiences in an authentic way, and in doing so, highlight the wonderous world of Philippine and other Asian mythology in our graphic novels," said Kwento Comics Co-Founder and Chief Operating Officer Waverley Lim.

THE MASK OF HALIYA: HEIR TO THE WARRIOR MOON is the first release from Kwento Comics and is intended to be the first in a series of books published by Clover Press. The book engages with topics like mental health, intergenerational trauma, and corruption, with a major emphasis on its female characters, through the lens of female creators. THE MASK OF HALIYA: HEIR TO THE WARRIOR MOON's creative team is comprised of writer Kaitlyn Fajilan (Fruit Fly, Madeira), artist Renoida Renovilla (Creative Connections and Commons, Inc.), editor/art supervisor Jenapher Zheng (Oblivious, Borrowed Light), colorist Charlyn Duy, and co-founder/COO Waverley Lim (The Women's Project).

In THE MASK OF HALIYA, seventeen-year-old Marisol Reyes is in need of a do-over. After getting kicked out of one too many schools for strange and unsettling behavior, Mari's overbearing mother sends her to the Philippines for a fresh start. The promise of a normal life is dashed, however, when Mari attends her recently deceased Lola Talia's wake. For it's there she discovers a mysterious wooden mask that unlocks frightening visions… and terrifying abilities. So begins THE MASK OF HALIYA, where Mari must forge new allies and battle new foes, all while finding her place in a world on the brink of darkness. In the heart of Cebu, an ancient power awakens…The Mask has chosen its new heir.

"After meeting the Lims and reading their comics, I knew we wanted to publish THE MASK OF HALIYA," said Clover Press publisher Hank Kanalz. "Filipinos have played a huge part in comics' history, and I'm personally thrilled to assist in our representation on the page as well."

The supernatural, multi-perspective saga THE MASK OF HALIYA will be funded on Kickstarter. Visit the campaign here: https://www.kickstarter.com/projects/cloverpressimports/the-mask-of-haliya-graphic-novel?ref=9e7gnu

For updates, follow Kwento Comics on Instagram, Facebook and Twitter, and follow Clover Press on Instagram, Twitter and Facebook. You can subscribe to the Clover Press newsletter here.

About Kwento Comics: Kwento Comics is a pioneering Filipino-American comic book publisher committed to amplifying diverse voices and celebrating the rich heritage of Filipino culture. Kwento Comics is the first all-women, all-Asian comic book company highlighting Filipino and Asian mythology through the medium of graphic novels. With their compelling stories, stunning artwork, and unwavering dedication to representation, Kwento Comics aims to inspire and entertain readers worldwide. For more information, visit www.kwentocomics.com.

About Clover Press: Headed by IDW co-founders Ted Adams and Robbie Robbins, along with Matt Ruzicka and former DC executive Hank Kanalz, Clover Press publishes a wide variety of collected and original content ranging from re-mastered reprints of Terry and the Pirates and Dick Tracy, to horror graphic novels, and high-quality art books. Clover Press is working with a wide variety of creators including Kevin Eastman, Craig Yoe, Dean Mullaney, Steve Niles, Gabriel Rodriguez, Ruben Bolling, Timothy Truman, Jorge Coelho, Richard Bennett, Ricardo Delgado, Ray Troll, John K. Snyder III, Stewart Kenneth Moore, Aron Wiesenfeld, Alex Maleev, David Mack, David Nakayama, and more.

About Cecilia Lim: Cecilia Lim is a first-generation American Filipina. Along with working as an attorney and consultant for the renewable energy industry, she is the CEO and co-founder of Kwento Comics. Cecilia has a BA in Economics from the University of Illinois and a JD from the University of Illinois Chicago School of Law. As a lifelong innovator and strategist, she worked at Florida Power & Light Company, a Forbes 200 company, for over 20 years. Cecilia believes in giving back to the community and through the years, she has given of her time to create and produce several large charity events in Chicago, West Palm Beach and Los Angeles, as well as served as an officer of the Philippine American Society of Palm Beach County and FilAm Creative in Los Angeles. An avid fan of fantasy and science fiction, Cecilia now combines her passion for empowering young women creatives and her love of mythology.

About Kaitlyn Fae Fajilan: Kaitlyn Fae Fajilan is an award-winning Filipina-American filmmaker, writer, actor, and musician. In addition to her work on Haliya, Kaitlyn is the head writer of the upcoming television show Dreamwalker: Awakenings, produced by 108 Media and based on the supernatural comic book series of the same name by Mikey Sutton. Past writing positions include being an independent contractor for the television network, ABS-CBN, and Director of Writing for Filam Creative, a Los-Angeles based organization dedicated to the advancement of Filipinx in media and entertainment. Kaitlyn's directing filmography includes the indie rom-com, Fruit Fly, which won Audience Choice at the 2021 San Diego Filipino Film Festival, and other movies like Madeira (Best Music, 2018 Feedback Female Film Festival), Undie Run (Best Director Finalist, 2019 Women's Comedy Atlanta Film Festival), and the upcoming One Pine.

About Jenapher Zhang: Jenapher Zheng is a Chinese American actor, writer, and multi-disciplinary artist from Alhambra, CA with degrees in English and Theatre from UC Riverside and an MFA for Acting from CalArts. Her writing has been published on HuffPost and Angry Asian Man ItsReal Magazine, and have gone viral on social media platforms. She writes for a wide range of mediums, be it immersive/interactive shows, video games, short films, plays, short stories, and literary analysis. As an actor, she can be seen on NCIS:LA, in indie games by Niantic and Tender Claws, and in various theatre shows at Geffen Playhouse, Boston Court, La Jolla Playhouse, East West Players, South Coast Rep, and San Diego Old Globe. In her (limited) spare time, she is a game streamer on Twitch under the moniker JenZany.

About Waverley Lim: Waverley Lim is a Filipina-American actress and Co-Founder and COO of Kwento Comics. She recently graduated cum laude from UCLA's School of Theater, Film, and Television. While there, she collaborated with a group of all women students to create a devised theater piece entitled, "The Women's Project," centered around the experience of being a young woman in today's society. Seeing a need for more representation for Asian women, she co-founded Kwento Comics with her mother in order to provide opportunities for more Asian women creatives to shine in the arts. She hopes to bring more stories to life that honor the rich cultural landscape and diversity of the AAPI community.