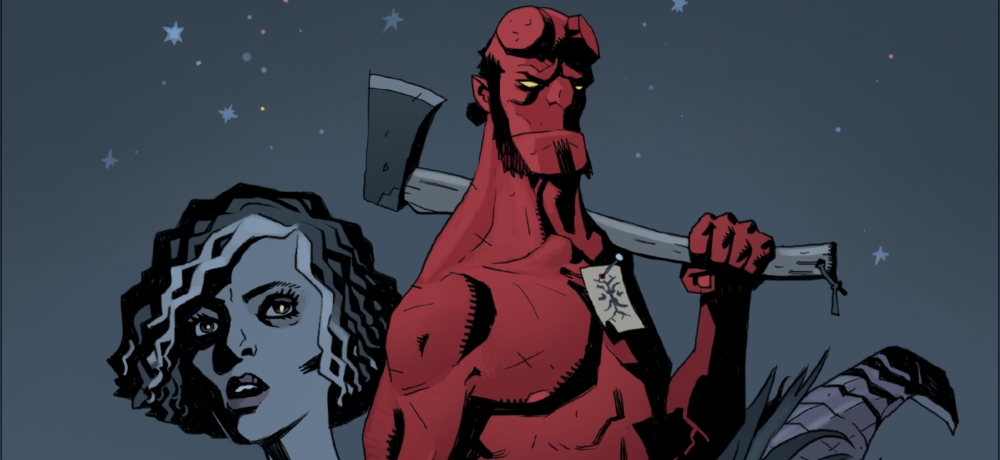 An old debt must be paid or dire consequences will be raised in Hellboy and The B.P.R.D.: Her Fatal Hour. Written by Mike Mignola, the new one-shot will be published by Dark Horse Comics on December 2nd, and to celebrate the new release, we caught up with artist Tiernen Trevallion to discuss teaming up with Mike Mignola and Dave Stewart on the new one-shot, and we also have preview pages and an exclusive look at Trevallion's alternate design for the cover art.
You can check out our Q&A, preview pages, and exclusive alternate cover design below, and visit Dark Horse Comics to learn more about Hellboy and The B.P.R.D.: Her Fatal Hour.
Additionally, Trevallion is selling signed and numbered limited edition giclee prints of his cover for Hellboy and The B.P.R.D.: Her Fatal Hour. Each print comes with an A5 sketch (mignolaverse only, no requests) via FB or email.
Thanks for taking the time to chat with us, Tiernen, and congratulations on the new one-shot Hellboy and The B.P.R.D.: Her Fatal Hour, which marks your debut illustrating the Hellboy Universe. How did you get involved with this one-shot?
Tiernen Trevallion: Thank you! I'm pretty certain that Mike Mignola wasn't aware of my work until I tentatively prodded him on Facebook, though he may have seen Robbie Burns: Witch Hunter with Gordon Rennie and Emma Beeby. We messaged occasionally, as he was interested in some of the work I was posting, and then last year he asked if I'd like to do a Hellboy story.
What has it been like to work with Mike Mignola and Dave Stewart to bring this one-shot to life?
Tiernen Trevallion: The process was fairly straightforward. There was some back-and-forth with Mike, getting the prep sketches right. After all this time being a Hellboy fan, until now I've never drawn the big guy. As I'm sure you know, Mike and Dave work very closely together, Mike had a pretty good idea about what he wanted colourwise, so he and Dave worked that out together.
I must admit, I was TERRIFIED! Not because I'm precious about my line work, but more because it might not be up to the mark for Dave to work his magic.
The Hellboy Universe has a distinct art style. Did you have visual guidelines to keep in mind when you were illustrating Her Fatal Hour, were you allowed to bring your own artistic twist to the world of Hellboy, or was it a balance of both?
Tiernen Trevallion: Yes, it's a balance of both for sure. As this has been my first time, I think I probably pulled my punches a little. I'm sure Mike wouldn't ask an artist to be involved if he wasn't pretty sure they had a good idea of the visual language required for the Mignolaverse… I hope what I did works okay!
Do you have a favorite panel or spread that you illustrated for Her Fatal Hour that you're excited for readers to experience?
Tiernen Trevallion: Sure. Hellboy fighting the demon with an axe, dressed in a ladies' nightgown. Also Dave's colouring in the flashback scenes… stunning!
In addition to illustrating the story for Her Fatal Hour, you also created an amazing cover for this one-shot. How long did it take you to illustrate the cover, and how did you decide who to put on the cover and how to best display them to draw the reader into this story?
Tiernen Trevallion: I rarely take much more than a day or two on cover work. My initial idea was a full-on shot of Hellboy dressed in his ladies' kimono, swinging an axe, a tumbling composition of elements from BOTH stories around him. Firstly, Mike wasn't keen on revealing Hellboy dressed that way until it occurs in the comic. Secondly, he saw no reason to have elements from "The Sending" in there. I guess I got a bit overexcited… The final concept was one I already had scribbled out. Initially it was the cottage centre bottom, but then Mike suggested the caravan, which finishes it nicely for me. Gives it [I hope!] a creepy and intriguing quality.
With Hellboy and The B.P.R.D.: Her Fatal Hour coming out on December 2nd from Dark Horse Comics, what other projects do you have coming up, and where can readers go online to follow your work? Do you have any plans to return to the Hellboy Universe in the future?
Tiernen Trevallion: I'm currently working on another series of Fiends of the Eastern Front: Constanta with Ian Edginton for the British anthology 2000 AD. It's a not-so-usual vampire story. Unfortunately my website is out of action for now until I update it, but also available from 2000 AD are the collected editions of Absalom with Gordon Rennie. It's about an undercover department of the police that upholds "The Accord," written in the 16th century between the forces of Hell and the British Crown. There's a pretty good collection of work and personal art on my Facebook page.
Though there are currently no plans, as far as I'm aware, I would love to do more for the Mignolaverse….
HELLBOY AND THE B.P.R.D.: HER FATAL HOUR One-Shot

Writer: Mike Mignola

Artist: Tiernen Trevallion

Colorist: Dave Stewart

Cover Artist: Tiernen Trevallion

Gone, but not forgotten!

Years after Hellboy's ill-fated tangle with the Beast of Vargu, the Romani women who helped him need that debt repaid. Claimed by a demon in a romance gone wrong, the younger woman reaches out to Hellboy through the power of a familiar old puppet, and a supernatural confrontation full of magic and mayhem ensures! In a second short story, Hellboy goes head to head with a phantom who is looking for an object completely unknown to the living people the ghost is terrorizing.

Master of horror Mike Mignola is joined by artist extraordinaire Tiernen Trevallion and award-winning colorist Dave Stewart to bring you the follow-up to smash Hellboy hit ''The Beast of Vargu''!
Preview Pages:
Exclusive Cover Design by Tiernen Trevallion: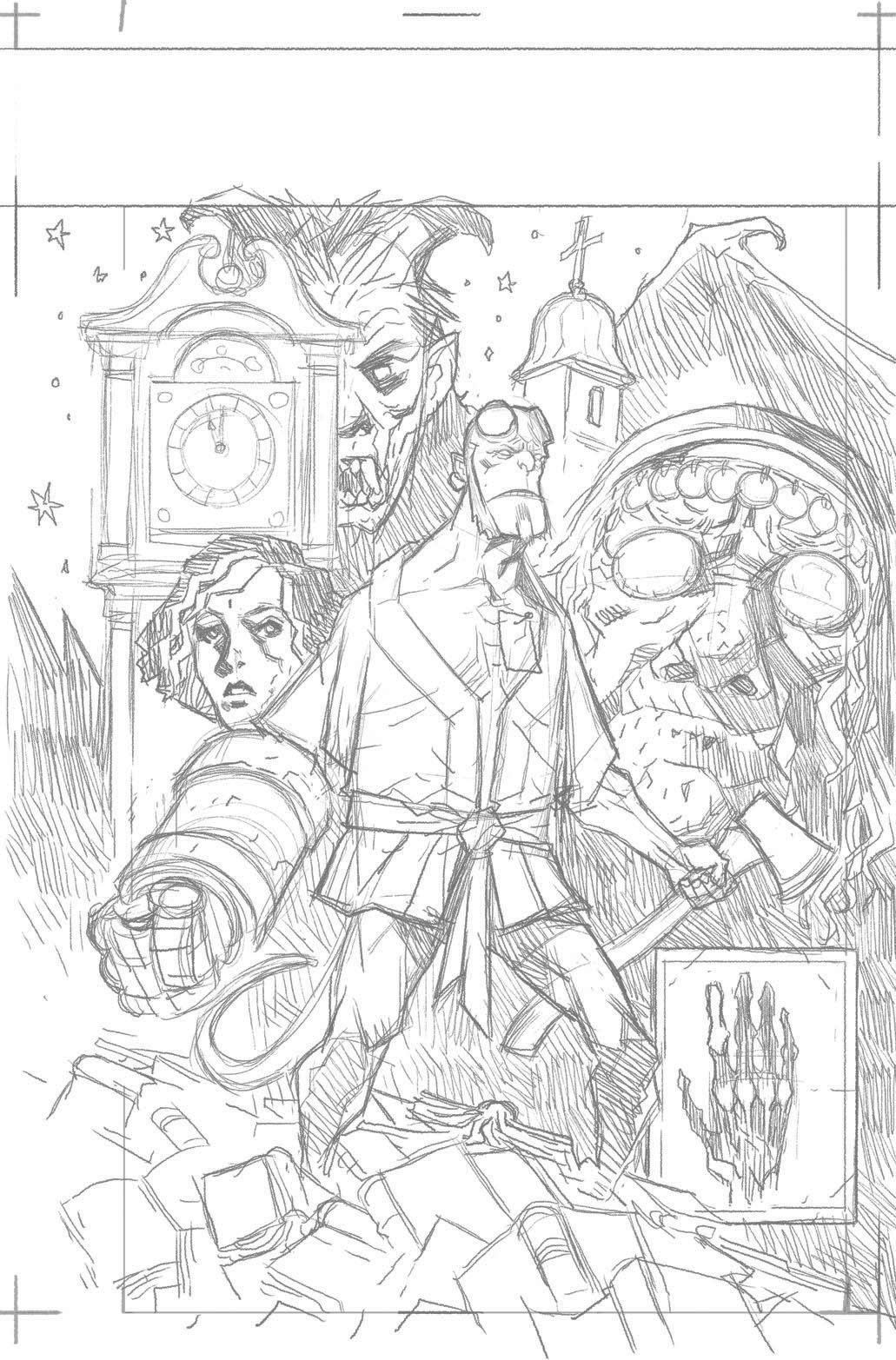 Cover by Tiernen Trevallion: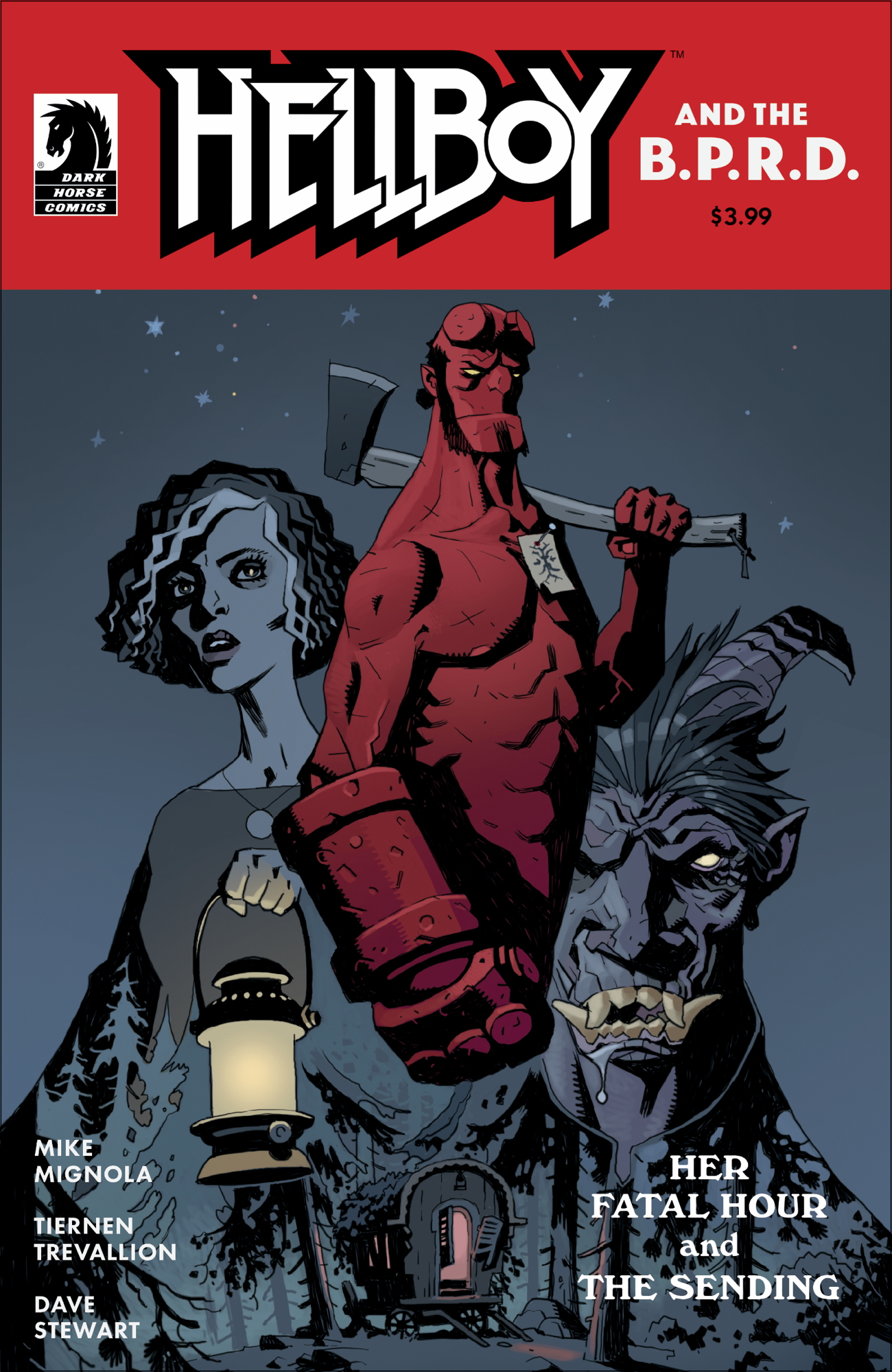 Variant Cover by Mike Mignola: