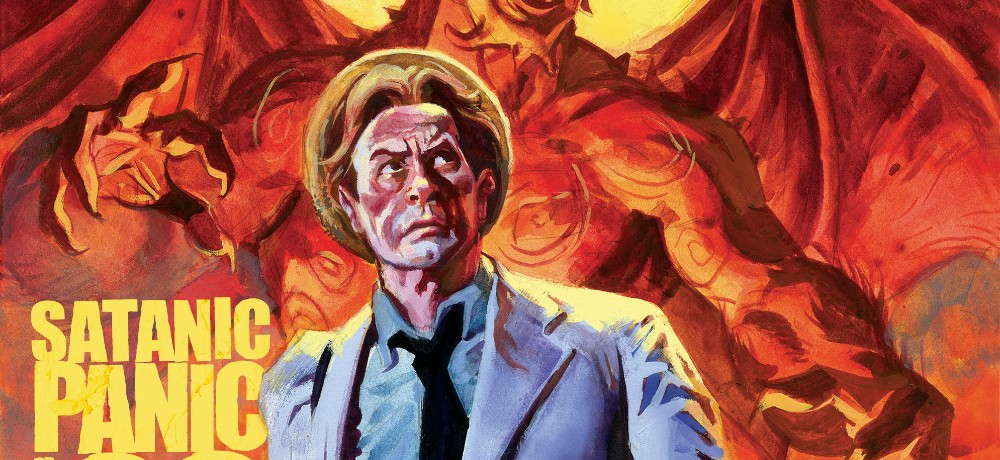 It's been 50 years since KOLCHAK: THE NIGHT STALKER first aired on ABC. Spawning an additional move and a TV series, Kolchak has millions of fans around the world and inspired countless artists, including The X-File's Chris Carter. Those that dreamed of new adventures of Carl Kolchak are in luck because a brand new graphic novel has just hit Kickstarter!
From Moonstone Books, the KOLCHAK: THE NIGHT STALKER 50TH ANNIVERSARY graphic novel is an all-new, 100+ page graphic novel that includes ten stories featuring Carl Kolchak. In our latest Q&A, editor James Aquilone talks about his love of the original movies and TV series, and assembling an all-star team of writers and illustrators to continue the adventures of Carl Kolchak!
Thanks for taking the time to talk with us! Can you tell us about your first introduction to Kolchak and why the character, movies, and series are so important to you?
I go way back with Kolchak so I can't remember exactly when and where I first encountered him. I was probably up past my bedtime watching a late-night movie on my black-and-white 13-inch TV in the '80s when I came across Carl and his penchant for running into monsters.
Fictional reporters like Kolchak and Clark Kent are what inspired me to get a journalism degree. I thought being a reporter would be exciting and dangerous. But my job mostly consists of writing about the Kardashians. But if you think of the Kardashians as monsters, then my job isn't much different than Kolchak's.
Why do you think this character (and the movies / series) have inspired so many writers and has stood the test of time?
Great writing. Horror legend Richard Matheson (I Am Legend, Stir of Echoes, Hell House) wrote the TV movies, and the series had writers like David Chase (The Sopranos) and Robert Zemeckis and Bob Gale (Back to the Future). Great writing always holds up. The monsters might look a bit shoddy today, but the storytelling endures. And it's just a really fun series to watch.
Moonstone Books has assembled an excellent team for an upcoming graphic novel in celebration of Kolchak's 50th anniversary. How did you first get involved in the project?
When I saw that The Night Stalker was turning 50 on January 11, 2022, I thought it was the perfect opportunity for a big Kolchak comic book anthology and Kickstarter campaign, so I put together a pitch and sent it to Moonstone. They said yes and here we are.
The collection will feature stories from Rodney Barnes, Peter David, Jonathan Maberry, R.C. Matheson, Kim Newman, and more. Can you tell our readers a little about your process working with these writers? Was there anything that surprised you when it came to their stories or their love of Kolchak?
I wanted the book to explore Kolchak's entire life, from his childhood to his (possible) death. So I gave the writers a list of eras/decades and had them choose. We ended up with one story per decade from the 1930s to the '00s with three in the 1970s.
Kim Newman was one of the first to submit a story and it blew my mind. It's an alternate ending to The Night Stalker, and it's rare that someone improves on a classic, but he definitely did. And Paul McCaffrey's art is amazing.
If anything surprised me it's that creators and fans alike are still wild about Kolchak. You never would think this series is 50 years old.
What is more rewarding part of working with writers and artists across multiple stories, as opposed to a graphic novel with a single creative team for the entire story?
It's all been rewarding. I'm getting to work with more than 20 amazing creators, all with their different styles and approaches to Kolchak. So it's never dull or a grind working on a project like this. Every day there's a new script or artwork. I'm living the comic book nerd's dream.
Can you give our readers a tease of what they can expect from some of these stories?
David Avallone is writing Kolchak's origin story, set in the 1930s. Kim Newman, as I said before, has written an alternate ending to The Night Stalker. Rodney Barnes is writing about zombies in Harlem in the '70s. Jonathan Maberry has Kolchak in World War II. Tim Waggoner will pit Kolchak against were-rats. And James Chambers is handling Kolchak's final investigation.
----
To learn more and support the Kickstarter campaign, visit: https://www.kickstarter.com/projects/manbomb/kolchak-the-night-stalker-50th-anniversary?ref=78rsrs
----
On Tuesday, January 11, 1972, KOLCHAK: THE NIGHT STALKER terrified and delighted audiences on ABC. The TV movie — written by horror legend Richard Matheson (I Am Legend) and based on an unpublished novel by Jeff Rice — was the highest-rated TV movie in U.S. history. It subsequently spawned both a second TV movie, THE NIGHT STRANGLER, and a cult TV series that ran for just one season, but inspired a generation of storytellers, notably including X-Files creator Chris Carter.

In 2022, Moonstone Books will celebrate this pop culture milestone with a Kickstarter campaign for KOLCHAK: THE NIGHT STALKER 50TH ANNIVERSARY GRAPHIC NOVEL, edited by James Aquilone (Classic Monsters Unleashed). This all-new, 100+ page, full-color graphic novel will feature 10 startling stories chronicling the life of monster-hunting reporter Carl Kolchak. The stories are written by such master storytellers as David Avallone (Elvira: Mistress of the Dark), Rodney Barnes (Killadelphia), James Chambers (Kolchak the Night Stalker: The Forgotten Lore of Edgar Allan Poe), Nancy Collins (Swamp Thing), Peter David (The Incredible Hulk), Kim Newman (Anno Dracula), Jonathan Maberry (V-Wars), Richard Christian Matheson (Scars and Other Distinguishing Marks), Tim Waggoner (Temple of the Dragonslayer), and Aquilone, and illustrated by such amazing artists as Jonathan Marks Barravecchia (Scarlet Witch), Marco Finnegan (Lizard in a Zoot Suit), Warwick Johnson-Cadwell (Mr. Higgins Comes Home), Paul McCaffrey (Anno Dracula), Clara Meath (Midnight Vista), Julius Ohta (Iron Man), Tom Rogers (Herald: Lovecraft & Tesla), J.K. Woodward (Star Trek), and Colton Worley (The Shadow). THE NIGHT STALKER 50TH ANNIVERSARY GRAPHIC NOVEL features covers by Colton Worley, Jerry Ordway (The Power of Shazam!), and J.K. Woodward as well as lettering by Thomas Napolitano, coloring by Zac Atkinson, and text design by Shawn T. King.

KOLCHAK: THE NIGHT STALKER 50TH ANNIVERSARY GRAPHIC NOVEL also includes an introduction by Richard Christian Matheson, the bestselling horror author/screenwriter/producer and son of THE NIGHT STRANGLER and THE NIGHT STRANGLER writer Richard Matheson, an essay on the 50th anniversary by Mark Dawidziak, the author of The Nightstalker Companion, and a retrospective of Moonstone Book's Kolchak publication history by publisher Joe Gentile.

The KOLCHAK: THE NIGHT STALKER 50TH ANNIVERSARY GRAPHIC NOVEL ANTHOLOGY will be available in limited-edition softcover and hardcover editions, both with variant covers. In addition Moonstone Books is creating a special 40-page standalone comic for the Kickstarter, featuring the story "Satanic Panic '88," written by James Aquilone and illustrated by Colton Worley, and featuring a cover by Dan Brereton.

"It's been half a century since Carl Kolchak made his first appearance on TV and it seems the fandom for the character is stronger than ever," said editor James Aquilone. "I wanted to create something very special for the anniversary: a look at the life of my favorite monster hunter, from his childhood to his last case…the ultimate Kolchak story, full of creatures, frights, and the reporter's iconic wit."

"Carl Kolchak is one of the great horror genre characters of the 1970s," said Kim Newman.

"KOLCHAK changed my life," said Killadelphia writer Rodney Barnes. "The story we're telling brings the character into some wholly unexpected places and it's a genuine thrill to be a part of this incredible anthology."

For updates, follow James Aquilone on Twitter and Instagram and follow the Kolchak campaign on Twitter. To get a notification when the Kickstarter launches, click on the pre-launch page: https://www.kickstarter.com/projects/manbomb/kolchak-the-night-stalker-50th-anniversary?ref=78rsrs