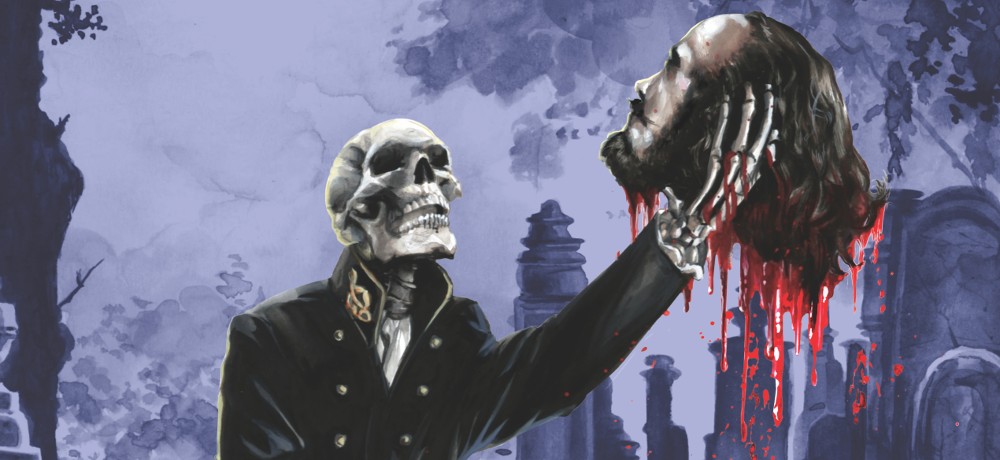 The follow-up to Classic Monsters Unleashed, Shakespeare Unleashed is a horror anthology that features new, original stories from Joe R. Lansdale, Ian Doescher, Seanan McGuire, Cullen Bunn, Jonathan Maberry, and more! Now on Kickstarter, I caught up with editor James Aquilone to talk about the origins of this unique horror project, working with this talented group of creators, and future plans!
Following the success and release of CLASSIC MONSTERS UNLEASHED, what inspired you to reimagine Shakespeare's works as short horror stories (and sonnets) in SHAKESPEARE UNLEASHED?
The success of Classic Monsters Unleashed caught me by surprise. I had thought of it as a one-off, but then people kept asking me if I was going to do another book. So I started thinking what an Unleashed series would be and what other literary or fictional universes we could delve into. I didn't want to do just another monster book or Classic Monsters Unleashed II, not right off anyway. I've always been a big fan of Tom Stoppard's Rosencrantz and Guildenstern Are Dead. When I first saw the movie, I found it fascinating to watch the fleshed-out lives of two minor Shakespearean characters and to see them travel through iconic scenes from Hamlet. It gave you a real sense that every story is an entire universe unto itself and there are countless other stories to be told. In a way, that's what we're doing with the Unleashed books, so I thought it would be cool to see more stories like Rosencrantz and Guildenstern Are Dead, but with a horror bent.

When were you first exposed to the work of Shakespeare and do you have a favorite story you were particularly excited to see reimagined in this anthology?
I fell in love with Shakespeare in high school after we were assigned Hamlet. We were given the play, along with Brave New World, on a Friday and I finished both on Sunday. Those two works kickstarted my life of serious reading. We ended up reading those two books every single day in class over the entire semester, just those two books. Apparently, the teacher assumed no one would actually go ahead and read the books on their own. I got so bored in class that I ended up bringing in other books and reading them.
I'm really excited to see all the stories, to be honest. By some quirk of fate, Romeo and Juliet wasn't taken by any of the invited writers. I had always wanted to write a zombie Romeo and Juliet story, so when we decided to do a stand-alone, separate Shakespeare Unleashed comic, I jumped at the chance to do it. J.K. Woodward did the artwork and it's simply gorgeous. Seriously. Check it out.

How long has this been in the planning stages? With having so many contributors, can you talk a bit about the behind-the-scenes process of pairing writers with specific stories and leading this project as the editor?
I had the idea for Shakespeare Unleashed before the campaign for Classic Monsters Unleashed ended, so it's been almost a year and a half in the making.
I just asked the writers what play they wanted to write about, instead of assigning them one. I think it's usually best to give artists as much free rein as possible.
I wasn't looking for any specific story but I recently became aware of Orson Welles's voodoo Macbeth from the 1930s. I would have assigned someone that, but we do open to submissions on July 22. If someone's up for the challenge, I'd love to see that.

There's an incredible list of contributors, including Joe R. Lansdale, Cullen Bunn, and Jonathan Maberry. Can you give us a little tease of the stories that have been submitted and what readers can expect?
Joe Lansdale and Kasey Lansdale are writing a story inspired by Macbeth, Cullen Bunn has chosen Hamlet, Jonathan Maberry is doing The Tempest , Seanan McGuire has A Midsummer Night's Dream, Lisa Morton picked Titus Andronicus and Lee Murray is basing hers on The Winter's Tale. Some of the stories are horror sequels to the plays, while others are complete reimaginations, even some set in modern times. John Palisano wrote a story called "A Pound of Flesh," which is a very dark sequel to The Merchant of Venice and shows us what happened to Shylock after the events of the play.
We'll also have dark sonnets written by Linda D. Addison, Alessandro Manzetti, Jessica McHugh, Sara Tantlinger, Stephanie M. Wytovich, and Lucy Snyder.

Overall, how many stories and writers do you expect to be a part of this anthology?
We'll have at least 20 short stories and 10 sonnets. So far, we have 20 writers contributing, plus Weston Ochse writing the introduction. He's not only an award-winning horror writer — but he's also taught Shakespeare as an educator.

You've already launched successful Kickstarter projects in the past and SHAKESPEARE UNLEASHED is being funded through Kickstarter as well. Is there a particular benefit or stretch goal you're really excited about?
I'm really excited about the companion comic book. So far, we have three stories. I wrote two, one based on Romeo and Juliet and another based on Shakespeare's infamous stage direction "Exit, pursued by a bear." As I said earlier, J.K. Woodward did the art for the Romeo and Juliet story, and Zac Atkinson did the art for "Exit, Pursued by a Bear." David Avallone wrote a story based on Richard III. Helena Masellis did the art for that.
Aside from SHAKESPEARE UNLEASHED, are there any other upcoming projects that you'd like to tell our readers about?
I'm seriously thinking about doing a graphic novel based on my Dead Jack Zombie Detective series. I'm hoping to run a Kickstarter for that next year. That should be a lot of fun.
---
To learn more about Shakespeare Unleashed and support it on Kickstarter, visit: https://www.kickstarter.com/projects/manbomb/shakespeare-unleashed?ref=mgny32