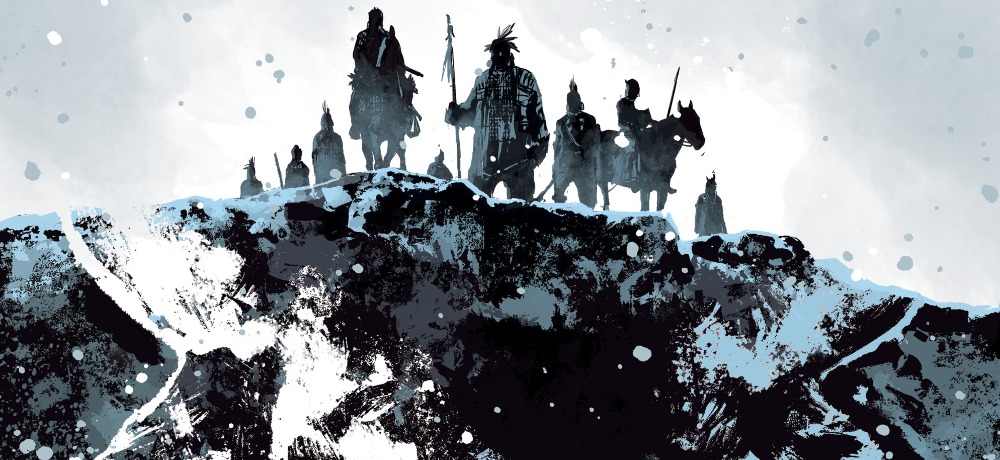 Set during the 1800s in a small, snowbound town in Montana, the new Stout Club horror western comic book series Hailstone is currently two issues into its five-issue digital run on ComiXology. Ahead of the third issue's July 13th release, we caught up with writer Rafael Scavone in a new Q&A feature to discuss the comic's multi-year journey to being made, the historical research that went into the period piece, and the importance of representation for the indigenous peoples of the United States in the story of Hailstone.
Thank you so much for taking the time to answer questions for us, Rafael, and congratulations on your new comic book series Hailstone! When did you initially get the idea for this series?
Rafael Scavone: Thank you so much for having me! Usually I spend quite a lot of time maturing the ideas, until I feel like they are ready to become a story. But with Hailstone it was different and it actually came out by chance. About three years ago, we were at Stout Club sorting ideas and preparing some pitches for a new wave of comics when I noticed some old concepts from an idea my friends and partners Rafael Albuquerque  and Mateus Santolouco planned to bring to life  more than a decade ago. The story was previously named Cold Valley. I remember I felt fascinated by it, especially as a fan of the western and horror genres. They told me in more detail what they had in mind at that time, and I asked if I could develop it more now as they had no intention of exploring it anymore. That idea really caught me, it just couldn't go untold! And that's how it all started. It was an unusual way of starting a new story, and it was actually a cool process and experience. Of course Hailstone came out quite differently from what they had planned for Cold Valley, but the main elements of their premise and main characters are still the same.
Because Hailstone is set in the 1800s, did you have to do a lot of historical research prior to writing the script?
Rafael Scavone: Yes! I am glad you asked this, because sometimes I feel like this crucial part of the job goes unnoticed. Research is at the core of a story like this. For example, I researched from the general historical context up to the details, such as the clothes people used. I also challenged myself to learn more about the First Nations that lived in the region at that time, their language and their cosmology, as this is unfortunately not taught well enough in our schools.
This was not the first time I've done this kind of research, though. I worked previously with stories in the XIX century during the adaptation of Neil Gaiman's A Study in Emerald, and the fact is that I really love historical research! I have a degree in History—and even worked for a short time with Archaeology—so digging through the past is one of my passions. The XIX century is an amazing period to tell bold stories and I always try to be as accurate as possible in terms of  historical context.
But it's also important to remember that Hailstone has a lot of imprecisions, too, and some of them are intentional: they are simply necessary to develop the story as I wanted to. After all, Hailstone is a piece of fiction, right?!
How important was it for you to explore this time period from multiple perspectives, including indigenous peoples of America?
Rafael Scavone: Super important. I think if you have the chance to enrich your story by adding multiple perspectives to it, you should at least try. Representativity is also a matter of justice and culture, and it works for stories set in the past, too. In fact, my idea was to have dialogues in Siksiká—the Blackfoot's beautiful language—but unfortunately the  timeframe didn't allow it. Hailstone was written last year, right in the peak of the pandemic in the USA when sadly the Blackfoot Nations were very affected, so I couldn't have their help to guide me and translate it. After all, saving people's lives is way more important, of course. But I'm proud that Hailstone has strong Native American characters, with an important role in the story. As an outsider to their history, I hope to have made justice to the Blackfoot culture and heritage.
Your prose pairs perfectly with Rafael de Latorre's gorgeously haunting artwork. What made Rafael the right fit to illustrate Hailstone?
Rafael Scavone: Rafael de Latorre is fantastic! He made those characters shift from sadness to fear to anger in perfect timing, perfectly staged. He simply nailed it!
We've been looking forward to teaming up at the first opportunity, so when I finished the first draft of Hailstone two years ago, he was the obvious partner. Not only because his art style fit the story very well, but I was also aware he is into western and terror, too.
How long did it take you to write the five-issue story of Hailstone, and how many drafts did you go through before it was ready for the printers?
Rafael Scavone: You mean after I had the story line already defined, right? It's hard to precise it, but I would say the full story took around two weeks to reach its final draft. Then, add to it an average of two weeks more per issue to get to the final version of the script of each issue. I usually do three drafts per issue. But since Hailstone was written at the same time I was writing other comics—some not yet published yet—it ended up taking more time than it was initially estimated. But I would say three months was the total time frame necessary for all the story to be written.
Hailstone is part of an overall deal between Stout Club Entertainment (which you co-founded) and comiXology Originals. What has it been like to partner with comiXology to bring Hailstone to readers around the world?
Rafael Scavone: It has been great! Since the start comiXology gave us all the freedom we wanted to develop our stories and they're super easy to work with. ComiXology Originals has been putting out comics from fantastic creators such as Chip Zdarsky, Jeff Lemire, Curt Pires, Justin Jordan, and many other talents, and I can't be prouder to be among them.
Hailstone is initially planned as a five-issue limited series, but if given the opportunity, do you have any plans for future stories in this series?
Rafael Scavone: Yes. Hailstone was planned to be a project with three stories sharing the same location, but set in different times of history. They all work well alone, but there are connections among these stories that the reader will find out bit by bit—similar to Alan Moore's Voice of the Fire. This story we're telling now is actually named Hailstone: The Lost Children, but we chose to publicize it only as Hailstone. Our plan is to have a second story set in the 1950s and a third and final story set way back in the end of the 1700s, telling how that settlement was established and why it was named Hailstone.
What advice would you give to comic book creators who are just getting started?
Rafael Scavone: Try to learn how comics are made the best you can. I believe that as any form of art, comic making is a complex craft merging a lot of skills, from storytelling, writing to drawing, photography, graphic design, and more. So, it's important to understand what role you want to play, in which part of the process you want to work—and, at least in the beginning, choose one of them and understand it deeply. Study what you can to achieve it, but the most important of all in my opinion is to do it, to practice it. Your first comic will probably suck, but it will also serve as a measure of your development on that art. The next will probably be better, and so on. And when a chance to publish appears, go for it, listen to what people say of your work, change what you think is needed, and keep doing it! And if you learn how comics are made nowadays, in this industry I mean, it'll become clear it demands a lot of teamwork. So please, always be nice with people you're collaborating with and everything will be easier for you.
In addition to Hailstone, what other projects do you have coming up that you're excited about, and where can our readers go online to keep up to date on your work?
Rafael Scavone: I have a new project coming up in the next few months that I can't reveal much about now, but I can say it's very different from Hailstone and I'll be teaming up with amazing artists, too. This upcoming story will be set in Brazil!
Stout Club is also developing more comics now and we will have more news soon. I try my best to keep everything new or important about my work posted in the social networks, mostly Twitter (@scavone) and Instagram (@rafaelscavone) and if folks are interested,  I would recommend people to stay tuned at Stout Club on Twitter (@stoutclub), Instagram (@stoutclub), and our website http://www.stoutclub.com, too!
Thank you very much for your time, Rafael!
Rafael Scavone: Thank you again for having me and for the excellent questions!
----------
Go here to catch up on preview pages from Hailstone #2, and visit ComiXology's official website to learn more about Hailstone!