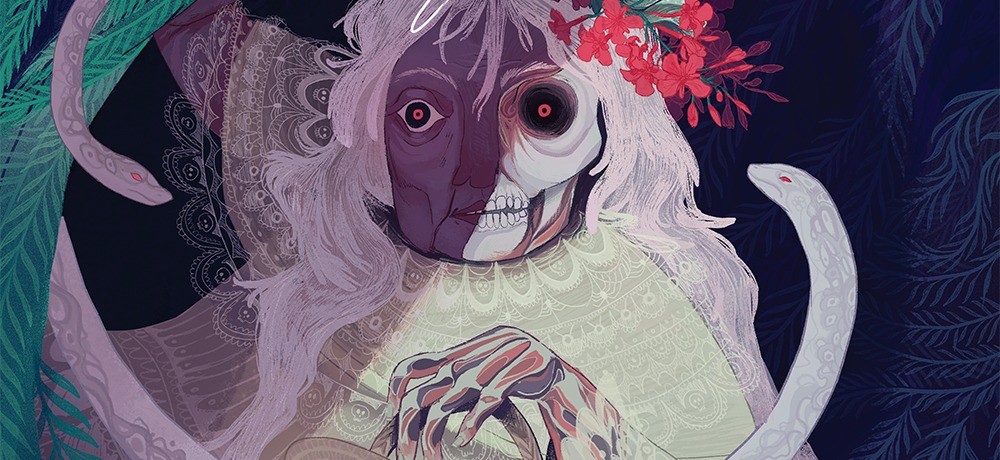 Showcasing 11 horror comics from different artists with an emphasis on emotive textures and palpable palettes, the new horror comics anthology Shades of Fear is now on Kickstarter ahead of its September 2022 release, and we have a look at the amazing cover art by Maya McKibbin and release details for the ambitious anthology.
Here's what Shades of Fear contributor Jade Zhang had to say about her story, "How to Survive a Haunting":
"My vision for "How to Survive a Haunting" is to make it a bit of a love tribute to the classic tropes of horror. A decadent and macabre old house, a creepy baby, and a healthy smattering of body horror. I drew inspiration from Junji Ito's "Glyceride," and the feelings of pure revulsion I'd get from that short. The haunted house is cruel and monstrous, it feeds off of the flesh and fear of the people living in it. At times, the people are indistinguishable from the house, what with how monstrous and inhuman they themselves have become."

I hope this helps add some context for the cover--the story summary, also available on the Kickstarter page, is: "Floorboards ripple, staircases shift, the walls drink up your blood. The Father is a faraway shadow, the Mother treads the worn patches on the floor, and the Baby's cries echo down a distant hallway. This is home sweet home."
Below, we have the official press release and trailer for Shades of Fear, and to learn more about this anthology, visit the page for its official Kickstarter campaign (which runs until October 22nd) that was launched by Ashanti Fortson and Allison O'Toole, the co-editors of Shades of Fear!
Press Release: TORONTO, CANADA - Experience terror in blood red, sickly yellow, and ethereal blue. Ignatz Award winner Ashanti Fortson (Leaf Lace, Wayward Kindred) and Eisner Award winner Allison O'Toole (Wayward Sisters, Wayward Kindred) are launching the Kickstarter for Shades of Fear, an anthology of subtle, psychological horror comics with a focus on emotive and evocative color.

Shades of Fear takes a craft-based approach to anthology curation, driven by the guiding principle of precise, thoughtful use of color and design. The featured cartoonists will integrate narrative and color, selecting palettes for their expressive power. Their stories will show readers the horror of loss and sacrifice, of what lurks in liminal spaces, and of the unknowable that lies just beyond the veil.

Contributors to Shades of Fear include Eisner and Ignatz Award nominee Molly Mendoza (Skip), Ignatz Award nominee Mar Julia (YLLW YLLW YLLW), Olivia Stephens (Artie and the Wolf Moon), and Shannon Wright (Twins). Kickstarter backers can also pre-order Kaleidoscopic Night, a mixed-format interview between Ashanti Fortson and Eisner and Ignatz Award winner Rosemary Valero-O'Connell (Laura Dean Keeps Breaking Up with Me). The discussion will explore evocative color, dread and color in art history, and the unique opportunities that cartoonists have to explore the limitless potential of color.

The collection will feature 11 new comics, making 150 pages of stunning, full-color artwork printed at extra-sized 8"x10". The perfect-bound softcover will be released in September 2022.

The Kickstarter campaign will run from September 22, 2021 until October 22, 2021. The $74,000 CAD raised will go toward paying contributors and printing books. Find the campaign at: https://www.kickstarter.com/projects/334999551/shades-of-fear?ref=ad4eu1 

Ashanti Fortson is an award-winning cartoonist, illustrator, editor, and professor living in Baltimore. Ashanti is currently working on their debut graphic novel, Cress & Petra, from HarperCollins.

Allison O'Toole is a freelance editor based in Toronto. She is the editor of comics including Ignatz Award nominated, Joe Shuster Award-winning Wayward Sisters and the Eisner Award-winning series AFTERLIFT by Chip Zdarsky and Jason Loo.
Artwork by Jade Zhang: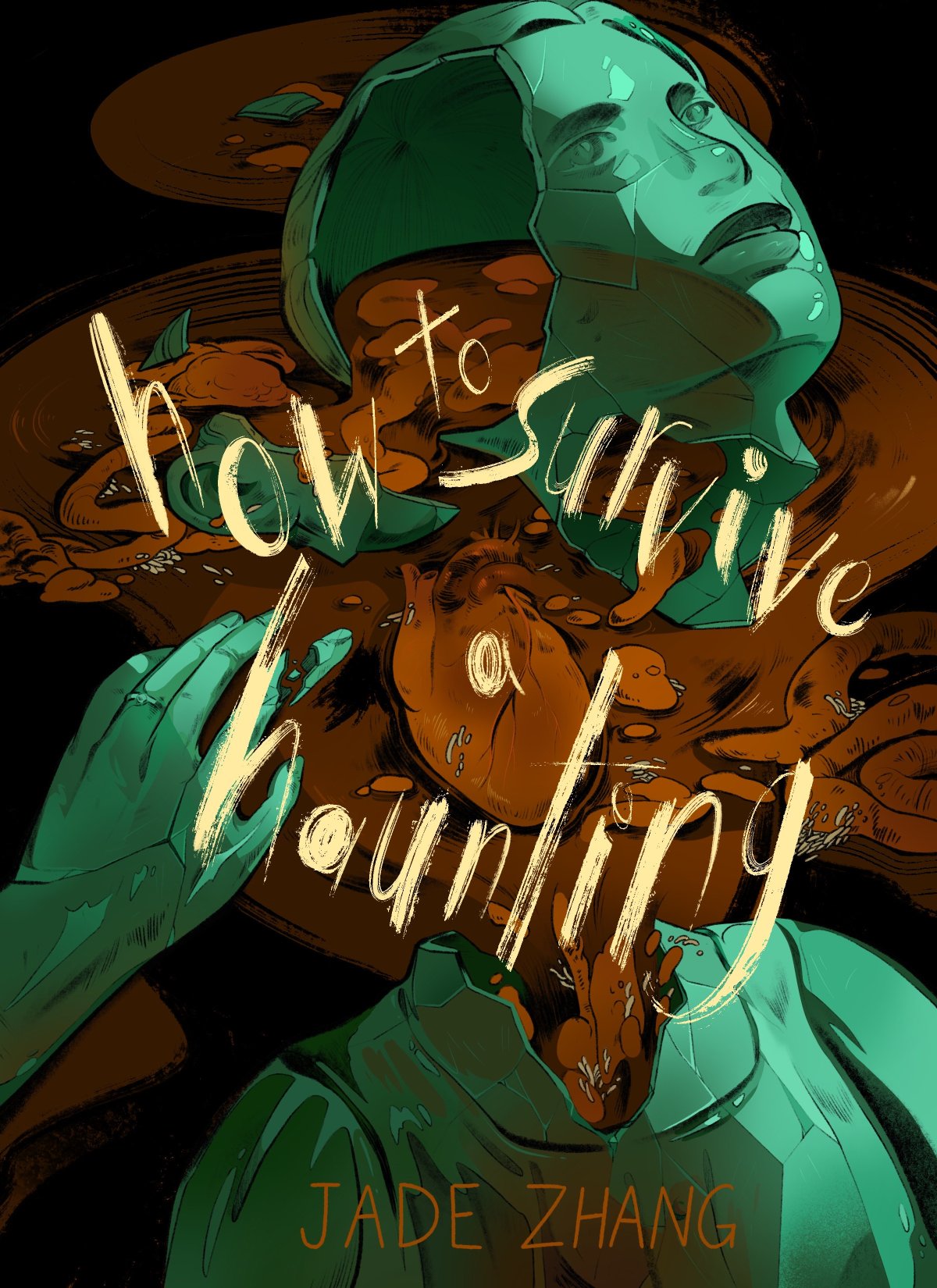 Artwork by Maya McKibbin: