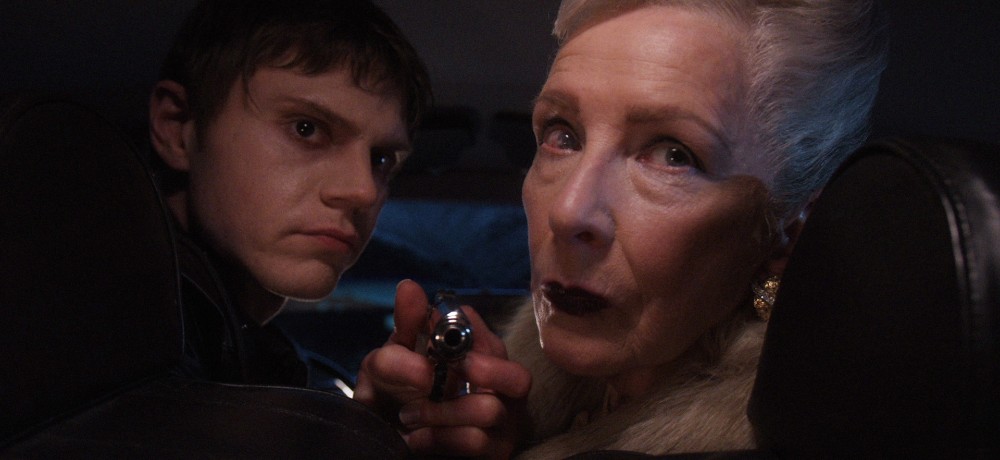 Nothing is more frustrating and terrifying to a writer than writer's block. All of them, whether screenwriters or critics, are familiar with the agonizing feeling of sitting in front of the computer and staring at the black line that's blinking into our faces, threatening and outright mocking the one looking at the blank page. That's the initial feeling that accompanies the audience when American Horror Story: Red Tide commences. The first chapter of the otherwise unusual season, titled Double Feature, concluded this week, and it's one of the anthology's most inventive, bloody, and terror-inducing seasons yet.
Provincetown, Massachusetts, is a charming little seaside town surrounded by dunes, salty ocean water, and beautiful, old buildings. Harry (Finn Wittrock), an aspiring writer, his pregnant wife, Doris (Lily Rabe), and their violin prodigy, Alma (Ryan Kiera Armstrong), relocate to town for the winter so Harry can concentrate on writing. Strange things begin to happen around them almost instantly as they gradually settle into a new routine. The danger arises when Harry meets successful writers - Belle Noir (Frances Conroy) and Austin Sommers (Evan Peters). They offer him a magical aid in the form of a small, cylindrical black pill that either pours inspiration into people with talent or transforms them into bloodthirsty "pale people" if they lack it.
The American Horror Story anthology is often a hit or miss. Some people don't like consecutive seasons after the third one premiered. Others still stand loyally by the entire series, defending it to the last breath. But, regardless of whether it's the first, second, or even third option, one thing is undeniably true: Ryan Murphy and Brad Falchuk created something extraordinary. The first chapter of the Double Feature feels like the creators' warm embrace. It's one of the most inventive and amazing seasons, in which the audience is treated to a complex story with moral dilemmas.
From the very beginning, we are surrounded by a creepy, threatening atmosphere. There's something special about films or television shows set in small seaside towns where everyone thinks they know each other but nobody really does. The close-knit communities that live in such places are both comforting and unsettling. As Red Tide progresses, a similar feeling emerges. It feels familiar yet strange and hair-raising, especially as night falls and pale, bald creatures start searching for prey.
As soon as the Gardners arrive in Provincetown, they realize how mysterious and terrifying its residents and recurring guests are. Tuberculosis "TB" Karen (Sarah Paulson), an eccentric woman who lives on and off in an abandoned ruin with Mickey (Macaulay Culkin), a sex worker, are among the ominous locals. Both survive on drugs and whatever else they can get their hands on, all while serving those on the little black pill.
The cast of Red Tide is superb. Wittrock, Rabe, and Armstrong take the reins and drive the story about talent and how far one will go to perfect it and achieve success. The aforementioned actors, who are veterans of the AHS franchise, deliver a spine-chilling performance. Young Ryan, as the ambitious and commonly cruel Alma, is the most terrifying character of all. Perhaps she lacks the visible horror such as rotting teeth and pale skin of those who tried the pill and failed miserably. Instead, the girl represents a different but equally potent evil: people who are overachievers and regard everyone else as inferior and disposable. The actress, previously seen in The Art of Racing in the Rain or The Tomorrow War, does an excellent job and often outshines her older co-workers. 
Conroy, Peters, Culkin, and Paulson, the original cast members of American Horror Story, play supporting roles in this story but still manage to capture the audience's hearts and awaken a wide range of many different emotions. Karen and Mickey, played by Paulson and Culkin, are particularly moving. They represent disadvantaged people with tremendous talent and the pain that comes with it. Their chemistry is fantastic, and all of their scenes together dazzle from the beginning to the end. Also Leslie Grossman's ambitious agent, Ursula, and Angelica Ross' mysterious chemist, who reveals the origin of the black pill, exhibit the same excellence in crafting and bringing their characters to life.
Red Tide, despite its short length, accomplishes everything it should in six episodes. The chapter takes the audience by surprise and shakes them to their core. It hits close to home, especially if you're a writer or an individual working in the creative field. The season stimulates a reflection, an afterthought, and can certainly spark an interesting discussion about the Hollywood elite, success, and the matter of talent. Through their characters and the elaborative narrative, the creators and producers pose questions: Would you risk it all and take this little black pill, regardless of the side effects? How far are you willing to go in order to achieve success and draw attention to yourself?
Every episode offers something new, but episode five, Gaslight, stands out as the best, combining blood, chilling narrative, and intense emotions. The first part's finale, however, feels a little rushed. It's also the shortest episode in American Horror Story history. Despite this flaw, Red Tide manages to evoke a wide range of emotions over the course of six episodes. It's undeniably one of the most inventive, refined, and blood-curdling spectacles that hit close to home, with the topics it discusses and the possibility of further discussion on the themes included in the series. If you're up for an interesting, essentially philosophical post-discourse on the matter of talent, success, and their aftermath, you don't want to miss it.
Score: 5/5
American Horror Story airs on FX and appears on Hulu the next day.