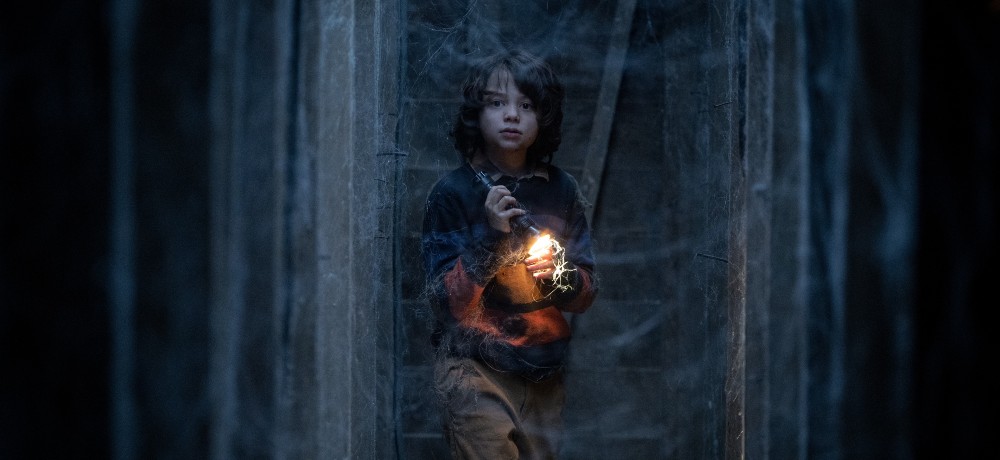 [Editor's Note: This article was written during the 2023 WGA and SAG-AFTRA strikes. Without the labor of the writers and actors currently on strike, the movie being reviewed here wouldn't exist.]
Parents are the ultimate salvation when you are afraid of the dark or have a monster under your bed. However, it is hard to know where to turn when the people you call out for could be more dangerous than what is lurking in the dark, under the bed or behind the bedroom walls...
Peter is a quiet, reserved and precocious child who is picked on at school. He doesn't have many friends and his relationship with his parents is a seemingly distant one. One night, he is awoken by the sound of knocking coming from inside his bedroom wall. Fearful of what might be in there he cries out; he is finally tended to by his mother, Carol (Lizzy Caplin). She assures him, stating 'this is an old house - things are bound to go bump in the night, and Peter will soon discover how right she is. 
The presence behind the wall soon starts talking to Peter, even offering advice about how to deal with a bully, Brian, who has been tormenting him. The presence soon starts talking about his parents, and how they may not be what they seem; this suspicion is also shared by Peter's substitute teacher, Miss Devine (Cleopatra Coleman). As Peter discovers more, he must decide who to trust and how to survive. 
Cobweb is a classic horror film, which blends elements of the haunted house, creepy parents and creature feature genres and serves up a fun and intriguing movie. There is a timeless quality to the story - you could easily believe the scenes were set anytime during the past 50 years, and this certainly adds to the feel and tone.
There is also a clear homage to John Carpenter's Halloween: the movie takes place at Halloween whilst Holdenfield elementary school - Peter's school - is obviously a play on Haddonfield. And Peter is also tormented by a bully who mercilessly destroys his carved pumpkin when leaving school, much like the scene in which Tommy Doyle's pumpkin is destroyed by Lonnie Elam. And because of the excellent cinematography, all-encompassing wide shots and slow build, you could easily believe that the events of the movie take place a few blocks away from the old Myers house. 
It isn't just the scenes and setiing that tie itself to Halloween - Cobweb takes its time telling a story - the idea of someone knocking behind your bedroom wall is a theme that could easily just play out with a series of jump scares, but Director Samuel Bodin appears happy to let things sit and slowly build, allowing your mind to try and place the next piece of the puzzle. One big factor that allows Bodin to take his time is the standout performances, which makes Cobweb a lot more character-lead. There are special effects, but the movie is carried by the efforts of Lizzy Caplin, Anthony Starr, Cleopatra Coleman and Woody Norman. 
Caplin and Starr are excellent as the awkward, stilted, slightly menacing and intentionally staccato parents who may, or may not, have something to hide. Throughout Cobweb it is really hard to gauge what the pair are up to and what involvement they have regarding the knocking on the bedroom wall. Both Caplin and Starr act on a knife-edge - you just never know which way they'll fall. The character of Peter is somewhat of an enigma; he is sympathetic and quite clearly a child in danger, but he also has violent tendencies that manifest themselves in graphic fashion. 
Despite the fact Cobweb takes its time to tell quite a simple but effective story, it tries a little too hard to deliver explanations and closure, which only serve to undermine the mystery and intrigue the story was building throughout. It would have been more effective to leave questions unanswered and unexplained, but it still doesn't take away the fact that Cobweb is an effective and creepy horror film that has bite.
Film Score: 3.5/5