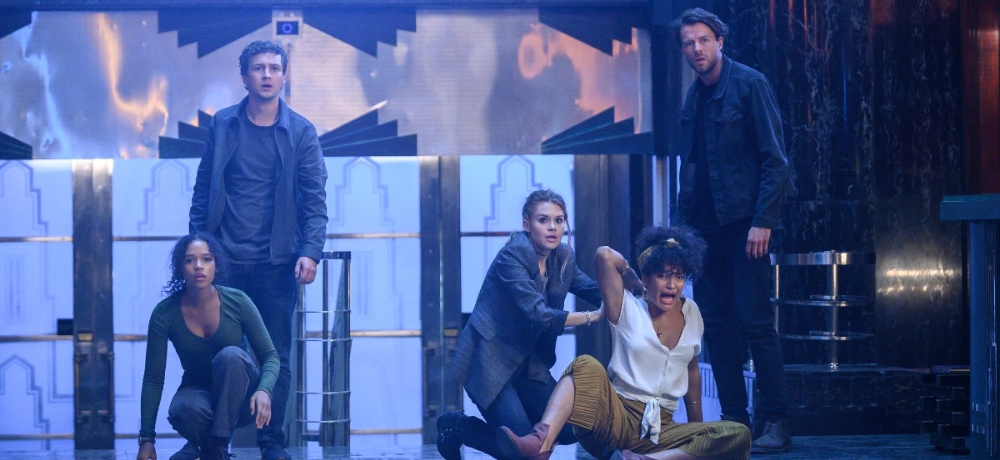 As a huge fan of the first Escape Room, I had a really great time with the sequel, Tournament of Champions, which reunites survivors Zoey (Taylor Russell) and Ben (Logan Miller) directly after they survived the deadly games of the mysterious Minos organization. Instead of running, the duo decides to head to New York in search of answers and in hopes of bringing those at Minos to justice. But before they get too far in their investigative efforts, Ben and Zoey find themselves unexpectedly trapped in a new game, but this time not only are the rules different, but they're also playing alongside other survivors of Minos' previous escape rooms, too. And the clock is ticking, as they're forced to decode new clues, avoid perilous traps, and withstand Minos' tortuous games in this "Tournament of Champions."
Much like the first film, Escape Room: Tournament of Champions does a great job of playing with viewers' expectations, although don't expect more of the same for the sequel. The game that director Adam Robitel sets out to play here has a very different dynamic than we saw in the preceding film, which I think works to its advantage. As viewers, we already have an idea of what's to come once the Tournament of Champions gets rolling, so I thought the way that Robitel and the film's writing team (Will Honley, Maria Melnick, Daniel Tuch, and Oren Uziel) were able to change things up here in some surprising ways added a lot to the sequel's overall story. The mythology of Minos is also fleshed out a bit more in Tournament of Champions, showcasing just how powerful and far-reaching their capabilities truly are in a way that still keeps the mystery behind the organization thriving, and I just hope we get at least one more film so that the story of the Escape Room series can finally come full circle.
As far as this series goes, what makes it so compelling are the characters of Zoey and Ben, who really won over my heart in the first Escape Room, and I loved seeing them reunited here, bravely teaming up to take on the unknown evils of Minos. There's a sense of optimism to their characters that I think feels very unique in this day and age, when pessimism seems to be all the rage, and their characters and performances add so much heart to both of the Escape Room films. As horror fans, so many of us are hard-wired to often want to see the "bad guys" win, but here, I spent the entire running time of Tournament of Champions excitedly rooting on both Russell and Miller's characters, and that doesn't happen very often (unfortunately).
I also enjoyed the newcomers to the Escape Room universe (is it a universe when there are only two movies? I'm going with "yes" in this instance.) which includes Holland Roden (who I loved from her Teen Wolf days), Indya Moore (who is ridiculously great on Pose), Thomas Cocquerel, and Carlito Olivero. Robitel puts them all through their paces in a variety of ways, and I think the entire ensemble really rose to the occasion here. Something else worth mentioning is that, of course, it makes sense to discuss both the Cube or Saw series in relation to both Escape Room films, but what I thought was interesting is that because part of the focus in Tournament of Champions is the trauma that those who have survived Minos' game must live with, there were aspects of the sequel that almost felt more in line with something you'd see in a Nightmare on Elm Street movie, simply because you never know if you can trust what you're seeing unfolding in front of you.
Also, because this is an Escape Room movie, I'd be remiss if I didn't discuss a few of the environments that these survivors must endure because they were cool as hell. The train sequence is tension personified, and I think it sets the stage perfectly for everything else that unfolds. There's also a harrowing bank-themed escape room in Tournament of Champions that absolutely left me breathless (and I definitely would not have survived this set-up whatsoever). There are a few other rooms that the players must make it through as well, including an elaborate seaside setup and an impressive New York City-themed room, but I will admit that none of the setups in the sequel even come close to the upside-down bar from the original Escape Room, which raised the stakes in both of these films to heights that probably will never be matched. It was just SO damn good.
That being said, there's still plenty of mind-bending fun to be had in Escape Room: Tournament of Champions, even if the film seems to zip along rather quickly and its third act feels somewhat mis-paced compared to everything that preceded it. There's also a rather big reveal that happens in the sequel that feels a bit out of step from the narratives we've seen in this series (I can't say anything more, but when it happens, you'll know it), and while it was definitely a surprise, I think it slightly waters down the overall effectiveness of the story. But as I mentioned earlier, I love how unpredictable the Escape Room movies are on a conceptual level, and both Russell and Miller do a wonderful job of adding so much heart and hope to these stories about people who are left facing insurmountable odds.
Movie Score: 3.5/5