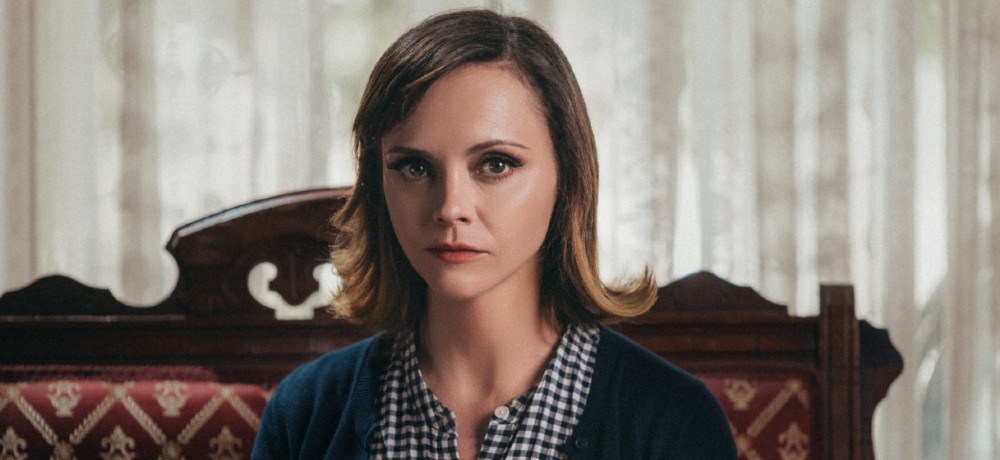 For much of her career Christina Ricci always seemed to have her toe dipped in the hot bath of horror cinema, whether it be The Addams Family, Cursed or Sleepy Hollow. Ricci was a key part of these ensemble movies, but now – 12 years after her last genre outing - she leads the way in Monstrous – a tale about a woman battling against more than one monster.
Ricci plays Laura, a mother trying to start a new life with her son, Cody (Santino Barnard). Laura tries to live a picturesque existence in a new home, with a new job, in new surroundings, but Cody appears less than thrilled about having to start over and doesn't share his mother's enthusiasm. 
Set during the 1950s, complete with Chevys, swing dresses and a rock 'n' roll soundtrack (Buddy Holly and Bill Haley & his Comets to name a few), Laura appears determined to put on a smile and make the best of things. However, she has run away from her husband in mysterious and clandestine circumstances and is keen not to be found. It's clear that Laura is not so much starting a new life, but running away from her old one. 
Her attempts of a happy and fresh start with her son struggle to take root as her husband attempts to contact her. This is compounded by friction with one of the owners of the house she is renting and Cody's struggle to make regular human friends at school. The only friend he has is 'the Pretty Lady', a shapeshifting monster that lives in the body of water next to their new home, but it's unclear how friendly 'the Pretty Lady' is and what her intentions are. Laura's happy façade slowly begins to fade and her true self begins to show as the pressure builds as her idyllic world fails to materialize. 
Monstrous is a slow-burner of a movie that effectively sets up that there are multiple issues plaguing Laura and Cody, and it is unclear who or what the actual monster really is. However, there is a somewhat confused approach in the execution. The movie begins like a standard horror movie, complete with effective lighting, sinister score and spooky goings on, but the movie quickly morphs from a creepy monster story to a character-driven drama/ Laura's trauma, relationships and slow decline take centre-stage, with little suggestion of a supernatural force controlling any of it.
It is Christina Ricci's performance that meshes the film together. She is excellent as Laura; watching her overly positive and chirpy act (she quotes a commercial for a Hotpoint Dishwasher to maintain calm) slowly slip to reveal a character a lot closer to the edge is the real treat. Monstrous gives her the room to shine bright (not just referring to the swing dresses) within this stripped back cast. There is also an accomplished performance from Santino Barnard (his first film outing) who plays the quiet and reserved Cody very well. Like Laura, Cody slowly changes as he grows confident and starts to questions his surroundings, something Barnard conveys with ease. The slow change of both characters builds to a perfectly played scene between the pair 
Although the movie touches upon domestic trauma, it doesn't give the impression it is trying to tackle the subject the way films like Hereditary, Halloween Kills and The Invisible Man have. The 1950s setting removes a layer of realism that the aforementioned films carry, especially given the current cultural zeitgeist. Despite this, the film's nostalgic 1950s setting goes against the grain of current horror movies and, uncharacteristically for a horror movie, most of the action takes place in bright light, either by having many scenes staged during the day or having multiple lights or lamps switched on during the interior scenes.
The premise of the film has been done before, but there is enough about Monstrous to keep you entertained and engaged.
Movie Score: 3.5/5
Monstrous premiered at Glasgow FrightFest in March 2022. It will be available to watch from 13th May 2022.