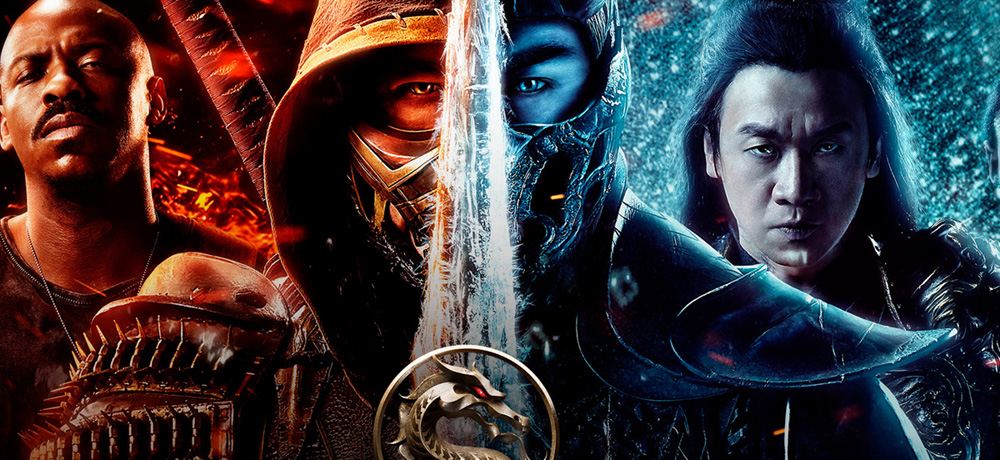 As someone who has been a longtime apologist for Paul W.S. Anderson's 1995 Mortal Kombat adaptation (sure it has rough edges, but it still has a few killer moments that I totally adore—and nostalgia is a helluva drug), I'll be the first to admit that considering it has been nearly 26 years since that first film hit the big screen, we were definitely due for a new live-action take on the Mortal Kombat universe. And holy hell, does this new MK deliver up a flawless victory—there's more world-building in this new Mortal Kombat in the first five minutes than we get in the entirety of MK (1995), and between the jaw-droppingly great action set pieces and a fantastic ensemble that does a brilliant job of bringing these iconic characters to life, I absolutely loved everything that director Simon McQuoid, as well as the film's screenwriters Greg Russo and Dave Callaham, were able to bring to the table for Mortal Kombat (2021). 
Simply put, this new Mortal Kombat kicks copious amounts of ass.
This new Mortal Kombat starts off by giving us some backstory between two of the game series' most integral characters—Scorpion (Hiroyuki Sanada) and Sub-Zero (Joe Taslim), as a deadly clash between these two bitter enemies centuries prior ties directly into the present day when the legendary Shang Tsung (Chin Han) is done playing by the sacred rules of Mortal Kombat and decides it is time to head to the Earthrealm in order to destroy all of its fiercest warriors. In order to do so, Shang Tsung sends Sub-Zero to start eliminating the competition, ultimately introducing us to a few familiar faces—Jax (Mehcad Brooks), Sonya Blade (Jessica McNamee, who genre fans may recognize from The Loved Ones), Lord Raiden (Tadanobu Asano), and Kano (Josh Lawson)—as well as Mortal Kombat newcomer Cole Young (Lewis Tan), who ends up acting as the audience's entry point into the MK world (which might help those who aren't as familiar with the game series, but still want to see the movie).
Sub-Zero isn't the only baddie who gets to have all the fun in Mortal Kombat, though, as Shang Tsung enlists a few other ferocious fighters to attack the heroes of the Earthrealm, including Goro, Kabal (Daniel Nelson), and Mileena (Sisi Stringer) to name a few (I want to keep a few surprises, so I'm only naming characters seen in any of the MK trailers). Oh, and a fun fact about Mortal Kombat is that Goro and Kabal are voiced by Angus Sampson (Goro) and Damon Herriman (Kabal), who star in the super fun indie horror comedy 100 Bloody Acres together. Beyond that, I won't say exactly just where the story heads, because that's half the fun of Mortal Kombat, but what I will say is that the film features a ton of bone-crunchingly badass fight sequences that certainly lean into Mortal Kombat's well-earned R rating.
And yeah, one of the biggest reasons many of us want to watch Mortal Kombat is for all the spine-snatching and heart-rippingly great fight sequences, and I must tip my hat to McQuoid and the entire stunts/fight choreography team here that did an excellent job of creating these amazing sequences that were able to balance out grounded, realistic fight sequences with otherworldly elements that work in tandem so beautifully. Also, DP Germain McMicking and his team do a magnificent job of catching all this hard work perfectly in camera as well. The shots are balanced and well-timed, and I love that the camera often gets intimate with Mortal Kombat's characters in key moments to really capture the adrenaline fueling these fights, but then also lingers at a distance at other times, which really gives viewers the full picture of what's going on in these dazzling sequences as well.
But the other things that Mortal Kombat has going for it are its cast and storyline, which I felt did a great job of delivering up something that fans of the game franchise could enjoy, but also offer up an experience that newcomers can enjoy equally—which is no easy feat. I totally loved this cast, though, and it was hard for me to hone in on a specific performance because I think everyone really shines in their respective roles (admittedly, though, I always geeked out extra anytime Taslim came onto the screen), and I really want to see more of them in the future. I know many fans have been disappointed by the fact that Johnny Cage does not make an appearance in Mortal Kombat (2021), but I promise that this omission does make sense for this specific story and I know the producers are hoping they get to come back to make a sequel, which would introduce the fan-favorite character (I'm more of a Sub-Zero, Goro, and Smoke gal myself, but I get the appeal of Cage, too).
Also, I'd be remiss if I wrapped up this review without discussing the top-notch work done by Mortal Kombat (2021) costume designer Cappi Ireland (just the fact that Sub-Zero and Scorpion don't look like carbon copies here—much like they do in MK (1995)—was hugely appreciated by this fan) as well as the film's composer Benjamin Wallfisch, who did a fantastic job of incorporating a handful of elements that Mortal Kombat fans will definitely enjoy (especially when the credits hit). As someone who regularly listens to his music from IT Chapter One and The Invisible Man, this score from Wallfisch is yet another creation that I will definitely be revisiting in the future.
While I don't want to necessarily play the comparison game between MK (1995) and this latest adaptation of Mortal Kombat, because that hardly seems fair, what I will say is that this latest film is definitely a huge love letter to these characters and game franchise that really does an awesome job of creating something that MK fans can geek out over, but also offers up a ton of entertainment for newcomers alike. And the minute Mortal Kombat (2021) was over, I was primed to watch it all over again. It just ruled so hard.
Movie Score: 4/5