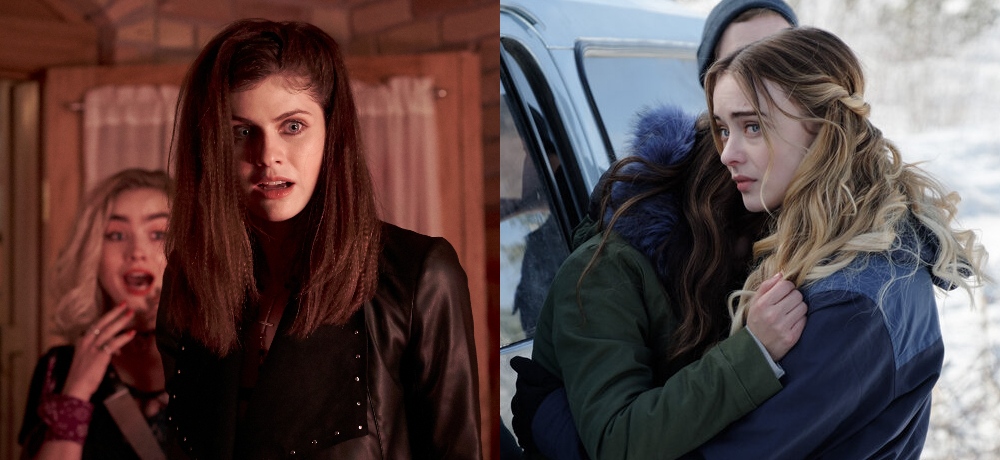 While multiplexes may not be opening any time soon, that doesn't mean genre fans still don't have other means to take in new horror films these days. Here's a look at a pair of recent indie movies that I had the chance to check out: We Summon the Darkness from Marc Meyers (My Friend Dahmer) and Witches in the Woods by director Jordan Barker.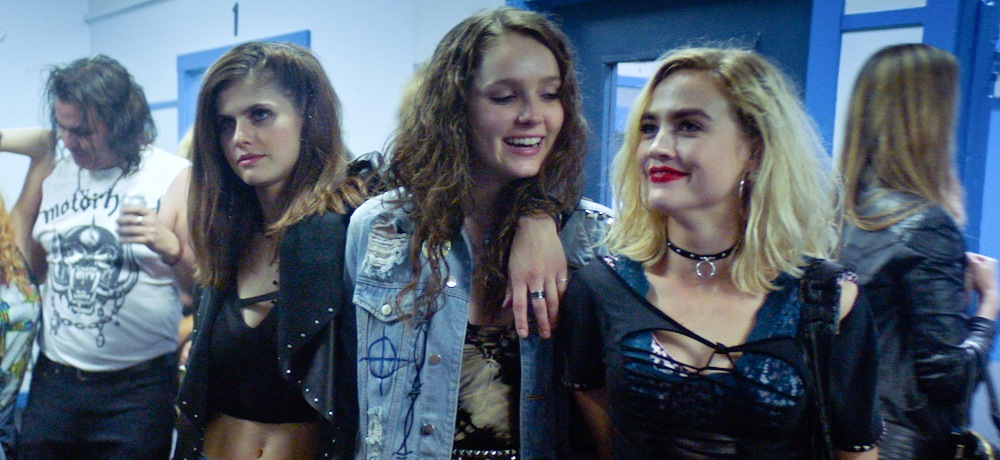 We Summon the Darkness: As someone who lived through the Satanic Panic of the '80s and early '90s (basically, I'm old), Marc Myers' ode to heavy metal lifestyles, We Summon the Darkness, was 100 percent my jam. A brutal and surprising bloodbath that managed to subvert any expectations I had going into it, We Summon the Darkness may stumble a bit here and there tonally, but ultimately delivers a wickedly fun time all the same.
The story follows Alexis (Alexandra Daddario) and her two best pals, Bev (Amy Forsyth) and Val (Maddie Hasson), as they head out on a road trip to see an up-and-coming heavy metal band called the Soldiers of Satan perform. When they get there, the ladies buddy up with a trio of aspiring musicians—Kovacs (Logan Miller, who has become one of my favorite people working in the genre today), Mark (Keean Johnson), and Ivan (Austin Swift) —and they decide to keep the party going after the show is over and everyone heads over to Alexis' house for some alcohol-induced shenanigans. But after they play a few rounds of "Never Have I Ever," the night takes a sinister turn, where everyone ends up in a fight for their life and no one is safe.
If that synopsis reads a bit vague, that's on purpose, as it is the best way to really experience all the tricks that We Summon the Darkness has up its proverbial sleeve, and I want to preserve that experience for you. Without a doubt, the script from Alan Trezza is packed with a great sense of energy and urgency that keeps the events of the film propelling forward, sometimes at a break-neck speed. There's only one real lull in Summon, but it's hardly enough to derail all the frantic fun that Myers and company have packed in here.
As far as the '80s aesthetic is concerned, We Summon the Darkness nails it all perfectly, from the costuming to the hair to the production design to all of the smallest details contained within those locales as well. Cinematographer Tarin Anderson does a great job of keeping the visual energy flowing throughout Summon as well, particularly once things really get going, and there's a great fluidity to the camerawork that perfectly compliments Trezza's script.
The performances in We Summon the Darkness are pretty strong as well, with Daddario leading the pack. Forsyth is also pretty great, too, as the conflicted Bev who is unsure of just who she can trust, and even though there's definitely a sense of Grrl Power rippling throughout Summon, that doesn't mean the male characters are shown the short end of the stick either, and they all turn in some compelling work here, too.
For as much fun as I had watching We Summon the Darkness, I'll admit that at times, the film has some slight tonal shifts that don't always gel together, and there is a point when Johnny Knoxville shows up and it seems to slow down the film's momentum. But then the script rallies in the end, delivering up a truly satisfying conclusion, and none of the minor missteps here are enough to derail Summon's party train fully. If you're in the mood for a horror movie that's ready to throw down, I'd definitely recommend checking out We Summon the Darkness, as it is yet another bold and compelling effort from Meyers, who proves with this latest project that he's truly one of the most intriguing filmmakers working today.
Movie Score: 3.5/5
---------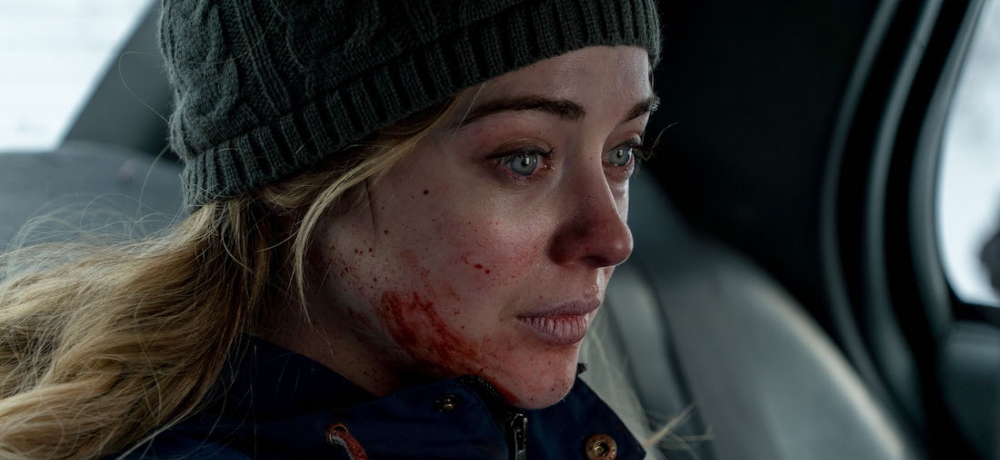 Witches in the Woods: I'll be the first to admit that heading into Witches in the Woods, I wasn't particularly jazzed about a story revolving around a group of co-eds who end up getting more than they bargained for when they head out for a snowboarding trip that goes horribly awry. But much to my surprise, there was a lot more going on with this story and while it may not necessarily end up on my favorites list this year, it's still a rather chilling tale of revenge that conjures up a few shocking moments to boot.
In Witches in the Woods, a group of friends from UMass decide to take a trip together to a resort to unwind and hit the powder for some snowboarding, but things aren't exactly copacetic between everyone. There's Jill (Hannah Kasulka) and her boyfriend, Derek (Craig Arnold), who are a bit rocky, and Jill's friend Alison (Sasha Clements), who is dealing with some recent trauma that sets her apart from the group. Along for the ride are Philip (Corbin Bleu), who has a few secrets of his own, Matty (Alexander De Jordy), Tod (Kyle Mac), and the uber bitchy Bree (Humberly González).
As they make their drive to the resort, the group is forced to take a detour, and end up getting stranded in the middle of the wilderness. With no way to escape and no help coming to rescue them, tensions begin to rise between everyone, especially once Allison begins to display some odd and dangerous behavior that puts everyone at risk. Some think she's possessed by the spirits of the witches who were killed in the woods, others think she's just completely off her rocker, but either way, they must find a way to get back to civilization before it's too late for everyone.
While there's definitely some spooky stuff going on in Witches in the Woods, it's the underlying sense of uneasiness that director Jordan Barker and screenwriter Christopher Borrelli establish early on that continues to ripple just below the surface as things go from bad to worse to downright hellacious for the group. The wintry setting makes for a perfect backdrop here, and I must commend the creatives involved in utilizing a vehicle as the film's primary locale, as it really does a nice job of amping up the claustrophobia and paranoia at play in Witches in the Woods.
The performances are solid enough here, but the film rises above its familiar concepts through the use of a few gnarly set pieces and a finale that packs quite a wallop, making Witches in the Woods far more entertaining and chilling than I could have possibly expected.
Movie Score: 3/5
[Image Credit: Top right Witches in the Woods image from Gayly Dreadful.]