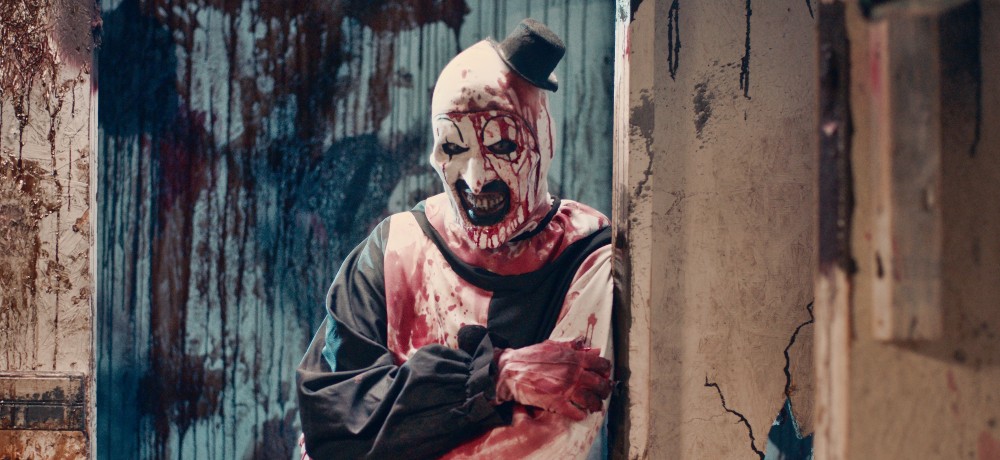 Art the Clown is a sadistic, mime-like horror villain created by Damien Leone, who first appeared in Leone's low-budget short film The 9th Circle in 2008 and was creepily brought to life by actor Mike Giannelli. Leone went on to make the anthology feature film All Hallows' Eve in 2013, which followed Art the Clown as he terrorized a babysitter on Halloween night. Art the Clown came back in Leone's 2016 film Terrifier bigger, bolder, and bloodier than ever, with David Howard Thornton stepping in to play the character. The film features some of the most creative horror movie deaths ever shown, and by this time Art the Clown had gained a devoted fanbase. Art the Clown is such a compelling character because he's so different from other clown villains like Pennywise. Art the Clown has a dramatically pointed nose, a black-and-white face, and he never speaks. Leone has once again resurrected Art the Clown for Terrifier 2, a nearly two-and-a-half-hour, nonstop, bonkers bloodfest that follows the brutal clown killer as he goes up against a badass new final girl, played fantastically by Lauren LaVera, on Halloween night.
If you've seen Terrifier, you know that Art the Clown was presumed to be dead by the end of the film after attacking a woman named Vicky (Samantha Scaffidi), who barely managed to survive after the clown ate off part of her face, leaving her severely disfigured. Terrifier 2 introduces us to a teenager named Sienna, played by LaVera, who is designing a fantasy Halloween costume based on her deceased father's artwork. Sienna's brother, Jonathan, played by Elliott Fullam, begins researching Art the Clown online after discovering their father's sketchbook, which contains not only his artwork but also clues about the vicious killer clown.
Terrifier 2 doesn't waste any time getting to the gore—Art the Clown, once again played by Thornton, barbarically murders and dissects a guy immediately and then goes to the laundromat, strips naked, takes off everything except for his face, and washes his clothes. The sequence of Art the Clown sitting nude and patiently waiting for his clothes to get clean is darkly humorous and one of the highlights of the film. Once Art sets his sights on Sienna, he makes it clear that he will butcher anyone who gets in his way. Terrifier 2 becomes a battle to the death between Art and Sienna, and the story also reintroduces Vicky (Scaffidi), the lone, mutilated survivor from Terrifier.
Despite the fact that the characters all have modern cell phones, the costume design, set design, and soundtrack give Terrifier 2 an interestingly nostalgic '80s aesthetic. After giving a really fun performance as Art in Terrifier, Thornton fully commits to reviving Art again in violent, gleeful, murderous fashion for Terrifier 2. LaVera's engaging portrayal of Sienna as a new kind of final girl, who dresses as a fantasy character reminiscent of an archangel, and who might just be able to finally defeat Art, is definitely a standout performance in the film.
Even with some great performances and over-the-top kills, Terrifier 2 does have a problem—the final act of the film eventually becomes tiring. With a runtime of nearly two and a half hours, the film is bloated and could have been edited down to a much tighter, more enjoyable, and less exhausting experience. 2016's Terrifier clocks in at 86 minutes and was a lot more fun than Terrifier 2, simply because the new film feels like it's never going to end.
Terrifier 2 reanimates Art the Clown to once again blissfully wreak bloody havoc on Halloween night and go up against an intriguing final girl in a twisted, nonstop gorefest. Despite the inclusion of the unique, blood-splattered kills Art is known for, and Thornton's once again impressively sinister performance as the homicidal clown, Terrifier 2 might be too much of a good thing.
Movie Score: 3.5/5
Terrifier 2 recently screened at FrightFest and Fantastic Fest, and it will be released to theaters on October 6th from Cinedigm, Bloody Disgusting, and Iconic Events.