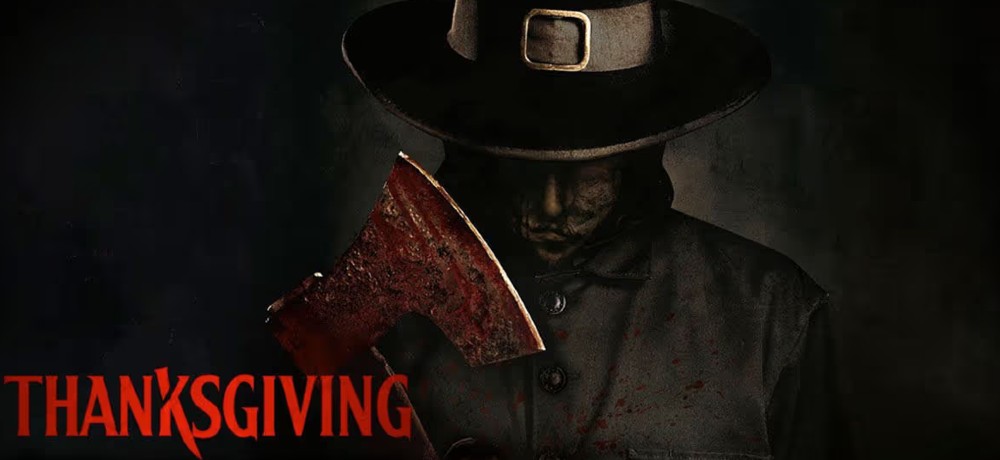 Oh, how exquisite it feels to confirm Eli Roth's Thanksgiving is stuffed with holiday horror goodness. Fans have been rabid for a feature treatment of Roth's fake-at-the-time Grindhouse trailer, now rewarded with the new gold standard for Thanksgiving horror flicks. It's a violent throwback to bloodthirsty 80s slashers that's drowning in scrumptious gore, smothering the story's anti-capitalist frustrations in deep red juices that ain't cranberry sauce. ​​Roth oven-roasts even the tiniest Turkey Day themes and signatures to perfection, indulging in macabre festivities on par with Michael Dougherty's work on Trick' r Treat and Krampus.
Roth and screenwriter Jeff Rendell hatch a vengeful story that starts with a deadly Black Friday shift in Plymouth, Massachusetts. RightMart shoppers rush the department store like a dashing zombie horde from 28 Days Later, causing multiple casualties in a brutally staged open. A year later, high schooler Jessica (Nell Verlaque) and her friends — who snuck inside the RiteMart before the supersale chaos — find themselves the target of some psycho posing as John Carver, the first governor of Plymouth Colony. With no leads and cheery townsfolk all wearing the same John Carver mask, can local lawman Sheriff Newlon (Patrick Dempsey) stop the imposter before he carves a larger chunk out of Plymouth's population?
As you can presume from the synopsis, Roth and Rendell maximize seasonal details throughout their slasher rampage. Thanksgiving smells of seasoned golden-brown turkeys, and visuals are like a Fall cornucopia vomited all over the screen. It's the right amount of holiday horror exploitation that bastardizes Thanksgiving parades, homestyle feasts, pilgrim costumes — everything 'Mericans cherish about November's headline holiday. Roth doesn't waste opportunities to incorporate anything from meat thermometers to corn cob holders or magnificently cheesy dialogue like, "There will be no leftovers!" Thanksgiving lays its holiday representation thick as gravy and sweet like apple filling, imagining the sickest horror twists on basting techniques, meat tenderizing, and even wine corking.
Roth projects the confidence of a reinvigorated horror filmmaker, leaning on grotesque practical effects and a love of holiday horror that spans other months. Nods to Halloween and My Bloody Valentine bring the same smiles as bodily trauma against goo-filled dummies that sloppily burst upon impact. Thanksgiving is brimming with bisections, noggin cracks, and intestine spills that remind us of better years when computer effects weren't an option. There's a playfulness as neck stumps spray fake blood like an undead water sprinkler, harkening back to Video Nasty days where Thanksgiving belongs. Roth even hits on the key moments from his Grindhouse trailer, but reinvents their payoffs to keep audiences on their toes — yes, Mr. Bouncy Trampoline makes a well-deserved comeback.
The story's structure does underwhelm a tad, whether that's character development or narrative choices (a killer who posts and livestreams on social media) — but it's nothing egregious. Dempsey is the rock of Thanksgiving as a veteran presence who finally gets to test his chops in the horror genre. Who doesn't love some Gina Gershon or Rick Hoffman in a morally bankrupt role? A smattering of young talents like Verlaque, Addison Rae, and Milo Manheim do enough with their teenage caricatures, even if they're often not more fleshed out than prototypical slasher protagonists. John Carver is no Ghostface, Jessica no Sidney Prescott, but those are lesser grievances in Thanksgiving thanks to Roth's investment elsewhere in outrageous holiday embellishments. A more generic slasher wouldn't be afforded such leniency, and this one still might not be by less forgiving audiences.
Thanksgiving benefits from a proud self-awareness, and that's the film's everlasting charm. Inflatable parade balloons aren't just decorations; they're weapons. Deaths aren't just slit throats; they're eviscerated prosthetic heads with impaled wood sticking out face holes as blood squirts everywhere with morbid yet gleeful exaggerations. Thanksgiving is a slasher that gets back to basics with heavy-handed social commentaries — sensational mutilation with a prosperous message. Roth proves that old methods can still entertain when executed passionately and properly (lookin' good on a smaller budget), even with aggressive Massachusetts accents.
It's been too long since a domestic theatrical slasher based on an original idea put an ear-to-ear smile on my face. Thanksgiving is one of the great modern American slashers, and Roth's return as a hardcore horror director feels right. It's been sixteen years since Grindhouse, and the wait was worth its reward. Hopefully a sequel won't take another decade plus change to release.
Movie Score: 4/5