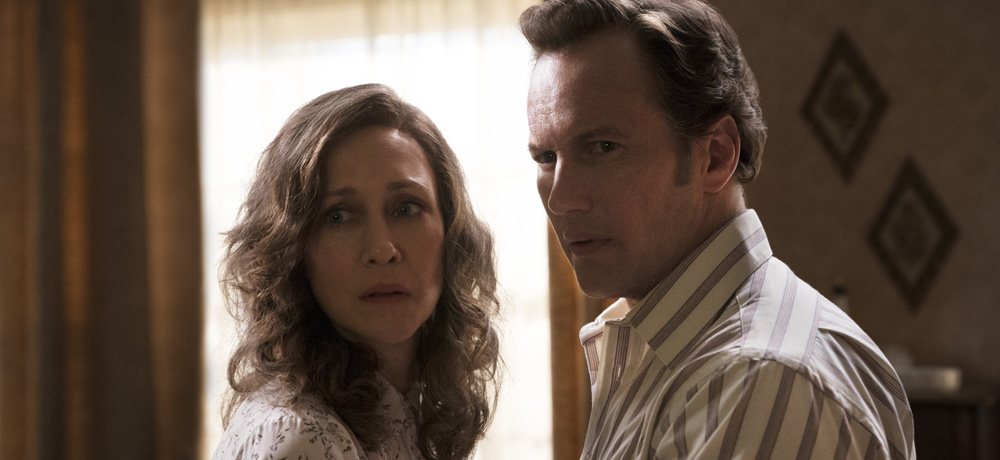 For this third entry in the Conjuring series, Lorraine and Ed Warren have returned to take on one of the most infamous demonic cases of the 1980s for The Devil Made Me Do It, based on the real-life murder trial of Arne Johnson that took place in Connecticut in 1981. At the helm of this installment in the Conjuring franchise is Michael Chaves (The Curse of La Llorona), with James Wan handing over the directorial reins this time around. And while The Devil Made Me Do It doesn't quite hit the same highs as its predecessors did (The Conjuring 2 still remains my favorite entry in the series), The Devil Made Me Do It still has a few creepy tricks up its sleeves, and seeing Vera Farmiga and Patrick Wilson reunited once again for this latest sequel was a welcome sight as well, as they are great as usual.
For The Conjuring: The Devil Made Me Do It, Chaves picks up with the Warrens where this series usually ends up: confronting evil forces while putting themselves in great peril. This time, the Warrens are trying to help the Glatzel family, as young David Glatzel (Julian Hilliard) has been possessed and his family is desperately trying to save the young boy from being totally destroyed by whatever has taken over him. During David's exorcism, Arne (Ruairi O'Connor), the well-meaning boyfriend of David's older sister, Debbie (Sarah Catherine Hook), decides to take matters into his own hands and begs the evil to take him instead of David. Little does Arne know that his moment of sacrifice would bring about tragic circumstances, as just a few days later, he ends up stabbing Debbie's boss, eventually telling police that he was possessed at the time and wasn't able to control himself in the heat of the moment. Arne's set to go to trial, and the Warrens plead with Arne's lawyer to use demonic possession in arguing his case, which sets an unusual precedent, with the young man's life hanging in the balance. 
That's only the beginning of the horrors that await Arne and the Warrens in The Devil Made Me Do It… and I because I don't want to ruin the mystery of what happens after then in the film (yes, this is a Conjuring murder mystery for all intents and purposes), I'll just leave it at that.
As a whole, even if it doesn't feel nearly as polished as the first two movies, there are still some aspects that I appreciated about The Conjuring: The Devil Made Me Do It. The opening sequence involving David Glatzel's exorcism is absolutely horrific and unnerving, especially as chaos is unleashed during the procedure, making it a dizzying ordeal to experience. The scene where Arne ends up murdering Debbie's boss, as Blondie's "Call Me" blaringly plays on, is also effectively disorienting, especially as Arne loses control of himself, and it's an extremely effective set piece. And once again, both Patrick Wilson and Vera Farmiga deliver top-notch performances in The Devil Made Me Do It, even if the film does tend to split them up a bit more than I would have liked. But there's a moment toward the end of the film that really made me smile, and that was all due to both Farmiga and Wilson's performances here.
Beyond all that good stuff, though, that's where things get tricky with The Devil Made Me Do It. Based on his efforts on The Curse of La Llorona and this film, it's evident that Michael Chaves is a huge horror geek, as he packs in a ton of various references to so many classic horror movies here, and he does a serviceable job with his handling of the Conjuring series' formula at this stage of the game as well. The thing is, I would have liked to see Chaves break out a little bit more in The Devil Made Me Do It, especially since this third film doesn't follow the same storytelling arc as the previous entries, so to see him do more of the same made me wish he could have swung bigger here because this was the perfect opportunity to do so, and instead, he plays it relatively safe.
Admittedly, I think the biggest issues I have with The Conjuring: The Devil Made Me Do It comes from the sequel's script. Not only does it feel too busy, where it just tries to do too much, but the way it splinters off where the Warrens are off on a separate journey from Arne, who is in prison awaiting his trial, having these two different storylines going on at the same time feels slightly messy at times. In fact, in a film that touts the saying that was uttered by the real-life Arne Johnson as its subtitle, his story should have been the A plot for The Devil Made Me Do It, but it ends up playing second fiddle to what's going on with the Warrens simultaneously. 
Don't get me wrong, I think it's safe to say that one of the biggest reasons most of us show up for The Conjuring films is to watch Farmiga and Wilson battle evil, but there's just a lack of cohesion between these dueling storylines where they feel tonally at odds with each other. And while this latest Conjuring sequel does have a great deal of tension that builds nicely in several of the set pieces, the film lacks any real scares, which is why The Devil Made Me Do It feels slight in comparison to the other Conjuring films.
But even though it has a few missteps, I still had a fair share of fun while watching The Conjuring: The Devil Made Me Do It, and I think it does an admirable job of giving fans all the beats that they have come to expect from these movies. Plus, as I mentioned, I just absolutely adore watching Farmiga and Wilson together in these roles, as they add so much heart to the series. I just wish Chaves could have broken the mold here, though, because I couldn't help but feel like there were quite a few missed opportunities that would have elevated The Devil Made Me Do It from solid horror movie status to great horror movie status.
Movie Score: 3/5
[Photo Credits: Photo Courtesy of Warner Bros. Pictures, Photo by Ben Rothstein]