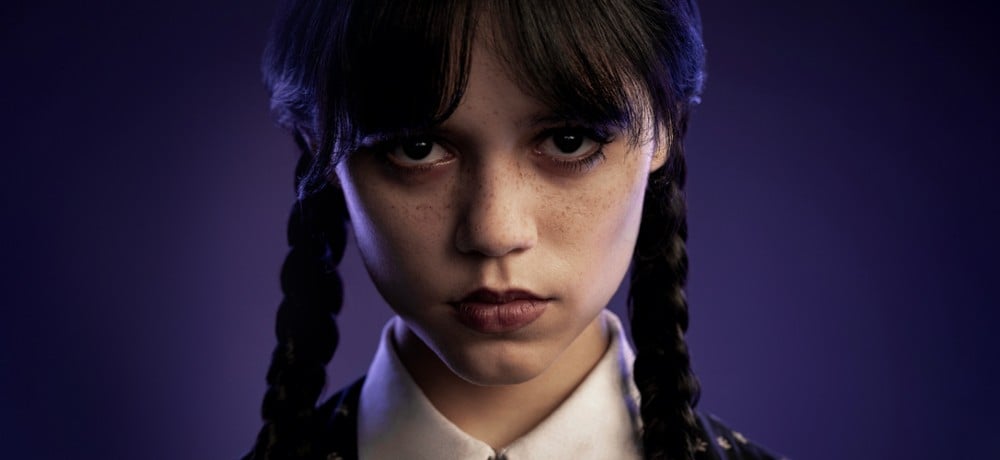 What I first knew about The Addams Family were the films with Anjelica Houston as a gloom-loving and oh-so-sophisticated Morticia Addams. The movies also starred Christina Ricci as the Addams' cold spawn who loves to torture her brother, Pugsley, and causes mayhem everywhere she goes. Only after that I discovered Charles Addams' single-panel cartoons, the majority of which were published in The New Yorker starting in 1938. The newest reimagination of the spooky family and, specifically, the daughter is nothing short of amazing. Tim Burton's Wednesday is empowering, clever, and scary. Additionally, the show explores the titular character's teenage life and her family's ties to Nevermore school for paranormal students.
There is a great supernatural component to this sleuthing, mystery-filled series about Wednesday Addams, a student at Nevermore Academy who attempts to learn how to control her psychic abilities, thwart a monstrous killing spree, and solve the murder mystery that engulfed her parents 25 years ago. At the school, the girl navigates new, old, and very entangled relationships. With her roommate, a young werewolf Enid Sinclair (Emma Myers), and a few other outcasts, the girl determinedly attempts to solve the puzzle, even if it's the last thing she does. Unless, of course, it will cut into her writing time. 
When an actor creates one of the most memorable characters that live through comics, shows, and films, the high bar is certainly difficult to keep up with if you're taking over said character. This definitely isn't the case when it comes to Jenna Ortega. It's clear in her layered performance that the actress from X and Scream was the best choice for the role of a short-tempered, stoic Wednesday. From the very first scene, Ortega's skill and craft shine bright, reflected in the character whose strong suits are an always-sharp retort, sarcastic wit, and incredible intelligence. Ortega excels in her role and provides the audience with many dark yet hilarious and certainly memorable one-liners. 
But Wednesday's true genius can be noticed in scenes between Christina Ricci and her successor. Undoubtedly, the Yellowjackets star is one of the most skilled actors out there. In the show, as an always-smiley Mrs. Thornhill, Ricci is a great addition to the narrative, a clever wink towards the audience and perhaps an element that makes a transition easier. Both Ricci and Ortega possess terrific dynamics, ensuring the proper tribute, an ode, and further exploration of Charles Addams' character. Next to strange, we also get paranormal; Wednesday is not only forced to attend Nevermore under the watchful eye of the Principal Larissa Weems (Gwendoline Christie). The girl is also plagued by psychic visions, an inheritance gift from her mother, Morticia (Catherine-Zeta Jones), who doesn't shy away from using her magic ball. If the woman isn't in the arms of her affectionate, mustachioed husband, Gomez (Luis Guzmán), that is.
The strongest suit of Burton's newest creation is undoubtedly writing. Wednesday's well-paced, solid script and its excellence is ever-present in every conversation or altercation between the characters. It does right by the infamous, iconic character while giving her more complexity, layers, and sass. Wednesday is a spooky mix of genres; one can find a black comedy, a horror, or a crime story. They all blend and intertwine together beautifully, with Ortega becoming a great Wednesday for a new generation of the Addams family enthusiasts and fans of anything grim. 
But the show wouldn't be what it is—an elaborate force if it weren't for the supporting characters. An entire family in question, including Zeta-Jones, Guzmán, and Isaac Ordonez as Pugsley, charm from the beginning with their love for anything black, gloomy, and outright bizarre. There is a striking resemblance between the characters and the comic strips. The fifth episode is particularly powerful, as it delves deeper into Morticia and Wednesday's relationship and illustrates the family's record of possessing psychic abilities. Moreover, the show centers on subjects of ancestry, roots, womanhood, and empowerment. 
With breathtaking performances and a fantastic script that includes masterful character study, Wednesday is nothing short of incredible. Filled with excellent music from Danny Elfman, the series is worth watching (and even binge-watching) as it becomes a captivating ode to not only the character itself but also to Ricci, who brought Wednesday Addams to life in 1991. Wednesday is packed with twists at every step, and the show's elaborate crime themes will turn any Addams lover into a crime sleuth. 
Score: 5/5